This Recipe Collection is inspired by years of making, tasting, and writing about food that focuses on celebrating life's little, and not so little, occasions. Each and every day is a gift, and so is each and every meal shared with those you love.
One of my absolute favorite things about being a food blogger is receiving texts and messages from friends who – rather than going straight to my blog or my fave 'foodie' accounts – connect with me in person to ask for special recipes or suggestions for places to go for great food.
Growing up, food was celebrated by my family. Every gathering and every holiday centered around making sure there was something for everyone at the table.
That said, I guess it's no surprise that I can't help myself when it comes to sharing food ideas and recipes with others whether it's homemade or experienced in my travels.
When the messages started coming in looking for recipe ideas for "something different" for the upcoming Super Bowl weekend, I decided to put together a recipe collection that included some of my favorite things to make for gatherings. It's not that I mind the calls… Rather, this is just a way to revisit my own favorites and help make sure there's something for everyone on the table this weekend.
I hope you find some delicious new ideas here!
Enjoy!
CLASSIC SMALL BITES
1 – Citrus-Herb Marinated Mozzarella Balls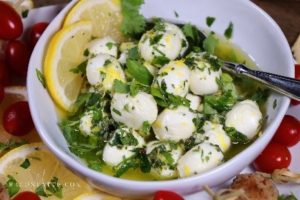 *This brand new recipe will be on the blog Friday! It's a fresh, fun year-round recipe that takes just a few minutes to make and goes well with just about any menu!
2 – Roasted Balsamic Grape Crostini with Ricotta and Arugula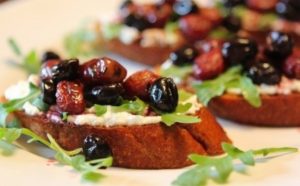 Things don't have to be fancy to be fabulous in my book, but when they turn out to be fancy and fabulous – as was case with this delicious crostini – they usually become a favorite.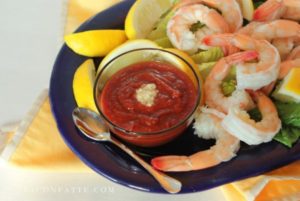 Whether you make a little or a lot, you can adjust this Classic Shrimp Cocktail recipe any way you like – and it's a lot easier to make fresh shrimp cocktail than you might think. I've included all the prep and cooking tips in this recipe, and I promise that after one bite of perfectly cooked shrimp with a generous dab of this simple sauce, you'll never buy those pre-made platters at the grocery store again!
HEARTY APPETIZERS & MINGLING COURSES
4 – Easy Turkey Meatball Pizza with Fig and Fromage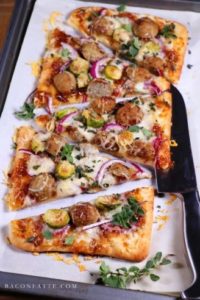 This Turkey Meatball Pizza uses a few pre-made key ingredients that make preparation a snap, but the delicious gourmet flavors in this 'za will blow you away! The sweet fig spread "sauce" balances the savory cheeses and pairs perfectly with the red onions, sautéed baby Brussels sprouts, and hearty turkey meatballs. With a little advance prep, you'll be ready gatherings of any size!
5 – Four Seasons Soft Smoked Salmon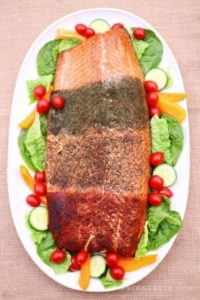 For those who love smoked salmon, it has a place on any menu, any time of year, and for just about any occasion. This show-stopping crowd-pleaser can be oven roasted, too! Dress it up as much or as little as you like, and use any herbs and flavors that suit your mood and menu. BONUS: There's a link in the recipe post to the commercially-prepared version of this beauty (artfully made in Duluth, MN!) that inspired this recipe, so you can order one for your next party if you'd rather!
6 – Blackened Steak Tacos with Pumpkin (or Squash), Sweet Corn & Red Bean Salsa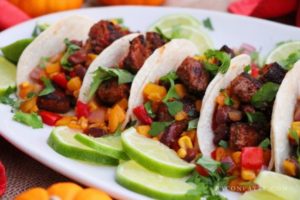 These hearty tacos recently become one of our favorite ways to break into pumpkin season – and enjoy different varieties of squash when fresh pumpkins aren't readily available. I'm using the term "salsa" loosely here, but whatever you want to call it, just know this: If you find yourself eating it straight out of the bowl with a big spoon, you won't be the first! I've also served it as a side with everything from steaks and chicken to burgers and brats. It's a keeper!
7 – Grilled Honey Soy Pork Chop recipe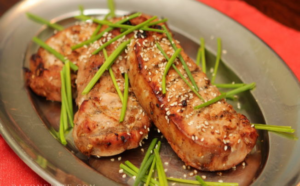 This is a quick little marinade recipe that will turn any cut of pork (or chicken!) into something special. The sugars in the sauce caramelize beautifully over a flame, so it's a grilling lover's dream! There are also several side dishes and salads to serve with these chops included in this recipe collection!
8 – Grilled Shrimp Skewers with Marie Rose Sauce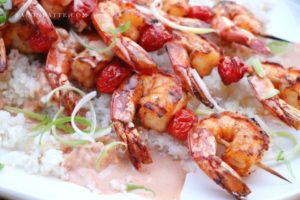 This grilled shrimp recipe is variation on shrimp cocktail, and it can be served the same way. We've enjoyed it so much as an appetizer, I turned it into an entrée. Whether you use long skewers or individual pics, this is one gorgeous and delicious way to serve grilled shrimp!
9 – Swiss Sauerkraut Casserole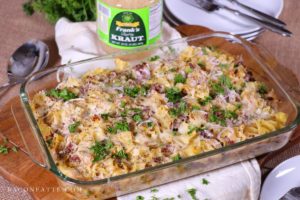 *This brand new recipe will be on the blog Thursday! In true Minnesota spirit, a good casserole is hard to beat, and this one is flavorful and filling in every way!
SIDES & SALADS
10 – Turkey Meatball Orzo Salad with Veggies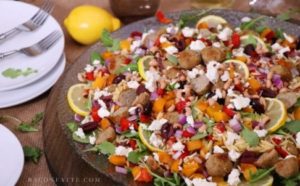 Looking for a crowd pleaser that has some "Wow Factor," but doesn't take all day to make? Put this beautiful, super delicious Turkey Meatball Orzo Salad with Veggies on your menu, and you'll be set!
With just a little prep – which can be done ahead of time – you can toss together this beautiful Turkey Meatball Orzo Salad in a matter of minutes and be mixing and mingling with friends and family instead of slaving away in the kitchen!
11 – Sweet & Spicy Curry Chicken Salad with Cranberries and Red Onions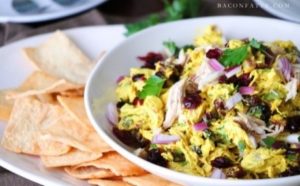 Fellow curry lovers, this one's for you! This hearty salad is great with crunchy pita chips, soft pita, lettuce – or by the spoonful! It's delicious the day you make it, or make it a day ahead for a party.
12 – Turkey Wild Rice Salad with Tarragon and Grapes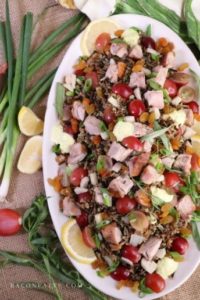 This salad/casserole is hearty and comforting, but unbelievably fresh and light at the same time. The many layers of flavors play well with the many textures – the fresh grapes, the water chestnuts, and of course, the tender turkey and wonderful wild rice. It's always a hit!
13 – Potato, Corn and Kraut Gratin
This gratin is the epitome of comfort food: Creamy butter-mashed potatoes studded with sweet corn and highlighted with the unmistakable umami of kraut. It's to make – and make ahead – and it makes enough to feed a crowd. The recipe can also easily be cut in half for smaller gatherings, but leftovers (if there are any) are so, so good!
14 – Carnival Rice Dish with Cilantro and Lime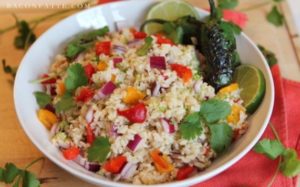 This super simple Carnival Rice Dish with Cilantro and Lime is our Southwestern Go-To! It was inspired by a wonderful and equally simple Crispy Salsa Chicken recipe from a friend (recipe link in the post!), but it's delicious with whatever you serve it with!
15 – Butternut Squash Chickpea Salad with Lemon Tahini Dressing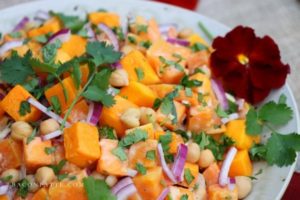 This Squash and Chickpea Salad is utterly addictive. While it can definitely hold its own as a meal in itself, it also makes an excellent companion dish for steaks, chops, lamb, chicken, turkey or fish. It travels well and it tastes great the next day, too. It's a great dish for parties because people are always pleasantly surprised by the colorful combination of ingredients and flavors.
16 – Rice and Beans with Corn and Chimichurri recipe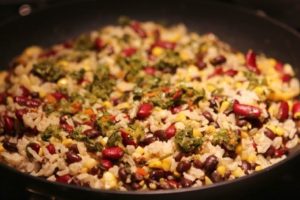 This incredibly delish chimichurri rice and beans recipe is one of the oldest on the blog, and it's a timeless favorite. Enjoy it as a meatless meal, or serve it with grilled or roasted meats. It's perfect for barbeques and pot lucks or gatherings of any kind!
17 – Spaghetti Squash and Sauerkraut Casserole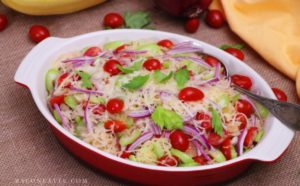 This casserole has plenty of tangy kraut flavor combined with freshly roasted spaghetti squash, celery, red onions and cherry tomatoes. We even melted a little Gruyere on top for good measure. It's colorful and light, and makes a hearty, delicious side dish or meatless main.
18 – Stir Fried Wild Rice – aka Minnesota Fried Rice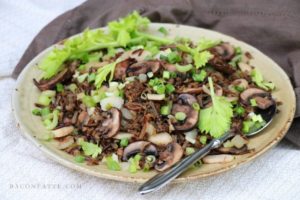 This dish is SO GOOD! It's a great accompaniment for pork and chicken. And, frankly, it's amazing all on its own if you're in the mood for a meatless meal. While this recipe can easily be halved, I'd suggest making the whole batch because it makes great leftovers, too!
19 – Colorful Cranberry Carrot & Red Onion Cole Slaw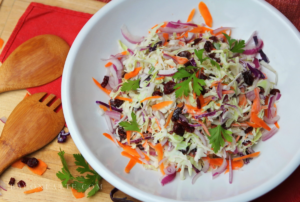 This Colorful Cranberry Carrot & Red Onion Slaw is perfectly dressed with a nicely balanced sweet, tangy sauce and lots of colors and textures that make it a win for any season! It's an amazing with pulled pork sliders – just pile it all up on a soft bun, and EAT!
20 – New Potato Salad with Basil, Shallots and Lemon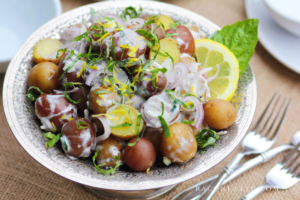 This potato salad is refreshingly "different" and absolutely delicious on so many levels. It's delightfully, unexpectedly sweet/savory. It's perfect for spring and summer holidays and parties, and works really well with grilled meats and burgers.
21 – Corn Sauté with Fresh Ginger, Garlic and Cilantro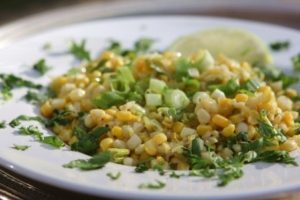 This is a surprisingly delicious little dish filled with bright, fresh flavors. It's an excellent side dish for grilled or roasted fish, chicken or pork, or as a salsa over soft shell tacos. It's a great way to bring "summer" to the table any time of year!
Sauces, Dips & Spreads
22 – Chimichurri Sauce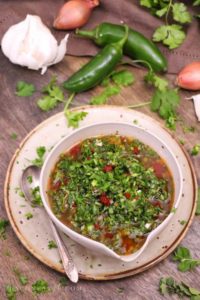 This Classic Chimichurri Sauce is an all-time fave served with, or on, anything! It's wonderful on grilled flank steaks or any kind of steaks, chops, chicken, and fish. It's delicious drizzled over roasted root vegetables and cauliflower. Toss with your favorite canned or fresh beans for an amazingly flavorful side dish. Chimichurri Sauce is also a fabulous addition to cheese and charcuterie boards. I'm deeply, madly in love with this Chimichurri Sauce, and once you try it, I'm pretty sure you will be too!
23 – Creamy Raspberry Chipotle Sauce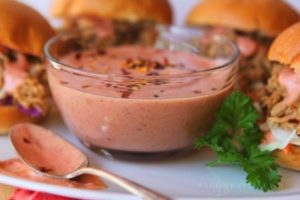 This Creamy Raspberry Chipotle Sauce is addictively good with just about everything – chops, chicken, turkey, fish, tacos, sandwiches, veggies, chips… And if you toss it with some cabbage, veggies and cranberries, it'll become one of best slaws you've ever had!
24 – Easy Garlic Herb Tomato Jam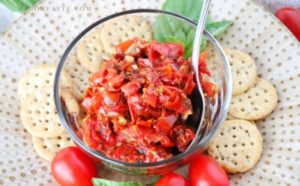 Enjoy this Easy Garlic Herb Tomato Jam a dip, a sandwich spread, an alternative for ketchup, or even just a quick snack with crackers. It's AMAZING on burgers. You'll love the rich, robust flavor!
25 – Creamy Sauerkraut Spread with Bacon, Garlic and Shallots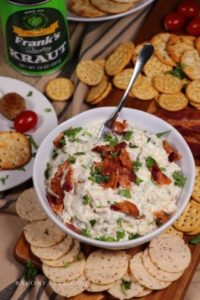 Creamy Sauerkraut Spread with Bacon, Garlic & Shallots is a great addition to any well-rounded #snackuterie menu. This is not your typical dip or spread – its tangy, bacon-y, garlic-y goodness makes it completely crave-worthy. Enjoy as a dip with crackers, veggies, meatballs and wings, or spread it on sandwiches, sliders and burgers for a wonderfully flavorful twist!
26 – Clean Green Goddess Dressing with Avocado & Yogurt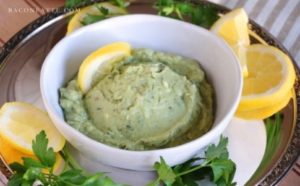 This Green Goddess Dressing is thick and rich with lots of citrus & herb flavors – and it's totally guilt-free. Enjoy as a dip, dressing, or spread on salads, veggies, tacos, sandwiches, burgers & wraps!
27 – Roasted Cherry Tomatoes and Goat Cheese Spread with Fresh Basil and Balsamic Drizzle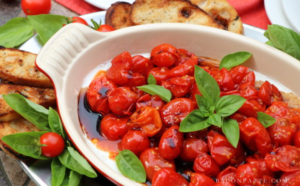 There are only a few ingredients in this recipe, and it takes very little effort to make, but it looks and tastes like a million bucks. Use garden fresh cherry tomatoes and your favorite goat cheese, then finish it all off with the best sweet balsamic you can find. I just know you and your guests are gonna love this!
28 – Cilantro Lime Yogurt Sauce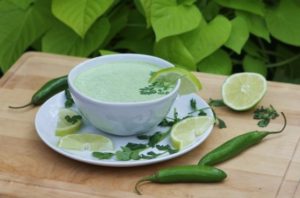 We affectionately refer to as "Crazy Sauce" in our house. It's got a light, clean yogurt-y tang and fresh flavors that go beautifully with veggies and meats. The sauce is really versatile… Great as a dip for sweet mini peppers, carrots, and other fresh vegetables, and it's equally as delicious with tortilla chips and cheese and crackers – or just right off the spoon!
This Island Queso Cheese Dip recipe adds a tropical twist to classic queso. Sweet pineapple and colorful peppers are combined with creamy cheese and tangy jalapenos to create a uniquely flavorful, snackable, dip-able, drizzle-able queso cheese dip that everyone will love!
CHOWDERS & STEWS
30 – Signature Butternut Chowder with Corn, Sage and Bacon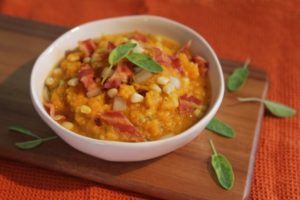 This 'Signature' Butternut Chowder with Corn, Sage and Bacon is quite literally one of my favorite recipes of all-time. It's so flavorful and delicious! Serve it as a main course or a side dish any time of year. It's just as wonderful warm as it is at room temp, so it's great for parties!
31 – Rustic Pork, Bean and Vegetable Stew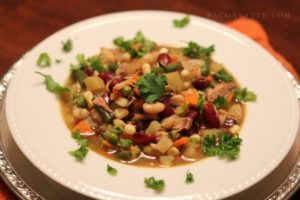 A hearty vegetable stew like this full of flavor and goodness. If you'd rather make it meatless, just add mushrooms or other veggies!
32 – Sweet Potato, Apple and Corn Coconut-Curry Chowder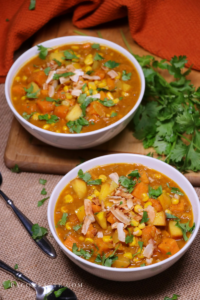 If you like rich, Autumn-y flavors, you're going to love this veggie-filled curry chowder! It even comes with its own Homemade Spicy Curry Seasoning Blend recipe, so you can adjust the rich flavors and spices to suit your preferences, and you can use the delicious seasoning blend to flavor grilled or roasted meats and veggies!
33 – Homemade Blackening Seasoning Mix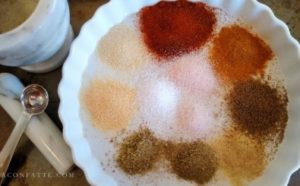 Perfect for anything that you want to add big flavors to. Season wings and chops with this mix, or season steak, fish or chicken with it for blackened salads!
SWEET EATS
34 – Slow Cooker Cinnamon Sugar Almonds – Two Ways!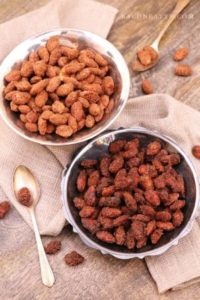 Slow Cooker Almonds are the perfect thing to have in the mix for a little something sweet! Here, we've used the same easy recipe two slightly different ways to offer a little more variety for all the sweet lovers in your life!
35 – Mocha Rum Balls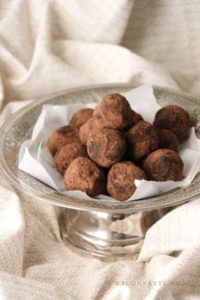 Rum Balls are the perfect bite-sized treat with little attitude. We've bumped up the flavors in these classic bites over the years, and they're an absolute favorite among our friends and family!
36 – Pineapple Coconut Sweet Bread Pudding
It's not too sweet, and it's "something different" that goes really well with just about any menu. Whether you're serving brunch, a big holiday dinner, or just want something wonderfully divine to go with a bowl of ice cream, this is gonna do the trick. It's really easy to make, and I usually make two pans for family dinners because the first one always disappears quickly.
37 – Apple Pie Bread with Oatmeal Crumb Topping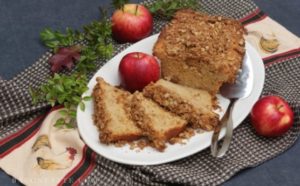 This beautiful Apple Pie Bread with Oatmeal Crumb is heady and dense with beautiful bites of apple throughout. It's even more delicious the next day!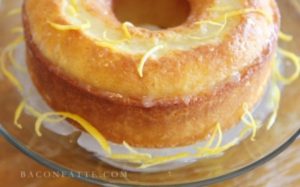 This is *the* perfect summertime treat, but its bright, citrus-y flavors are also wonderful for chasing away the wintertime blues. It's a family/party favorite!
39 – Felix K's Chocolate Chip Cookies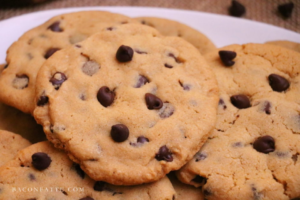 These cookies are killer! They're crunchy outside and chewy in the middle with a divine "buttered chocolate" finish. They're bakery quality, will serve a crowd, and definitely cure all your chocolate chip cookie cravings!
40 – Oatmeal Cookies with Cranberries, Golden Raisins and Five Spice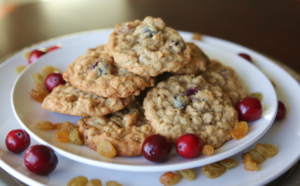 These classic oatmeal cookies "with a twist" are perfectly chewy with a delicate crunch and a deliciously unique flavor. The recipe makes a lot, and they always disappear quickly!
Well… What do you think of this recipe collection?
What are you making for your next gathering?
I'd love to hear about it!
Leave a note here on the blog in the comments below, or share your creations and ideas on Facebook, Pinterest, Instagram, Twitter, and/or Google+ .
Make sure to tag any Bacon Fatte recipes that you make with #baconfatte or @baconfatte in your social media posts!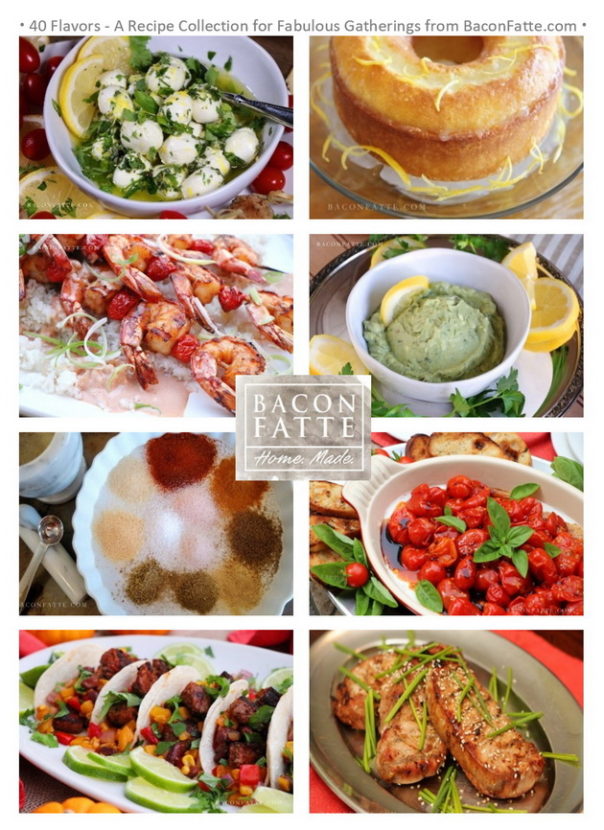 Please share this post on your favorite social media platforms!