Traditions are something we look forward to… They're a means to celebrate. Traditions mark our special occasions and make them even more special just by being a part of the process.
I love that "moment" when special becomes even more special because something familiar and anticipated takes place… When a tradition happens. No matter how simple or silly, it's important and wonderful, just because.
One of my favorite traditions is baking my own birthday cake. I look forward to it for months. I search for just the right cake recipe and get everything ready so I can bake my heart out on the morning of… with a piping hot, frothy latte in-hand, of course.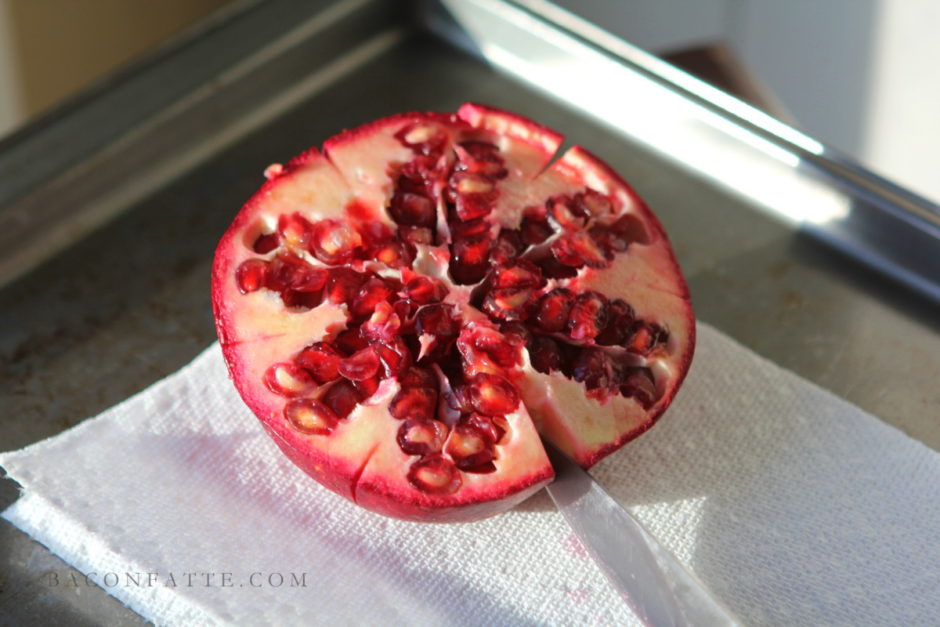 This year, I didn't even have to think about which cake to make because I wanted the same cake I made last year. Not for lack of inspiration, mind you. It's just that last year's cake was so beautiful… I loved it so much that I had to make it again and share it with you!
So I let the ruby-colored pomegranate arils fly, grabbed my pretty Amaretto bottle, and warmed up my butter once again. This year, I added a special little twist to this crazy-beautiful butter cake: An Amaretto cream cheese "filling". Nothing says HAPPY BIRTHDAY like boozy cream cheese!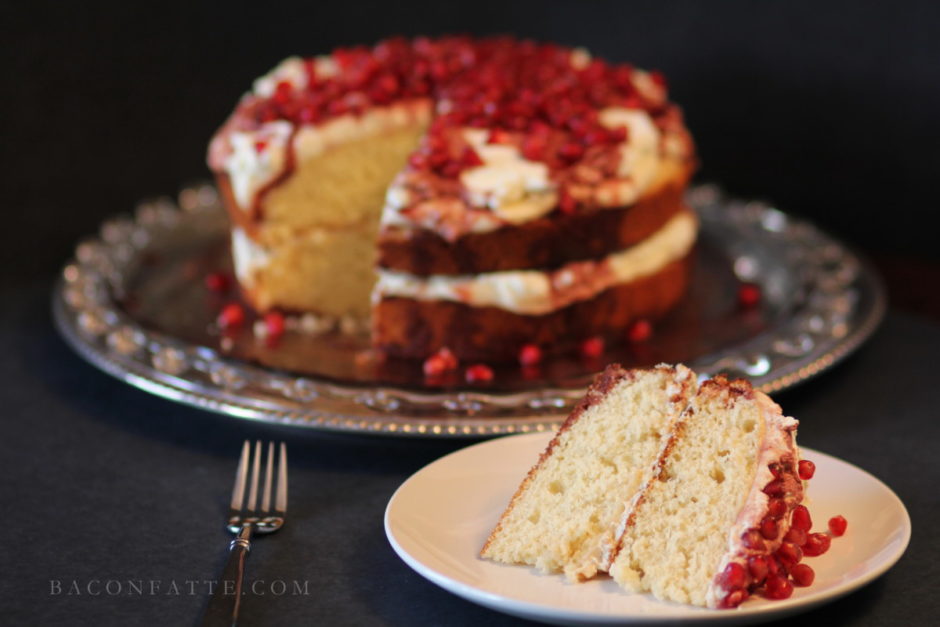 Because Christmas, my Birthday, and the New Year all happen within the same week each year for me – and because I grew up in a Minnesota Hockey-loving house – I call it my "Hat Trick Holiday". I really don't stop celebrating from Christmas Eve until sometime after the New Year, because I really do believe in celebrating everything.
And cake. I totally believe in celebrating everything with cake.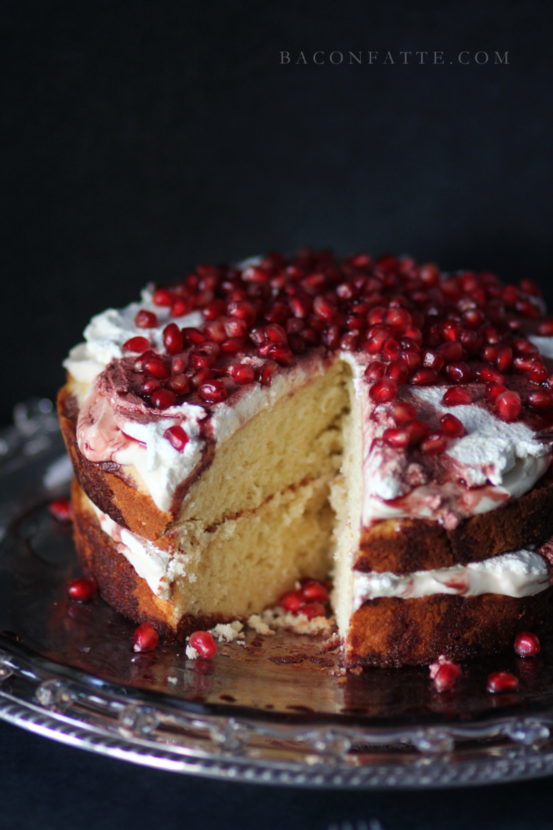 This time, I even reserved a little of the batter so I could make a couple mini cakes with my gorgeous new mini bundt pan… Aren't they just the sweetest little things ever?! (See Notes below for the glaze I made for these.) I live very close to the Nordic Ware Factory Store here in Minnesota (I know!!!), so quick shopping trips happen often. A girl can never have too many pretty cake pans, amiright?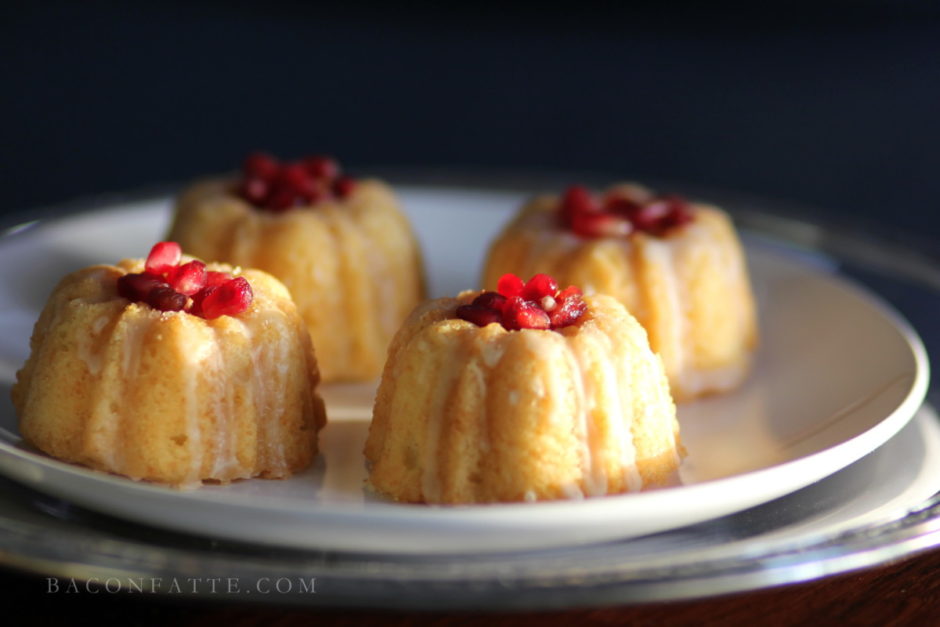 Hope you will try this recipe soon, too. This beautiful butter cake would be absolutely gorgeous for the holidays, Valentine's Day, or a special Anniversary, but you don't really need an excuse to make cake… Especially a butter cake. Their chunky crumb and ever-so-slightly rustic texture are perfect for everyday cravings. You can dress them up or down – anyway you like – which makes them the perfect "tradition" cake, just because.
Enjoy!
Amaretto Butter Cake with Pomegranate and Cream
This beautiful and delicious Amaretto Butter Cake with Pomegranate and Cream has a chunky crumb and slightly rustic texture - perfect for every occasion!
Recipe from:
Michele Phillips, BaconFatte.com
Cuisine:
Cakes & Desserts
Ingredients
Cake:
1 cup (2 sticks) butter, at room temp
1½ cups granulated sugar
4 large eggs, at room temp
3 cups All Purpose flour, sifted
1 teaspoon vanilla extract
2 teaspoons baking powder
¾ cup whole milk
¼ cup Amaretto
Cream Cheese Filling (optional, but so good):
8 ounces cream cheese, softened
½ cup (1 stick) butter, at room temp
½ cup powdered sugar – or more to taste
2 teaspoons vanilla extract
2 teaspoons Amaretto
Pomegranate Sauce:
2 cups pomegranate juice (I used Trader Joe's brand)
4 tablespoons granulated sugar
Whipped cream topping:
1½ cups heavy cream
1 vanilla bean pod, seeds scraped
Garnish:
¾ - 1 cup of arils (seeds) from one fresh pomegranate
Preparation
For the Cake:
Preheat oven to 350°F. Lightly coat two 9" round cake pans with butter and set aside.
In a large mixing bowl, add 1½ cups sugar and 1 cup butter and beat until fluffy and smooth – approximately 4 - 5 minutes.
Add one egg at a time, beating each until completely combined before adding the next.
Add the flour, vanilla, baking powder, and milk, and using a rubber spatula, fold and stir gently just until batter is smooth. Do not over-stir.
Divide batter into prepared pans, and bake for 20 - 25 minutes, or until a toothpick inserted in the center of the cakes comes out clean or with just a few tiny crumbs on it. Check early… do not overbake.
When done, remove cakes from oven and cool slightly in the pans for 5 minutes. Then remove the cakes from the pans and cool completely on a cooling rack.
Pomegranate Sauce
In a small sauce pan, add the 2 cups of pomegranate juice and 4 tablespoons of sugar. Bring to a boil over medium-high heat, then reduce heat to low and let the mixture simmer until liquid is reduced by half and becomes syrupy. Remove from heat and allow the sauce to cool completely.
Cream Cheese Filling
In a mixing bowl, add the softened cream cheese and butter, powdered sugar, vanilla extract, and Amaretto, and beat until smooth.
Vanilla Cream
In a mixing bowl, add whipping cream and vanilla bean seeds and beat until stiff peaks form.
Assembly
Place the first cake layer on a pretty plate and slowly drizzle half of the ¼ cup of Amaretto onto the cake, allowing it to soak in.
Spread half of the cream cheese filling on top of the first Amaretto-soaked layer, then top with a layer of whipped cream. Place the second layer of cake on top of that, and slowly drizzle the rest of the ¼ cup of Amaretto on that layer. Spread the other half of the cream cheese filling on top, and follow with a layer of whipped cream.
Finally, drizzle some of the pomegranate sauce on top of the cake, allowing it to drip over the edges here and there. Sprinkle pomegranate arils on top of that, along with more sauce if you wish, or serve the rest of the sauce on the side.
Now stand back, Oooh and Aaah for a bit to appreciate the work of art you've just created, and then cut yourself a nice, big piece of that deliciousness and enjoy.
Cover and promptly refrigerate any leftovers.
Cook's Notes:
For the mini cakes, I just made a simple glaze adding Amaretto to ¼ cup powdered sugar until it was the right consistency for drizzling.
Recipe slightly adapted from the fabulous
Sweet Paul
.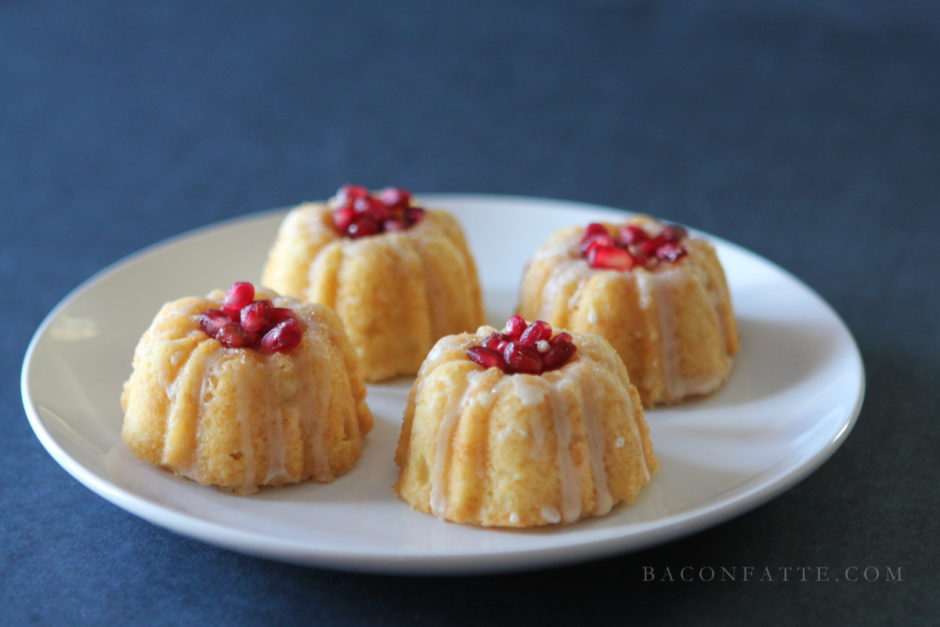 Amaretto Butter Cake with Pomegranate and Cream
I would LOVE to know what you think of this recipe when you try it!
Feel free to leave a note here on the blog in the comments below, or share your creations on Facebook, Pinterest, Instagram, Twitter, and/or Google+ .
Make sure to hashtag #baconfatte or tag @baconfatte in your social media posts!