Sometimes, one of something is just not enough. When it comes to making apple bread during the late summer/early fall harvest season, one is definitely not enough.
Given all the recipes I have just waiting to be baked, the fact that I keep making my three favorite apple bread recipes every year says something about how good they are.
I'll branch out eventually (trust me… I've got some ridiculously gorgeous apple recipes waiting in the wings), but friends and family have been enjoying these apple bread recipes for years now, so they really need to be shared first.
This Apple Cinnamon Ribbon Bread, for example, will make all of your rustic, cinnamon-y dreams come true. The bread itself is moist and "cakey," and it offers up two generous layers of chunky apples with cinnamon and sugar. The top layer becomes the chunkiest, most delicious streusel.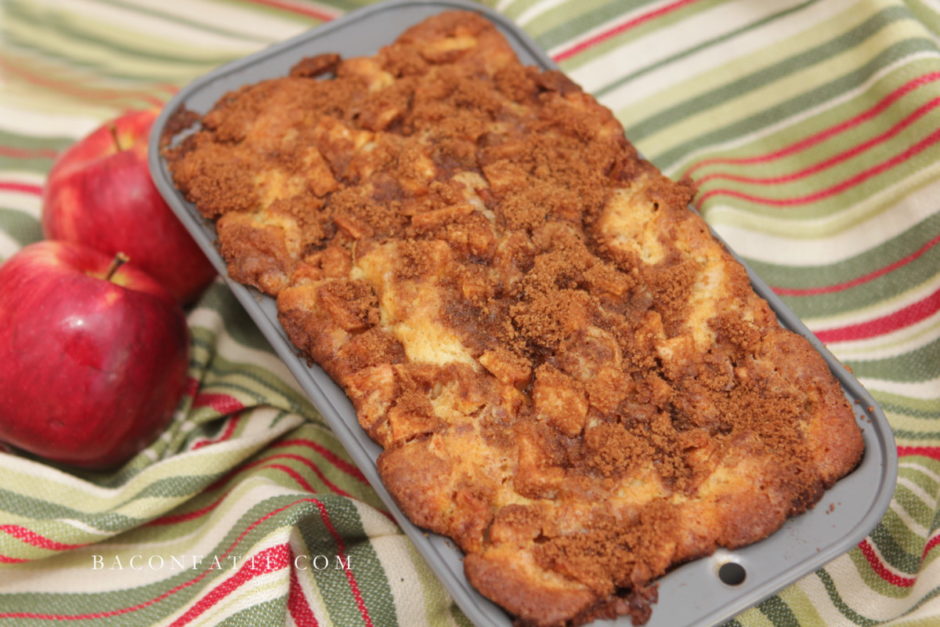 And in between the layers of cakey bread is a "ribbon" of apples, cinnamon and sugar that becomes ever-so slightly gooey during the baking process.
That gooey little ribbon layer is other-worldly. Totally, divinely delish. Worth it on every level. You've just got to taste it to believe it!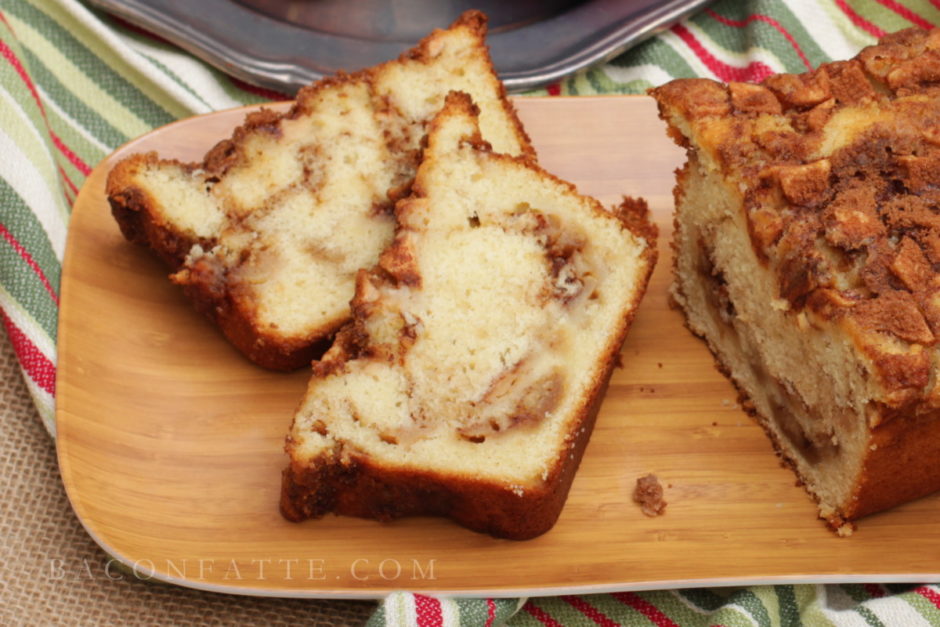 Enjoy!
Apple Cinnamon Ribbon Bread
This delicate, rustic Apple Cinnamon Ribbon Bread has two generous layers of chunky apples with the perfect amount of cinnamon and sugar. Makes 1 standard loaf, or 3 mini loaves to share.
Recipe from:
Michele Phillips, BaconFatte.com
Cuisine:
Quick Breads, Sweets & Desserts
Ingredients
½ cup dark brown sugar, packed
1½ teaspoon good quality ground cinnamon
⅔ cup granulated sugar
½ cup butter, very soft
2 eggs at room temperature
2 teaspoons vanilla bean paste
1½ cups all-purpose flour
1½ teaspoons baking powder
½ cup whole milk
1 heaping cup peeled & finely chopped apple
Preparation
Heat oven to 350 degrees.
Coat a standard 9 x 5-inch loaf pan, or three mini loaf pans, with butter and flour, and set aside.
In a small bowl, combine brown sugar and cinnamon and set aside.
In a larger bowl, beat granulated sugar and butter until smooth and creamy. Then, add eggs and vanilla and beat until combined. Add the flour, baking powder and milk (in that order). Stir with a spatula to partially incorporate the ingredients, then beat just until combined.
Pour half the batter into the prepared pan(s). Scatter half of the chopped apples over the batter, then sprinkle half of the cinnamon and brown sugar over the apples, and gently pat the ingredients into the batter with your spatula.
Pour in the rest of the batter, and layer remaining apples, brown sugar and cinnamon on top.
Bake for 45 - 50 minutes. Check after 30 minutes of baking, and gauge the remaining baking time from there. Test doneness by inserting a toothpick into the center of the loaves. When done, just a few fine crumbs will remain on the toothpick, but no batter.
Serve warm from the oven. Or, allow bread to cool in the pan(s) for about 15 minutes, then remove from pan(s) and allow to cool completely on a baking rack. Store in an air-tight container at room temperature for up to day, or refrigerate for up to three days.
Cook's Notes:
*This recipe makes a single standard loaf, or three perfectly sharable mini loaves.
*If using mini loaf pans, measure out about ½ cup of batter per layer.
*Recipe slightly adapted from
The Happier Homemaker
.
Craving more apple-filled deliciousness?
Try these other apple bread recipes!
I would LOVE to know what you think of this Apple Cinnamon Ribbon Bread recipe!
Feel free to leave a note here on the blog in the comments below, or share your creations on Facebook, Pinterest, Instagram, Twitter, and/or Google+ .
Make sure to hashtag #baconfatte or tag @baconfatte in your social media posts!