It can get a little warm on the boat, so we came up with another easy-breezy bevvie over the 4th of July… We're calling it the Berry Citrus Fizz Cocktail.
It's super light and refreshing, and it looks amazing in our new "Fizzy" unbreakable tumblers from Target – don't you think?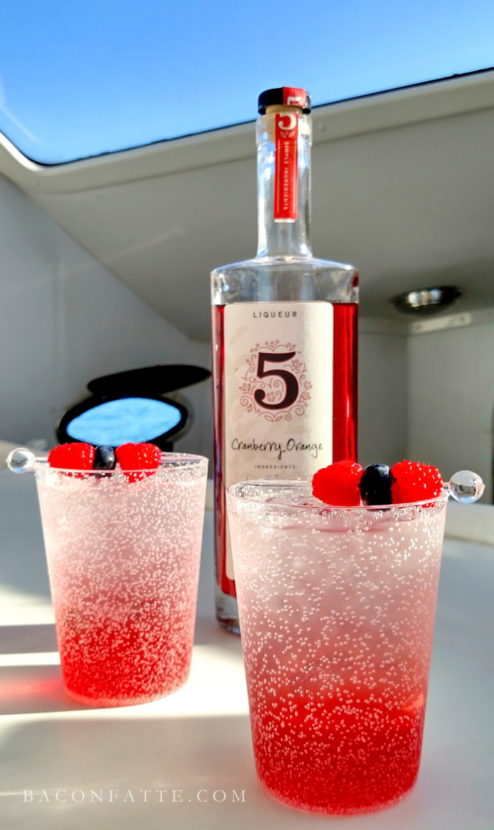 5 Vodka Cranberry Orange Liqueur, caused quite a "stir" (Ha!) this summer. Aside from the taste – which is effervescent and lightly sweet with perfectly balanced notes of cranberry and orange – everyone loved our Berry Citrus Fizz Cocktail because it's so pretty!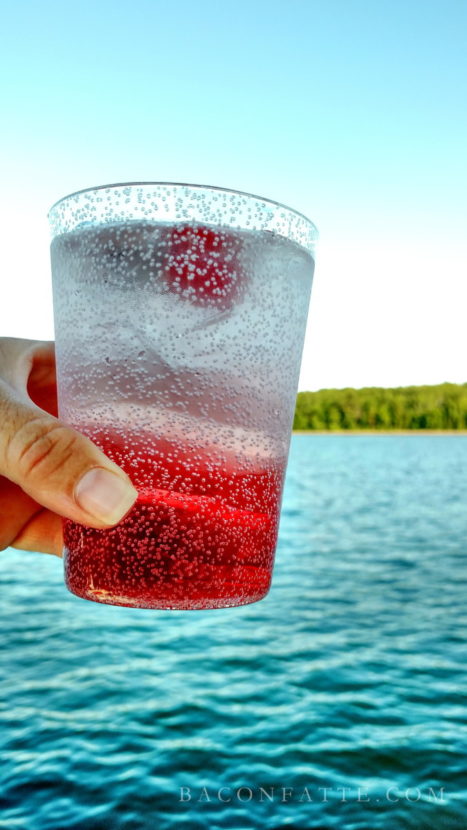 The heavier liqueur settles beautifully to the bottom of the glass, and the lighter liquids hover above. We were careful not to disturb the liqueur while mixing, but really didn't have to worry too much… It just kind of did its own beautiful thing.
We enjoy 5 Vodka so much because we love the fact that we're able to create absolutely delicious cocktails that aren't too boozy. Not that we have anything against a good stiff drink now and then, but when we're entertaining, we want our guests to enjoy themselves for a while. We like to serve refreshments that are actually refreshing so everyone can just sit back and relax. This is especially important when we entertain onboard!
Because 5 Infused Vodka is one of our new faves, I've come up with several easy-breezy recipes that will take you from Happy Hour to Dessert any day of the week… Click here to check them out!
#AD Note: The fine folks at 5 Vodka provided some of their wonderful product so I could keep coming up with recipes to use it in. But for the record, all opinions and genuine fondness for the product are my own. I would say great things about 5 Vodka even if they hadn't given me free booze because it's really, really good.
Enjoy!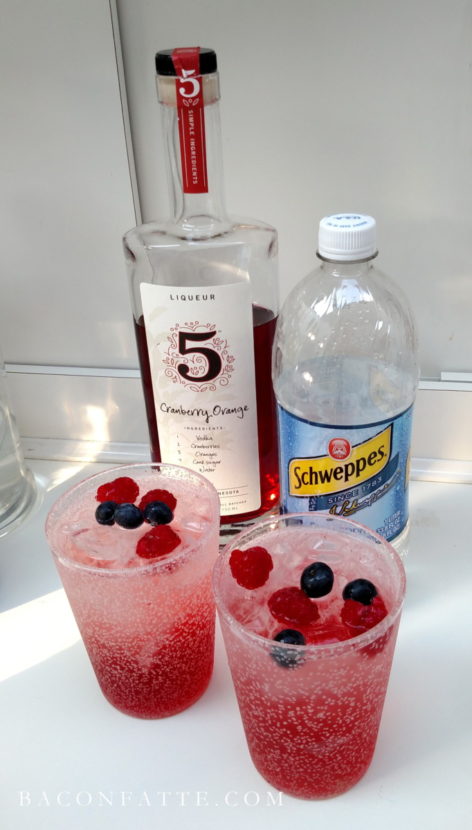 Berry Citrus Fizz Cocktail
Recipe from:
Michele Phillips, BaconFatte.com
Ingredients
Ice cubes
2 ounces 5 Infused Vodka's Cranberry Orange liqueur
1 ounce plain vodka
A squeeze of fresh lemon or orange juice
4 - 6 ounces soda water
Fresh raspberries and blueberries to garnish
Preparation
In a low ball tumbler, gently add the ingredients in order: Ice cubes, cranberry orange liqueur, plain vodka, squeeze of fresh lemon or orange juice, soda water, and then garnish. Serve immediately, stirring just before sipping.
Cook's Notes:
Adding the cranberry orange liqueur first will ensure that the heavier cranberry-colored liqueur will sit at the bottom of the glass. Add the rest of the ingredients gently so the color separation remains for presentation. Garnish with a berry-filled cocktail stick to stir.
I would LOVE to know what you think of this recipe when you try it!
Feel free to leave a note here on the blog in the comments below, or share your creations on Facebook, Pinterest, Instagram, Twitter, and/or Google+ .
Make sure to hashtag #baconfatte or tag @baconfatte in your social media posts!