This Squash and Chickpea Salad is a perfect "study" in the number of ways a recipe can be interpreted. Since first making this salad several years ago, and now finally getting the recipe ready to share with you, I noticed that a lot of other people like it, too! Each cook adds their own little twist, and each shows it in a completely different way. (Go ahead and Google the title of this recipe and you'll see what I mean!)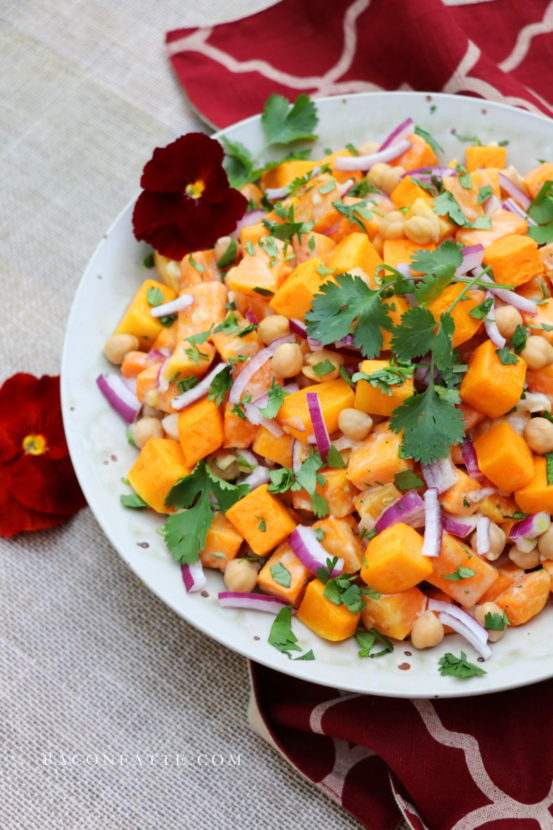 I instantly fell in love with how hearty and colorful this Squash and Chickpea Salad is. It's wonderfully flavorful, too… So good, in fact, that I made it again the very next day, and have made it dozens of times since.
As with most recipes, this one changed a bit each time I made it. The original adaptation called for allspice to be used in the squash-roasting phase. Another adaptation omitted the allspice – as have I.
Previous recipes called for two tablespoons of water to thin the dressing. For "my" Squash and Chickpea Salad, I replaced the water with unseasoned rice vinegar to add a hint of sweet, and some reserved chickpea liquid to add more liquid to make sure the dressing covered every single chunk of butternut and chickpea.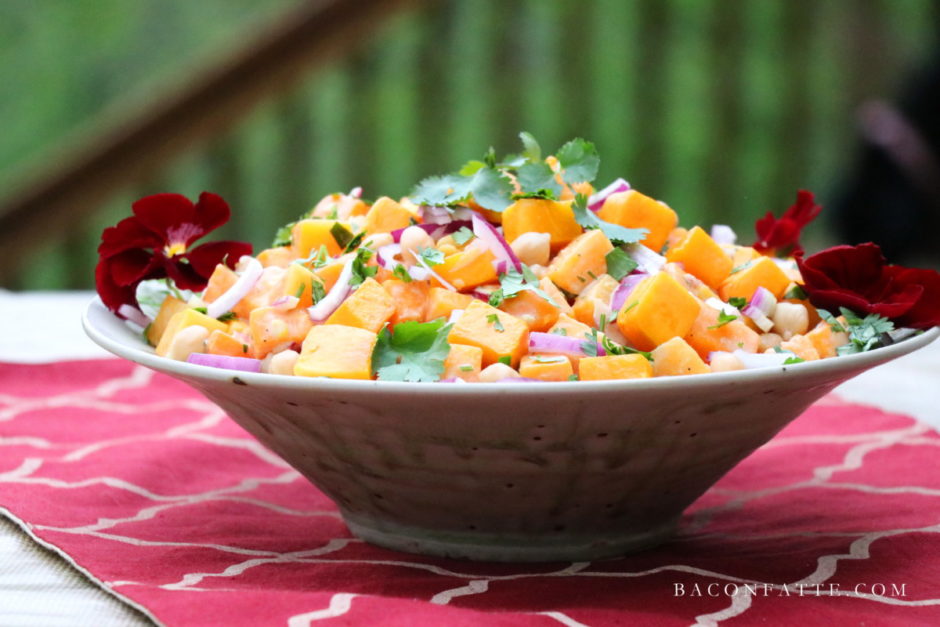 Other recipes also suggested rinsing the chickpeas. I rinsed them the first time but have skipped that step ever since, opting instead to let the can settle before opening it. I reserve few tablespoons of the clearer chickpea liquid on top before draining the can and adding the chickpeas to the salad bowl. To rinse, or not to rinse, is totally up to you.
When it comes to the fresh herbs, be generous with the cilantro – it adds refreshingly "cool" notes to the warmer, earthier tones in this Squash and Chickpea Salad! If you're not a fan of cilantro, just go ahead and use lots of fresh flatleaf parsley. Whether you're using cilantro or parsley, fresh is a must. Dried herbs just won't do in this recipe.
On that note, use fresh (rather than bottled) lemon juice whenever possible. It really makes this dressing shine. And definitely add the zest. It may seem like a lot of lemon, but the added layer of citrus compliments the tahini beautifully.
If you prefer subtler flavors, just use water or more chickpea liquid in place of the vinegar, and use less garlic and red onion. Salt and pepper should be increased or decreased according to your preferences, too.
The main thing I've learned after making this recipe a few dozen times over the years is that the flavors speak for themselves. You can throw it together any which way, and it'll be great. But, if you're making it for a party or family dinner, however, presentation matters.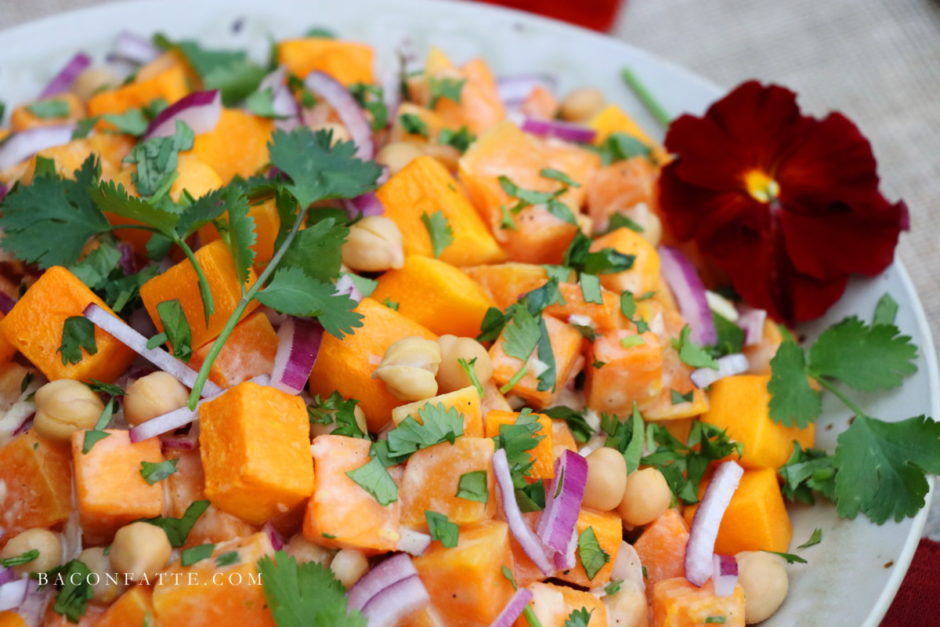 For the all-important Pretty Dish, it pays to reserve some of the un-dressed squash, chickpeas, and red onions to "garnish" the dressed salad with so that their colors and textures shine. After tossing the bulk of the ingredients, scatter the un-dressed ingredients on top of the dressed ingredients. Then, finish your presentation with more fresh cilantro or parsley leaves and fresh lemon slices just before serving. As you can see in the photos, I added fresh pansies here – just because they were gorgeous – and served a bowl of fresh lemon slices at the table for those who wanted an extra spritz.
This Squash and Chickpea Salad is utterly addictive. While it can definitely hold its own as a meal in itself, it also makes an excellent companion dish for steaks, chops, lamb, chicken, turkey or fish. It travels well and it tastes great the next day, too… Check out my "NOTES" below if you're making this Squash and Chickpea Salad ahead. It's a great dish to bring to parties because people are always pleasantly surprised by the colorful combination of ingredients and flavors.
Enjoy!
Butternut Squash and Chickpea Salad with Lemon Tahini Dressing
Recipe from:
Michele Phillips, BaconFatte.com
Ingredients
For the salad:
1, 2¼ - 2½ pound butternut squash - peeled, seeded, and cubed (about 6 cups cubed)
2 garlic cloves, minced or pressed
2 tablespoons olive oil or Roasted Garlic & Lime Olive Oil1/8 teaspoon fine sea salt
1, 15-ounce can of chickpeas, drained (reserve 2-3 tablespoons of liquid for dressing)
⅓ – ½ cup red onion, finely chopped
For the tahini dressing:
1 - 2 garlic cloves, minced or pressed
¼ cup fresh lemon juice (about ½ large lemon)
zest of ½ lemon - finely minced if needed
3 tablespoons tahini - make sure to stir it well before using
1 tablespoon unseasoned rice vinegar
1 - 2 tablespoons chickpea liquid - plus more if needed
2 tablespoons olive oil or Roasted Garlic & Lime Olive Oil
¼ cup fresh cilantro of flatleaf parsley, chopped - plus more for garnish
⅛ teaspoon fine sea salt, to taste
⅛ teaspoon fresh ground black pepper, to taste
Garnish
Optional: Reserve approximately ⅓ cup of cooked squash, ¼ cup of chickpeas, and a tablespoon or two of the chopped red onion to top the dressed salad (notes below). Add fresh cilantro or parsley leaves and fresh lemon slices. Edible flowers – such as pansies, violets, or chive blossoms – also look fabulous on this Squash and Chickpea Salad, so use 'em if you've got'em!
Preparation
Preheat oven to 400°F.
Line two rimmed baking sheets with parchment paper and set aside.
For the salad: In a large bowl, whisk together the garlic, olive oil, and salt, and set aside. Peel the butternut squash – making sure to remove all the peel and all of the "pith" down to the bright orange squash flesh. Cut the squash in half widthwise at the base of the neck, and then quarter it lengthwise. Remove seeds and cut into bite-sized cubes.
Add squash cubes to the olive oil mixture in the large bowl, and toss until completely coated. Spoon the squash onto the parchment-lined baking sheets, making sure pieces are in a single layer. Roast for 25 minutes or until tender, checking and carefully tossing the pieces with a spoon after about 15 minutes to ensure uniform doneness. When done, remove the squash from the oven and allow it to cool.
For the lemon tahini dressing: While the squash is roasting, make the dressing. In a small, non-reactive mixing bowl, add the garlic, lemon juice and zest, tahini, rice vinegar, bean liquid, oil, ¼ cup chopped cilantro or parsley, salt and pepper, and whisk everything together. For a thinner dressing, add more chickpea liquid.
Reserve approximately ⅓ cup squash, ¼ cup chickpeas and 1 – 2 tablespoons of onions for garish, if desired, for garnish. Toss all (other) ingredients with dressing until evenly coated.
Scatter the un-dressed ingredients (if using) on top of dressed salad, then garnish with more fresh cilantro or parsley leaves. Optional: Add fresh lemon slices and/or edible flowers just before serving.
Serve slightly warm or at room temperature. If making ahead, refrigerate overnight. Allow ingredients and dressing to come to room temperature – or pop it all in the microwave for 20 seconds at a time – until slightly warmed. Dress shortly before serving, garnish, and enjoy!
Cook's Notes:
Recipe adapted from
Smitten Kitchn
, who adapted it from
Orangette
, who adapted it from
Casa Moro
. And here's to all the others who sited the original source(s) of this recipe as well - because it's that good. Cheers!
If you're making this Squash and Chickpea Salad, let me know!
Feel free to leave a note here on the blog in the comments below, or share your creations on Facebook, Pinterest, Instagram, Twitter, and/or Google+ .
Make sure to hashtag #baconfatte or tag @baconfatte in your social media posts!