This super simple Carnival Rice Dish with Cilantro and Lime is our Southwestern Go-To! It was inspired by a wonderful and equally simple Crispy Salsa Chicken recipe from my friend Adam who shares his refreshingly witty recipes on a blog called The Unorthodox Epicure.
I had a jar of my friend Carla's homemade salsa sitting in the pantry, and Adam's chicken recipe provided the perfect opportunity to enjoy it for dinner. Adam prepared his chicken using his "sous vide contraption", but we've enjoyed it both oven roasted and grilled at our house (check out the photo below!).
Why do we call it Carnival Rice? Because it's colorful and has lots of bright, fabulous flavor. And when your husband walks into the kitchen as you're roasting peppers over an open flame, and chopping up a bunch of brightly colored veggies and says, "Wow! It looks like a carnival in here!"… Well, it just sticks.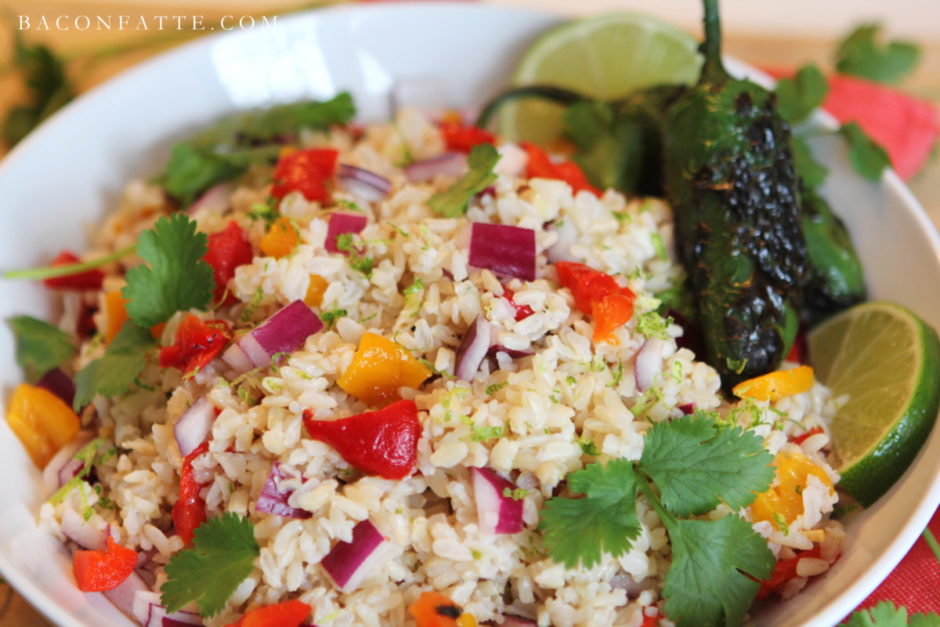 When I make this rice dish, I usually use brown rice, but you can use your favorite variety. The rice can be made ahead and then "carnivalized" the next day, so I always make extra when I pull out the rice cooker.
This Carnival Rice Dish is the perfect side dish for chicken, pork or even blackened fish. For serving, it's best when warm, but it's also great at room temperature so double the recipe and bring a big bowl to share at bar-b-ques and pot lucks. It's also a great addition to tacos and burritos. And if you're a fan of bold breakfasts, warm up some leftover Carnival Rice and serve it with a fried egg or two topped with some hot sauce or salsa. How's THAT for a variety of tasty options from one, ridiculously easy recipe!?
Enjoy!
Carnival Rice Dish with Cilantro and Lime
Carnival Rice Dish with Cilantro and Lime Author: Michele Phillips, BaconFatte.com Prep time: 10 mins Cook time: 20 mins Total time: 30 mins Serves: 4 - 8 This Carnival Rice Dish with Cilantro and Lime is quick and easy to make, and brings bright, fabulous flavors to everything you serve it with! It's a great side dish for BBQs and pot lucks.
Recipe from:
Michele Phillips, BaconFatte.com
Ingredients
4 cups cooked rice (I used brown rice)
3 Tablespoons fresh lime juice
Zest from ½ - 1 fresh lime
½ cup red onion, finely chopped
½ cup roasted red peppers* (fresh or jarred), finely chopped
2 Tablespoons fresh cilantro, chopped + more for garnish
Salt and pepper (optional), to taste
Preparation
Place all ingredients in a large bowl with warm rice. Toss to combine, and serve. Garnish with more cilantro and fresh lime wedges.
Cook's Notes:
If using jarred roasted red peppers, just drain and chop!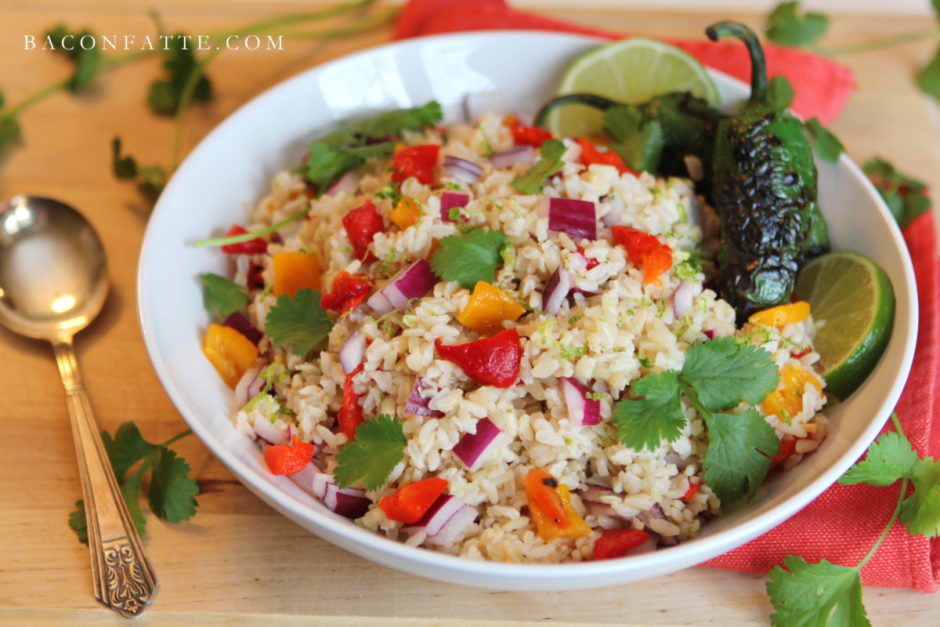 Are you making this Carnival Rice Dish?
Let me know! I'd love to hear how you served it!
Leave a note here on the blog in the comments below, or share your creations on Facebook, Pinterest, Instagram, Twitter, and/or Google+ .
Make sure to hashtag #baconfatte or tag @baconfatte in your social media posts!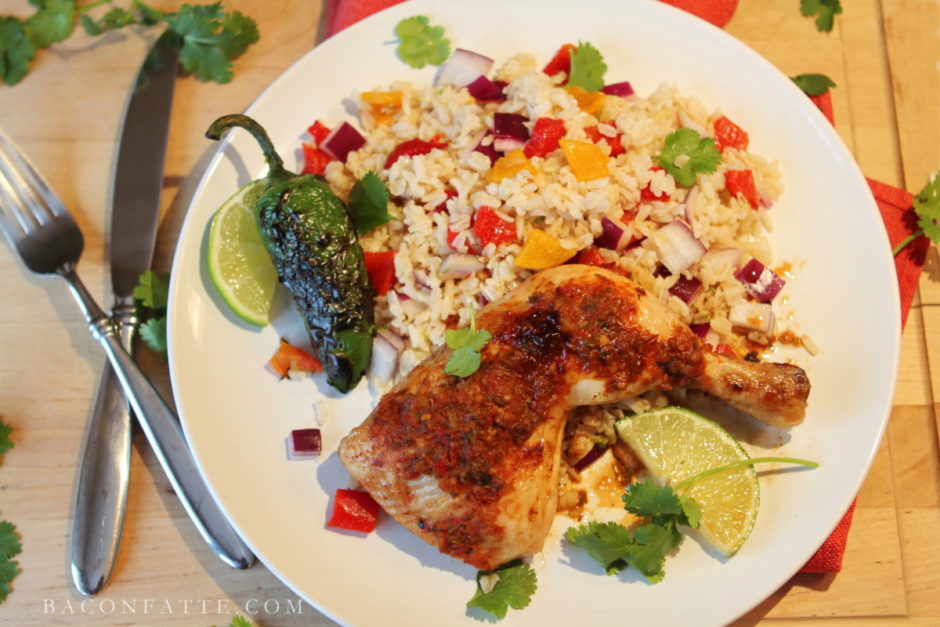 Looking for more Southwestern Savories? Try these quick recipes!
Chimichurri Salad with Beans and Tomatoes