Until a week ago, I had only admired the golden gorgeousness of chanterelle mushrooms from afar, hoping I'd get my hands on some of my very own one day.
Not unlike the madness that surrounded my first-ever morels earlier this summer – generously gifted by a friend, and thoroughly enjoyed with both grilled steaks and fresh Lake Superior Lake Trout – chanterelles also won my curiosities as well as my foraged flavor-loving heart.
My chanterelle wishes came true when my dear friend, Renee, showed up with a big bag of chanterelle mushrooms last week. Her daughter had just collected them, and they generously shared their treasure with me… I was kid-in-a-candy-store excited!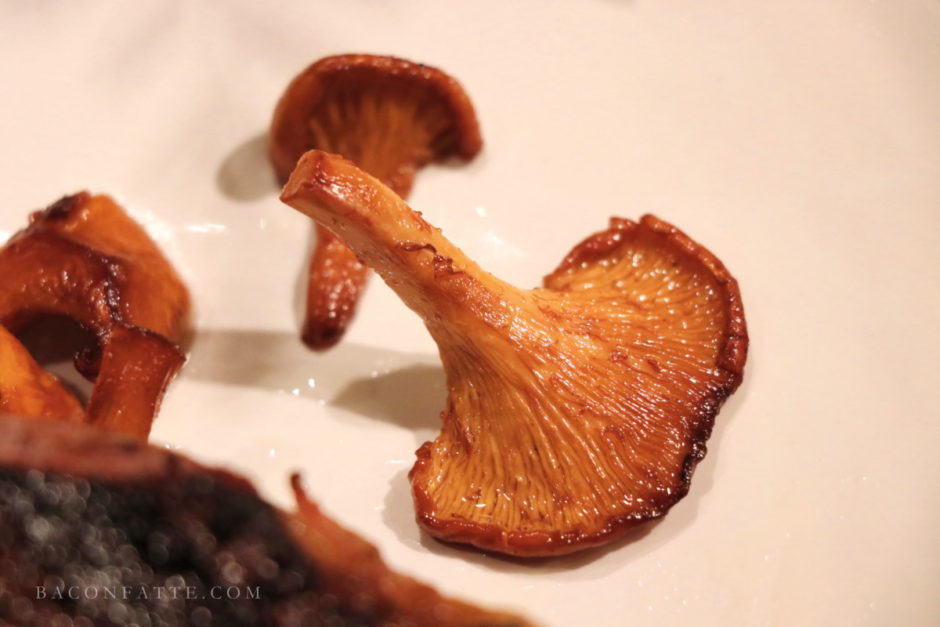 As any respectable mushroom-loving fool would do, I started searching for all the info I could find about chanterelle mushrooms that night so I wouldn't screw them up.
I can't help myself… When I get to play with a new-to-me ingredient – especially those that I don't have resources for myself – I "geek out" a bit. I searched for chanterelle recipes and trustworthy tips from my favorite foragers. Like chanterelle mushrooms themselves, the musings of those who appreciate them are equally as colorful and enjoyable. I enjoyed what I found so much, I'm including some of my favorite chanterelle resources and recipes below so you can "geek out" over them, too!
If, however, you're a "short version" fan:
 I've included some quick & easy notes with the recipe that'll be helpful for
storing and preparing chanterelle mushrooms.
There are also a couple of visual reference photos below that will help you
determine when your mushrooms are dry sautéed enough to add the butter and booze!
When I cooked my first handful the next night, my husband chuckled at my intensity and poured me a glass of wine as I began cooking.
I followed the directions for simply sautéed chanterelle mushrooms – dry sautéing them first, and then adding fat and more flavor with butter and garlic. We served them over grilled steak, and they were wonderful.
The many fragrances of chanterelles are intoxicating. When they're fresh, they smell like fresh apricots. Almost everyone who appreciates chanterelles notes this unique characteristic.
As they're cooking, their aromas turn more caramel-y… Rich, buttery, warm, slightly sweet, and utterly irresistible.
Because of their fragrant notes, I immediately knew how I wanted to prepare the rest of my precious chanterelles…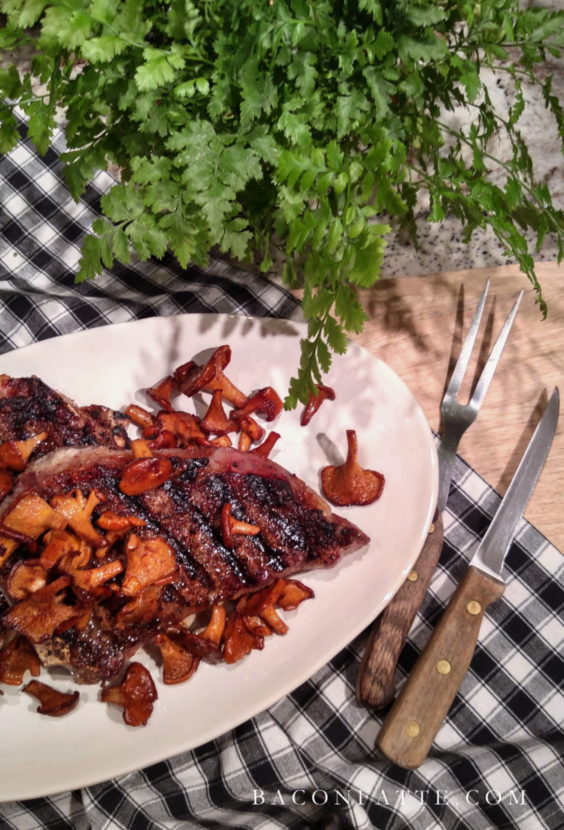 Chanterelle Mushrooms with Brandy Butter
Essentially what you're doing here is removing most of the chanterelles' natural moisture and replacing it with butter and booze… Every mushroom's dream come true!
I just knew the brandy would pair beautifully with the chanterelles. And butter, I'm convinced, is the only way to go when sautéing these delicate beauties. The mushrooms themselves were extremely good with grilled steak – as was every last drop of the brandied chanterelle butter. It was one of those meals where we s-a-v-o-r-e-d every single bite as if it were our last.
Should I be lucky enough to get my hands on more chanterelle mushrooms, I have lots of other recipes in mind for them (see below!), but this is definitely my go-to. I'm already craving it again!
Enjoy!
Chanterelle Mushrooms with Brandy Butter and How To Prepare and Store Chanterelle Mushrooms
This simple Chanterelle Mushrooms with Brandy Butter recipe is the perfect way to enjoy the rich, slightly sweet flavors of delicate chanterelles - a wonderful accompaniment for grilled steaks.
Recipe from:
Michele Phillips, BaconFatte.com
Ingredients
1 pound fresh chanterelle mushrooms, trimmed and cleaned
3 tablespoons butter
1 - 2 ounces brandy (I like the added flavor provided by a full 2 ounces)
Kosher salt – a pinch or two, to taste
Preparation
Place clean, dry chanterelles in a large, non-stick sauté pan over medium-low heat. The mushrooms will begin releasing their moisture into the pan after a minute or two. Dry sauté the mushrooms alone for 10
– 15 minutes, or until all liquids from the mushrooms has cooked off. The color of the chanterelles will turn from golden to light caramel, and they'll reduce in size by approximately half when ready for the butter and brandy. See photos below for visual reference.
Add 3 tablespoons butter, 1 - 2 ounces of brandy, and salt (to taste), and continue to sauté until the butter and brandy have incorporated with the chanterelles.
To serve: Spoon over grilled steak as shown here, or serve with rice or pasta.
Cook's Notes:
*CLEANING chanterelles: Use a very soft brush or paper towel to gently brush any dirt particles from the mushrooms. You can also rinse the mushrooms briefly under water if needed. Gently pat them dry before using.

*TRIMMING chanterelles: Trim the stem end with a sharp paring knife just before using. Half, quarter or chop chanterelles if needed so they're all approximately the same size for your recipe.

*STORING chanterelles: Remove any dirt or debris, but like all mushrooms, do not wash chanterelles (if you'll be washing them at all) until just before you use them so they stay fresher, longer. If you do wash them before storing, allow them to air dry completely before refrigerating.

Keep chanterelles in a waxed or paper bag and place in the middle of your refrigerator. You can also store them in a plastic bag, but make sure to keep the bag partially open so air can circulate around the mushrooms. In any case, gently rotate the mushrooms daily so they can all "breathe." With proper storage and care, chanterelles can be refrigerated for 7 days or more.
For reference: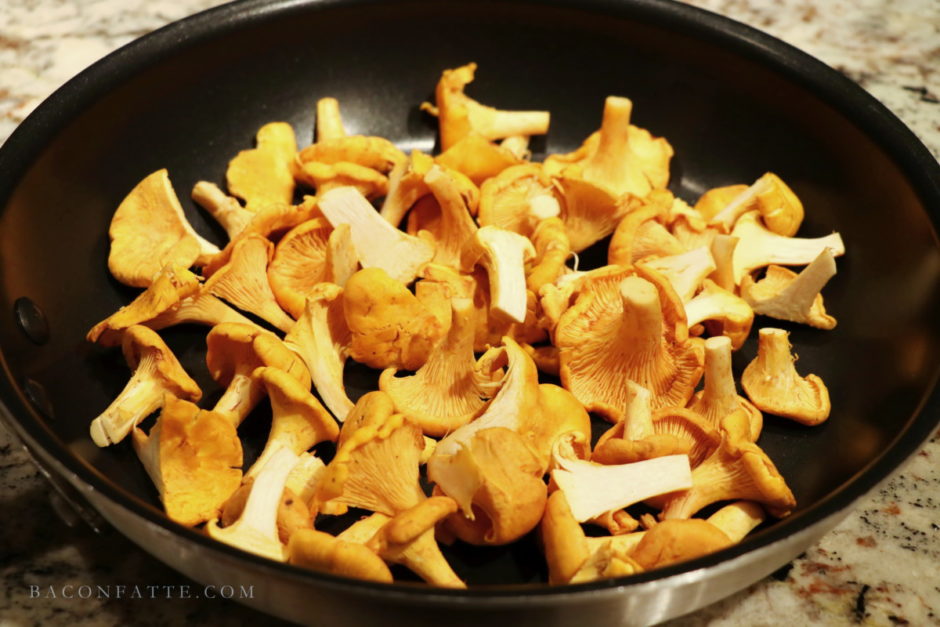 *Fresh chanterelles in the pan.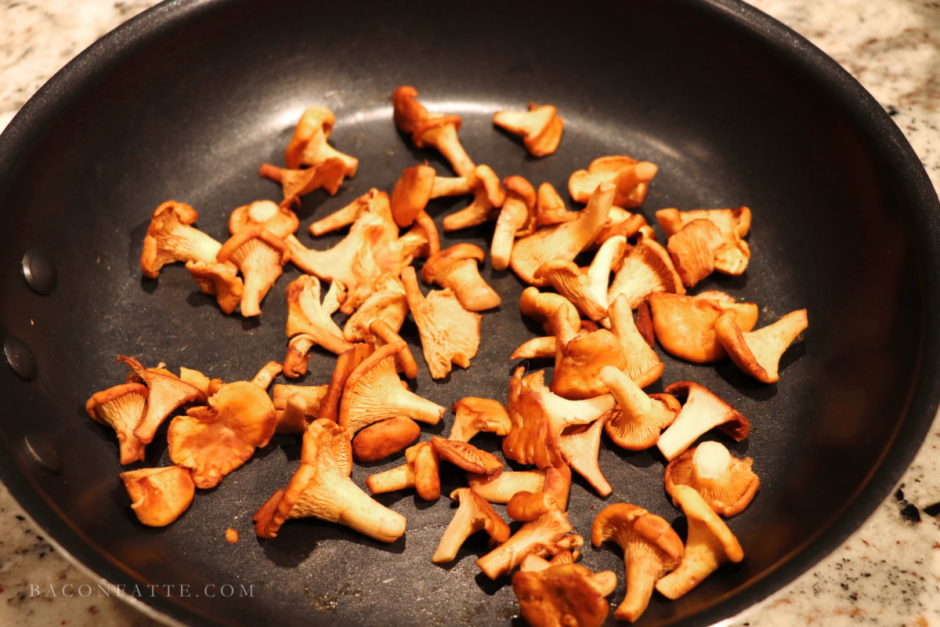 *Chanterelles after they've been dry sautéed – note darker color and smaller size. They're ready for the butter and booze now!
More About Chanterelle Mushrooms
Chanterelles: Characteristics, General Information, and Recipes
Chanterelles In All Their Forms + Recipes
The Best Way to Cook Chanterelle Mushrooms
Chanterelle Recipe Goals:
The Sexiest Soup in the World: Escoffier's Cream of Chanterelle Soup
Sautéed Fresh Chanterelles with White Wine, Lemon & Parsley
Tagliatelle with Wild Chanterelle Mushrooms
Steak with Creamy Chanterelle Sauce
Fricassee of Chanterelles with Garlic, Cream & Fresh Oregano over Pappardelle
Red Chanterelles Preserved in Butter
Wild Mushroom Recipes from ForagerChef.com
Pan-Fried Trout with Chanterelles
Chanterelles: A lovely story about the reward of patience when foraging
Chanterelle Recipes & Musings from TroutCaviar.com
Minnesota Mushroom CSA – Spring to Fall
Video: How To Sauté Chanterelles "Restaurant Style" in oil and butter with Alan Bergo
Identification
It can't be stated often enough: Proper identification of chanterelles or any foraged fare is very important because there are several kinds of mushrooms that are inedible. Know your sources, and take time to learn from reputable foragers. There are many good resources out there… Here are just a few to get you started!
Twin Cities-based Wild Mushroom Classes
Trout Caviar – Recipes from a Northern Forager by Brett Laidlaw
Video: Mushroom Foraging/Identification and Finding Chanterelles
Video: Harvesting Chanterelle/Eating Good in the Forest!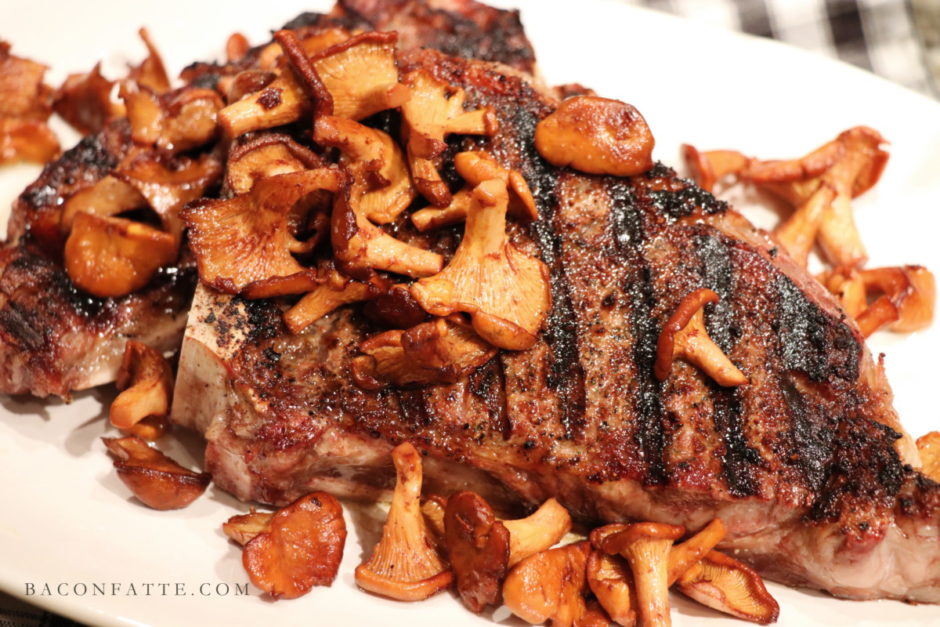 Please let me know if you've cooked chanterelles using this recipe,
or if you have any other great mushroom resources!
Leave a note here on the blog in the comments below, or share your creations and ideas on Facebook, Pinterest, Instagram, Twitter, and/or Google+ .
Make sure to hashtag #baconfatte or tag @baconfatte in your social media posts!