After seeing several social media posts about a photo contest hosted by CuttingBoard.com, I just couldn't resist the opportunity to join in. Especially after noting that they had chosen #CutTheCheese2017 as their hashtag. Clearly, these folks have a sense of humor in addition to some of the most beautiful cutting boards and other gorgeous wooden serving and kitchen pieces I've ever seen.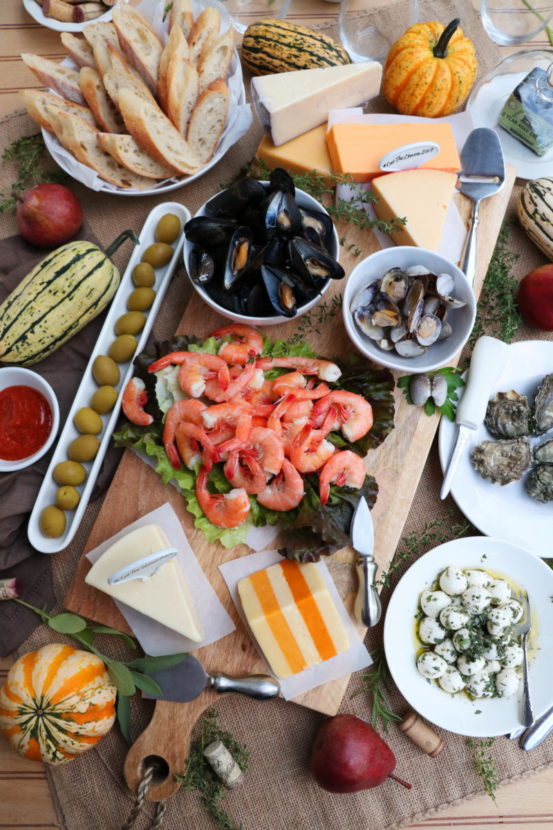 I decided to throw my hat in the ring because, of course, cheese boards and the like are totally my thing. Yes, I know… They're "a thing" for a lot of people. And why not? You can do so much with a slab of wood and a few delicious chunks of cheese.
In addition to the opportunity to have a little fun, I couldn't turn down the opportunity to play with a new cutting board that recently joined my collection. It's not fancy – in fact, it's pretty rustic – but it spoke to me when I found it at one of my favorite shops.
To give you some idea of the scope of this photo, the cutting board is just over 30 inches long, about 11.5 inches wide, and 1.5 inches thick. It's a beast, and I absolutely love it! The "tabletop" that this shot is arranged on is 4 feet tall and 32 inches wide. And, yes, there's a whole lot going on here!
One of the requirements of the contest was to include a handwritten note highlighting the hashtag… I thought it was the perfect excuse to use my pretty little French ceramic cheese markers! What do you think?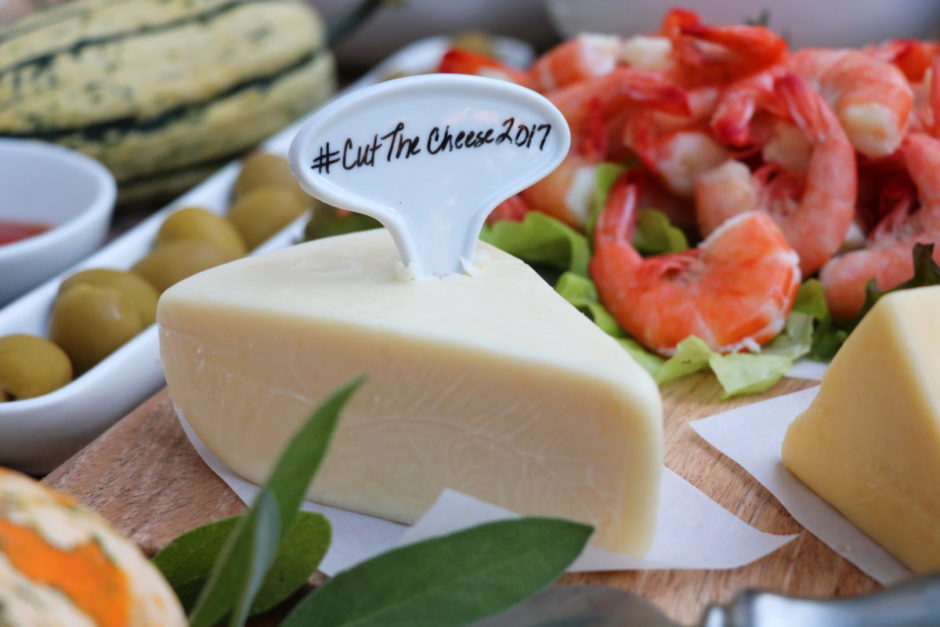 Because this is a photography contest, the folks behind it all wanted participants to show what our behind the scenes set-up looked like. I'm probably in the LEAST technical category there… It's all about the food for me. Yes, I want my photos to be beautiful. And, yes, I'm very critical of the photos I take. But the food I enjoy most is real food… It never looks the same. It's rustic, occasionally messy, and often over- or under-lit. But it's always good, and good food is how we "celebrate everyday" as we say in our house. My photos, like my food, come from my heart. Maybe someday they'll be perfect, but until then, I'm enjoying the learning process and absolutely adoring the experiences!
I found out about the contest rather late in the game, so I scrambled to get things together for it. (No complaints there! It's like pulling things together for last-minute guests or a random dinner party… So much fun!)
When I set the space up to photograph the cheese board, I did so just inside the glass sliding door in my kitchen. That's where I often take my photos because the natural light is really good, and the glass defuses the brightness a bit.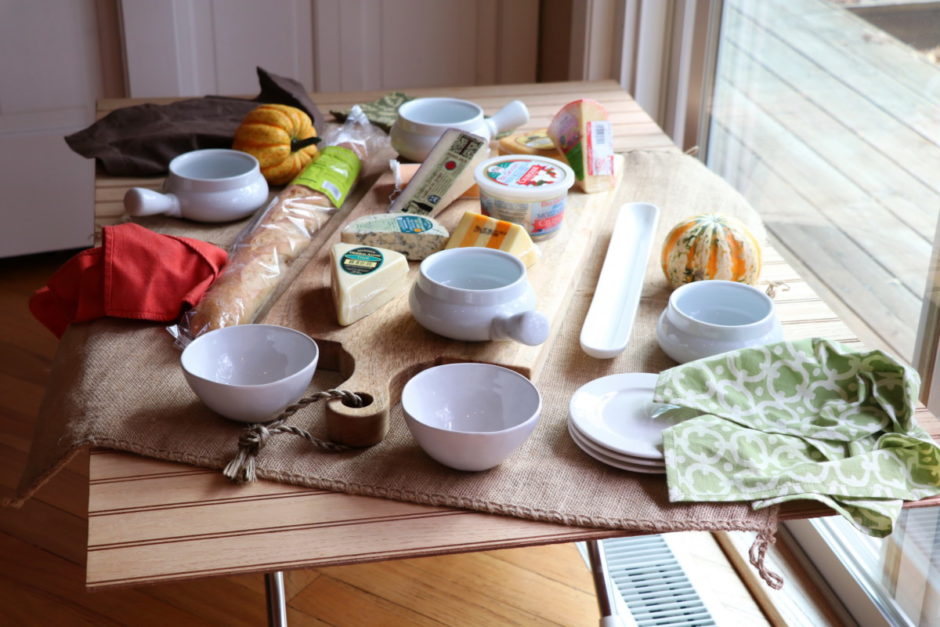 On the day I was shooting, however, the glass defused the brightness a little too much. There were odd shadows everywhere, and the colors seemed drab and lifeless.
So, I dismantled everything and set it all up again outside on the deck. That's actually my favorite place to take photos because, of course, the light is completely natural and unencumbered. It's definitely not glamorous, but the light that shines on our house in the afternoon is absolutely beautiful.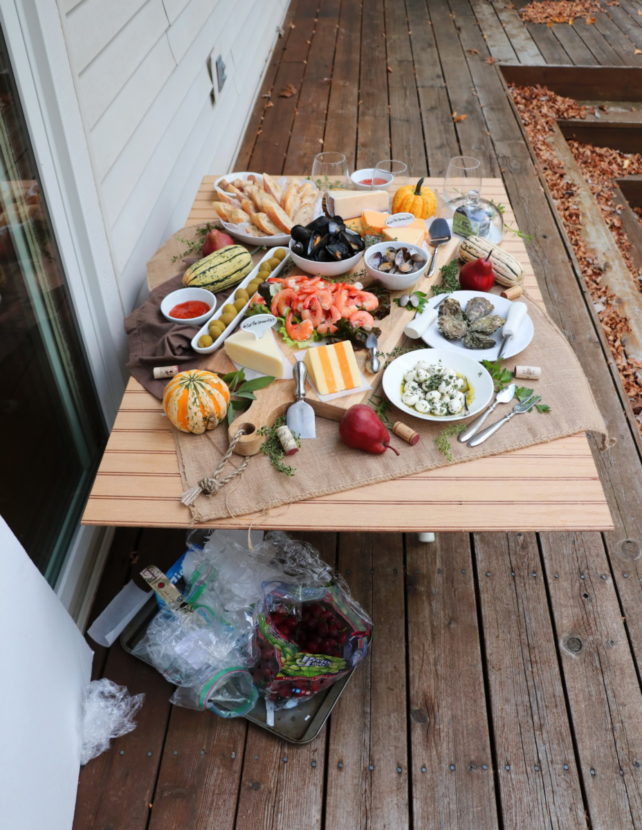 In the spirit of full disclosure, my happy heart sank a bit when it started to rain within minutes of moving the "set" outside, but it didn't last long. Thankfully, the sun reappeared and the rest of the shoot went well.
Really well, in fact. I took exactly 260 photos (yes, I know… It sounds like a lot, but deleting the photos that don't work is far less work than re-creating an entire dish or scene. And, I've often found that my favorite photos are the ones taken from unplanned angles, so I keep snapping until I'm pretty sure I've covered all the possibilities.)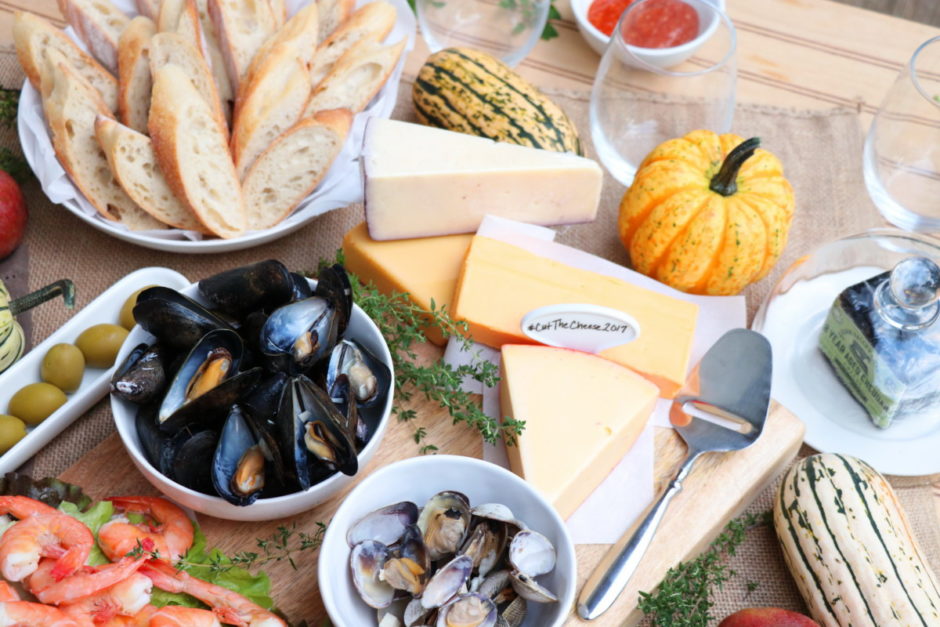 I shoot most often with a Canon 80D (aka, "Lucy" – everything I love has a name) and an 18-135 lens. My thoughtful husband gifted me with Lucy earlier this year, and I couldn't love her more!
The following will make technical photography fanatics and those who prefer control over their environments cringe, but the photos you see here are au naturel. I do have an indoor photo studio, and an admirable collection of camera lenses and lighting sources to play with, but I didn't use any of them today.
If I were actually serving this cheese and seafood charcuterie to friends today, it would be al fresco… Out on the deck in the early evening with light breezes rustling the fallen leaves that have gathered on the ground… Wine poured, content hearts, relaxed smiles, and happy tummies all around. That's how we "celebrate everyday" around here, and I hope that these photos offer that feeling when others see them.
Because the holiday season is close at hand, I thought it might be helpful to outline (below) what's actually on this cheese and seafood charcuterie board. Hopefully it'll be inspiring to those creating their own displays for family and friends in the coming seasons.
As always… Enjoy!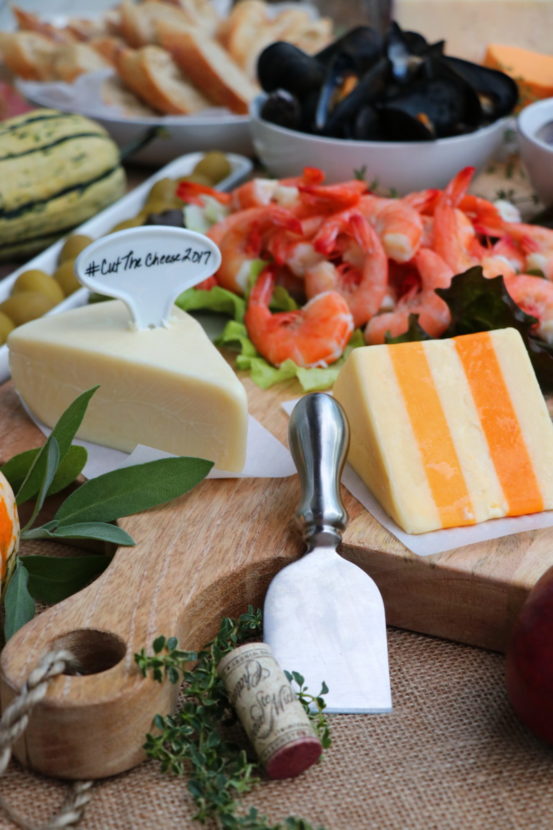 The Cheeses
Front:
Eichten's 'Mary's Tilsit' Cheese (Aged 1 Year)
This wedge was a gift from the cheesemakers themselves at a recent food show, and it's absolutely wonderful! Here are a few notes from the makers: "Mom's special recipe pre-ripened and aged for 12 months made from cow's pasteurized milk. It gives your palate a taste burst. This cheese is for those who desire a taste for aged cheese. Good all around in cheese trays, salads, cooked dishes, sandwiches or by itself as a special snack."
If you've never visited Eichten's Artisan Cheese, Gouda, Bison Meat, Specialty Foods and Grill in Center City, MN, I'd highly recommend making the trip! There's something for every taste… It's a feast for the senses for sure.
Ilchester Five Counties Cheese
Don't you just love those pretty stripes?! This cheese is made by layering "Britain's best" Double Gloucester, Red Leicester, Cheshire, Derby and Somerset Cheddar. I found it at Cub Foods in Minnetonka, MN. It's very reasonably priced (about $10 for this thick wedge), and certainly a eye-catching addition to any cheese plate!
 Back:
Red Apple Cheese 'Apple Smoked Gruyere Cheese' from Trader Joe's, Minnetonka
Creamy Toscano Cheese soaked in Syrah – Trader Joe's, Minnetonka
Dutch Gouda from Holland (the one with the pretty red rind) – Trader Joe's, Minnetonka
Bel Gioioso Fresh Mozzarella Ciliegine ("Cherry Size") – Cub Foods, Minnetonka
Carr Valley Cheese's 2 Year Aged Cheddar – a gift from my amazing cheese-loving friend, Renee
Hoffman's Super Sharp Cheddar – Cub Foods, Minnetonka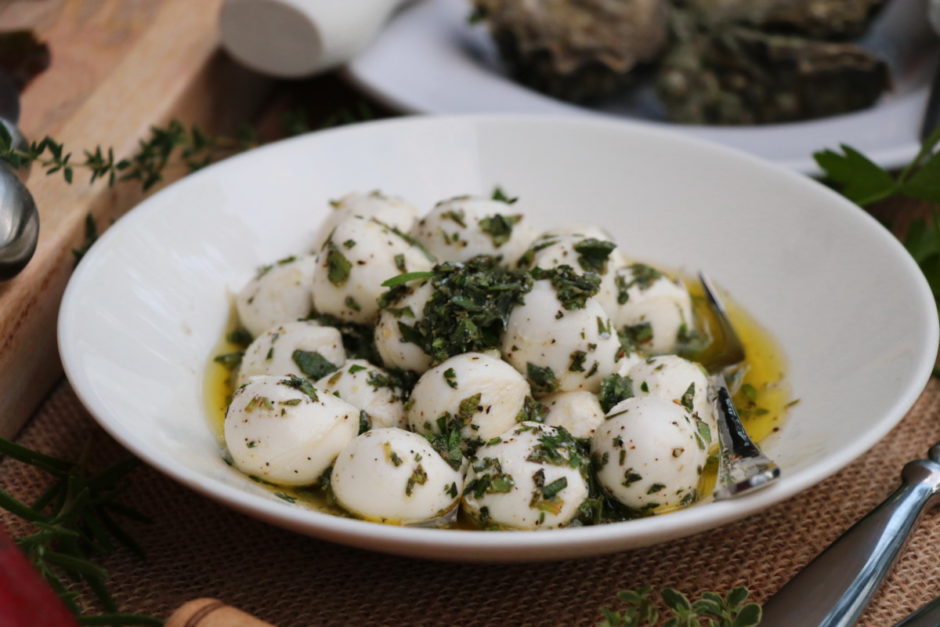 *Fresh Mozzarella Ciliegine marinated in fresh herbs and olive oil. It's absolutely delicious… Recipe coming very soon!
The Seafood
I've had a life-long love affair with seafood… Marine life in general fascinates me. Jacques Cousteau was a major influence in my childhood (true story), and I wanted to be a marine biologist or a ballerina when I grew up.
Neither of those things happened (largely, on that latter note, because I couldn't stand the black polyester leotards that we would-be ballerinas were forced to wear during that one hot summer of dance classes). But my husband and I do spend most of the summer months on a boat on the shores of Lake Superior (our "second home"), and I've spent a fair amount of time on the water on both east and west coasts as well. Nothing makes me happier than being on or near the water, so I guess it only makes sense that I enjoy the beautiful things that come from the sea as much as I do.
My love of the water translates into some delicious adventures in the kitchen. I love visiting my favorite local fish monger and have learned so much about how easy and enjoyable it is to prepare seafood at home.
Against most widely accepted conventions, seafood pairs exceptionally well with cheeses. I'm not an authority on the subject (yet), but I've got several seafood charcuterie ideas in the works. As much as I love all-things bacon (which shouldn't come as a surprise), I am on a personal mission to shake up charcuterie as we know it. Not to upset my butchery and hunter/gatherer friends, but there's something magical that happens when you add fresh, briny seafood to cheese boards. Seafood charcuterie IS a thing, y'all, and I predict that we'll be seeing a lot more of it in the very near future.
Starting now!
Peel & Eat Wild Brown Shrimp (26 – 30 count) – Coastal Seafoods, Minneapolis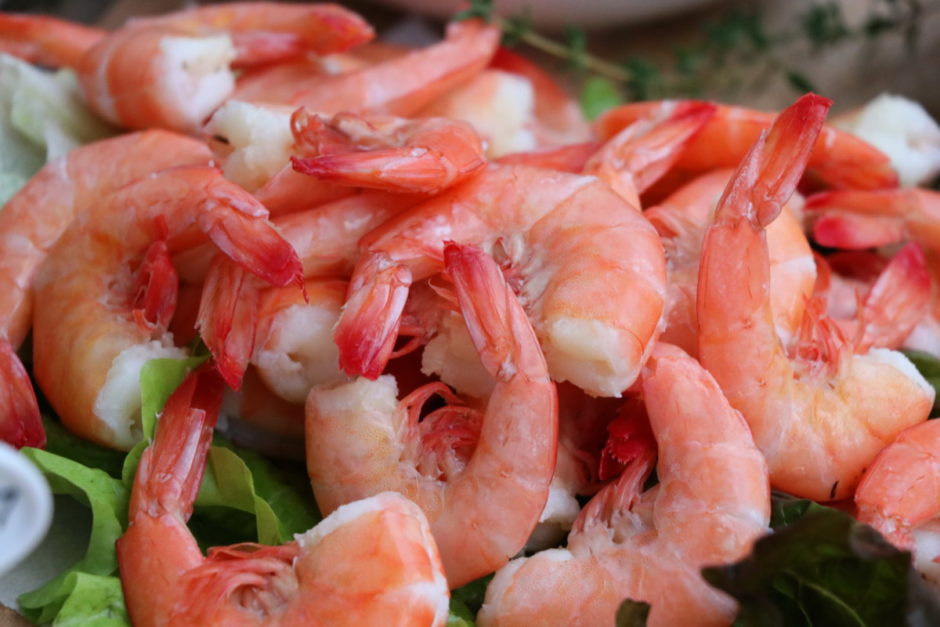 *So simple to make, and an absolutely gorgeous presentation when the shells are left on. Get the recipe for our Classic Shrimp Cocktail at BaconFatte.com.
*Both the mussels and the clams were prepared with our ever-popular Steamed Clams with White Wine and Garlic recipe at BaconFatte.com. This recipe is our second most popular recipe – and for good reasons! It's a classic. It's super easy. And, it's absolutely delicious!
PEI Mussels – Coastal Seafoods, MN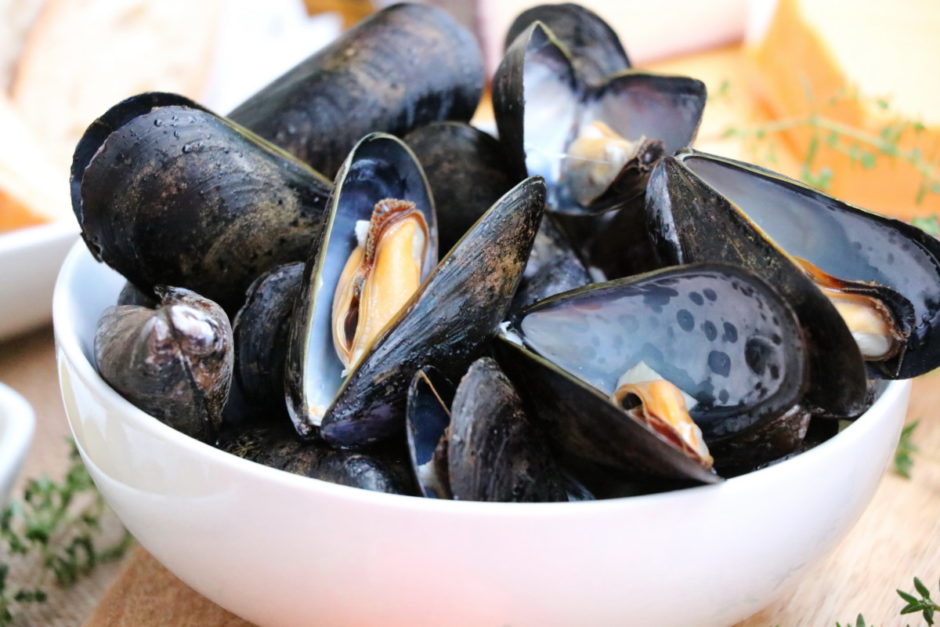 Manilla Clams – Coastal Seafoods, MN
*Want to know what the #1 most popular post on BaconFatte.com is? It's "Fresh Clams – How To Store, Prepare and Enjoy Them"! After reading dozens of websites suggesting countless crazy ways to prepare clams, I did my own homework and took some great advice from folks who know a thing or two about clams. If you've never prepared fresh clams or mussels because you're not familiar with how to make them, this article will take all the guesswork out of it for you!
Graham Point (WA) Oysters… Shuck 'em if ya got 'em! – Coastal Seafoods, MN
The Accompaniments
Giant Chalkidiki Olives – Trader Joe's, Minnetonka
*These babies are delish! Mildly briny and absolutely lovely with cheeses. They do have pits, but they're very easy to get around.
Baguette – Trader Joe's, Minnetonka
*Every cheeseboard needs fresh baguette!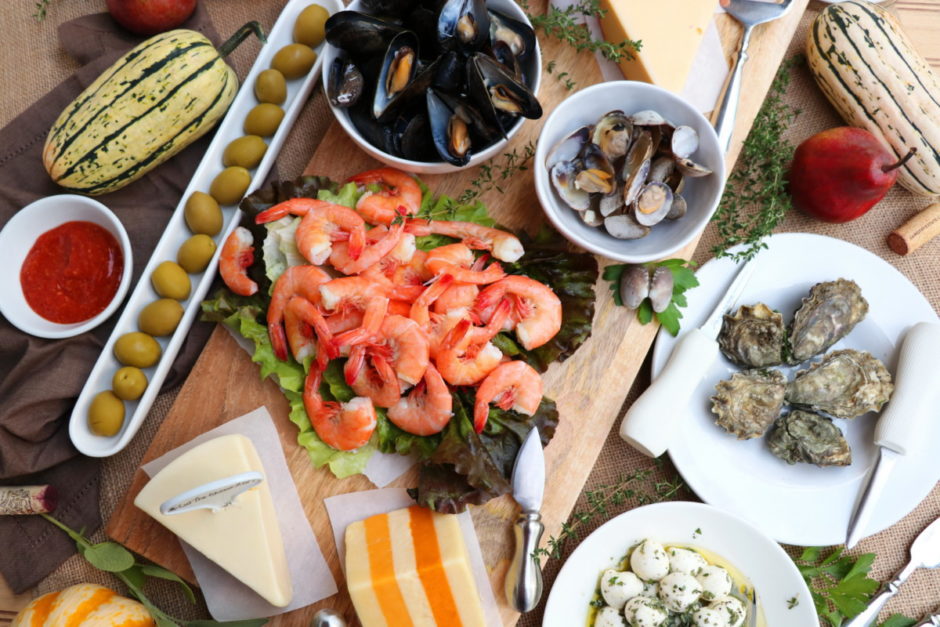 The Produce
Carnival Squash (the round, striped squash) – Cub Foods, Minnetonka
Delicata Squash (the elongated, mottled squash) – Trader Joe's, Minnetonka
Red/Rouge Pears (add them to anything just because they're beautiful) – Cub Foods, Minnetonka
Red-Tipped Lettuce (beneath the shrimp) – Cub Foods, Minnetonka
Fresh Herbs – from my garden
So there you have it… The stories behind the photos.
For the record, everything here was – or will be – consumed. We don't waste anything if we can possibly help it.
Stay tuned for more seafood charcuterie (or "seachuterie") here on BaconFatte.com!
Cheers!