One of the best things about cooking is the learning process. Cooking has a way of reminding you that no matter how much you think you know, you'll always discover something new if you just take off the blinders once in a while.
When we cook, we get to experience different places and try new things… We get to push our own boundaries and feed curiosities we didn't even know we had.
Kind of a romantic notion, don't you think?
We have a large, south-facing deck attached to our house that quickly proved to be a good place to grow fresh herbs. Our "deck garden" grows a little more each year, and with it, our love for the beautiful, fragrant little plants that graciously flavor our food and embellish our plates all summer long.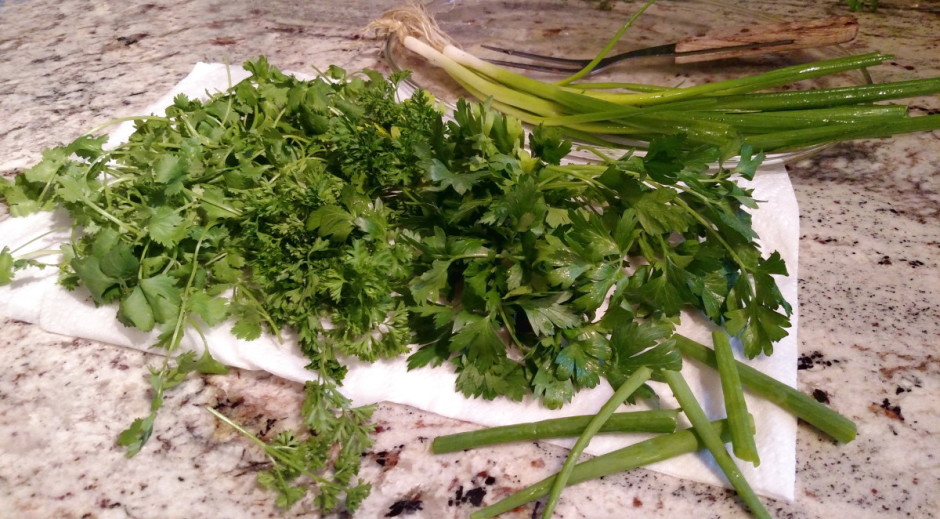 I'm always on the hunt for new ways to use herbs, and every now and then, I stumble on something that becomes a house favorite.
Enter, Chimmichurri. I first discovered it just a couple of years ago through a recipe on Food52 from Adam Rapoport. He described it as "Tart, herbaceous, and absolutely addictive…" and I couldn't wait to try it.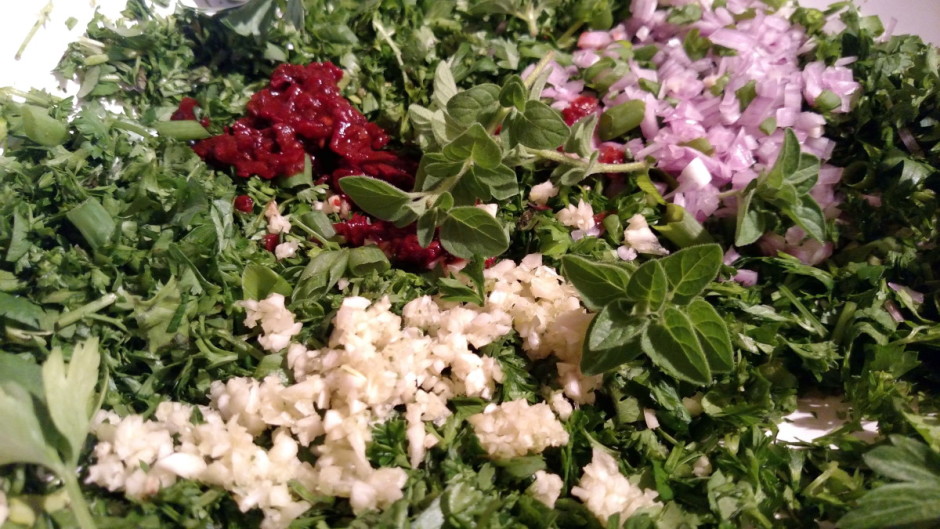 Both my husband and I fell in love with it after the first bite. It feels like something we've just always enjoyed and we wonder how we ever lived without it.
The first time I made it I used canned red jalapenos – and the peppered carrots that came in the can with them – which worked really well. So well, in fact, that it inspired our own variation of Giardiniera Chimichurri with colorful "pickled" peppers and vegetables scattered throughout.
Some folks are very passionate about chimichurri, and there are lots of ideas and traditions that dictate how it should be made. I think that's what I love most about it: There are so many ways to create something so simple, but so uniquely versatile and flavorful.
I've only just begun my love affair with it, so I don't know all the technicalities but I do know that it'll always be on my list of personal favorites and I'll be experimenting with different variations for a long time to come.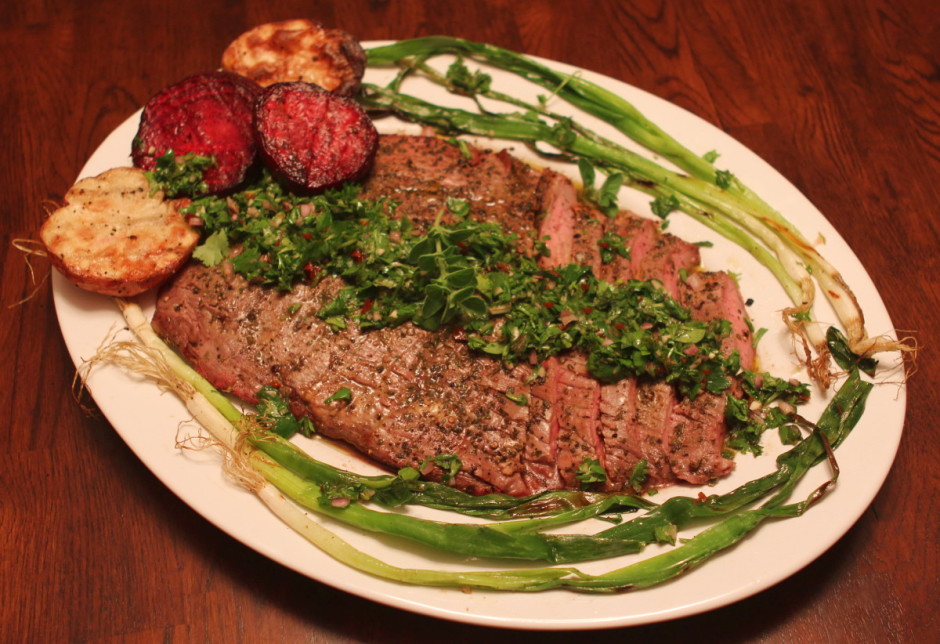 Chimichurri is perfect for the herb-obsessed cook. There are a lot of ways to make it, but the basics include parsley, cilantro (which is technically not a traditional chimichurri inclusion) and other herbs, garlic, peppers, onions or shallots, and olive oil. I've seen very thin "watery" versions as well as very thick, almost pesto-like versions. Either way, it's a wonderful addition to many different dishes.
Chimichurri Sauce
This chimichurri has a little heat that can be adjusted to suit your tastes. It's fresh, fabulous flavors pair wonderfully with grilled dishes. Although it's often served with flank steak, it's also delicious with chicken, pork, lamb and fish, and equally as good as a marinade, salad dressing and dipping sauce. You've just got to try it! | Recipe from
BaconFatte.com
Ingredients
½ cup red wine vinegar
¾ cup extra virgin olive oil
1 teaspoon kosher salt + more to taste
A pinch of red cracked pepper flakes - optional
1½ - 2 tablespoons garlic (3 to 4 cloves), minced
3 tablespoons of shallot (1 large or 2 smaller), finely chopped
2 – 3 tablespoons fresh red or green jalapenos, finely chopped
2 tablespoons jalapenos in adobo sauce, finely chopped
2 cups fresh cilantro (1 large or 2 small bunches), finely chopped & loosely packed
1 cup parsley – curly and/or flat leaf (½ - 1 bunch), finely chopped & loosely packed
⅓ cup fresh oregano (1 small ¾ oz./21 gram herb package), finely chopped & loosely packed
Preparation
In a large mixing bowl, combine vinegar, olive oils, salt, pepper flakes (if using), garlic, shallot, jalapeno peppers. Mix well and allow ingredients to marinate at room temperature while you prep the herbs.
Wash cilantro, parsley and oregano and gently shake or pat dry with paper towel to remove excess water. Thin, fine cilantro and parsley stems are fine to use, but you'll want to trim or remove heavy stems. Remove oregano leaves from stems. If chopping herbs by hand (recommended), use a sharp chef's knife and cutting board and chop them in small batches. You can use a food processor to chop the herbs, be careful not to over-process or they'll become mushy. Just give them a few quick pulses.
Add chopped cilantro, parsley and oregano to bowl and stir until all ingredients are combined.
Serve at room temperature in a small bowl with spoons.
Cook's Notes:
-I recommend chopping everything by hand - especially the shallots, jalapenos. It takes a bit longer, but the colors, shapes and textures they add to the sauce will be worth it!
-It may seem like a lot of garlic, shallots, jalapenos, etc., but their intensity and heat are softened by the olive oil and all the herbs. Let it sit for a bit and then taste… You can always add more!
-Add more olive oil and/or red wine vinegar if you want more liquid (the liquid ingredients will be more or less pronounced depending on how finely the herbs are chopped).
-You can reduce the amount of cilantro by half, but more cilantro produces a brighter flavor.
-Using flat AND curly leaf parsley adds more texture to the sauce.
-Sauce can remain at room temperature for several hours – as long as the herbs are covered in oil, they won't discolor. Stir regularly to distribute ingredients. Store refrigerated in a covered glass bowl for up to 3 days. (I've actually refrigerated it longer. The greens sometimes dim a bit in color, but the flavor is just gets better and better!)
-If using as a marinade for meats or as a dressing for veggies or salads, set aside approximately ½ cup or more as needed for other uses.
-Recipe adapted from
Food52
.
We'd love to hear what other variations you come up with! When you try this recipe, please let us know with a comment here on the blog and make sure to hashtag #baconfatte or tag @baconfatte on Facebook, Pinterest, Instagram, Twitter, and Google+ if you post it. Thanks for visiting BaconFatte.com!