There are probably as many versions of Classic Shrimp Cocktail as there are people who love it. For me, growing up in the marvelous Midwest, classic shrimp cocktail came frozen in round plastic grocery store platters with tiny cups of cocktail sauce. The only prep involved was allowing them to thaw, and voile! – ready-made, "fresh" party food at your fingertips.
It was all well and good, but I knew there had to be more to a "classic" that so many people (myself included) loved so much.
Years later (and now, years ago) on a trip to New York City, my mom and I had dinner at Gallaghers Steak House. I made reservations there because it seemed like the quintessential New York City restaurant at the time. The photos and reviews both boasted and admired its "old school charm".
They've since undergone a stunning remodel, but back then, Gallaghers was definitely old school and charming. Beyond charming.
The waiters wore white jackets with polished, engraved name tags. They introduced themselves with a stately smile and – I kid you not – a twinkle in their eye as they approached your table: "Good evening, ladies! Welcome to Gallaghers Steak House. I am Gerome and I will be your waiter this evening. Your wish is my command." (I'm pretty sure that, had I been standing, I'd have gone weak-ish in the knees at that point because I had never before experienced the polish and professionalism with which that greeting was delivered… it was unexpected, and it was beautiful.)
Gerome carried a perfectly folded white linen towel over his arm. He poured our wine ever-so-stylishly – just enough, and with a quarter turn at the end to ensure that not a drop wound up on the crisp white table linen.
He seemed to know what we wanted even before we did. His knowledge and experience was evident… Everything was served with a nod – almost a bow – seemingly acknowledging both his appreciation for our being there, and our appreciation for his exceptionally sophisticated service.
As simple as it sounded, we happily ordered the Classic Shrimp Cocktail to start. It was listed first among their menu's appetizers. Gerome assured us, of course, that it was an "excellent choice" and that we were sure to enjoy it.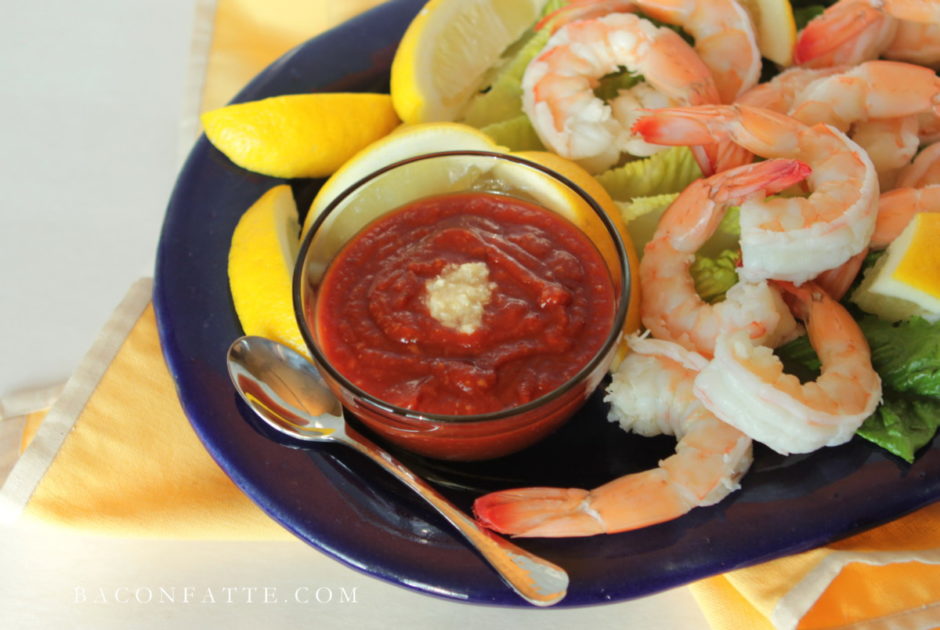 And we did. From the moment it arrived at our table. That Classic Shrimp Cocktail was absolutely divine. So simple – a small glass bowl of horseradish-flaked cocktail sauce, some tender Romaine leaves, fresh lemon wedges, and six gloriously beautiful giant shrimp perfectly perched on the rim of the sauce bowl. It was worlds away from plastic platters of itty, bitty party shrimp that we were accustomed to… Every bite was pure bliss.
I've never forgotten that Classic Shrimp Cocktail. And in the years following, I thawed many shrimp – always striving to thaw the best shrimp possible. And I tried every pre-made cocktail sauce imaginable, often embellishing them with a variety of ingredients so they "taste better." After I met the darling man who would become husband, my shrimp experiments happened more frequently because shrimp cocktail has always been one of his favorites, too.
Then, years later, on that oh-so memorable trip to the Outer Banks with my husband's paternal family (I really do need to tell you all about that trip sometime…), Uncle Tom graciously taught me how to make fresh shrimp cocktail – complete with simple shelling and de-veining instructions. No thawing involved. He also whipped up some cocktail sauce from the simple ingredients on-hand at the beach house we were staying in.
And the rest, as they say, is history. With no disrespect intended for round plastic grocery store platters of frozen shrimp… This, my friends, is how you do fresh, classic shrimp cocktail. I hope this is one of those simple, happy dishes that you, too, keep up your sleeve for every special gathering. Or for Tuesday night on the deck with some chilled wine and a beautiful sunset on the horizon.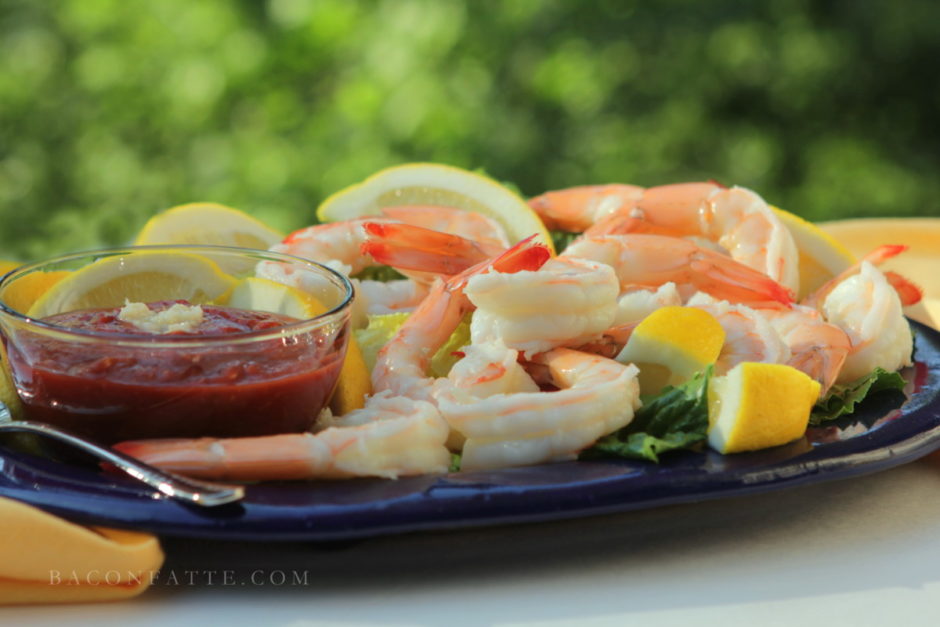 This recipe is amazingly easy, and you can adjust it in any way you please – especially the amount of horseradish "kick". We like it when it bites back a bit, so we generally add all three tablespoons called for in our recipe. And believe me when I say that all horseradish is not created equally – even some labeled "strong" or "hot" may barely have any flavor. To date, Trader Joe's Prepared Horseradish is our absolute favorite. It's been consistently bold and witty, and it compliments this Classic Shrimp Cocktail Sauce perfectly.
You may prefer the milder flavor that just a tiny bit of horseradish brings. Or, maybe the stronger, sinus-clearing punch of a 50/50 red-to-white ratio is your thing. Whatever your preference, you'll know you've got it right when you take a bite of perfectly tender shrimp with a generous dab of sauce… You'll close your eyes and revel in the deliciousness. And you'll never look back.
Cleaning Fresh Shrimp
First of all, please don't fear the shrimp cleaning process – it's no big deal!
For perfect, tail-on shrimp:
Use a sharp kitchen shears or seafood scissors  (the nicely curved blades make shrimp cleaning a snap). Cut the shells open along the top from the head end to the last "knuckle" of the shell just above the tail.
Then, using your fingers, peel the cut shell away from the shrimp and tear it off at the top of the section above the tail. The legs will come off with the shell.
Once the shrimp is peeled, you'll see a thin vein that runs down the back of the shrimp. It's usually grayish in color – sometimes darker, and sometimes very pale. Using a small paring knife, just lift and remove the vein, then rinse the shrimp under cold running water and set aside while you prepare the rest. Note: The back of the shrimp generally opens up as you cut the shell, but if needed after removing the shell, run the tip of a sharp paring knife across the back from head to tail to open up the flesh and expose the vein.
Post Cleaning:
Save the shrimp shells – they're full of flavor!
Sauté them over medium-low heat for 20 minutes with 2 – 4 tablespoons of butter, 2 – 4 tablespoons of white wine, and a tablespoon of fresh lemon juice. Place a strainer over a glass bowl, and pour the shrimp shells and butter through the strainer. Allow to drain for a few minutes, and then discard the shells. Toss this delicious shrimp butter with hot pasta. Add some basil and freshly grated Parmesan, and you've got a beautiful bowl full of amazing flavor. Add veggies or cooked shrimp or chicken for a heartier meal. It's so, so good!
You can also simmer the shells in two cups of water to make shrimp stock. Simmer over medium heat, stirring occasionally, just until the liquid is reduced to 1 – ½ cups. Remove and discard the shells, then add to your recipe. Or, allow the stock to cool, and store refrigerated for up to two days or freeze for later use.
If  you're short on time, just toss the shells into a freezer bag and pop them into the freezer so you can take advantage of their rich flavor later.
Enjoy!
Classic Shrimp Cocktail
Whether you make a little or a lot, you can adjust this Classic Shrimp Cocktail recipe any way you like. After one bite of perfectly cooked shrimp with a generous dab of this simple sauce… You'll be amazed! Serves 4 for appetizers.
Recipe from:
Michele Phillips, BaconFatte.com
Ingredients
For the Shrimp
1 pound fresh, 13-15 count shrimp
½ - 1 tablespoon coarse sea salt
6 cups water (approximately)
½ lemon, cut into wedges for shrimp water
A bowl of ice
For the Cocktail Sauce
½ cup organic ketchup (I like Trader Joe's brand)
1 – 3 tablespoons prepared horseradish (again, I like Trader Joe's brand)
1 tablespoon fresh lemon juice (¼ lemon)
A few grinds of fresh-cracked black pepper
Garnish
Romaine lettuce leaves, optional
¼ lemon, cut into thin wedges for garnish
Preparation
In a small, glass bowl, combine the cocktail sauce ingredients. Stir well, cover and set aside to allow flavors to marry.
In a tall-sided sauce pan, add water and sea salt. Squeeze 3 or 4 lemon wedges (roughly ½ a lemon) into the water then toss in the lemon wedges, cover the pan and allow it to come to a boil while you clean the shrimp. If needed, please see notes above on Cleaning Fresh Shrimp.
Put some ice in a bowl and set aside.
When water is boiling, carefully add cleaned shrimp to the sauce pan. Allow to boil just until the shrimp begin to curl and turn brighter pink – usually no more than one minute. Do not allow the shrimp to curl too tightly (in which case they're overcooked and may not be as tender).
Remove shrimp from the pan as they're cooked - a spider strainer is especially handy for this - and place them in the bowl of ice to stop the cooking process and cool them down quickly.
If preparing ahead, place cooled shrimp in a covered container and refrigerate until serving.
To serve, place small Romaine lettuce leaves on a platter and set chilled shrimp on top of the leaves. Tuck a small bowl of cocktail sauce on the platter, squeeze fresh lemon over everything, and enjoy immediately!
Cook's Notes:
Both the shrimp and the cocktail sauce may be prepared up to 24 hours in advance. Just cover both tightly (separately), and refrigerate until just before serving.

There are many other ingredients that can be added to classic shrimp cocktail sauce - Worcestershire, hot sauce, and red pepper flakes to name a few. But if you appreciate simplicity, and use fresh ingredients, this is all you need!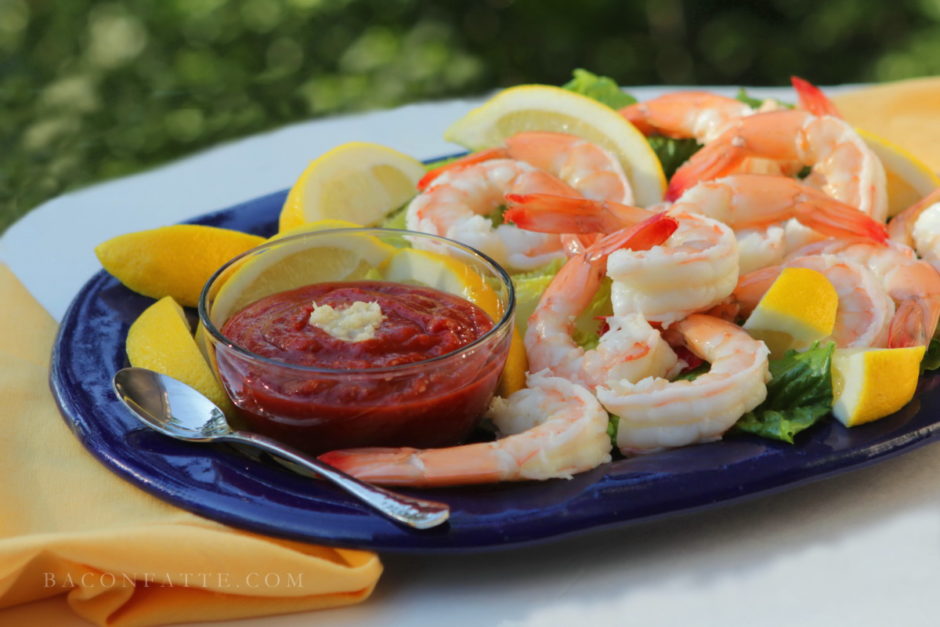 I would LOVE to know what you think when you try this recipe!
Please feel free to leave a note here on the blog in the comments below, and share your creations on Facebook, Pinterest, Instagram, Twitter, and/or Google+ . Make sure to hashtag #baconfatte or tag @baconfatte in your social media posts!