Whether you pronounce it "graht-in" or "grah-taahn" this Colcannon Gratin is sure to throw you for a loop for one reason or another.
Colcannon purists beware… I'm pretty sure I've broken all the rules (if any colcannon rules do, in fact, exist), but I offer no apology. I love cabbage and onions, and I most certainly have a major love affair with potatoes. So on that St. Patrick's Day several years ago when I decided to cook some seriously Irish dishes, it was no surprise that colcannon stole my heart.
I started with one colcannon recipe, then moved to another. And another. They were all good, but last year, I took a little inspiration from one recipe in particular, and just kept going.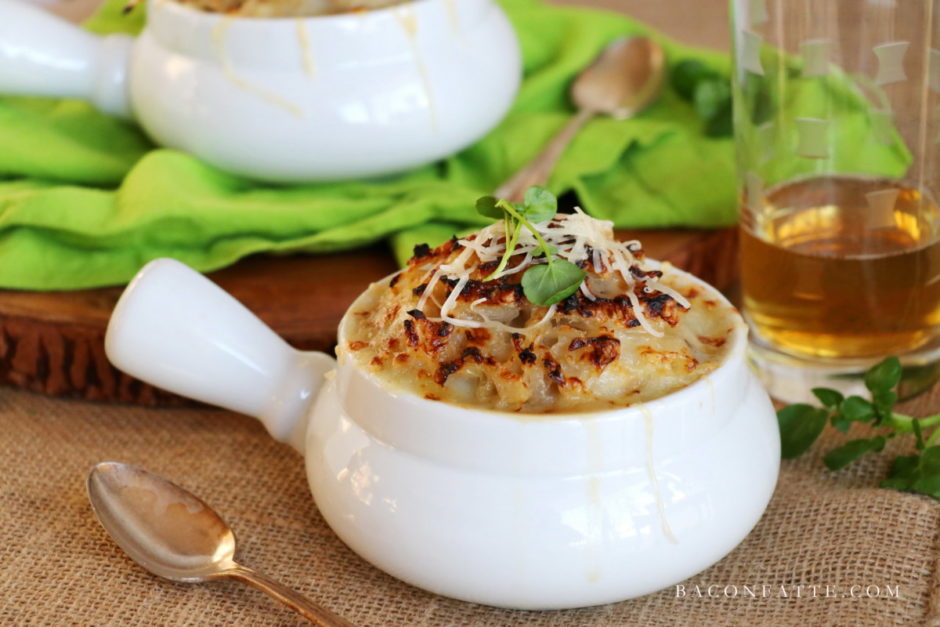 The usual suspects – milk and butter – do a little dance with the other ingredients and create all the creamy goodness that you'd expect. But when you brown the butter, add whiskey to the mix, and layer the whole lot in addition to mixing it all up… and then melt some delicious Dubliner cheese over the top until the edges become golden brown, you've really got something special.
Think French onion soup, but not French, and not soup. Just the rich, buttery, dreamy onion-filled flavors of the soup. Then imagine the velvety potatoes and just a hint of texture from the cabbage… It all goes together so very well in this version of colcannon.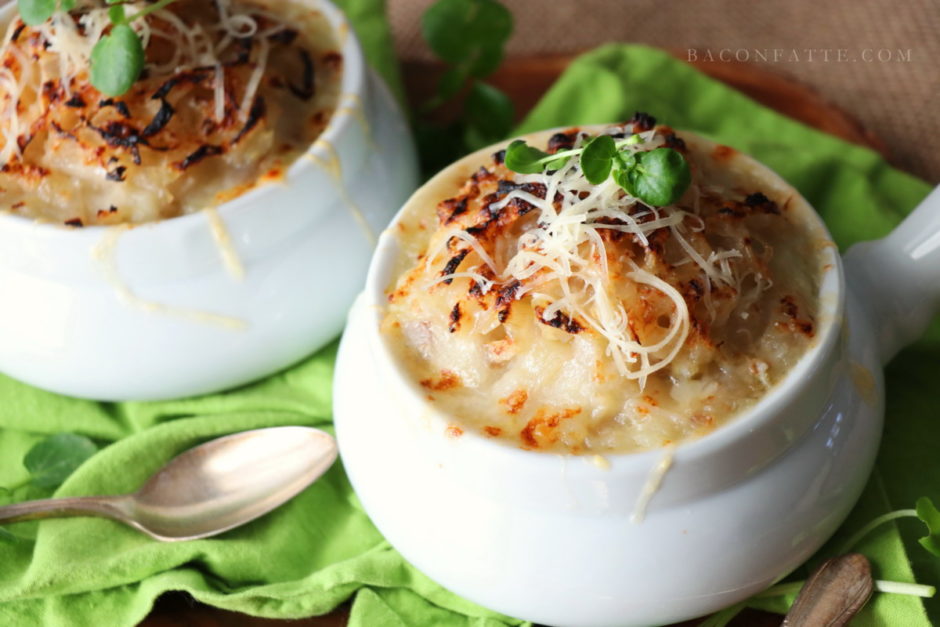 Party Fare
On top of it all, would you believe this decadent dish can also be made ahead of time if you're planning on serving it for a gathering? It can, indeed. I'd never lie to you about something as important as being able get ahead of the entertaining game.
I've tested it numerous times (mainly as an excuse to make this again and again because it's that good), and it bakes up like a dream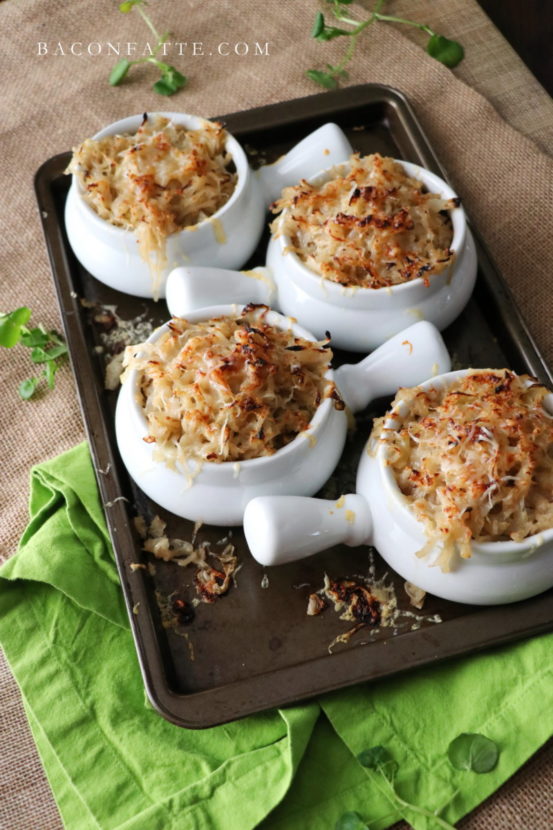 It's best within a day, but it can be made up to three days in advance. (Yes, really!) Just make the recipe according to the steps below, spoon it into a casserole dish or terrines, add the onion/cabbage layer, cover tightly, and refrigerate.
To prepare, uncover and allow the dish(es) to warm up a bit at room temperature. If using terrines like I did here, put them on a baking sheet (so they're easier to move around and so it's easier to add the cheese with less mess later), and bake at 350 degrees F for 20 minutes. Then carefully remove gratin from the oven, turn on the broiler, grate the Dubliner cheese over the top, and pop it under the broiler for 5 minutes or so until the cheese is melted and nicely browned.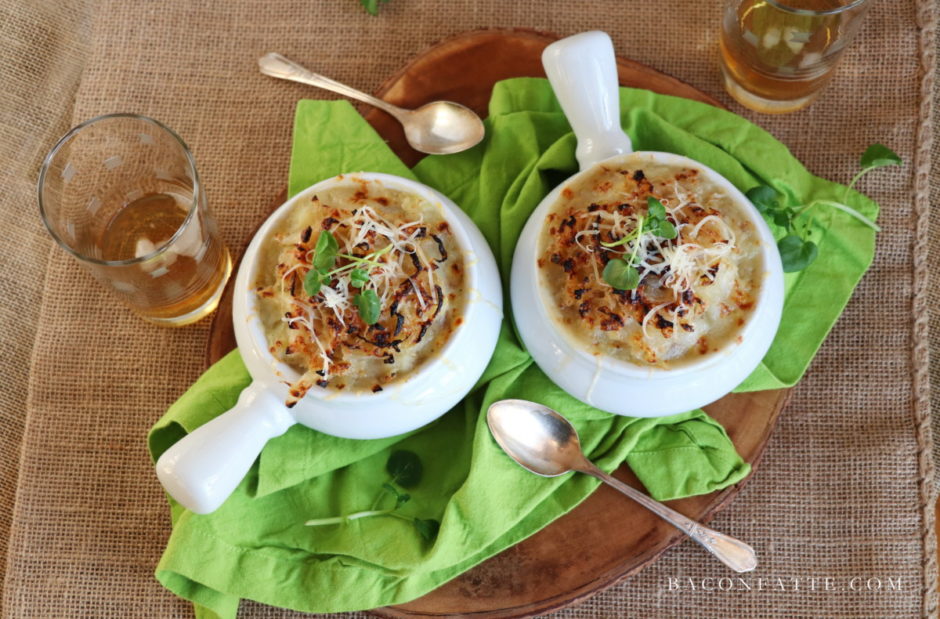 Enjoy!
Colcannon Gratin with Whiskey Caramelized Onions and Melted Dubliner
A velvety Colcannon dish accented with whiskey and topped with melted Dubliner cheese… Make it ahead for a crowd. It's absolutely delicious and sure to impress!
Recipe from:
Michele Phillips, BaconFatte.com
Ingredients
6 Tablespoons salted butter – such as Kerrygold
1½ pounds gold, waxy potatoes – cut into small, even chunks
1½ pounds Russet potatoes – cut into small, even chunks
2 pounds yellow onions – halved and thinly sliced
1½ pounds cabbage (approx. ½ lg. head) – quartered and thinly sliced
4 ounces Irish Whiskey, divided
4 ounces whole milk at room temp
4 – 6 ounces Dubliner cheese
3 teaspoons Kosher salt, divided + more to taste
½ teaspoon ground black pepper, or more to taste
Preparation
Preheat oven to 350 degrees or turn on broiler, per instructions.
Potatoes (1): Prepare a large stock pot with cold water. Scrub and cut potatoes into ½-inch cubes, and place cubes into cold water. Rinse potatoes well to remove excess starch. Add enough fresh water to cover the potatoes along with one teaspoon of salt. Bring to a boil over medium heat.
Onions & Cabbage: In a large, covered pan, add the butter and brown slowly over medium-low heat. Peel, halve, and thinly slice the onions, and add them to the pan with the brown butter. Partially cover the pan leaving a small space for steam to escape, and allow onions to sweat for about ten minutes.
After the first ten minutes, add 2 ounces of whiskey to the onions, stir well, and partially cover. Check and stir the onions every ten minutes or so until they're completely soft and golden brown – this should take 30 – 40 minutes. Quarter and cut cabbage into ½ inch thick slices. When onions are caramelized, add sliced cabbage and 1 ounce whiskey to the pan. Stir well and partially cover. Stir every 5 minutes or so, and check doneness. Cabbage should have a bit of texture in the finished dish.
Potatoes (2): When potatoes are fork tender, drain completely and return to the pot. Pour 1 ounce of whiskey into the milk, stir, pour the mixture into the potatoes, and then mash well. Spoon about half of the caramelized onions and cabbage into the mashed potatoes and stir well with a spatula.
Spoon mashed potato mixture into ovenproof casserole dish or terrines and top with the remaining caramelized onion and cabbage mixture. Season with black pepper, then shred half of the cheese over the top. Place colcannon under the broiler for 5 minutes or so to melt and toast the cheese.
To serve, grate more cheese over the top of the hot gratin, garnish, and serve. *See notes below if preparing ahead and reheating gratin.
Garnish with fresh watercress, chopped chives, or other greens, and enjoy right away.
Cook's Notes:
*The weight of the potatoes and onions need not be exact.
*Peeling the potatoes is optional… I don't usually peel them for this dish.
*The whiskey is, of course, optional but it adds a wonderful richness to the dish. It's also optional to add more than the 4 ounces indicated here, but if you're adding it, doing so in stages as indicated – versus all at once – is a must for building layers of flavor.
*You can prepare this Colcannon Gratin up to three days ahead of time. Keep covered and refrigerated. Allow to warm slightly at room temp, then bake at 350 degrees for about 20 minutes until colcannon is completely warmed through. Add cheese and broil just until cheese is melted and toasty brown.
*It goes without saying, but I'll say it anyway: Potatoes tend to hold heat for a long time. You're going to be really excited for that first bite, but do be careful and make sure your colcannon isn't too hot when you're ready to eat!
Colcannon Gratin with Caramelized Onions and Dubliner
I'd love to know what you think of this delicious recipe when you make it!
Feel free to leave a note here on the blog in the comments below, or share your creations on Facebook, Pinterest, Instagram, Twitter, and/or Google+ .
Make sure to hashtag #baconfatte or tag @baconfatte in your social media posts!