My Grandmother used to make huge batches of cole slaw. She grated mountains of green cabbage into a big stainless steel bowl along with a little carrot and onion. Grandpa liked "convenient" food – nothing with big pieces, nothing drippy or messy. He was kind of finicky like that. So, Grandma made sure the food she made was tight and clean. Sort of.
After grating everything into a completely fork-friendly consistency, she drenched it all in a heavy (read: not drippy) mixture of mayonnaise, vinegar, sugar, salt and pepper. Grandma never measured anything. She was – as I suspect most of our grandmothers and their mothers before them were – master of a-little-of-this-and-a-little-of-that cooking. Everything was done by approximation, and after years of creating her family's favorite cole slaw, she could whip it up pretty quickly. And, of course, it was always so good!
I started trying to re-create my Grandmother's cole slaw shortly after meeting my husband – he loves good slaw. We've been through many variations over the years – classic, creamy, vinegary, Asian-inspired, fruity… All good. When cole slaw is offered as a side in restaurants, we always order a little cup in hopes of finding some new flavor combination that blows our skirts up.
Generally, it seems restaurants keep things like cole slaw pretty "safe"… Nothing too crazy so they don't offend peoples' palates. I get it. That's kind of how this recipe came to be.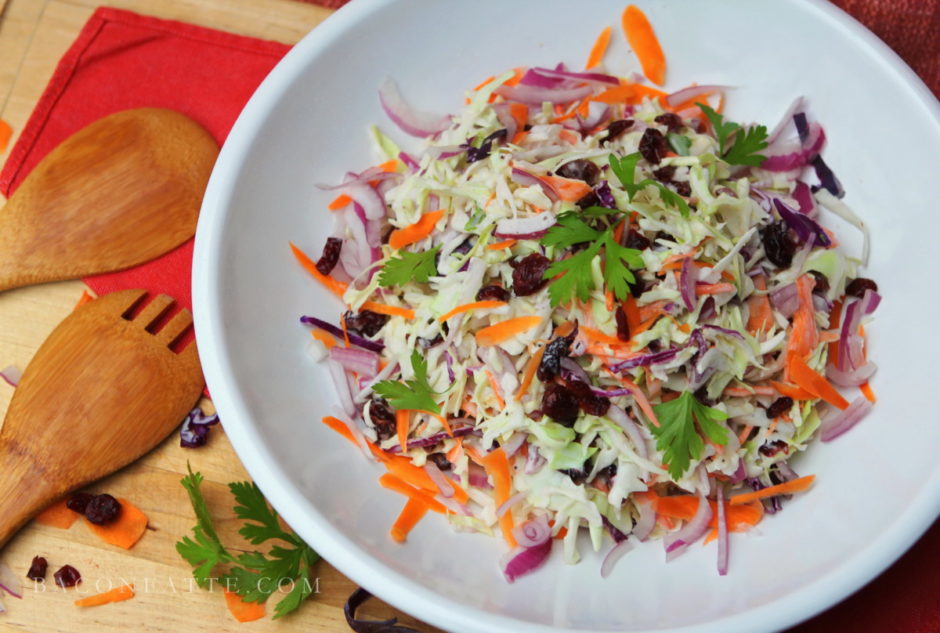 Colorful Cranberry Carrot & Red Onion Slaw
This Colorful Cranberry Carrot & Red Onion Slaw recipe started out quite a bit differently. It consisted of just green, freshly chopped cabbage and red onion. And in hopes of recreating some of the flavors of a raspberry chipotle sauce that we fell in love with a while back, the first version of this slaw had an odd – but wonderfully delicious – pinkish tinge to it.
It was originally intended as a simple spicy-sweet slaw for fish tacos during a family fishing trip weekend on our boat. I planned to use sweet red raspberry preserves and plenty of chipotle powder for a nice blend of flavors to accent our (intended) fresh-caught, grilled Lake Trout tacos. They were going to be simple, but epic!
Despite our best efforts and a full and beautiful day on the water with family, there would be no fish for tacos that weekend. Thankfully, I brought some chicken – just in case.
But the pink slaw was a major hit. I made a Creamy Raspberry Chipotle Sauce – which has since taken on a life of its own – and tossed it in with the cabbage and onion to feed my starving crew so they wouldn't expire before the chicken finished on the grill.
They loved the slaw! It was a total win – except for the fact that I barely had any left when it came time to put the tacos together. But there are worse things.
That spicy, sweet pink-hued slaw still makes an appearance for tacos, sliders, and whenever the craving hits – we absolutely love it! But this Colorful Cranberry Carrot & Red Onion Slaw began taking shape when my mom asked me to make "that cole slaw you made that weekend on the boat" for my parents' 50th wedding anniversary. As good as the it was, we agreed that serving pink, spicy, chunky slaw to our very traditional family members probably wouldn't go over well.
So I simplified the sauce by taking out the "pink" and the "spicy," and added a bunch of colorful veg and berries (because pretty is key for a 50th Anniversary dish, wouldn't you agree?!). We went through four batches of this very recipe the day of the anniversary. I guess everyone liked it!
And we've made this Colorful Cranberry Carrot & Red Onion Slaw many times since… My husband deems it his all-time favorite and refers to it as a Signature Bacon Fatte Dish (he's just awesome like that)!
I'm pretty sure Grandma and Grandpa would crinkle their brows a bit over this slaw recipe… There's no granulated sugar or added salt, and because I like lots of colors and textures, it has plenty of both.
It's also "perfectly" dressed, IMHO… not too heavy, and definitely not too dry. The sweet, tangy cranberries add a wonderfully chewy little bite, and the red onions play really well with the vinegar. The carrots bring their bright, beautiful color to the table no matter what time of year we serve this slaw, so it's a winner for every season.
Although this recipe can be cut in half very easily, it definitely makes a big batch as written, so it's great for family dinners and pot lucks. The recipe also holds well overnight (i.e., for leftovers), but it's best to toss the slaw and the sauce together shortly before serving.
Enjoy!
Colorful Cranberry Carrot Red Onion Cole Slaw
This Colorful Cranberry Carrot & Red Onion Slaw is perfectly dressed with a nicely balanced sweet, tangy sauce and lots of colors and textures that make it a win for any season! The recipe can easily be cut in half for a smaller batch if you prefer.
Recipe from:
Michele Phillips, BaconFatte.com
Ingredients
For the sauce
¾ cup regular mayonnaise
¼ - ⅓ cup white vinegar
2 tablespoons honey
1 teaspoon coarse ground black pepper, or more or less to taste
For the slaw
6 cups green cabbage - thinly sliced or shredded
1 cup purple cabbage - thinly sliced or shredded
1 cup carrot - peeled and shredded or shaved
¾ - 1 cup red onion - thinly sliced or chopped
½ cup dried cranberries
Preparation
For the sauce
In a glass bowl with at least a two cup capacity, add the sauce ingredients and stir well until completely combined. Cover and refrigerate while preparing the slaw, or up to two days, before serving.
For the slaw
Cut up, chop, slice, or shred the green and purple cabbage, carrot, and red onion to your liking and place in a large mixing bowl with the cranberries.
Shortly before serving, add the sauce and toss slaw and the sauce together until all the ingredients are completely coated.
Garnish with fresh parsley or thinly sliced scallions and serve.
Cook's Notes:
*Packaged slaw mixes work just fine for this recipe if you'd rather. This recipe uses approximately 1½ pounds of cabbage.
*I use ⅓ cup of white vinegar when I make this, but if you prefer less "tang" or thicker consistency, use less vinegar.
I would LOVE to know what you think of this recipe when you try it!
Feel free to leave a note here on the blog in the comments below, or share your creations on Facebook, Pinterest, Instagram, Twitter, and/or Google+ .
Make sure to hashtag #baconfatte or tag @baconfatte in your social media posts!