This heavenly Double Apple Streusel Bread just might be one of my favorites. It's one of my three favorites, for sure.
I've been making it for several years now, along with my other favorite Apple Cinnamon Ribbon Bread, and my other favorite Apple Pie Bread with Oatmeal Crumb Topping. And it works just as beautifully for deliciously giftable mini loaves as well as standard loaves.
The original recipe for this apple streusel bread was wonderful just the way it was, but a few tweaks seemed to make themselves over time. That's the best thing about any recipe, really… To find it, to make it, and then to make it your own. That's what it's all about!
Just little things like cutting the amount of oil in half and adding unsweetened homemade applesauce in its place… Because it seemed like a good idea at the time. As it turned out, it was. And that's what made this recipe a "double apple" recipe!
The addition of vanilla bean paste instead of vanilla extract happened because that's what I had on hand during one particular baking spree. (I always have vanilla bean paste on hand – I "discovered" it when testing recipes for a friend's cookbook, and life hasn't been the same since… those tiny little vanilla bean flecks totally make my world go 'round!)
Cutting the sugar in half (one cup instead of two) was a considerable stretch. It was good, but the bread was definitely missing something. Adding the applesauce in on next round totally made it. And so did adding the brown sugar to the streusel. And that pretty little sprinkle of crunchy raw sugar? Yeah, it's a *must* because the only thing better than streusel is streusel with a lil bit 'o crunch!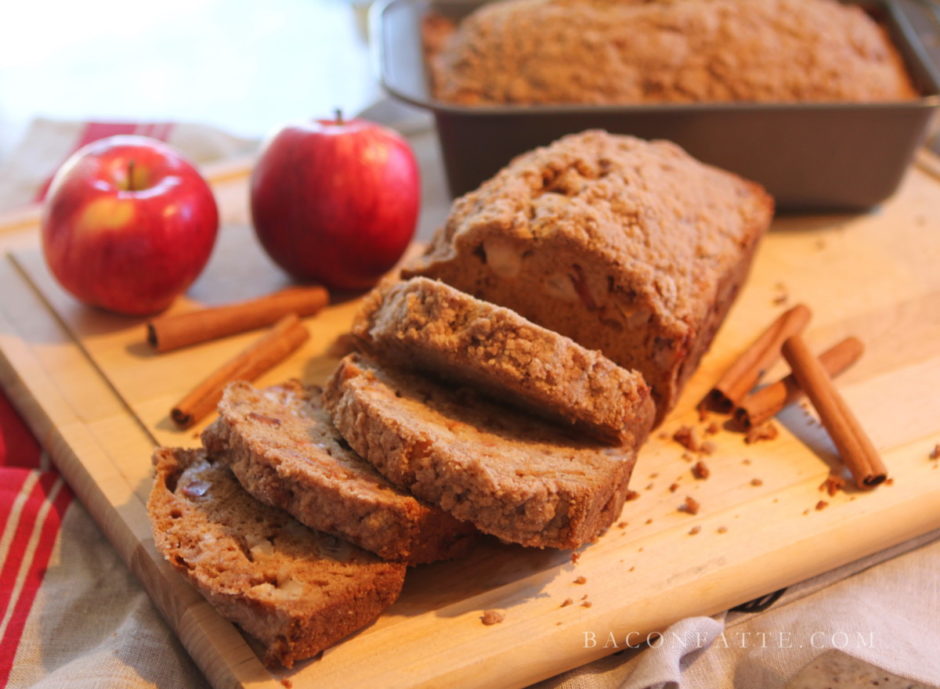 What we ended up with is a dense, moist, not-too-sweet, yet perfectly sweet and wonderfully apple-y apple bread with the most delicious buttery, cinnamon-y crumbliness on top.
I really hope you try this recipe – and the other Apple Bread recipes mentioned here, too. And hope you love them as much as we do. Even more than that, I hope you love them enough to make them your own – including making them a part of your seasonal "must have" recipes because you just can't wait to taste them again.
Enjoy!
Double Apple Streusel Bread
This Double Apple Streusel Bread is a dense, moist, not-too-sweet, yet perfectly sweet and wonderfully apple-y apple bread with the most delicious buttery, cinnamon-y crumbles on top.
Recipe from:
Michele Phillips, BaconFatte.com
Ingredients
For the Bread:
4 cups (un)peeled, chopped apples
4 large eggs, well beaten
½ cup canola oil
½ cup unsweetened apple sauce
2 teaspoons vanilla bean paste (such as Nielsen Massy's)
2 teaspoons baking soda
2 teaspoons salt
2 teaspoons cinnamon
1 cups granulated sugar
3 cups all-purpose flour
For the Streusel:
¾ cup all-purpose flour
¼ cup granulated sugar
¼ cup brown sugar
2 teaspoons cinnamon
½ cup butter, softened
+1 tablespoon raw sugar – for sprinkling on top of the streusel
Preparation
For the Bread
Warm up the oven to 350°F.
Lightly butter 2 standard (or 6 – 7 mini) loaf pans, then set aside.
In a large mixing bowl, beat eggs until frothy with an electric or stand mixer. Add the oil and apple sauce, and beat until blended. Add the vanilla bean paste, baking soda, salt, cinnamon, and granulated sugar, and beat until completely combined.
Begin adding flour to the mixture, and stir with a spatula until roughly blended, then beat with the mixer until all ingredients combine and form a smooth, thick batter. Finally, fold in the chopped apples just until all the pieces are covered with batter.
Pour the batter into prepared pans. For 2 standard loaf pans, pour in about 3 ½ cups per pan. For mini loaf pans, pour in about 1 cup per pan.
For the Streusel
In a small bowl, add flour, granulated sugar, brown sugar, cinnamon, and softened butter. Using a pastry cutter or fork, roughly mix the ingredients until there are a variety of textures, but nothing larger than the size of a pea. (*See Cook's Notes below if you have leftover streusel.)
Using a spoon or your fingertip, evenly sprinkle the streusel mixture on top of the batter in the pans. Lastly, sprinkle the raw sugar over the top of the streusel.
For standard loaves, bake for up to 1 hour – check after about 45 minutes. For mini loaves, check after 15 minutes. To check, insert a toothpick into the center of the loaves. When done, the toothpick will come out clean or with just a few fine crumbs on it. Remove the loaves from the oven and allow to cool for 10 – 15 minutes, then remove them from the pans and place on a cooling rack.
Serve warm, or at room temperature. Breads will stay fresh and soft when stored in an air-tight container. Refrigerate up to three days if making ahead, or wrap well and freeze for up to 30 days.
Cook's Notes:
NOTES:
*To peel, or not to peel… That is entirely up to you. For whatever reason, I never peel my apples with this bread, and that added texture works beautifully in this recipe.
*Not all of the streusel ingredients will combine with the butter. Some will remain (like rough sand) in the bottom of the bowl. It seems like a lot, and you can certainly just load it all on top of your loaves. Otherwise, any leftovers can be kept in an air tight container in the refrigerator and enjoyed on top of anything from oatmeal and muffins to sweet potato casseroles.
*Do not overbake! Every oven cooks differently, so do yourself a favor and check your loaves early – especially if making mini loaves. The reward of a super delicious, super moist apple bread is well worth the effort!
*Recipe adapted from
What Megan's Making
and the Penzey's Spice catalog
Craving more apple-y deliciousness?
Try these other apple streusel bread recipes!
Apple Pie Bread with Oatmeal Crumb
East Slow Cooker Applesauce – made with just one ingredient!
Edible Gift Ideas, Recipes & Gift Wrapping Inspiration 
I would LOVE to know what you think of this recipe when you try it!
Feel free to leave a note here on the blog in the comments below, or share your creations on Facebook, Pinterest, Instagram, Twitter, and/or Google+ .
Make sure to hashtag #baconfatte or tag @baconfatte in your social media posts!