A little more than a year ago on Thanksgiving Eve, I was tenderly navigating a fresh roll of filo dough and contemplating the deliciousness of something called Bloody Mary Tomato Jam.
Neither the filo or the tomato jam were on my Thanksgiving menu, but I was testing recipes for a friend's new cookbook. (And while we're on the subject, the cookbook, "Cooking With Cocktails" by Kristy Gardner, just became available for purchase as of this writing! I can't recommend it highly enough… It's absolutely gorgeous and filled with unique and really creative recipes. You need it – you really do!)
As the name of the book implies, each of Kristy's recipe features a different type of alcohol. So with each test recipe, I ventured into our local wine shop for ingredients and always ended up learning something new. I'd describe the dish or ingredients, and Tony – a former chef and the wine shop's resident flavor profile expert – would recommend the best beverage for the job based on where and how it was produced, etc.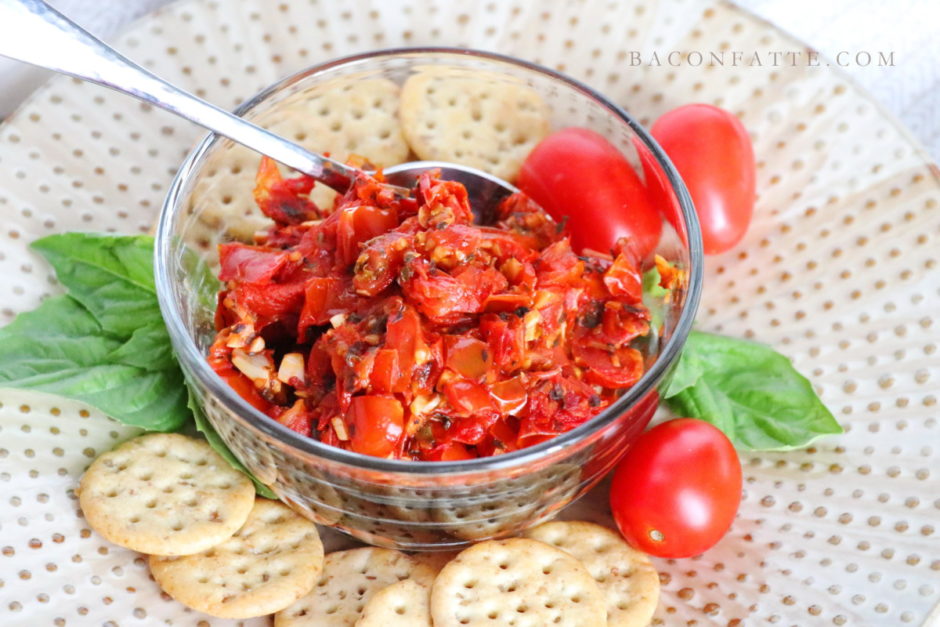 Both the aforementioned filo and tomato jam recipes called for vodka. While chatting with Tony, I said I've often used wine with tomato recipes, but never vodka. He chuckled and told me I was in for a treat.
He said that spirit alcohol magnifies tomato flavors really well. "Google it! There's serious science behind it!" He's right, of course.
On the topic of adding a splash – or a glug – of vodka to tomato dishes, Food52 puts the science into an eloquent little nutshell:
"It may be a humble liquor, but it's also an abundant source of ethyl alcohol that 'during cooking, can react chemically with acids in the food to form fragrant, fruity compounds called esters,' according to food science writer Robert L. Wolke. So the boozed up sauce isn't just a marketing ploy from the 1970s Italian vodka industry, as some legends would have it…"
I've also seen several references that suggest adding sugar to tomato sauces to round out the flavors, but let's leave that idea for another day. Vodka has no sugar to speak of, yet it certainly knows what to do with the naturally occurring sugars in tomatoes. Let's run with that.
Now back to Kristy's tomato jam… It was stunning. It was filled with gorgeously complex flavors and I was instantly hooked. I made another batch a few days later. And then another. And then I made my own version. A simpler version that goes with just about everything.
And here it is.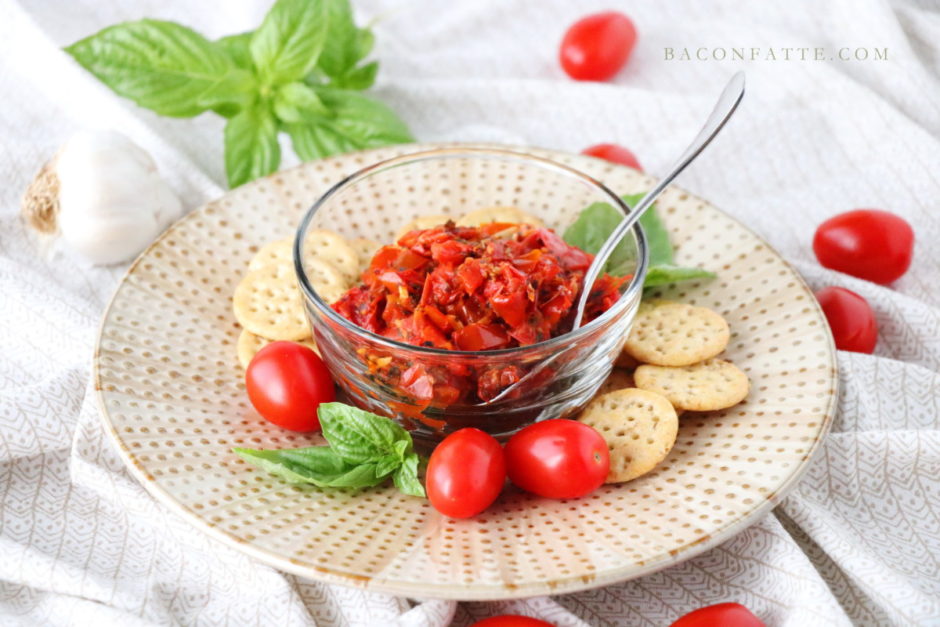 I've always liked ketchup (yes, really!) and this tomato jam is light years beyond ketchup in so many ways.
Tomato jam is thick and chunky and spreadable… Absolutely lovely with crackers, meats and cheeses, and fresh vegetables. And it makes a wonderful spread for sandwiches. This stuff takes BLTs to a whole new level. Oh, and those big, juicy gourmet burgers you so masterfully grill out on the patio all summer long absolutely beg for tomato jam. Trust me on that one.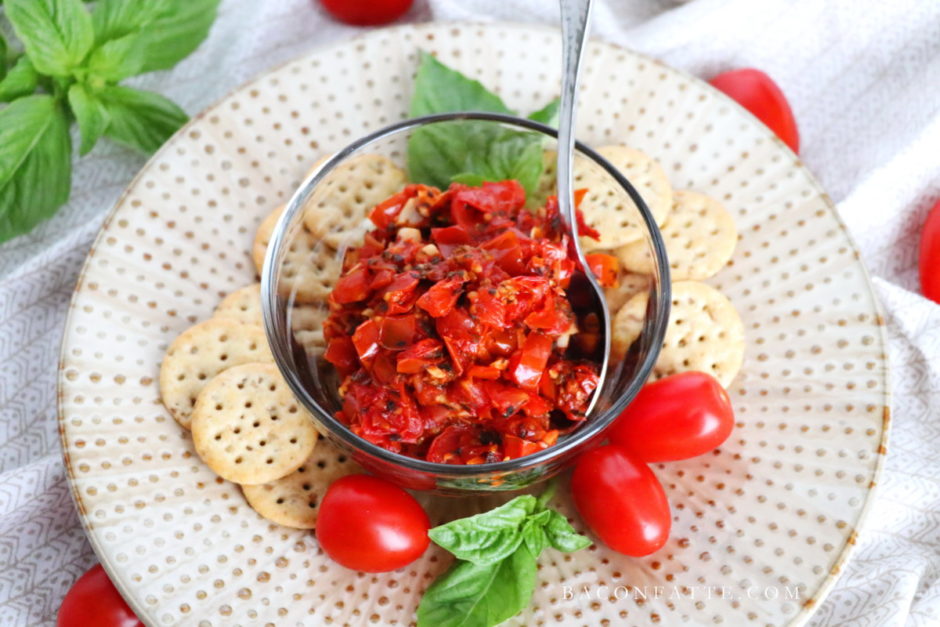 As you might imagine, it's also fabulous with big, thick roasted potato wedges. Just slice up some Russets, toss them with a little olive oil, and sprinkle with salt, pepper, and dried herbs of your choice. Spread the potatoes out on a parchment-lined pan, and roast them at 400 degrees F for 15 – 20 minutes or so until tender and lightly browned. Then go ahead and eat the whole pan all by yourself – dipping one after another in this tomato jam – while standing at the kitchen counter. No judgement here.
This tomato jam is also unfathomably delicious with fried cheese curds. Yes, really. Cheese curds + tomato jam = mind blowingly good. Who knew? I do. And now you do, too.
If you want to make it more dippable, you know, like ketchup, just run an immersion blender through it or pop it into your food processor or blender. Boom. Done. Fabulous. And so, so good.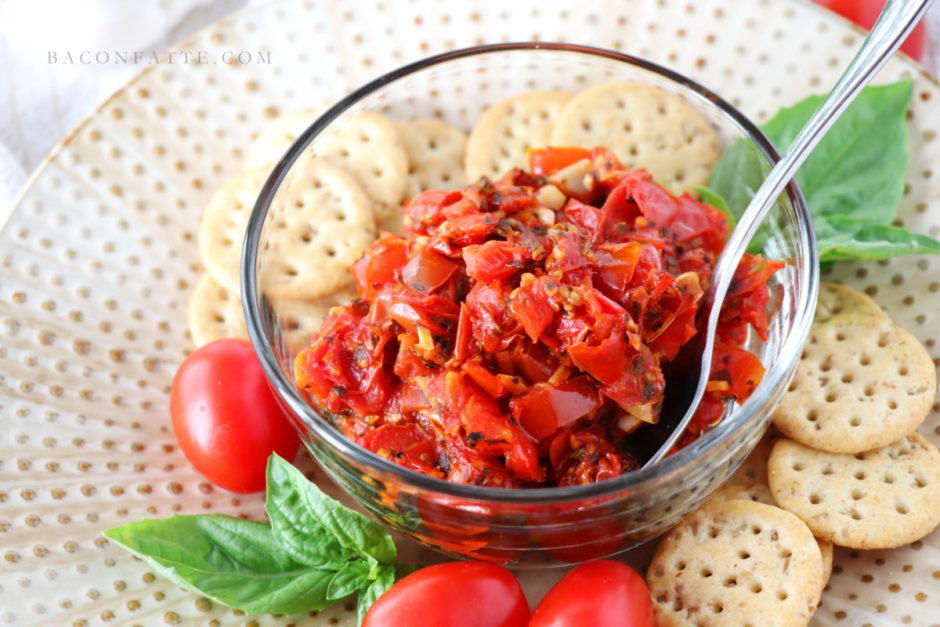 Enjoy!
Easy Garlic Herb Tomato Jam
Enjoy this Easy Garlic Herb Tomato Jam a dip, a sandwich spread, an alternative for ketchup, or even just a quick snack with crackers. You'll love the rich, robust flavor!
Recipe from:
Michele Phillips, BaconFatte.com
Ingredients
1 cup cherry tomatoes (about 24 – 30), chopped
2 cloves garlic, finely chopped
1 teaspoon dried basil – or other herb of your choice
A splash of vodka (about 2 Tablespoons)
1 Tablespoon olive oil
Salt and Pepper to taste
Preparation
In a small skillet, add the olive oil, tomatoes, garlic, dried herbs and vodka. Stir well and simmer over medium-low heat for about 10 minutes. Reduce heat to low, and continue to simmer (stirring often) until liquids cook down and ingredients thicken and stick together. Remove from heat, allow to cool before serving. Garnish with more herbs (either fresh or dried) and enjoy!
Cook's Notes:
*If preparing ahead, place in a non-reactive container and cover tightly for up to two days.
*Recipe is very easily doubled or tripled.
*As noted above, this tomato jam is great for a variety of uses. Serve with crackers, cheeses and meats. Enjoy as a sandwich spread or as an alternative to ketchup on your favorite burgers, or spoon it up with fried cheese curds.
*For a more sauce-like consistency, use an immersion blender, food processor or blender to "cream" the ingredients after cooking.
Easy Garlic Herb Tomato Jam
If you make this recipe, I'd love to hear how you served it!
Feel free to leave a note here on the blog in the comments below, or share your creations on Facebook, Pinterest, Instagram, Twitter, and/or Google+ .
Make sure to hashtag #baconfatte or tag @baconfatte in your social media posts!