This Turkey Meatball Pizza uses a few pre-made key ingredients that make preparation a snap, but the flavors and textures will blow you away! The sweet fig spread "sauce" balances the savory cheeses and pairs perfectly with the red onions, sautéed baby Brussels sprouts, and hearty turkey meatballs. This beautiful 'za is great for lunches, weeknight dinners, and gatherings of any size. You're gonna love it!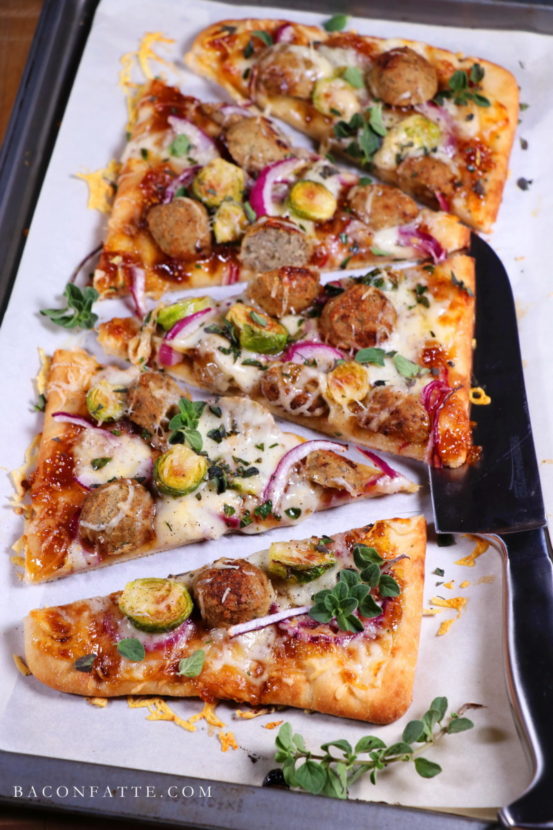 What You'll Need
Turkey meatballs (I used Simek's meatballs)
Readymade flatbread (I used Stonefire Artisan Flatbread)
Baby Brussels sprouts
A small red onion
Cheeses – such as smoked Gouda, Provolone, and Gruyere
Fresh oregano
Olive oil
Salt and pepper
Two rimmed baking sheets
Parchment paper (optional)
A small fry pan (optional)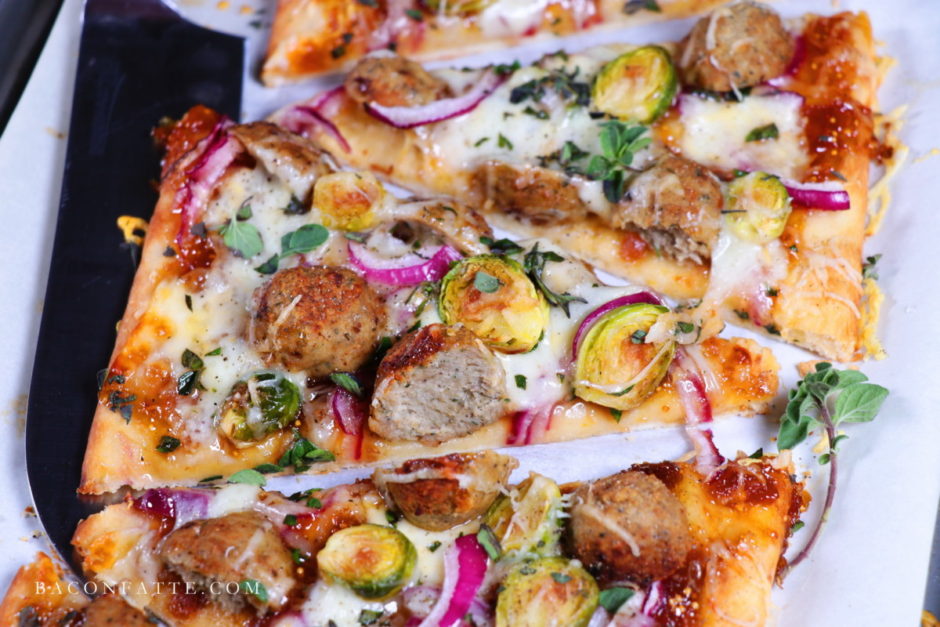 What's To Love
With just a little prep work, this Turkey Meatball Pizza comes together really quickly! It's great for quick meals and any leftovers re-heat well. This recipe is also great for parties, because you can assemble several pizzas in advance and then just pop them in the oven as needed.
The flavors are delicious together – definitely not your same old party pizza. This turkey meatball pizza has layers of rich flavors that are a pleasant surprise when people try it for the first time, and those flavors keep 'em combing back for more.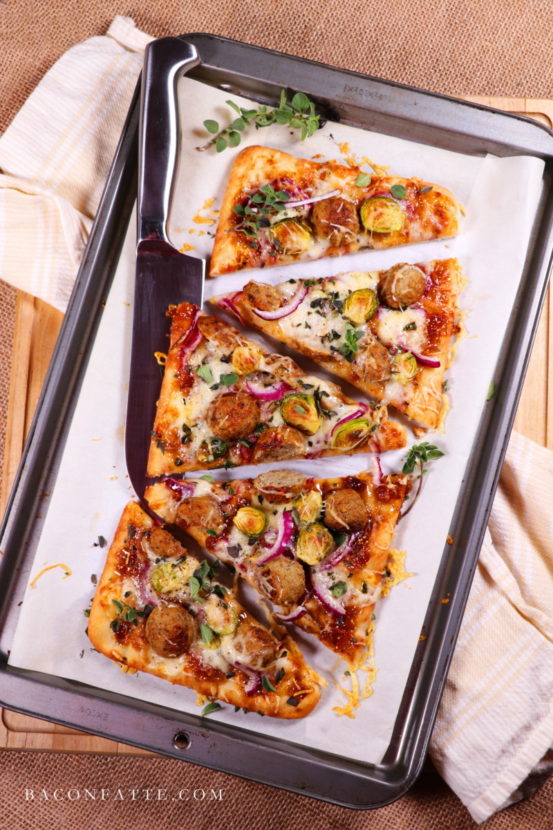 Here's The Story
This recipe was inspired by several things. First, having discovered Simek's Turkey Meatballs at a holiday function, I was excited to work them into my own holiday party menus. Then, I had the opportunity to create a colorful and festive orzo salad recipe with the turkey meatballs for Simek's #onegivesone campaign. The salad was such a hit with my friends and family, I kept going. Using Simek's beef meatballs, I made some ridiculously easy and delicious meatball sub sliders. They're so good, we crave them on a regular basis!
This turkey meatball pizza recipe came about because of a lucky little chain of events. I had a bag of the turkey meatballs in my freezer, and I knew I wanted to do something pizza-ish with them. First, I spotted a wonderful fig spread near the artisan cheeses at the grocery store. That reminded me of a fabulous Fig & Formage Flatbread that I had at a restaurant several years ago, and I knew I had several varieties of cheese in my refrigerator that would work perfectly. I went to grab some ready-made naan that I spotted earlier, and right next to it were some gorgeous golden-brown oblong flatbreads that were even more perfect for what I wanted to make.
For both color and flavor, of the red onion just had to be a part of the ingredient list. The baby Brussels sprouts were a fortunate afterthought… They were so fresh and looked so pretty in their little grocery store bin, I just had to grab a handful for good measure.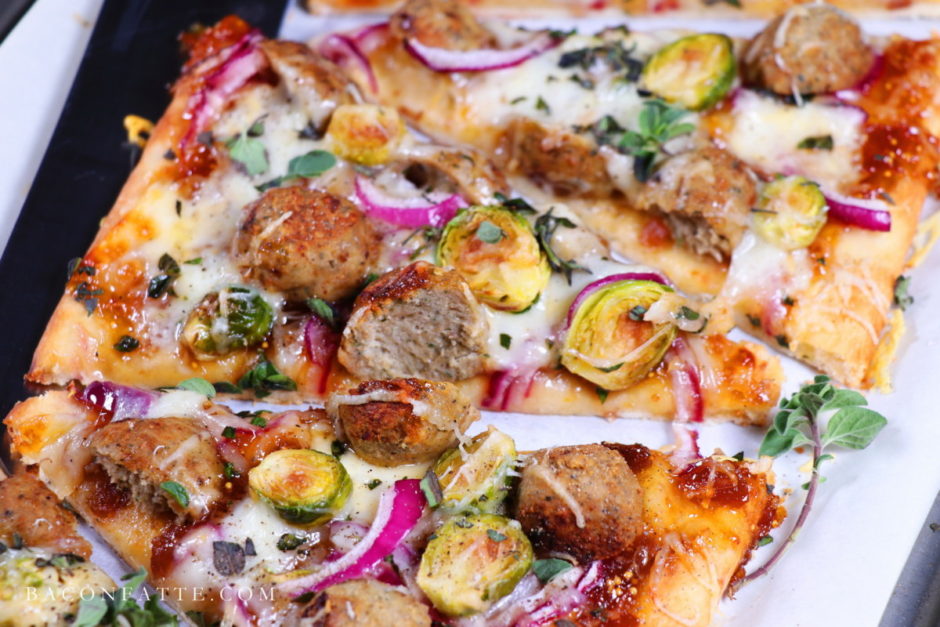 All-in-all, this pizza turned out even better than I imagined. We loved it so much that we incorporated it into a game day snack platter (see below) a few weeks later, and everyone raved about it. So, now that it's been thoroughly tested and determined to be fabulously delish, it's earned its way here on to the blog where I can share it with you!
Enjoy!
Easy Turkey Meatball Pizza with Fig and Fromage
This Turkey Meatball Pizza uses a few pre-made key ingredients that make preparation a snap, but the flavors and textures will blow you away!
Recipe from:
Michele Phillips, BaconFatte.com
Cuisine:
Appetizers & Party Fare
Ingredients
2 Readymade flatbreads (I used Stonefire Artisan Flatbread)
20 – 22 Turkey meatballs (I used Simek's brand), cooked and halved
6 – 8 tablespoons fig spread
1 cup baby Brussels sprouts, halved and sautéed
½ cup red onion, thinly sliced
½ - ¾ cup freshly shredded cheeses – such as smoked Gouda, Provolone, and Gruyere
Fresh oregano, chopped
Olive oil
Salt and pepper – to taste
Preparation
Preheat oven to 425 degrees F.
Line two baking sheets with parchment paper (optional), and set aside.
Cook meatballs according to directions on package. Cut each one in half after cooking.
Trim and halve the brussels sprouts. They can be added to the pizzas as-is, or I like to sauté them over medium-low heat in a small pan with a splash of olive oil for a few minutes until they're tender and lightly caramelized.
Place flatbreads on the baking sheets. Spread 3 – 4 tablespoons of fig spread on each flatbread. Layer on sliced onions, meatballs, Brussels sprouts, shredded cheeses, and then a few more onions on top. Bake for 8 – 10 minutes or just until flatbread is lightly crispy and cheeses are melted.
Sprinkle with fresh oregano, cut in slices or squares (see note below) and serve!
Cook's Notes:
This recipe makes 2 pizzas which will feed anywhere from 2 - 10 people, depending on other items being served.
The flatbread I used made 5 pieces when cut into pizza-shaped wedges for dinner, and 8 pieces when cut into snackable squares.
While the meatballs I used can be cooked in a variety of ways, I prefer to cook them in a pan on the stovetop so they caramelize a bit and get that golden-brown color.
Making this Easy Turkey Meatball Pizza?
I'd love to hear about it!
Leave a note here on the blog in the comments below, or share your creations and ideas on Facebook, Pinterest, Instagram, Twitter, and/or Google+ .
Make sure to hashtag #baconfatte or tag @baconfatte in your social media posts!