Tis the Season! Whatever that means to you, and however you celebrate it, I hope you'll think about taking a different approach to gift giving this year.
I'm a big fan of homemade, handmade gifts just because they're usually not something you can get anywhere else. They're generally as thoughtful as they are unique, and they have the added benefit of being made with love.
Of course, you always want to give something that's appropriate for the recipient. We all have different tastes, but everyone has to eat so edible gift ideas are always a hit.
I can also tell you that, as a food writer, I often have to find people to help me consume the food I create and write about, and that's never a problem. It's a little like Christmas when I show up with freshly-baked treats to share, and I couldn't be happier to make someone's day a little more delicious.
When I embarked on my apple bread baking spree this year, I actually had people offering to take some off my hands. Mini apple bread loaves were the perfect solution because they were much easier to share, and I got to share a variety of flavors instead of just one kind. Win/win!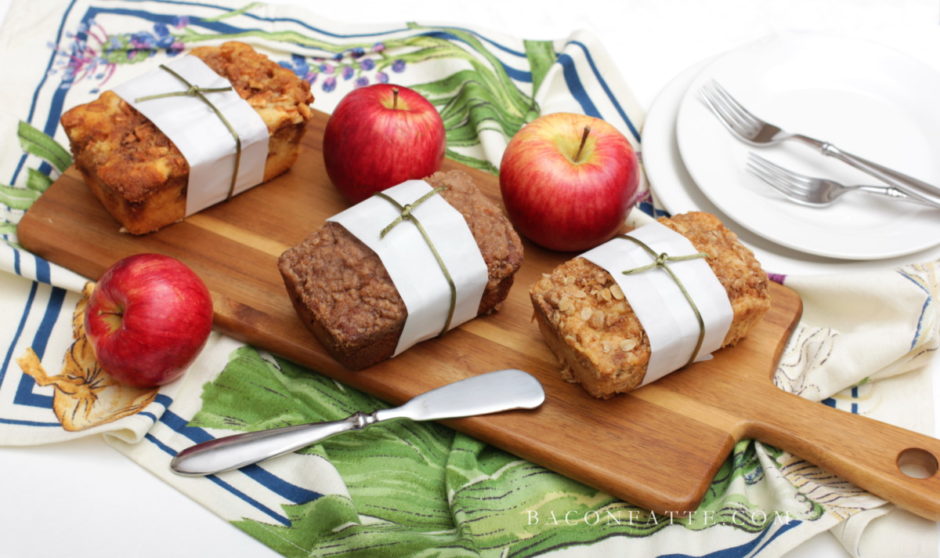 Oh, about those darling little satin cord-accented parchment bands in the middle of each mini loaf… they aren't just for decoration. They're functional, too. When the recipient reaches into the gift box to grab one of the mini loaves, he or she can grab the paper wrap so they won't get their fingers messy.
This year's sweet bread favorites were pretty clear cut, so I stuck with them. The following recipes certainly have some things in common, and yet they're all deliciously different.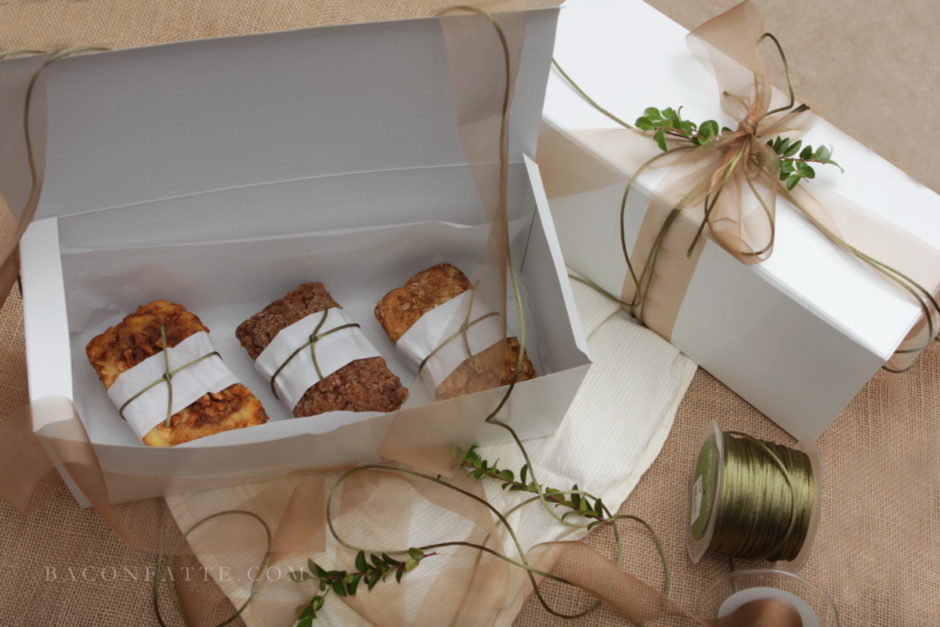 Given the time of year, it just didn't seem right to put the beautiful little breads in regular take-out boxes. Instead, I opted for gift boxes. I lined the bottom of the boxes with plastic wrap (so the moisture in the breads wouldn't soak into the cardboard), and then added some kitchen parchment paper on top of that to keep everything in place.
On the outside, I tied a few sprigs of fresh huckleberry greens into the ribbons. Fresh pine or cedar, or herbs such as rosemary or thyme also make a nice seasonal accent.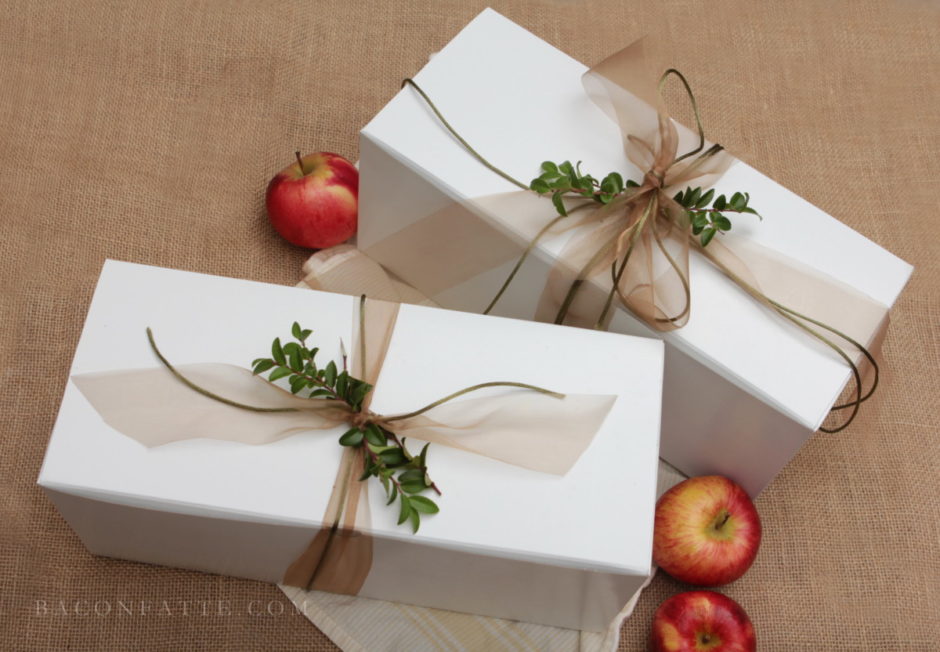 Just as I was putting these ideas together, I came across some more super cute gift wrapping inspirations from the lovely and uber-creative Krayl Funch, so I had to share them with you!
Pop over to AnAppealingPlan.com and check out this ↓ and other Easy Christmas Gift Wrapping Ideas from Krayl!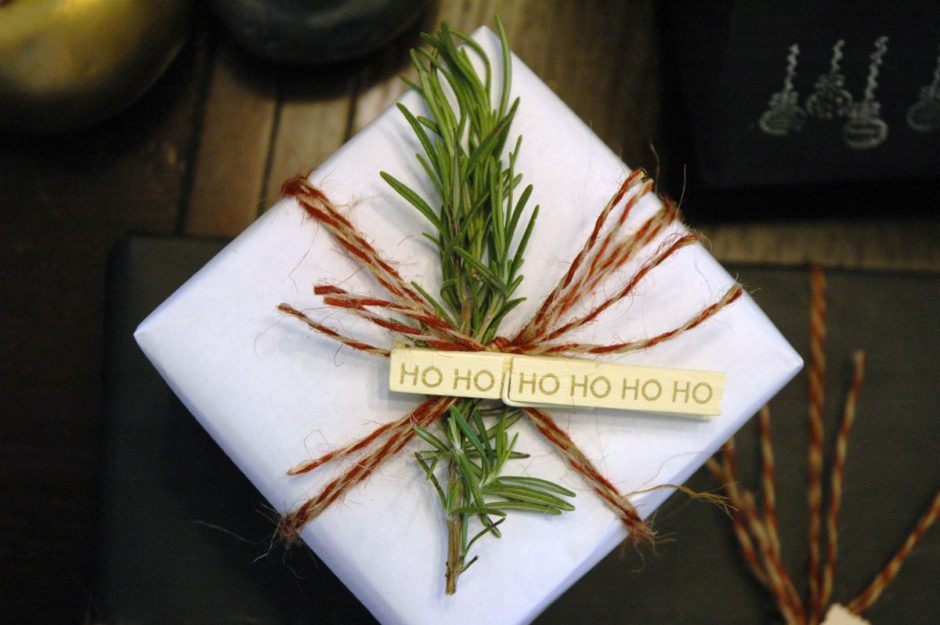 Need more edible gift ideas? Here you go!
DIY EDIBLE GIFTS – SAVEUR.com
Edible Gifts Actually Worth Sending this Holiday Season – BonAppetit.com
40 Homemade Gifts from The Kitchn – TheKitchn.com
50 Awesome Food Gifts From Every State – Delish.com
35 Homemade Food Gifts for the Holidays – CountryLiving.com
50 Edible Gifts – FoodNetwork.com
35 Heavenly Homemade Food Gifts – MidwestLiving.com
Want more holiday gift-y goodness?
Visit our Gifted board on Pinterest!
Pop on over to our Christmas Creativity board if you're looking for more holiday inspiration.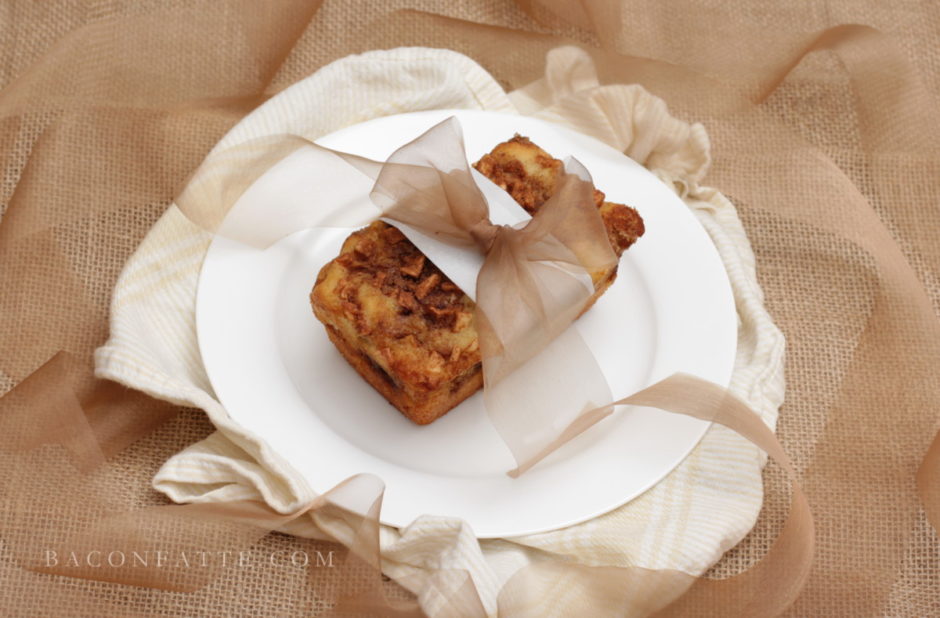 I'd love to hear about your edible gift ideas and gift wrapping inspirations!
Feel free to leave a note here on the blog in the comments below, or share your creations on Facebook, Pinterest, Instagram, Twitter, and/or Google+ .
Make sure to hashtag #baconfatte or tag @baconfatte in your social media posts!