These great big chocolate chip cookies are pretty amazing. They're crunchy outside and chewy in the middle with a divine "buttered chocolate" finish. They're bakery quality, and the recipe makes enough to serve a crowd. Most importantly, they'll cure all your chocolate chip cookie cravings if you like what you've read in the sentences above.
What's to Love: They're Addictive-ly Good
Envision the great big chocolate chip cookies you get at your favorite bakery. They smell incredibly good, and they're usually pretty big. So big that you tell yourself you're just going to eat half now and save the rest to share later.
But inevitably, you scarf down the whole cookie in one frenzied sitting because it's so good you can't help yourself.
Then one of two things happens. (1) Either you're able to run back into the bakery and buy another chocolate chip cookie, and eat half of that one, too… this time smugly priding yourself in the fact that you now actually have half a cookie to share ever-so-generously with someone else later in the day. Or (2), you simply wallow in your sugar rush, delighted in the fact that all of your deepest, darkest chocolate chip cookie cravings are now completely satisfied, and you allow yourself to enjoy the moment because it was totally #worthit.
Whichever camp you end up in, don't worry… It happens to the best of us. Chocolate chip cookie cravings are a powerful thing, and now you can cure them by making those crave-worthy, bakery quality chocolate chip cookies at home!
What You'll Need:
The usual suspects…
Flour
Baking powder
Baking soda
Fine sea salt
Salted butter
Brown sugar
Granulated sugar
Eggs
Vanilla extract
Chocolate chips
Cookie pans
Parchment paper (optional)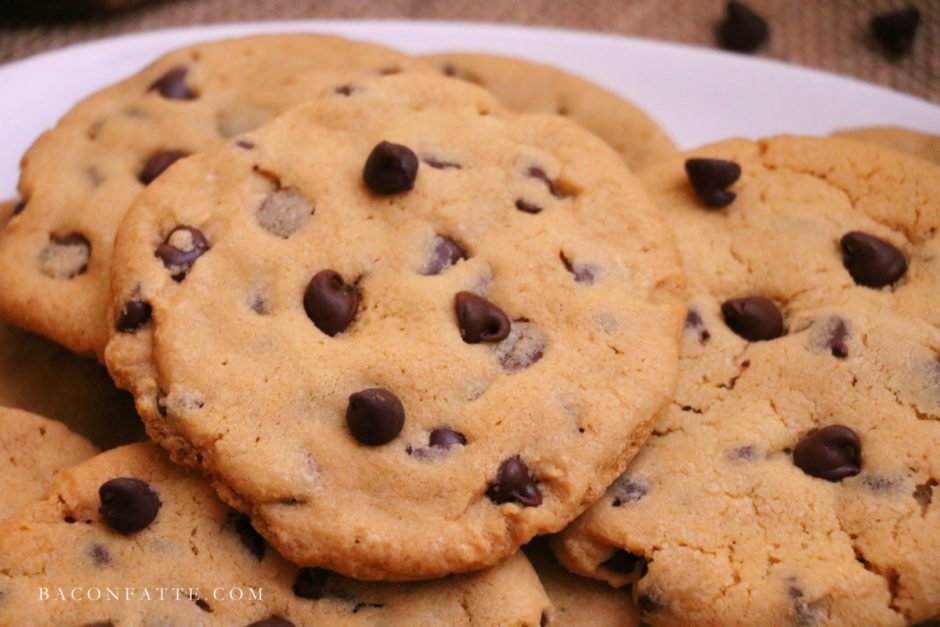 Here's The Story:
Quite a few years ago, I Googled "The Best Chocolate Chip Cookies". This was before "Google" was used as a verb. It was also before "The Best" was a term used to describe just about every recipe on the internet.
So when I stumbled across the recipe for "Felix K.'s 'Don't even try to say these aren't the best you've ever eaten, because they are' Chocolate Chip Cookies," I knew I had to try them.
After all, in addition to what just might be one of the most enthusiastic recipe titles I've ever seen (albeit, a bit of a stretch for today's SEO guidelines), Felix had great things to say about his cookie:
"After years of tweaking my chocolate chip recipe, it is now ready for public consumption. It has been laboratory-tested on many of my friends all of whom seem to think its pretty great, as do I. They certainly aren't healthy, but its well worth the requisite post-cookie eating cardio workout. I hope it works for you as well as it has for me! Enjoy!" -Felix K.
They are, indeed, really good chocolate chip cookies and I've made them several times over the years due to their merit. I won't say they're "the best" chocolate chip cookies, because that would suggest that nothing else compares.
In the hearty, buttery, bakery-quality, damn good chocolate chip cookie category, this is definitely a major contender. If you want thinner, chewier, crinkly, melty, gooey chocolate chip cookies, you might want to keep looking.
Incidentally, if you Google, "Felix K's chocolate chip cookies," today, you'll find the references to this specific recipe are several years old. After a few unsuccessful attempts to find out exactly who Felix K. is, and given my love of breathing new life into old recipes, I decided to honor Felix's efforts by sharing his recipe "anew" with a fresh blog post.
Felix, if you're reading this, thanks very much for a great chocolate chip recipe!
To everyone else reading this, as always…
Enjoy!
Felix K's Chocolate Chip Cookies
Felix K's Chocolate Chip Cookies Recipe Type : Cookie Author: Michele Phillips, BaconFatte.com Prep time: 15 mins Cook time: 15 mins Total time: 30 mins Serves: 24 - 28 Felix K's Chocolate Chip Cookies are crunchy outside and chewy in the middle with a divine "buttered chocolate" finish. They're bakery quality, will serve a crowd, and definitely cure all your chocolate chip cookie cravings!
Recipe from:
Michele Phillips, BaconFatte.com
Ingredients
3½ cups unbleached all-purpose flour
1 teaspoon baking powder
1 teaspoon baking soda
1 scant teaspoon fine sea salt
1 cup salted butter - at room temperature
2 cups brown sugar - lightly packed
6 tablespoons granulated sugar
2 eggs - at room temperature
4 teaspoons good quality vanilla extract
2 cups chocolate chips (a 12-ounce bag)
Preparation
Preheat oven to 300 degrees F.
Line 2 – 4 standard cookie sheets* with parchment paper and set aside.
In a medium bowl, whisk together the flour, baking powder, baking soda, and salt.
In a large mixing bowl, add the butter, brown sugar, and granulated sugar, and beat with a hand mixer until creamy.
Add one egg, and beat until completely combined with butter mixture. Add the second egg and the vanilla, and beat until completely combined.
Add the flour mixture to the butter and egg mixture, and beat just until incorporated. Using a spatula, fold the chocolate chips into the dough just until evenly incorporated throughout the dough.
Measure out 24 – 28, 3-tablespoon-sized* cookie dough balls. Place onto prepared baking sheets, and flatten cookie dough balls to about ¼-inch (about the thickness of the chocolate chips).
Bake 14 to 17 minutes – just until edges become light golden brown and centers have just set. When done, remove cookies from oven and allow to cool on the baking sheets for 10 – 15 minutes. Then, using a spatula, transfer cookies to racks to cool completely.
Store in a covered container for up to 5 days. Freeze in freezer-safe container for up to 30 days.
Cook's Notes:
*COOKIE SHEETS: I used 4, 10x13" cookie sheets and put 6 – 8 cookies on each.
*QUANTITIES: The original recipe indicates that the recipe makes 24, 3-tablespoon sized cookie dough balls. I used a 1 Tablespoon-sized cookie scoop, and ended up with 4 additional cookies – a total of 28. *COOKIE SIZE: For "standard" sized cookies, make 2 tablespoon-sized cookie dough balls for a total of 36 – 38 cookies.
*BAKING TIME: As with all cookies, watch carefully and remove them from the oven before they look "done" so the centers remain chewy.
*The original source for this recipe can no longer be found, but it is currently listed on
Allrecipes
.
Making Felix K's Chocolate Chip Cookies?
I'd love to know how you liked the recipe!
Leave a note here on the blog in the comments below, or share your creations and ideas on Facebook, Pinterest, Instagram, Twitter, and/or Google+ .
Make sure to hashtag #baconfatte or tag @baconfatte in your social media posts!