For those who love it, smoked salmon always has a place on the menu. To start with, it's delicious and it's good for you. It's a lovely addition to any menu, at any time of year, and for just about any occasion. You can dress it up as much or as little as you like, and it's always beautiful.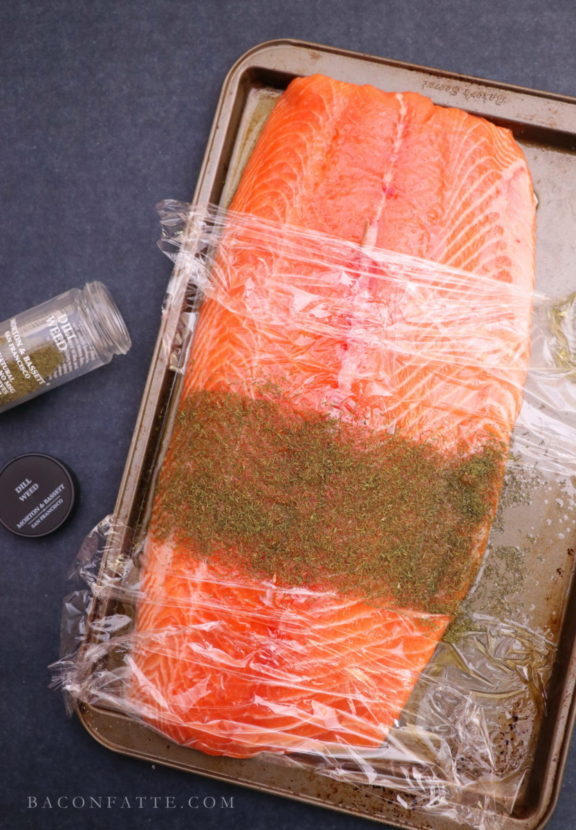 Here's The Story
I always try to come up with something special for holiday gatherings, and I'm usually pretty successful in doing so. But this year, I also wanted to simplify things a bit so there would be more time to spend with the crazy-wonderful people that I'm lucky enough to have around my table.
We're all major seafood fans, so seafood is always a big part of our menu. I took the liberty of interpreting the concept of "less is more" by having fewer menu items, but still offering more variety. My plan almost worked – until my husband and I went shopping for a few small items two days before Christmas… and ended up essentially doubling our menu.
Cest la vie.
It was one of our best Christmas gatherings ever in my humble, heart-filled opinion. And there's always next year to try and be more efficient. Or not.  😉
This smoked salmon concept is not my own… I borrowed it from the brilliant folks at Northern Waters Smokehaus in Duluth, MN.
I fell in love with the pretty presentation and had to include it on my holiday table this year. Because my husband LOVES grilling and smoking food on his Big Green Egg Grill so much, we've been making our own smoked salmon for several years now. This year, we just dressed it up a bit – Northern Waters style – for the holidays. And it was wonderful!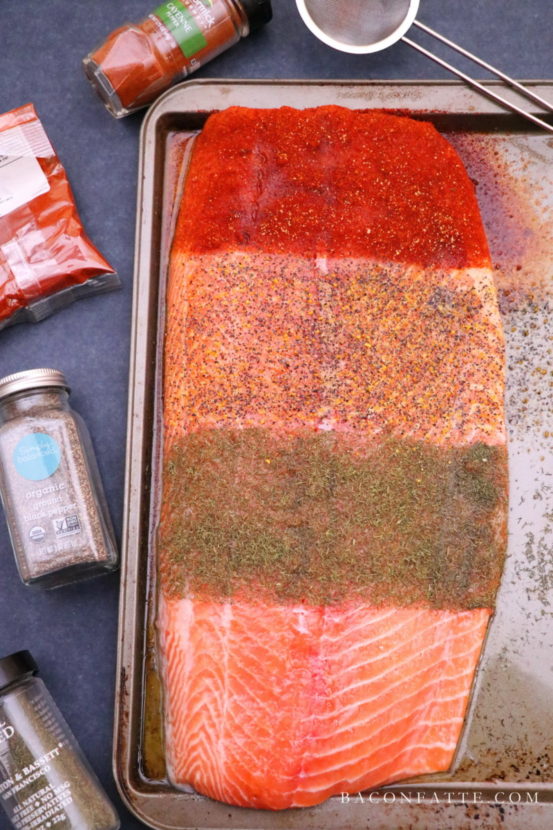 What's To Love
No matter how unintentionally complicated I make my menus, this gloriously fabulous 'Four Seasons' Soft Smoked Salmon recipe will, from this point forward, be one of my favorite dishes to include. Like smoked salmon itself, this 'Four Seasons' Soft Smoked Salmon is perfect any time of year.
We chose to soft smoke it because we wanted it to be tender and moist with just a hint of smoke – perfect for enjoying at room temperature with crackers and fresh veggies.
This smoked salmon can be made a day or two in advance and refrigerated until just before serving time. Very little effort is needed to plate it for guests. Just add some fresh garnish and you're set.
Because we had quite a few people to feed, we ordered an exceptionally large, beautiful filet (see Special Circumstances below) from Coastal Seafoods – one of our favorite local fish markets.
But this smoked salmon can be made with filets of any size or shape, and with any seasonings that you like. It's one of my favorite "no recipe recipes" because you don't have to follow any specific measurements or directions – especially if you're familiar with grilling and smoking fish. But, if you happen to appreciate recipe/method details and suggestions, we've got you covered… Read on!
I'm also including several recipe links below for fabulous side dishes to accompany this 'Four Seasons' Soft Smoked Salmon for any occasion. And if you happen to have smoked salmon left over, there are also links included below for other smoked salmon recipes – and grilled and roasted salmon, too!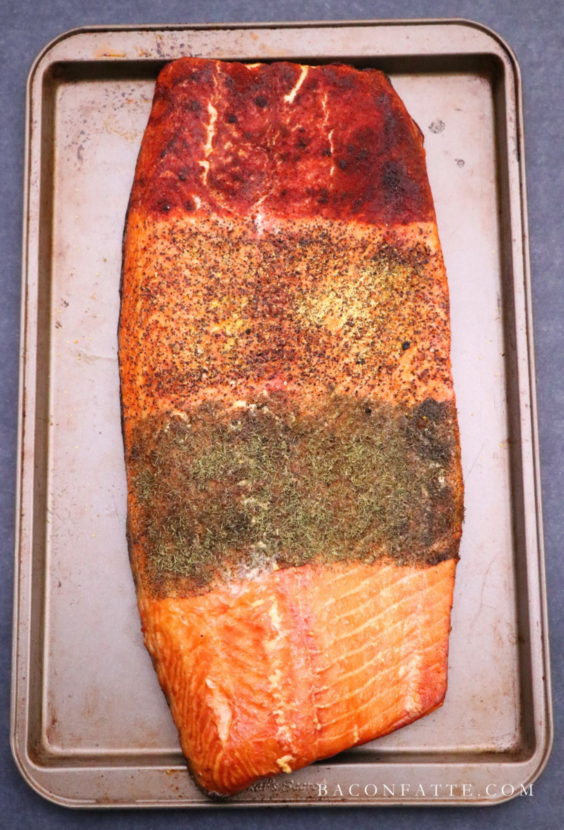 Enjoy!
What You Need
Fresh Salmon filet(s) – sustainably harvested
Four or more seasonings, herbs, spices, etc.
Olive oil
Aluminum foil to line pan for salmon prep (optional)
Cling wrap and/or tooth pics to mark seasoning areas on filet (optional)
A grill or smoker
Four Seasons Soft Smoked Salmon
This 'Four Seasons' Soft Smoked Salmon is a beautiful dish for any occasion, any time of year. Serve as a starter or main - see our side dish recipe links below!
Recipe from:
Michele Phillips, BaconFatte.com
Ingredients
Ingredients used here:
4.5 pound salmon filet, skin-on
Extra light olive oil
Fine sea salt
Lemon Pepper
Dried dill weed
Smoked Paprika & Cayenne
Preparation
Line a rimmed baking sheet with aluminum foil (optional, for easier clean-up).
Drizzle olive oil on the prepared baking sheet and use a grill brush to spread a heavy coat on the surface. Lay salmon filet(s) – skin-side down - on top of the oil making sure the skin is covered wit oil.
Drizzle more olive oil on top of the filet, and brush to completely coat top and side of filet.
Season the entire filet with fine sea salt.
Using tooth pics and/or cling wrap, mark the areas on the filet to be seasoned with each flavor.
Sprinkle on seasonings like dill and lemon pepper; use a fine mesh strainer to evenly "dust" filet with spices such as smoked paprika and cayenne.
Using two long spatulas, carefully place salmon filet on grill skin-side down, taking care not to flex the filet too much so the seasoning "stripes" stay in place.
If you have your own methods for smoking salmon, go ahead and use what works for you. Otherwise, please see notes for things that work for us below.
Special Circumstances
At the time of this smoking, it was about zero degrees outside – smack dab in the middle of a Minnesota winter. We use our grill year-round, so we've noted some things that work particularly well for us. See tips below regarding smoking in cold weather.
This salmon filet was approximately 4.5 pounds (fresh weight), and roughly 2" thick in the center.
The filet was skin-on; the skin side was placed on the grill grate and the filet was not moved throughout the smoking period in order to preserve the seasonings on the top of the filet. The skin also helps preserve the moisture in the salmon.

"Pro Tips" for making smoked salmon in cold weather on a Big Green Egg Grill
Clean out all old ash to ensure plenty of air flow – more air flow is especially important to optimize grill temps when grilling and smoking in colder weather.
Use larger chunks of Big Green Egg lump charcoal, i.e., from the top of the bag (the chunks at the bottom of the bag are usually smaller). The bigger chunks also help improve air flow.
Add a little more charcoal (just an extra inch or so) for "added horsepower" in colder weather.
BGE Set-up:

Diverter upside down ("feet up")
Drip pan placed on top of diverter, and filled half way with apple cider to help regulate heat and add flavor
Standard BGE grill grate placed on top of diverter
3 large chunks of apple wood to flavor the smoke
Remote Grill Temp Sensor: Provides more accurate heat readings versus the thermometer on dome-mounted gage – especially in colder weather.
Thermapen manual thermometer to double-check the internal temperature of the filet as it finished cooking.
Cooking Temperatures & Time
We use a target temperature of around 250 degrees F (actual temperature range is between 230 – 275 degrees F). The amount of time that a filet is smoked depends on the size and thickness of the filet.
Rather than focusing on the amount of cooking/smoking time, we focused on how we wanted the salmon to look and taste when it was done. We wanted it to be moist and tender with just a little smoke flavor (because not everyone in our family likes heavily smoked meats).
This particular one was pretty large, so we smoked it for about 1½ hours. And again, because we wanted our smoked salmon to be tender and moist, we pulled it off the grill when it looked good to us. If you want heavier smoked flavor and texture, just increase smoking time and the amount of flavored wood chips used.
Looking for more ways to serve smoked salmon? Here are several side dishes that make perfect accompaniments. There are more recipes using smoked (and grilled, and roasted) salmon below, too!
Savory Sides perfect with Smoked Salmon
Corn Sauté with Fresh Ginger, Garlic and Cilantro
Carnival Rice Dish with Cilantro and Lime
Butternut Squash Chickpea Salad with Lemon Tahini Dressing
Lemon Fettuccine with Carrot 'Noodles,' Spring Peas and Feta
Mashed Green Pea Spread with Lemon, Chives and Garlic
New Potato Salad with Basil, Shallots and Lemon
Asian Rice Noodle Vegetable Stir Fry
More Salmon Recipes
Smoked Salmon Pasta Salad with Asparagus, Peas and Dill
Smoked Salmon Butter with Scallions and Lemon
Quick and Easy Salmon Butter Toast
Grilled Salmon with Lemons and Scallions
Roasted Salmon Tacos with Golden Beets and Black Grape Sauce
Grilled Salmon with Boozy Fruit Salad

Making this 'Four Seasons' Soft Smoked Salmon recipe?
I'd love to hear about it!
Leave a note here on the blog in the comments below, or share your creations and ideas on Facebook, Pinterest, Instagram, Twitter, and/or Google+ .
Make sure to hashtag #baconfatte or tag @baconfatte in your social media posts!