If you're lucky enough to live in a place like Minnesota, you tend to obsess a bit about the relatively short growing season. Having an abundance of fresh, homegrown herbs right at your fingertips is a fleeting luxury that some of us embrace ever-so-tightly.
While we can acquire beautiful herbs year-round from the grocery store with relatively little cost or effort, we gladly invest our hearts and souls in our own incomparable, albeit temporary, herb-vana year after year.
We prepare for weeks… And then we plant. We nurture, prune, coddle and adore our foliage-covered treasures. We eagerly anticipate the moments of mid-summer perfection when our planters billow with vibrant green leaves, meandering vines, and pristine blooms that worship summer's golden sun.
We're rewarded with botanical beauty and fresh flavors that pique our pallets' interests like nothing else. We go out of our way to brush up against Rosemary just to smell her sweet, spicy perfume. Basil, thyme, sage, and gorgeous grassy parsley make our hearts skip a beat. We are fresh herb fanatics, and to us, sweet dreams are made of this.
Thankfully, chimichurri guarantees a fresh, flavor-filled outlet for the herb-obsessed. Even if we can't gather ingredients from our back yard during snow-covered months, a quick trip to the market offers everything needed to pull this together.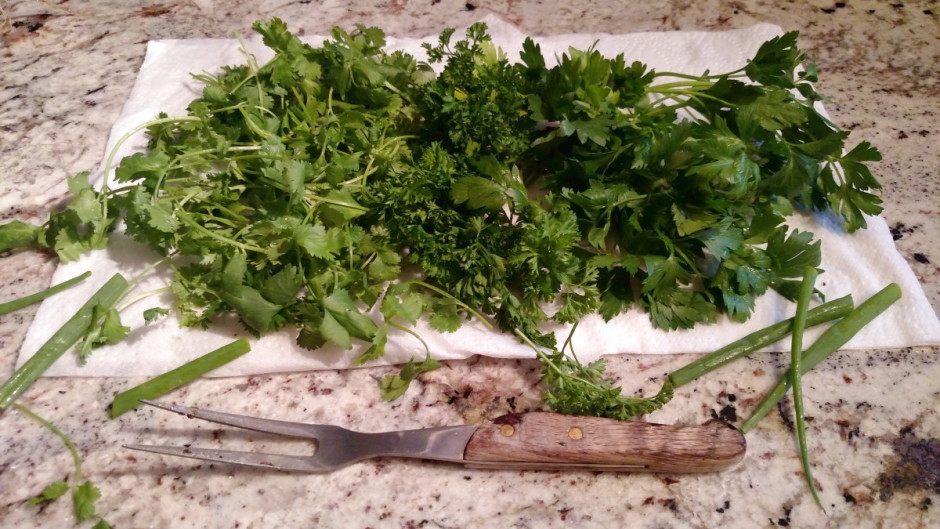 To refer to chimichurri as a condiment would vastly underserve it. It is brilliance in a bowl… A bouquet (literally) of beautiful colors and fragrances that pairs wonderfully with a wide variety of meats and vegetables.
Use as a marinade and serving sauce for grilled steaks, chicken, pork, lamb or fish.
Add to beans and vegetables to make beautiful salads.
Toss with pasta or rice for a simple side dish. Add grilled or roasted chicken – or other protein – to the pasta or rice for a light, flavorful meal.
When I discovered this chimichurri from Adam Rapoport on Food52, he noted that it's "Tart, herbaceous, and absolutely addictive…" and he's so right.
The first time I made it, I couldn't find fresh Fresno or red jalapenos, but canned red jalapenos – and the carrots and onions that came in the can with them – worked beautifully! That's also what inspired this adaptation of the recipe.

After making it several times – adjusting ingredients each time to suit the whim du jour – this is our summertime favorite. We call this Giardiniera Chimichurri because of all the colorful "pickled" peppers and vegetables in it.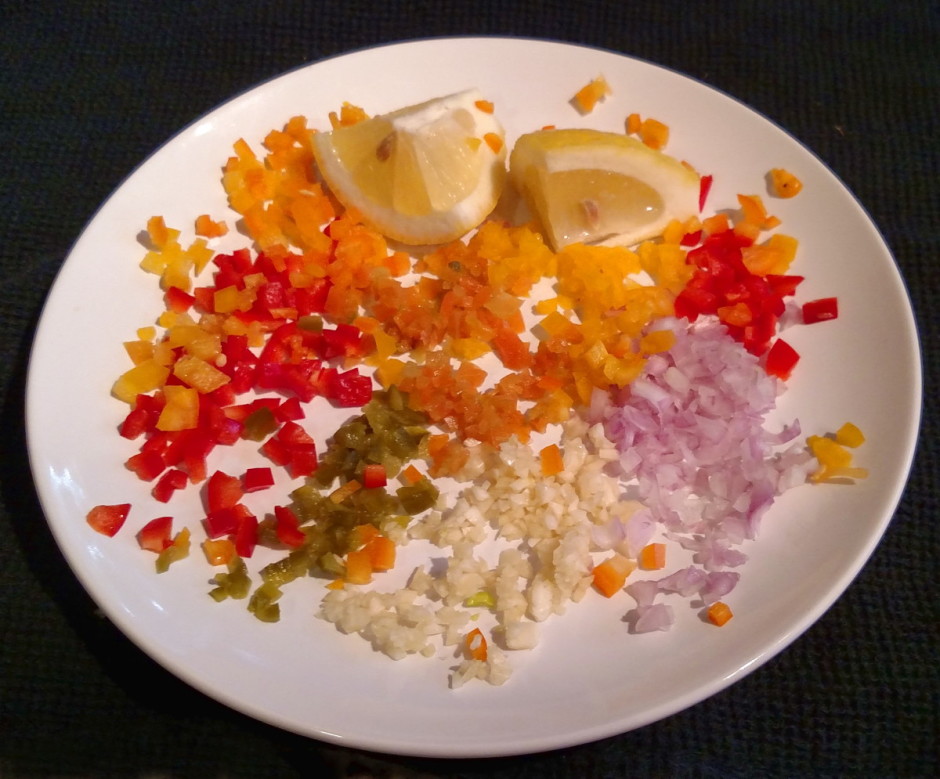 If you prefer even more kick, we've got a version of this sauce with more heat in it, too. Either way, if you like vibrant, piquant flavors, you're going to love this stuff!

Giardinera Chimichurri Sauce
Giardiniera Chimichurri Sauce is like a bouquet of beautiful colors and flavors that pairs wonderfully with a wide variety of meats and vegetables. The ingredients are fairly simple and can easily be adjusted to suit your tastes. If you like vibrant, piquant flavors, you're going to love this! | Recipe from
BaconFatte.com
Ingredients
½ cup red wine vinegar
⅓ cup mild/extra light virgin olive oil*
⅓ cup + 2 tablespoons extra virgin olive oil
1 teaspoon kosher salt + more to taste
A pinch of red cracked pepper flakes - optional
1½ - 2 tablespoons garlic, minced (3 to 4 cloves)
3 tablespoons of shallots, finely chopped (1 large or 2 smaller)
2 – 3 tablespoons canned red or green jalapenos, finely chopped
2 tablespoons canned carrots (from canned jalapenos), finely chopped
2 tablespoons red sweet pepper, finely chopped (1 mini pepper)
2 tablespoons orange sweet pepper, finely chopped (1 mini pepper)
2 tablespoons yellow sweet pepper, finely chopped (1 mini pepper)
2 cups fresh cilantro, finely chopped, loosely packed (1 large or 2 small bunches)
1 cup parsley – curly and/or flat leaf, finely chopped, loosely packed (½ - 1 bunch)
⅓ cup fresh oregano, finely chopped, loosely packed (1 small ¾ oz./21 gram herb package)
Preparation
In a large mixing bowl, combine vinegar, olive oils, salt, pepper flakes (if using), garlic, shallots, jalapenos, carrots, and sweet peppers. Stir well and allow ingredients to mingle at room temperature while you prep the herbs.
Wash cilantro, parsley and oregano and gently shake or pat dry with paper towel to remove excess water. Thin, fine cilantro and parsley stems are fine to use, but trim or remove heavy stems. Remove oregano leaves from stems. If chopping herbs by hand (highly recommended for better texture), use a sharp chef's knife and cutting board and chop them in small batches, adding them to the other ingredients as you go. You can use a food processor to chop the herbs, but do not to over-process them or they'll become mushy.
Add chopped cilantro, parsley and oregano to bowl and stir well to combine ingredients. The sauce is delicious right away, but even better after flavors have married for 1 – 3 hours before serving.
Serve sauce at room temperature in a small bowl with a spoon.
Cook's Notes:
*The extra light olive oil is used just so the colors and flavors of the herbs and vegetables are brighter. It's fine to use all extra virgin olive oil - the sauce will just be a little darker in color.
-The sweet peppers add lots of color and texture. You can certainly omit them, but they kind of "make" this sauce.
-I recommend chopping the shallots, jalapenos and sweet peppers by hand. It takes a bit longer, but the colors, shapes and textures they add to the sauce will be worth it!
-It may seem like the recipe calls for a lot of garlic, shallots, jalapenos, etc., but don't worry, their intensity and heat are softened by the olive oil and all the herbs. If you like more intensity, add more garlic, shallots and jalapenos.
-Add more olive oil and/or red wine vinegar at the end if you want more liquid (the liquid ingredients will be more or less pronounced depending on how finely the herbs are chopped or processed).
-You can reduce the amount of cilantro by half, but more cilantro produces brighter flavor.
-Using flat AND curly leaf parsley adds more texture to the sauce, but using one or the other also works well.
-Sauce can remain at room temperature for several hours – as long as the herbs are covered in oil, they won't discolor. Stir regularly to distribute ingredients.
-To store, refrigerate in a covered glass bowl for up to 3 days.
-If using as a marinade for meats or as a dressing for veggies or salads, set aside approximately ½ cup or more as needed for other uses.
-Recipe adapted from
Food52
.
One of our absolute favorite ways to enjoy this sauce is with grilled flank or skirt steak, but it's great with just about any other cut of beef as well.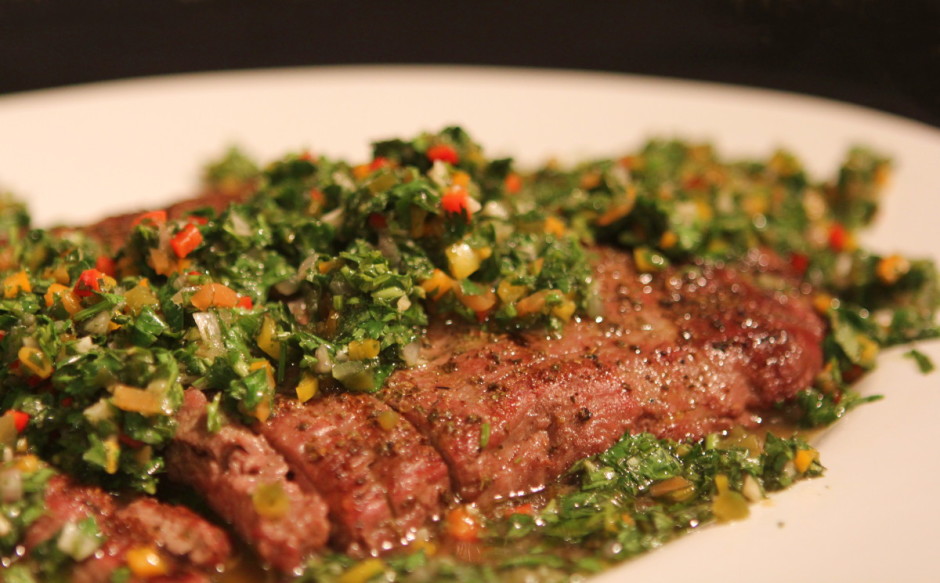 We'd love to hear what other variations you come up with and how you've enjoyed this sauce!
Feel free to leave a note here on the blog in the comments below, or share your creations on Facebook, Pinterest, Instagram, Twitter, and/or Google+ .
Make sure to hashtag #baconfatte or tag @baconfatte in your social media posts!