Every now and then, a recipe just hits all your cravings and curiosities, and you have no choice but to make it right away. At least, that's how it is with me. And that's how it was when I first saw this green pea spread recipe.
My dear friend, Carla, often reads my mind and had just gifted me with a jar of preserved lemons… Something I had been wanting to play with for some time. Since the original recipe for this green pea spread included a small amount of said delicacy, I was excited to try both the recipe and the preserved lemons in one shot.
The recipe was good. Very good, in fact! But I was hoping for more "brightness" in the flavors so I started playing around with the ingredient combinations and, to my surprise, ended up nixing the preserved lemon altogether!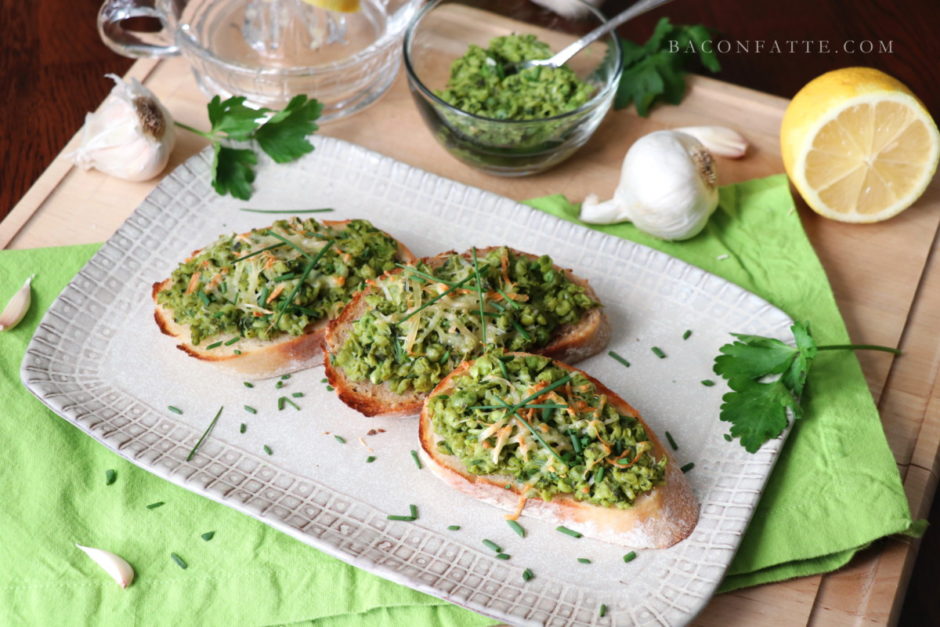 As a result, what we have here is something that is just as enjoyable and satisfying as our beloved avocado toast, but for different reasons. While avocado lends itself very well to richer, more savory flavors, this green pea spread is lighter, brighter and sweeter. It makes a very refreshing topping for toast, but it's also good with crackers and even as a guilt-free sandwich spread! (Seriously… Try it on soft whole wheat with grilled or roasted chicken breast and anything else that suits your fancy. It's amazing!)
This green pea spread has become one of my favorite lunches. If I'm at home, I love melting a little Parmesan on top of the toasts under the broiler. The middle of the bread becomes soft and warm, and the edges of the bread as well as the Parm on top brown up ever-so-slightly and add the perfect contrast to the tender mashed peas. When I want to take it on the go, I just enjoy it with soft bread or crackers.
Because this green pea spread is a personal favorite, I also enjoy serving it as an appetizer at parties. I'll often prepare small, bite-sized toasts (such as baguette) with the green pea spread and Parm an hour or so ahead of time, cover with cling wrap and set aside. When ready, I uncover them and pop them under the broiler just before serving.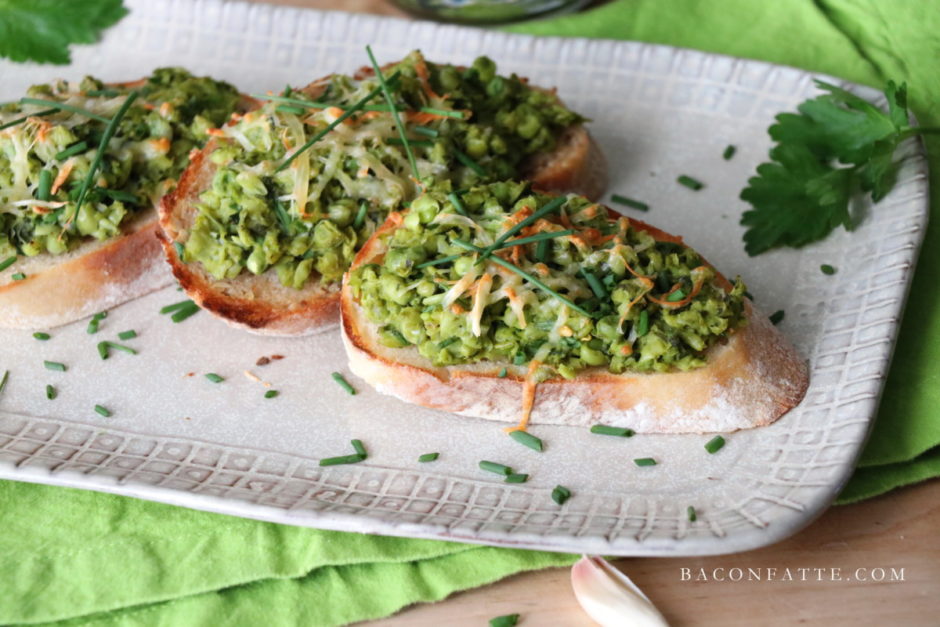 I love the look of surprise I get when people wonder what it is either before or after taking their first bite. Most assume it's avocado, but all are pleasantly surprised by the unmistakably light, fresh flavor of English peas. And as good as this tastes when served warm right out of the oven, it's also very enjoyable at room temperature so there's no need to worry if any toasts remain more than a few minutes after serving.
You can also make this green pea spread several hours, or up to a day, before you plan to serve it. Just wrap it up and pop it into the refrigerator. I wouldn't recommend letting it sit any longer than 24 hours though. Like avocado, the peas may begin to discolor a bit. This doesn't affect the flavor, but the fresh, bright green color is definitely more appealing.
Enjoy!
Mashed Green Pea Spread with Lemon, Chives and Garlic
This Green Pea Spread is quick and easy to make, and you'll love the bright, fresh flavors. It's perfect for a light lunch or as a "something different" party appetizer!
Recipe from:
Michele Phillips, BaconFatte.com
Ingredients
2 cloves of garlic, finely chopped
¼ cup fresh flat-leaf parsley, finely chopped – plus more for garnish
4 Tablespoons light olive oil, divided
½ Tablespoon fresh lemon zest
⅛ teaspoon Kosher salt, or more to taste
2 cups frozen peas, thawed, or shelled peas from approx. 2 pounds of English pea pods
3 Tablespoons fresh chives, finely chopped – plus more for garnish
2 Tablespoons fresh lemon juice, plus more to taste
1 – 2 Tablespoons water, as needed for spreadable consistency
¼ teaspoon crushed red pepper flakes
Freshly ground black pepper
12 slices rustic bread of choice
⅓ – ½ cup shredded Parmesan cheese (optional, but really good)
Preparation
In a small sauce pan, add garlic, parsley, and 1 tablespoon oil, and sauté over medium heat until garlic becomes fragrant – about two minutes.
Add peas and lemon juice to the garlic mixture. Cook until peas are tender – anywhere from 5 – 10 minutes until peas mash easily with a rubber spatula. Mash will be chunky; some peas can remain whole. Alternatively, use an immersion blender or food processor for a smoother consistency. Add water, one Tablespoon at a time, until peas reach spreadable consistency.
Spoon cooked peas into a small bowl and add chopped chives, more lemon juice if desired, and red pepper flakes, and more salt if desired, and stir well with a spatula to combine ingredients.
Line a baking sheet with foil and turn on the broiler in your oven.
Slice bread and lightly brush top of each slice with remaining 2 – 3 Tablespoons of olive oil. Then spread oiled slices with mashed peas, place on baking sheet, sprinkle with black pepper and shredded Parmesan, and broil for just a minute or two until Parmesan is lightly melted and browned.
Alternatively: Place oiled slices (oiled side down) in a hot pan on the stovetop and allow to crisp slightly. Then turn slices over, spread with pea mash, add pepper and Parmesan, and allow cheese to melt slightly.
Plate, garnish with more chopped parsley and/or chives, and serve warm or at room temperature.
Green Pea Spread
UPDATE: For fun adaptation of this recipe, check out this Lemon Avocado Sweet Pea Crostini from Sumptuous Spoonfuls!
If you make this recipe, I'd love to hear how you served it!
Feel free to leave a note here on the blog in the comments below, or share your creations on Facebook, Pinterest, Instagram, Twitter, and/or Google+ .
Make sure to hashtag #baconfatte or tag @baconfatte in your social media posts!