If ever there would be a time for a great, romantic recipe story, this would be it.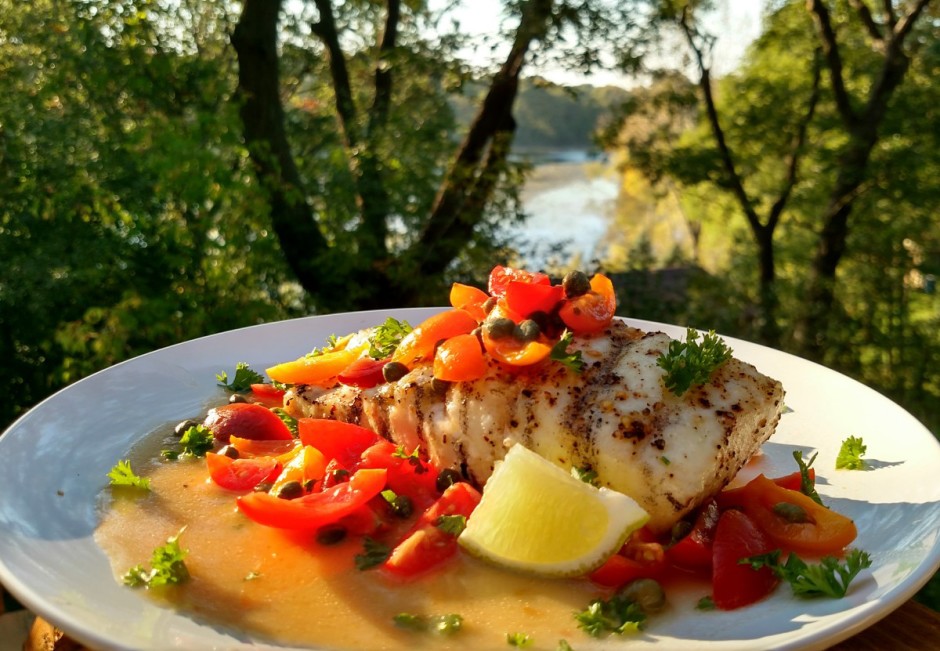 But, alas, this lovely concoction came about because my darling Husband never sticks to our grocery list.
I usually try to plan our meals for the most part…  Not wanting to waste anything, or start a recipe only to realize I'm missing an important ingredient. And when it comes to making a dish for the first time, I generally like to prepare for it. Generally, but not always.
When I see something that's not on the list du jour, I take note and think, Next time. When I go shopping with my Husband however, all bets are off. He's more the I want it now! type.
Thankfully, he's usually right. So when his grocery-getting whims outweigh my best-laid menu plans, we have fun with it… Especially when it comes to seafood. We absolutely love seafood, so we feel really lucky to have an incredible source of the freshest and best close to home.
This particular fish dish happened twice in as many weeks. We enjoyed it so much the first time that we couldn't resist the opportunity to do it all over again when we saw another perfectly-portioned piece of halibut in the case at our favorite fish market.
Yes, we're a little fanatical about "our" fish market; we fondly refer to it as "the candy store." It's always buzzing with happy people anxious to pick out their catch-o-the-day and bring it home so they can cook up a fresh seafood storm. We love the energy there, and we love the fact that we always learn something new from the fabulous folks behind the counter. Trips to fish market are one of our favorite weekend and date night activities because those trips lend themselves well to what we call tasting dinners.
Tasting Dinners: Tastes of this, a little bit of that, and a few bites of
other things that don't necessarily have anything to do with the rest
of the "courses," but seem like a good idea at the time.
For tasting dinners, we make things that are simple but fabulous…
things that pair well with wine. And we make an evening of it.
This time, we had Curried Mussels in mind. But, we happily ended up with some gorgeous clams (and a delightfully spicy variation of Linguini con le Vongole) and halibut – a heavenly filet of halibut for two, to be exact.
As far as simple but fabulous goes, you can't beat this dish. You can adjust it to suit your preferences, and it works just as well to serve two as it does 20. It looks and tastes like a million bucks – and yes, it's wonderful with both crisp and buttery white wines.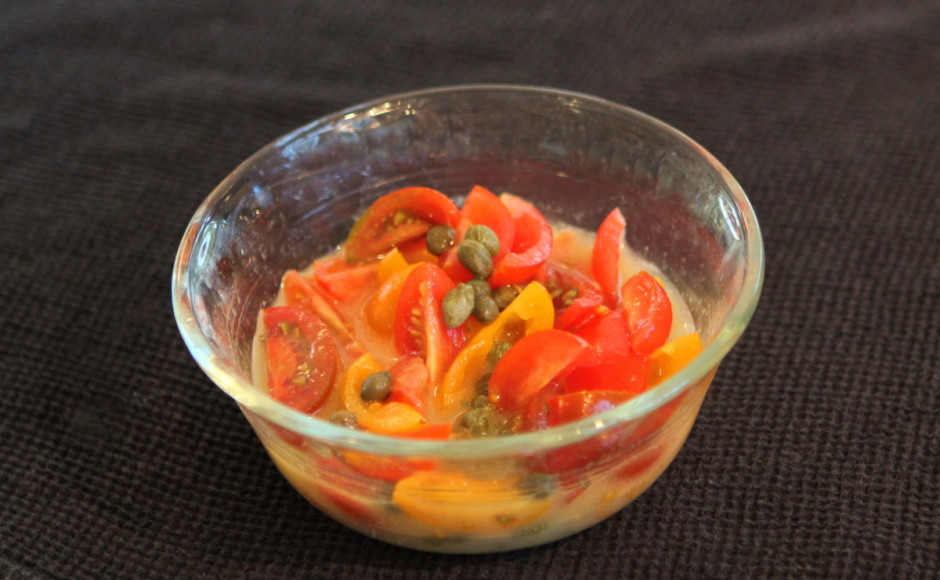 Grilled Halibut with Caper Butter, Tomatoes and Lime
Quick and easy to make, full of fresh, light flavors... This lovely fish dish can be prepared for two or 20. You can use just about any kind of fish, and the fish can be grilled, broiled, baked, or pan seared to suit your preferences. It's beautiful enough for a special occasion and simple enough for a weeknight. Either way, you're sure to love it – especially when paired with lightly-chilled crisp or buttery white wine.
Recipe from:
Michele Phillips, BaconFatte.com
Ingredients
2 tablespoons butter
1 tablespoon capers
1 tablespoon caper brine
5 – 10 cherry or grape tomatoes, halved or quartered
¾ - 1 pound fresh Halibut fillet(s), 1 - 1½" thick
1 tablespoon olive oil
Salt and fresh cracked Pepper
Preparation
In a small glass bowl, add the butter, capers and caper brine and microwave it for 30 – 45 seconds until butter is completely melted. Add halved or quartered tomatoes while butter and caper sauce is still very warm. Stir to combine all ingredients and set aside.
Place the halibut fillet(s) skin side down on a plate and drizzle with olive oil. Gently rub the top, sides and bottom/skin of the filet(s) with the oil to make sure it's completely covered. Use more oil if needed so fillet(s) don't stick while cooking. Salt and pepper to taste.
Cook Halibut fillets for 4 – 6 minutes per side until the internal temperature reaches 140 degrees F. The thickest areas of the fillet(s) will be just slightly opaque. Remember, fish will continue to cook a bit after it's removed from the cooking surface.
Plate the fillet(s) and spoon the caper butter and tomatoes over the top of the fish. To garnish, add a squeeze of fresh lime juice and sprinkle with fresh chopped parsley.
Cook's Notes:
*Just FYI… The fillets pictured here are each around .75 pound, which is perfect for two when served with side salads and/or vegetables.
*When grilling, we've had a great deal of success cooking Halibut skin side up first, and then flipping the fish so it's skin side down for the last half of the cooking time. The key is to make sure your grill/pan is nice and hot so you get those beautiful grill marks or a nice sear on the top of the fish.
*If you're looking for a really good cooking thermometer, we received a
Thermapen® Thermometer
as a wedding gift; we absolutely love it and highly recommend it!
*Reduce cooking time as needed if you're using thinner fillets.
*This recipe serves 2. If making more servings, just double the recipe to accommodate the number of servings you'll need.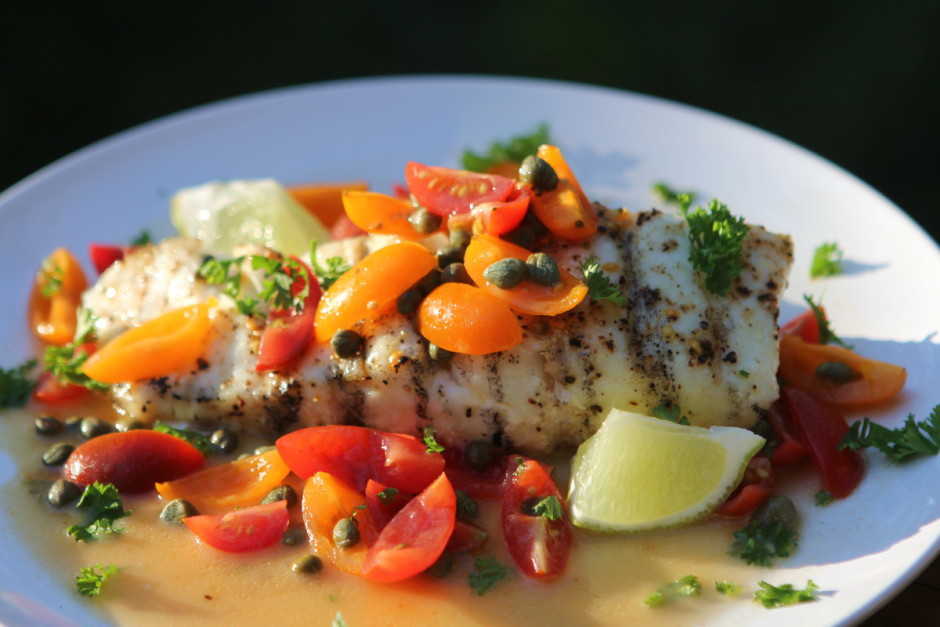 Let us know what you think of this recipe – we'd love to hear from you in the comments below! And make sure to hashtag #baconfatte or tag @baconfatte on Facebook, Pinterest, Instagram, Twitter, and Google+ when you try recipes from BaconFatte.com!