"Make it easy, and make it good!" Sometimes, that's really all we require for dinner, and this Grilled Honey Soy Pork Chops recipe fits that bill perfectly.
This is a quick little marinade recipe that will turn any cut of pork into something special. You really don't need to season the pork chops before marinating them because, of course, the marinade provides all the flavor.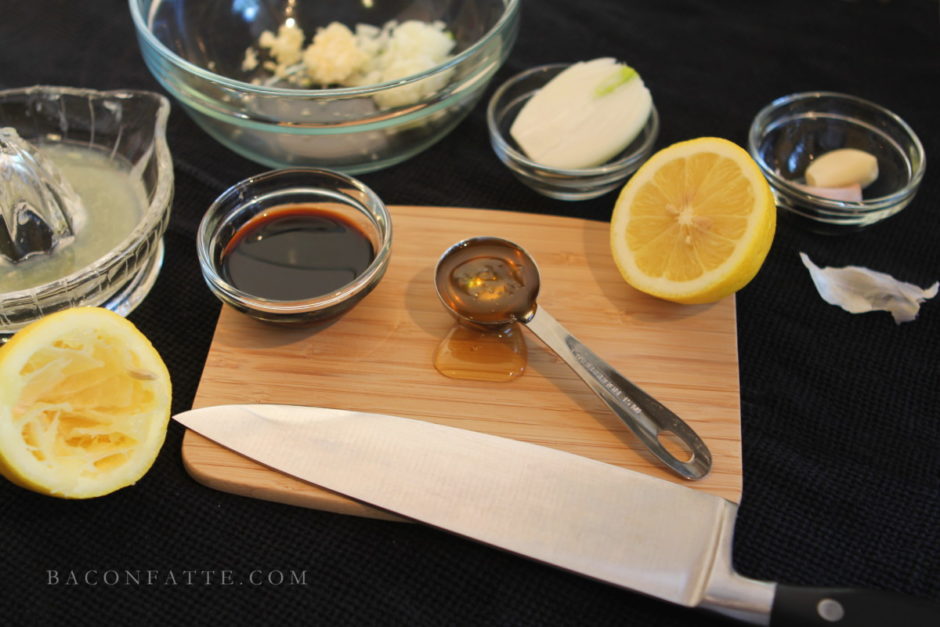 We use this honey soy recipe most often with thick boneless loin chops (as shown) and bone-in center cut pork chops. It's also great with the big, boneless, heavily marbled country style ribs and pork steaks – and just about any cut of chicken.
We usually grill our pork chops on our Big Green Egg grill over wood charcoal, but you can also use a stovetop grill pan. Just make sure to start with medium-high heat and cook on each side for six to seven minutes. For thicker chops, the internal temperature should be 145 – 150°F for medium-rare, and up to 160°F for medium.
Always use a good quality meat thermometer to make sure you have accurate temperature readings for pork chops and other meats. Don't be afraid to spend a little more if possible for a good quality thermometer – it's well worth it. We were fortunate enough to receive a Thermapen from some good friends for our wedding, and we'll never use anything else. (And, no, I don't receive any compensation from the company for saying that. I just really like the product, and after using it for more than three years now, I confidently recommend it!)
If you want to learn more about proper cooking methods and temps for pork chops and other cuts of pork, check out porkbeinspired.com for more information.
Enjoy!
Grilled Honey Soy Pork Chops
This recipe for Grilled Honey Soy Pork Chops is also great with chicken. The sugars in the sauce caramelize beautifully over a flame, so it's a grilling lover's dream!
Recipe from:
Michele Phillips, BaconFatte.com
Cuisine:
Pork and Chicken
Ingredients
4 pork chops (about 1¼ pounds total)
¼ cup onion, finely chopped
3 large cloves of garlic, finely chopped
¼ cup soy sauce or Tamari
¼ cup fresh squeezed lemon juice from 1 large lemon
2 tablespoons honey
¼ teaspoon fresh ground black pepper
Preparation
In a large glass (or other non-reactive) casserole dish, combine all the ingredients well. Place meat in the marinade and turn once so both sides are covered in the liquid. Cover dish with cling wrap and refrigerate for 2 – 24 hours. Turn meat at least one additional time to ensure even flavor.
When ready, cook meat over medium-hot coals (or grill pan) for five to seven minutes on each side. Discard any remaining marinade.
Cook's Notes:
For thicker chops, the internal temperature should be 145 – 150°F for medium-rare, and up to 160°F for medium.
Recipe adapted from
porkbeinspired.com
.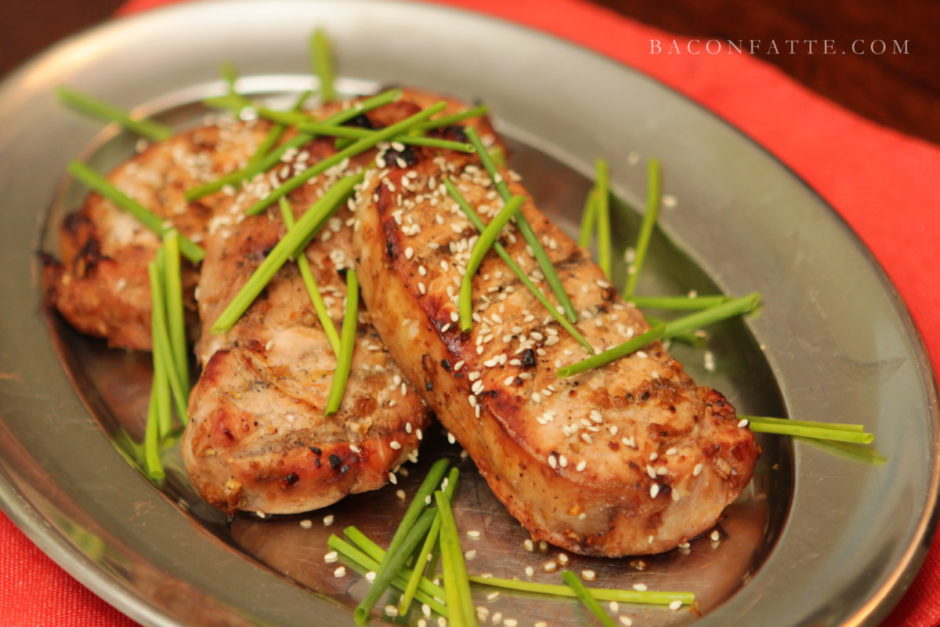 Grilled Honey Soy Pork Chops
I would LOVE to know what you think of this recipe when you try it!
Feel free to leave a note here on the blog in the comments below, or share your creations on Facebook, Pinterest, Instagram, Twitter, and/or Google+ .
Make sure to hashtag #baconfatte or tag @baconfatte in your social media posts!