Here in the Midwest, we tend to say it more often in the summer months: "I just don't feel like cooking!"
The temps are up, our attentions are focused on all things easy-breezy and fun, and all we really want to do is spend time outside. Who can blame us?
But it is possible to cook easy, breezy meals at home that also happen to be fun – and, might I say, refreshingly delicious.
This beautiful Grilled Salmon with Boozy Fruit Salad is perfect for lunch or dinner on the patio. It's also really good "food for the soul" during the long winter months when we're starved for sunshine.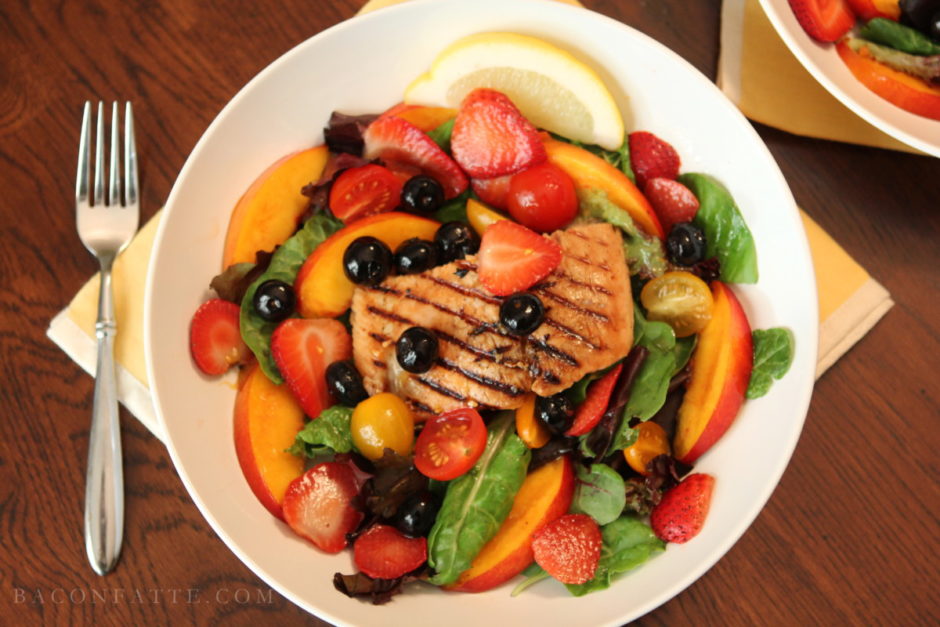 The recipe includes a super simple "dressing" that features a delicious lemon ginger liqueur from 5 Vodka that we recently discovered. You can easily adapt the amount of grilled salmon and boozy fruit salad to feed two or ten – or more when you want to entertain.
#AD Note: The fine folks at 5 Vodka provided me with "inspiration" (aka, their wonderful product) so I could keep coming up with recipes and ideas for it. However, all opinions and genuine fondness of the product are my own, and I would say great things about 5 Vodka – even if they hadn't given me free booze – because it's really, really good.
You've GOT to check out the other recipes – I promise they're all just as beautiful and delicious – and simple – as this one! Click here for several other sweet and savory ways to enjoy 5 Infused Vodka!
I personally love "no recipe" dishes like this where specialty or seasonal ingredients are involved. They're a little different each time you make them, and they always turn out well.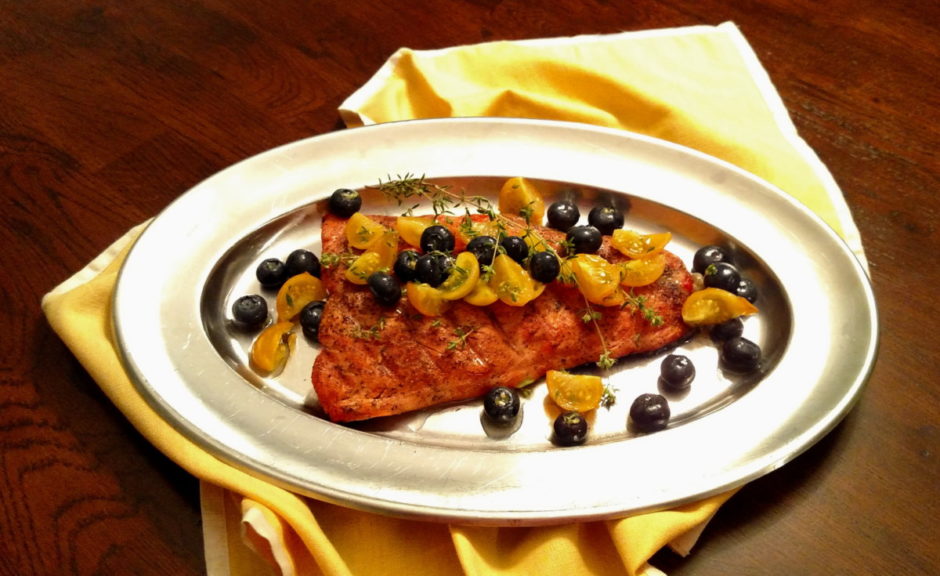 *One of the version of this dish that we enjoyed with gold cherry tomatoes, blueberries, and lots of fresh thyme.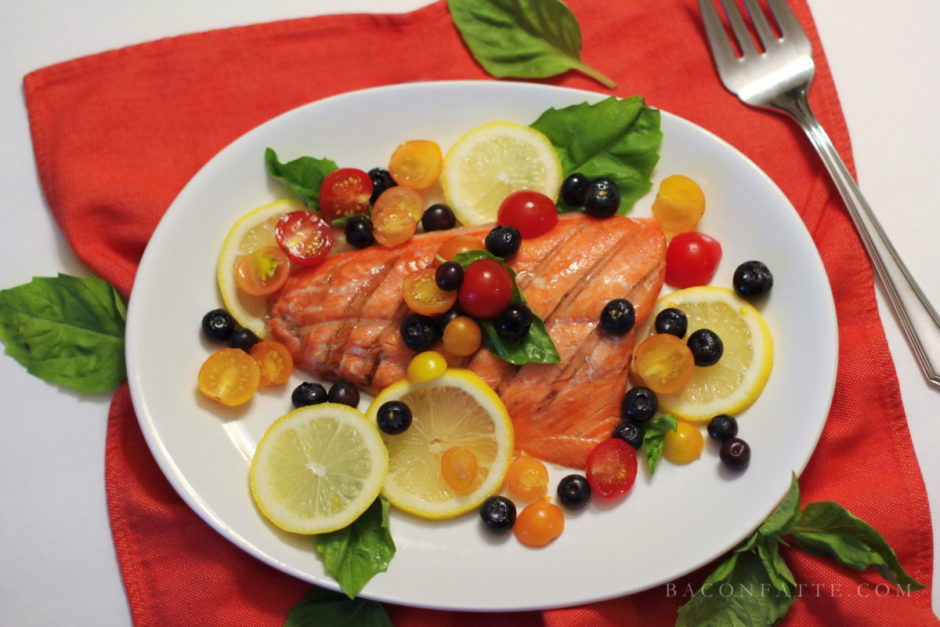 *Another version we served this summer with lots of fresh lemons and basil.
Here are a few extra notes for enjoying (and customizing) this recipe:
5 Vodka is currently only available in Minnesota, but they do provide contact information on their website for retailers that will ship it to you if needed. >>
If you prefer, you can easily make a mixture of plain vodka and lemon ginger-infused simple syrup to use in place of it.
For the simple syrup, just use equal parts sugar and water. Here's a great homemade simple syrup recipe and tutorial explaining exactly what to do as well as how to infuse it!
Then, just combine plain vodka with simple syrup infused with the juice and peel of a small fresh lemon, and a small knob (maybe ¼ – ½) of fresh ginger, according to the instructions in the homemade simple syrup link above. If you don't have fresh ginger, adding a scant ¼ teaspoon of good quality powdered ginger to the simple syrup also works well!
If you prefer an alcohol-free option, just combine 1½ cups of sweetened lemonade and a scant ¼ teaspoon of grated fresh – or good quality powdered – ginger.
When I make this, I use the liqueur to marinate the fish because it adds really nice, subtle hints of warm (grilled) lemon and ginger to the cool (macerated) berries and cherry tomatoes in the salad. It seems like a small step, but makes a big difference in the finished dish.
No basil? Fresh thyme and rosemary also pair wonderfully with the flavors in this recipe. A few small springs go a long way.
Not a salmon fan? (Chances are you just don't care for low quality salmon – which should always be avoided). Trout, Walleye, Whitefish, Halibut, and Mahi Mahi all work wonderfully with this recipe as well! Whatever fish you choose, buy the freshest fish possible from the best fish markets, and you'll always be happier with the taste and quality of your fish dishes!
Whether you're using an indoor grill pan (such as the one pictured below on the left), or an outdoor grill (such as the Big Green Egg grill pictured below on the right), grilling your fish skin side UP first ensures beautiful grill marks on your fish. And, when you flip the fish to the skin side (if needed, depending on the thickness of your fish), the skin usually falls right off for serving.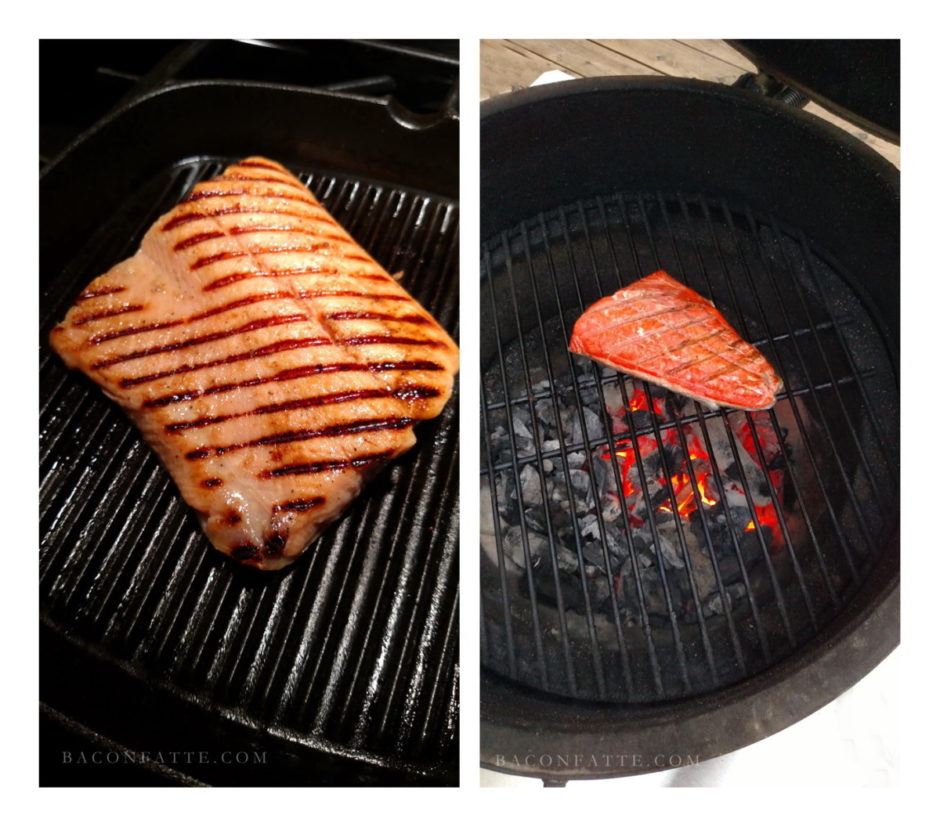 TIP: Don't force the flip! The fish will flip easily when the first side is cooked. Gently test it with a spatula until it lifts easily.
For more information on determining the perfect cooking times for fish, please check out the "10 Minute Rule" from our favorite Minnesota fish monger, Coastal Seafoods.
Go ahead and play around with different colors and varieties of fruits and vegetables at different times of the year. For variety, add sauteed or grilled green beans, zucchini or broccoli – they're also really good with the "dressing"!
Enjoy!
Grilled Salmon with Boozy Fruit Salad
This beautiful Grilled Salmon with Boozy Fruit Salad is perfect for lunch or dinner anytime of year. The recipe can easily be adapted for more servings making it a great dish for entertaining!
Recipe from:
Michele Phillips, BaconFatte.com
Ingredients
For the Grilled Salmon:
½ oz. 5 Vodka's Lemon Ginger Liqueur*
½ pound salmon (skin-on)
1 tablespoon olive oil
Fine sea salt and ground black pepper, just a pinch or two
For the Boozy Fruit Salad:
1 oz. 5 Vodka's Lemon Ginger Liqueur*
½ tablespoon olive oil
¼ cup fresh blueberries
10 – 12 fresh cherry tomatoes, halved (different colors if possible)
3 – 5 large strawberries, sliced
1 nectarine, halved and sliced
A couple handfuls of fresh Spring Mix or other salad greens
½ of a fresh lemon, cut into 4 wedges
Fresh basil leaves, thyme or rosemary for garnish (optional)
Preparation
For the Grilled Salmon:
Rub the salmon fillet(s) with olive oil on both sides and the edges, and season lightly with salt and pepper.
Pour ½ ounce of 5 Vodka Lemon Ginger Liqueur in a glass, non-reactive pan and place the fillet - flesh down (skin side up) - in the pan. Allow to marinate for 10 – 15 minutes at room temperature while you heat the grill and prepare the salad.
For the Boozy Fruit Salad:
In a small glass, non-reactive bowl, pour 1 ounce 5 Vodka Lemon Ginger Liqueur and ½ tablespoon olive oil.
Rinse ¼ cup blueberries and toss them into the bowl.
Rinse 8 - 12 cherry tomatoes, cut into halves or quarters, and toss them into the bowl as well.
Allow the fruit to marinate for 20 – 30 minutes at room temperature, stirring occasionally.
Heat your grill or grill pan to medium-high heat. Oil the grates well.
Place the prepared fish fillet(s) on the grill - skin side up (see note below) - and allow to cook for approximately 5 minutes until the fish lifts easily from the grill surface.
Depending on the thickness of the fillet(s), carefully flip with a spatula and cook for another 4 – 5 minutes, or until fish becomes opaque and reaches an internal temperature of 145 degrees F. Please see bullet points above for more information about cooking fish perfectly!
To serve: Place a handful of salad greens on each plate. Remove skin from the fish, portion, and place on top of salad greens. Spoon the Boozy Fruit Salad along with the dressing over the fish and greens. Garnish with fresh basil, thyme or rosemary, and lemon wedges. Enjoy immediately.
Cook's Notes:
*Please see notes above for homemade and alcohol-free alternatives to using 5 Lemon Ginger Vodka.

This salad is also delicious when served chilled, so it's great to make in advance for entertaining. Grill the fish and refrigerate for up to 24 hour before serving. Prepare the fruits a day ahead, too, add the "dressing" just 20 – 30 minutes before serving, per directions. (If you mix the fruits and dressing together too soon, it'll become really watery and the colors of the fruits may fade.)
I hope you'll try this recipe, and I'd love to hear what variations you came up with!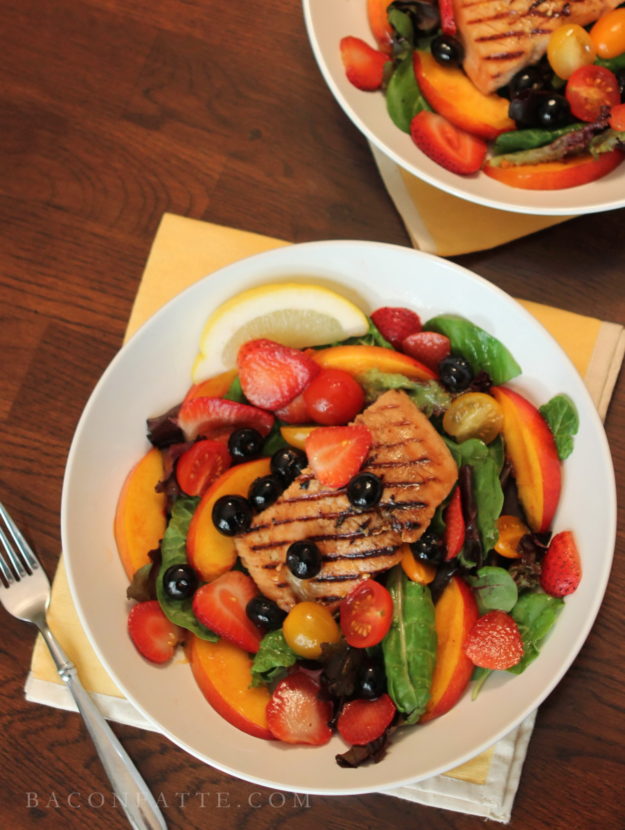 I would LOVE to know what you think of this recipe when you try it!
Feel free to leave a note here on the blog in the comments below, or share your creations on Facebook, Pinterest, Instagram, Twitter, and/or Google+ .
Make sure to hashtag #baconfatte or tag @baconfatte in your social media posts!