This Grilled Salmon with Lemons and Scallions is about as uncomplicated as it gets. We refer to it as a no-recipe recipe because there are no measurements – just ingredients that go together perfectly and can be adjusted in any amount.
This is a great way to enjoy salmon simply and beautifully without a bunch of ingredients that cover up the deliciousness of fresh salmon.
Grilled Salmon with Lemons and Scallions
We love fish in general, but grilled salmon is one of our absolute favorites. I think we have a special "relationship" with salmon because we catch our own up on Lake Superior during the summer fishing season. Those experiences have taught us to appreciate it on a whole different level.
Whether we catch it ourselves or purchase it from our favorite local fish market, we like to keep it simple so the salmon is always the star of the show. It's so beautiful and the flavor is so distinct that it's easy to enjoy it for what it is.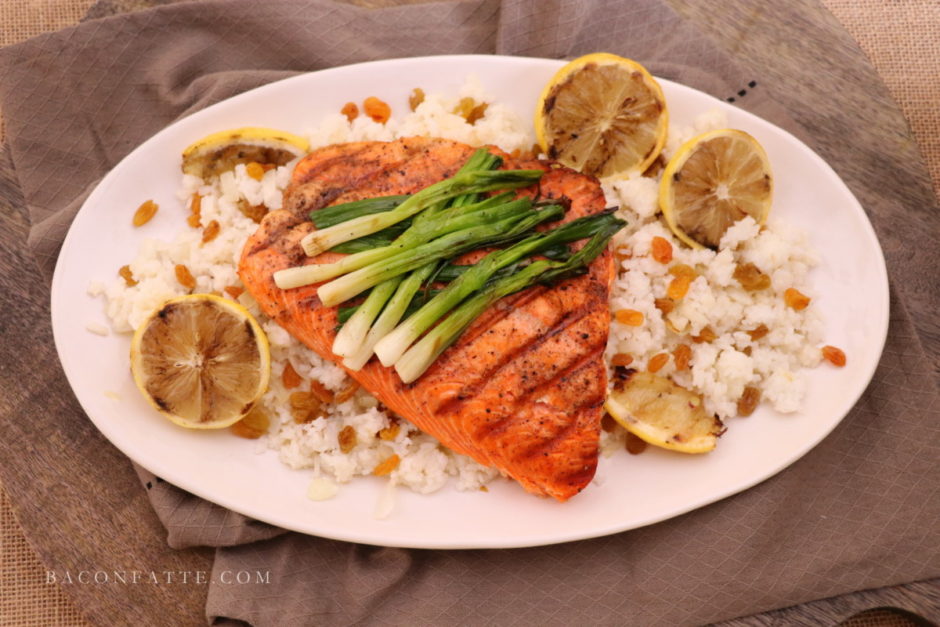 This a no-recipe dish which makes it even easier. We almost always have lemons on hand, so just grabbing a handful of fresh scallions from the grocery store on the way home from the fish market is pretty much all that's needed.
We usually grill our salmon (as shown here), but it's just as easy to roast it in the oven.
Serve with rice, a fresh salad, or other grilled vegetables, and you've got an easy, healthy meal that also happens to be beautiful. If you have any leftover salmon, enjoy it the next day with a little pasta or salmon butter toasts.
Enjoy!
Salmon with Lemons and Scallions
Grilled Salmon with Lemons and Scallions is year-round favorite. It's so simple and delicious, and it's one of the best ways to enjoy the fresh, amazing flavor of salmon!
Ingredients
Fresh salmon, preferably skin-on – about 8 ounces per person
Olive oil
Scallions, trimmed
Lemons, sliced
Sea salt
Fresh cracked pepper
Preparation
On a glass or other non-reactive platter, sprinkle some olive oil, salt and pepper. Place salmon on the platter - skin side down - to coat the skin side with oil and seasoning. Next, sprinkle olive oil and fresh lemon juice on top of the salmon and rub or brush to coat, then season with salt and pepper to taste.
Wash scallions and trim away the root ends and longest green tips; reserve the tips for garnish. Wash lemons and cut into ¼ - ½ thick slices. Place scallions and lemons on a plate or in a bowl and toss with a little olive oil, salt and pepper.
If grilling:
Prepare grill for direct cooking with high heat. When your grill is ready, place salmon on the grates - skin side down first. For fillets up to ½ inch thick, grill for 4 – 5 minutes, or until salmon flakes with a fork. If your fish is 1 inch thick or more, carefully flip the fish and cook the top side for another 4 – 5 minutes, for a total of 10 minutes.
Place scallions and lemons on the grill grates for just a minute or two per side to lightly cook and char them.
Preheat oven to 425.
Prepare salmon, scallions and lemon slices with olive oil and seasonings. Line a baking pan with foil (for easiest clean up), and place the salmon skin side down in the pan. Place scallions and lemons around the fish. Roast for 4 – 6 minutes – or up to ten minutes for thicker fillets – until fish reaches an internal temperature of 145 degrees.
Cook's Notes:
Grilling note: You can also
grill the top side of the fish first
, and then flip to the skin side and remove the skin prior to serving. We find that grilling the skin side first helps keep the salmon fillets tender, and the fillets are easier to keep intact. The skin can be left on or easily removed prior to serving if preferred.
Making this Grilled Salmon recipe?
I'd love to hear about it!
Leave a note here on the blog in the comments below, or share your creations and ideas on Facebook, Pinterest, Instagram, Twitter, and/or Google+ .
Make sure to hashtag #baconfatte or tag @baconfatte in your social media posts!