You know when you see something, and it seems too good too good to be true… But then you can't stop thinking about it. So you finally try it, and it's amazing. Yep, these beautiful little summer toasts were one of those things for me.
I saw them on Sweet Paul last summer, and couldn't believe how good they looked.
I also couldn't help but think it was odd to spread tomato paste – as much as I love the stuff – on a piece of toast. But I trust Sweet Paul… If he liked it, it had to be good.
A few days later, I made summer toasts for a light lunch. And then I made more for appetizers that evening. They made several appearances on my table last summer, and they're been back on my table again this summer. They are, indeed, good. So, so good!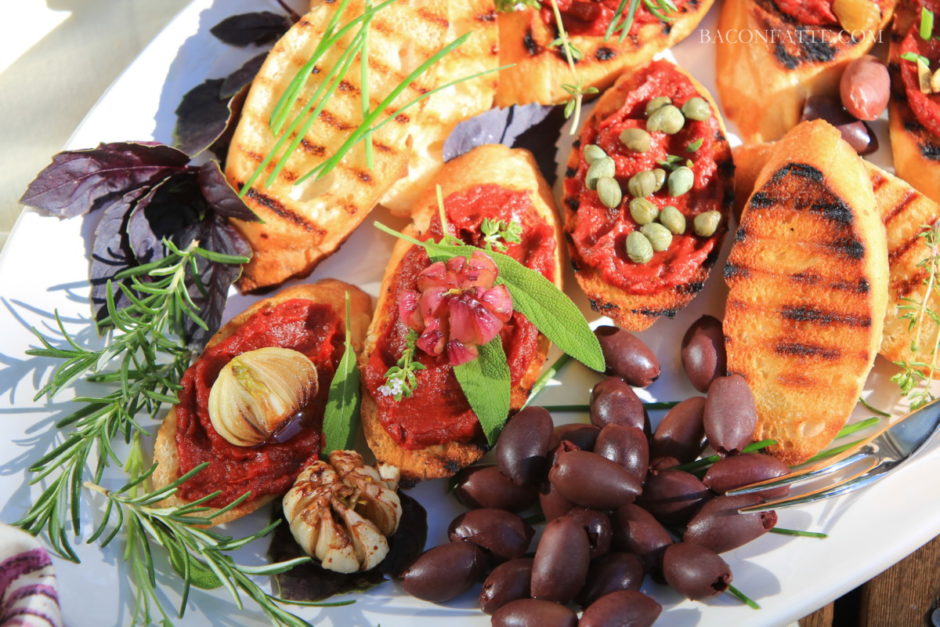 Summer toasts beg to be enjoyed outdoors in the warm summer sun. They're the kind of thing you can enjoy with a glass of wine before dinner, and they can just as easily be dinner, too.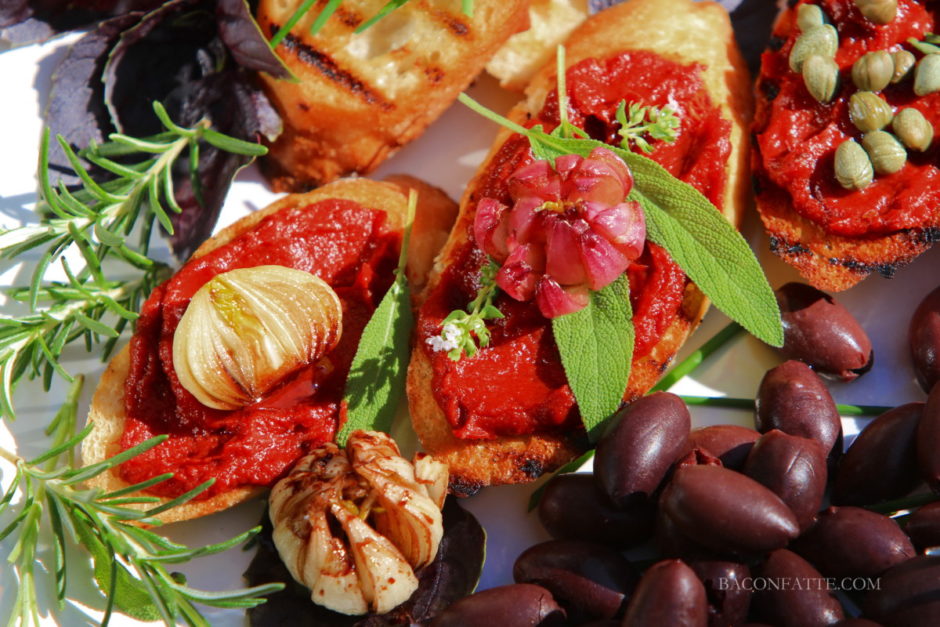 You can't beat their simplicity or versatility. They're the kind of thing that you can throw together quickly when you're in a pinch – and they're so pretty!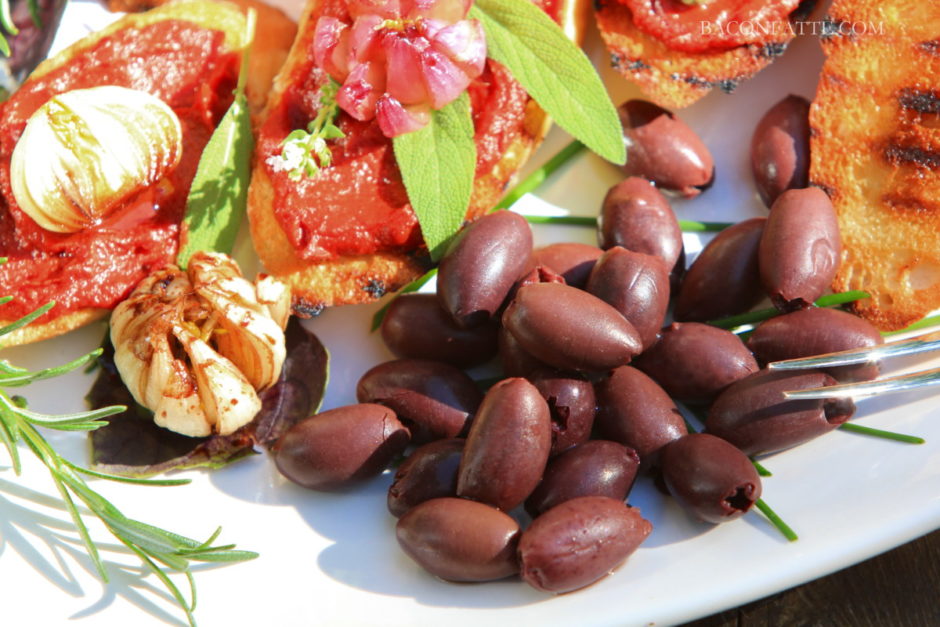 Make as many as you want. Use any kind of bread that you want (just make sure it's not too thin – a thickness of ½-inch or so is best in my experience).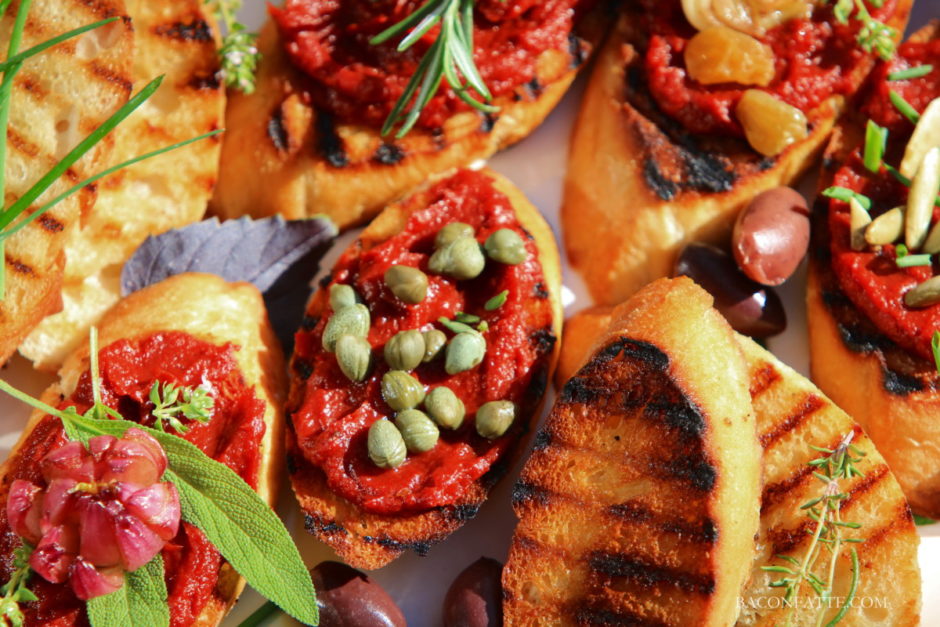 As with anything, the better the quality of the ingredients, the better the flavors will be. But truth be told, just about any tomato paste works wonderfully for summer toasts.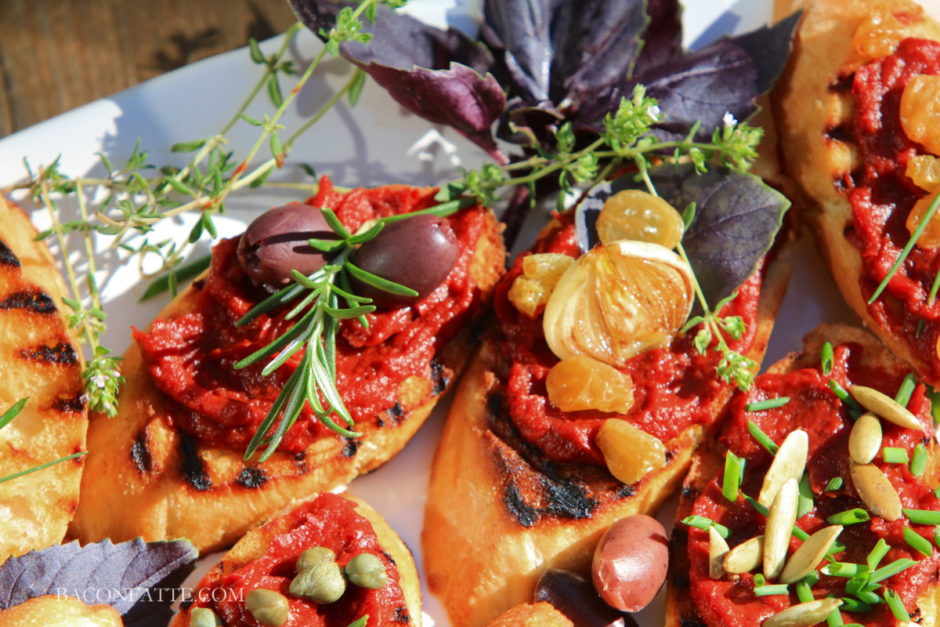 Because I'm obsessed with fresh herbs in the summertime, I load my summer toasts with all kind of goodness from my herb garden.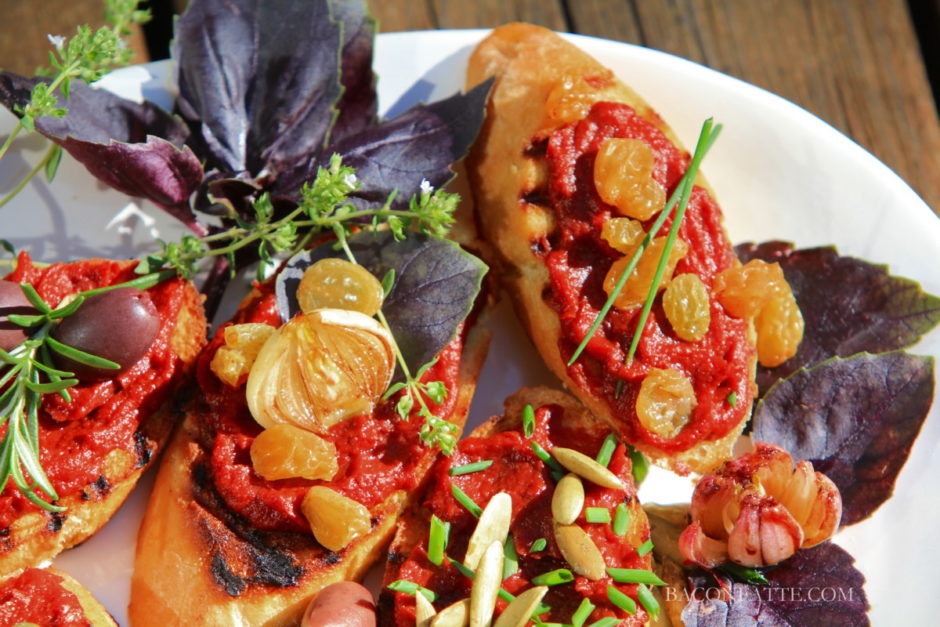 And you don't have to make them up ahead of time, either. They're a great make-your-own option for parties. Grill the toast ahead of time and keep it covered. Set out a bowl of tomato paste along with a small spreader and various combinations of good things. Your guests can top their summer toasts however they choose!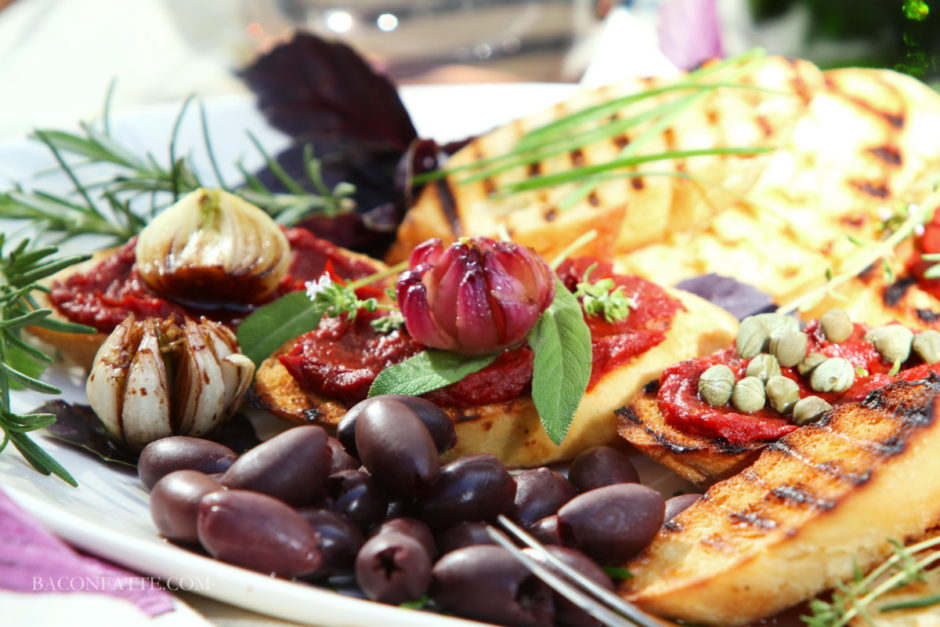 Here are the summer toast basics:
Baguette or other fresh bread, cut into ½ slices
Tomato paste
• A standard 6 oz. can of tomato paste will easily make two dozen toasts using sliced baguette.
• If you do happen to have some leftover, however, here's a super simple storage tip!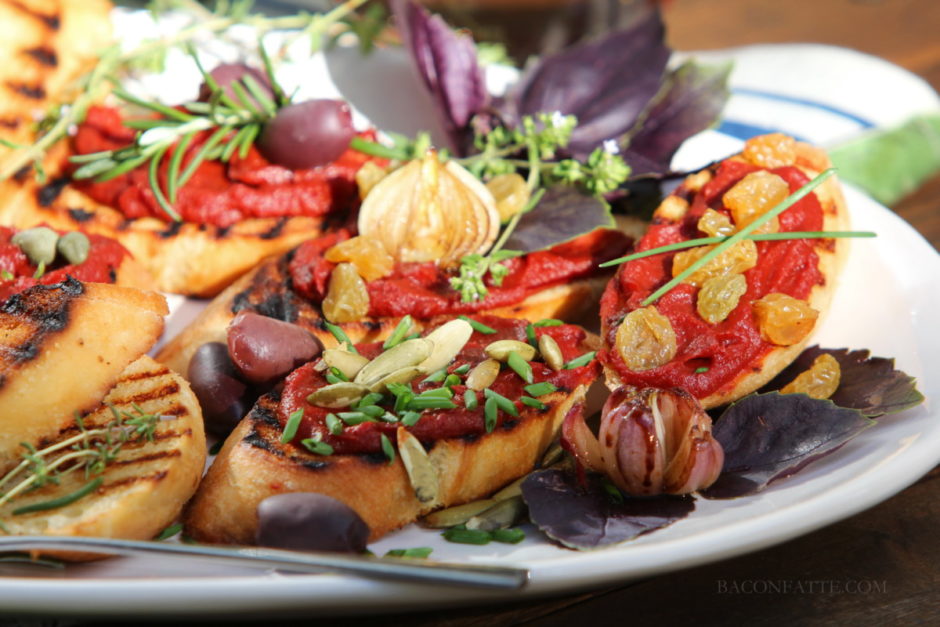 Here are some of the things you can top your summer toasts with:
• Anchovies
• Arugula
• Asparagus – fresh, grilled, roasted, or pickled
• Capers
• Cheese – crumbled, shredded or shaved – Cotija, Parmesan, Gorgonzola, Asiago, Feta, etc.
• Fresh herbs: basil (green or purple), chives, rosemary, thyme, sage, oregano, etc.
• Fresh cherry tomatoes – yellow ones make a nice contrast
• Golden raisins
• Olive oil – especially Roasted Garlic and Lime Olive Oil – or other favorite
• Olives – Kalamata or whatever kind you like
• Onions – raw, caramelized, or roasted
• Pearl onions – I cut the ones in the photos into "lotus flowers" and roasted them with olive oil and sweet balsamic vinegar… they're divine!
• Pepitos
• Pine nuts
• Roasted garlic
• Sesame seeds
• Fresh Sprouts
• Watercress
• Zucchini – slices or noodles, fresh or sautéed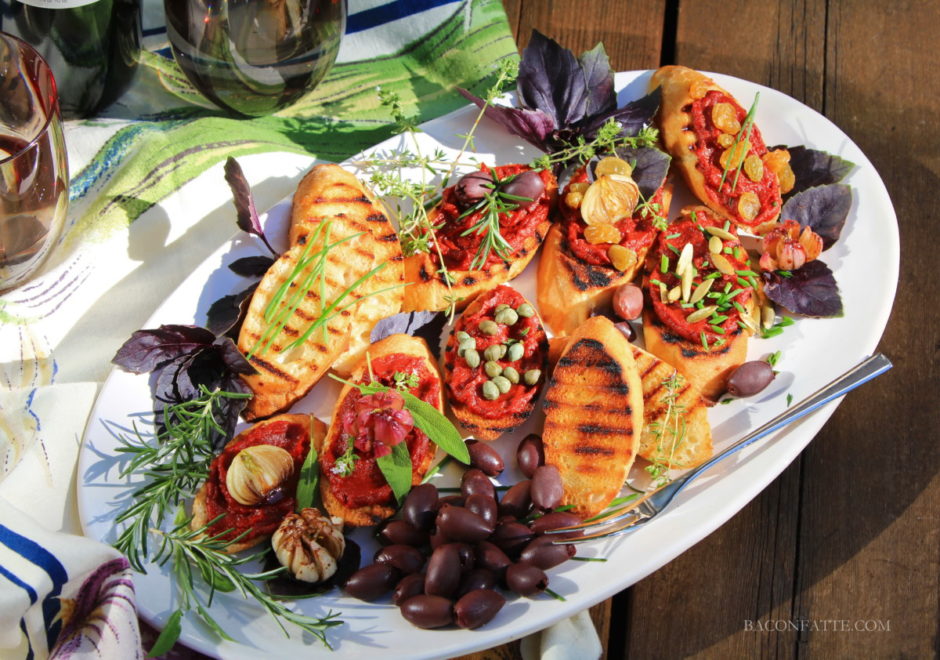 I would LOVE to know what you think of this recipe when you try it!
Feel free to leave a note here on the blog in the comments below, or share your creations on Facebook, Pinterest, Instagram, Twitter, and/or Google+ .
Make sure to hashtag #baconfatte or tag @baconfatte in your social media posts!