My husband and I recently had the opportunity to enjoy a little Minnesota travel when we attended a wonderful wine dinner event at Izatys Resort. After posting just a few photos on Instagram, I received several inquiries about the weekend and what it all entailed, so I decided to put together a post to share more details and photos of the great time we had.
Enjoy!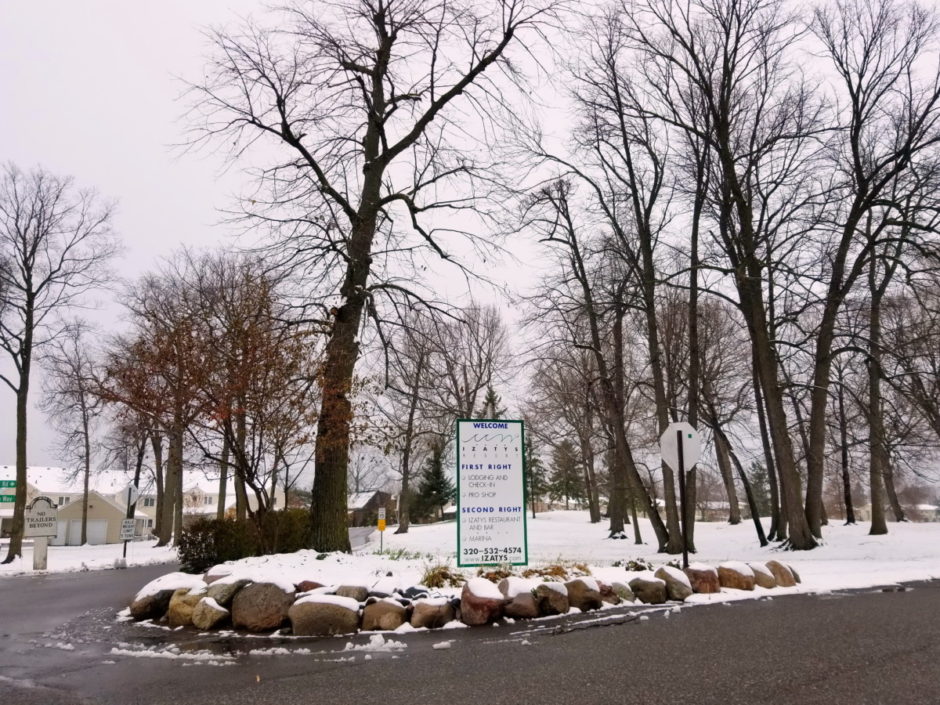 Here in Minnesota, many of us spend our summer months navigating crazy-busy schedules, and when autumn and winter roll around, we look forward to slowing down a bit. This weekend was all about casual, leisurely fun – and lots of amazing food and wine!
We were invited to attend the Autumn Wine Dinner event hosted by Izatys Resort and Steele Wines. We hadn't been to Izatys Resort before, but we've been admiring their incredible food and seasonal features for some time now, so we knew this was not an event to miss.
We packed our overnight bags and took a pleasant little road trip to Onamia, MN where the 500 acre Izatys Resort is located on the shores of Lake Mille Lacs. The trip took only an hour-and-a-half from the Twin Cities — just long enough to make you feel like you're getting out of town, but close enough to enjoy a last-minute trip anytime.
On this particular day, Minnesota was just starting to roll out her winter colors. The light snowfall the night before made the views along the way even prettier.
The rooms at Izatys are quite comfortable. We stayed in the corner suite overlooking the Clubhouse, and enjoyed a quiet and relaxing afternoon by the fireplace before getting ready for the dinner event.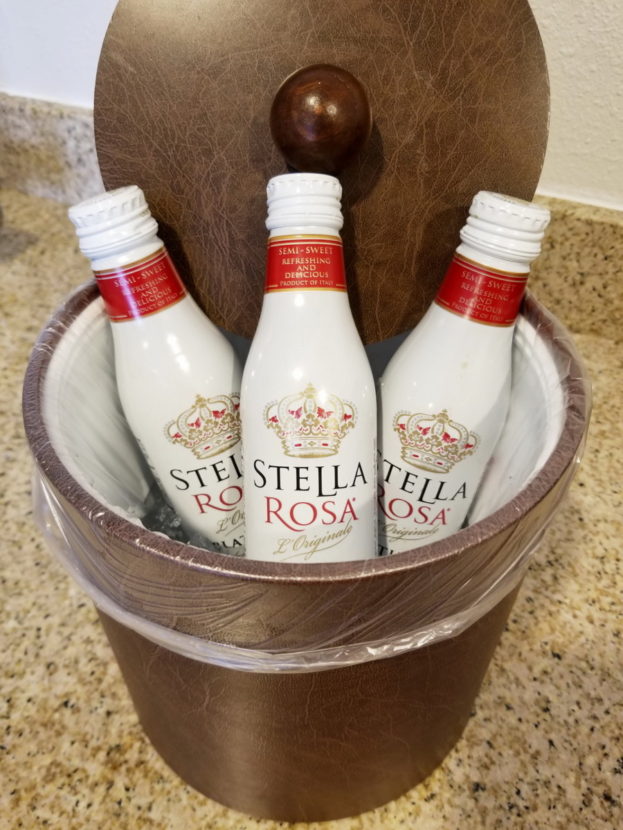 We were welcomed with some refreshments… Can't beat Up North Hospitality!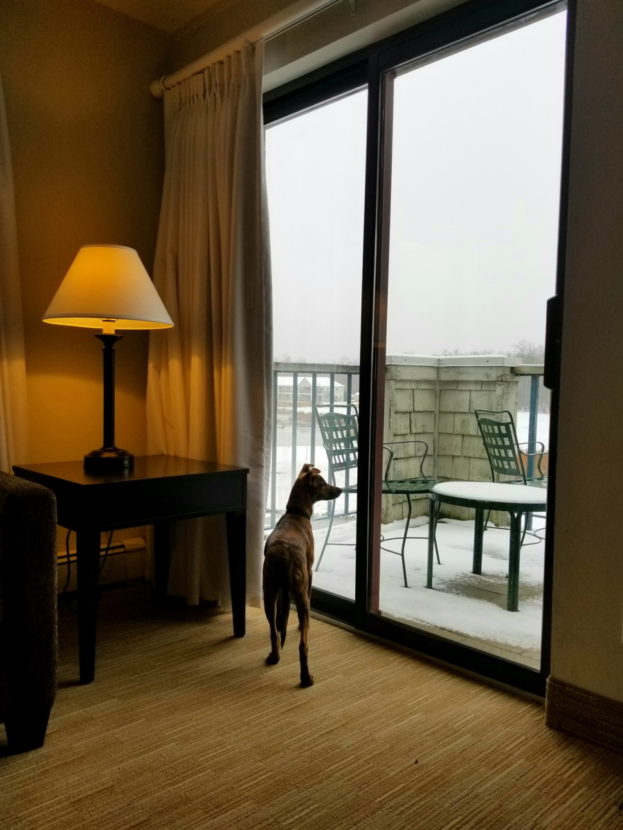 Izatys Resort is pet friendly, so we brought our recently adopted pup along for the ride. She loved the snow-covered views from the living room and bedroom as much as we did!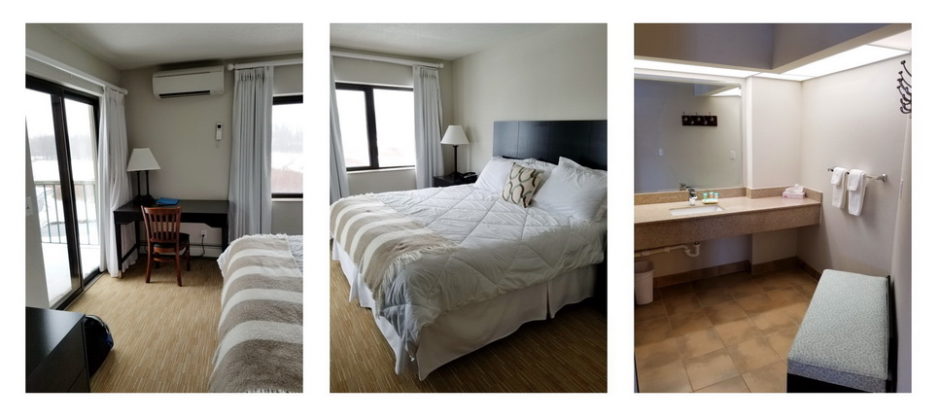 The rooms are clean and spacious. There's plenty of room to unpack and spread out for a nice long weekend get-away!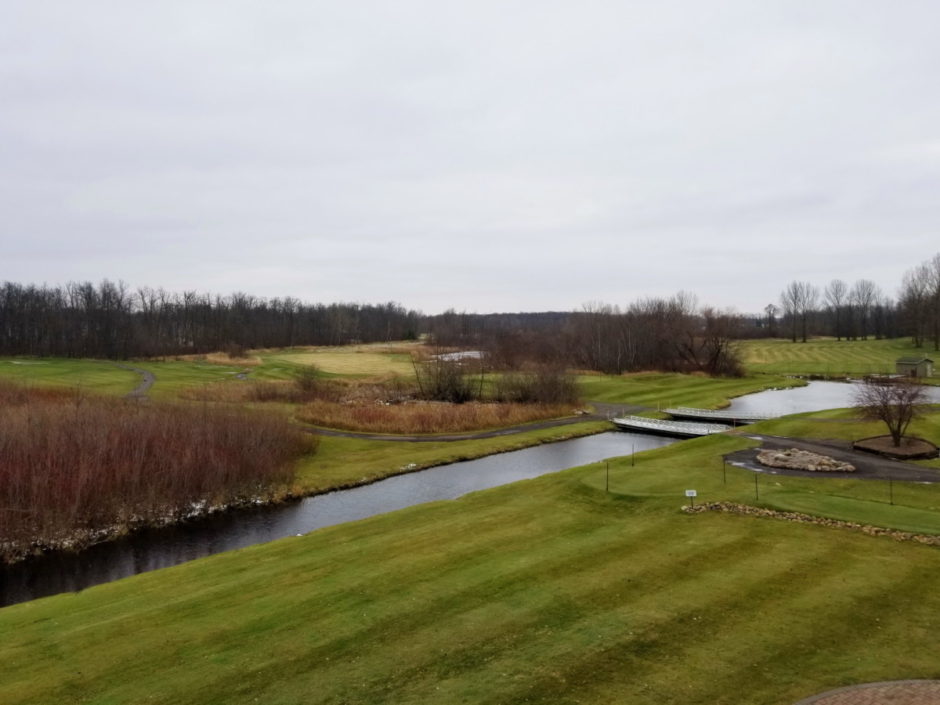 The surrounding views of the golf course are really beautiful – even in early winter! The grounds are well maintained, and although we're not frequent golfers, my husband and I are looking forward to travelling to Izatys again next spring and summer just to take in the views and activities throughout different seasons. And who knows… Maybe we'll hit a few balls around while we're there!
After a little afternoon R & R, we freshened up and walked just a few steps from the Inn to the Clubhouse for the dinner event.
Inside the Clubhouse is a great little store, a warm and rustic restaurant and bar, and an amazing event space that overlooks Lake Mille Lacs as well as the marina and golf courses.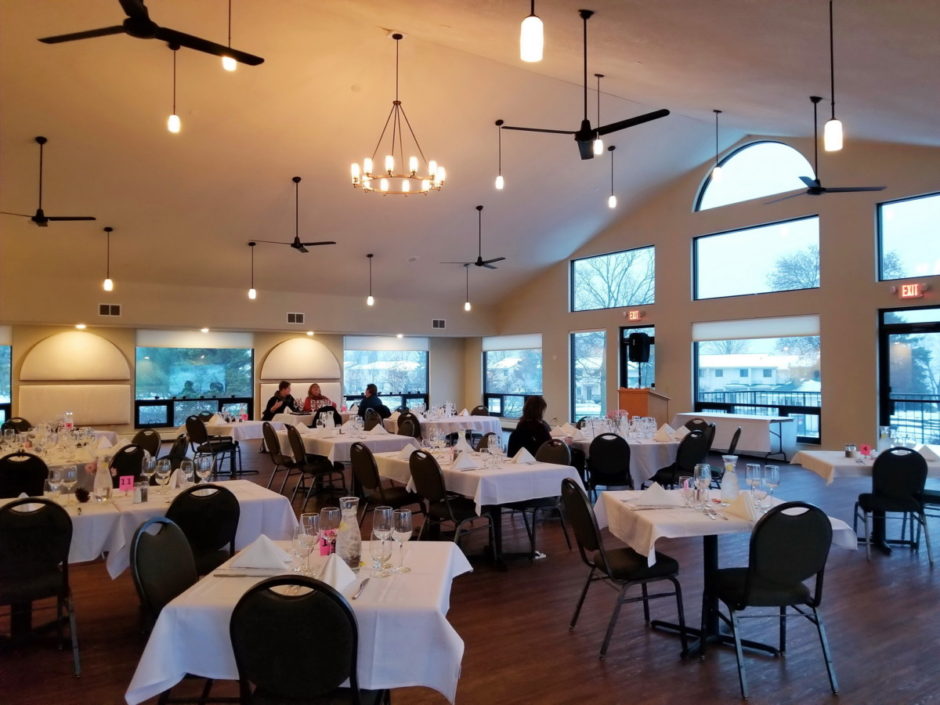 Having spent more than a few years in the wedding and event business, my eyes lit up when I walked into the Grand Ballroom where the dinner event was held. This would be such an amazing space for weddings other special events! It's spacious and bright with high soaring ceilings. There's a big, beautiful deck just outside the ballroom, and of course, beautiful views from every angle.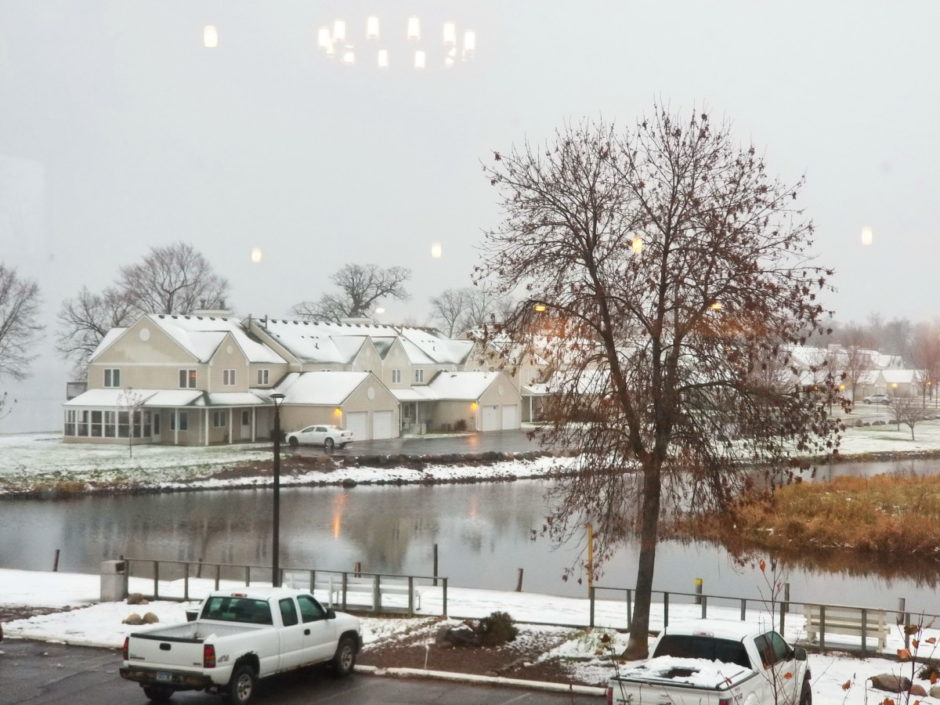 Looking out from inside the Grand Ballroom at Izatys Resort… The winter colors were so pretty at dusk!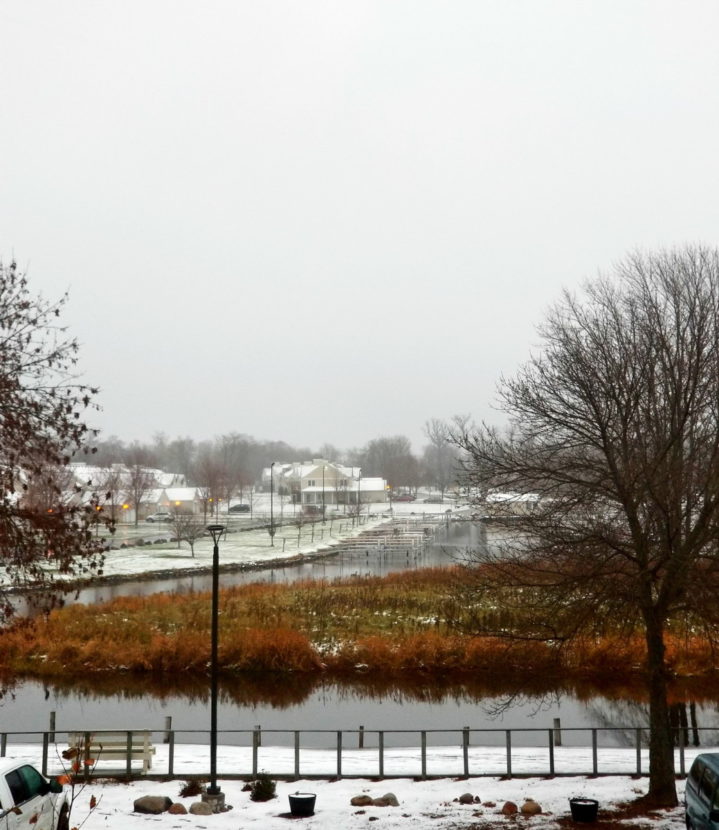 Views of the marina from the Grand Ballroom in the Clubhouse at Izatys Resort. It's such a beautiful property… we can't wait to come back next spring!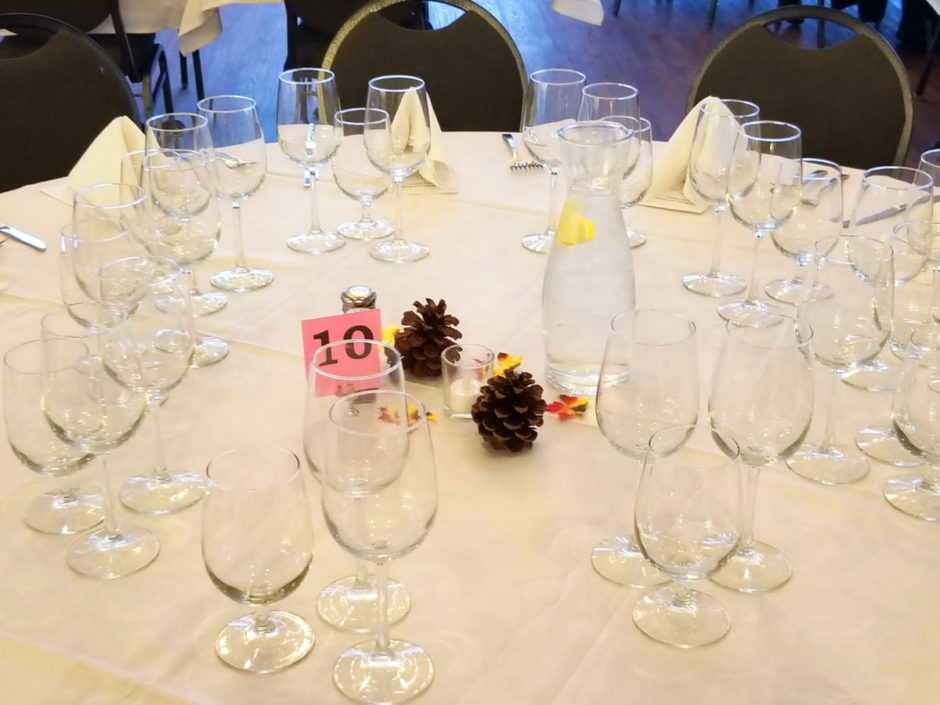 Now on to the Autumn Wine Dinner Event details! Everything was warm and cozy as the wine dinner event got underway.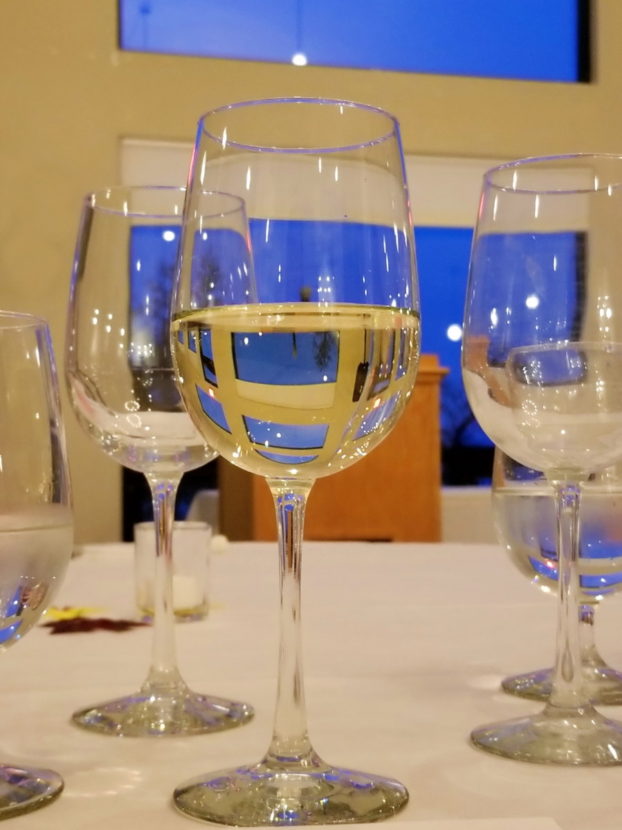 The amazing staff at Izatys never let our glasses run dry.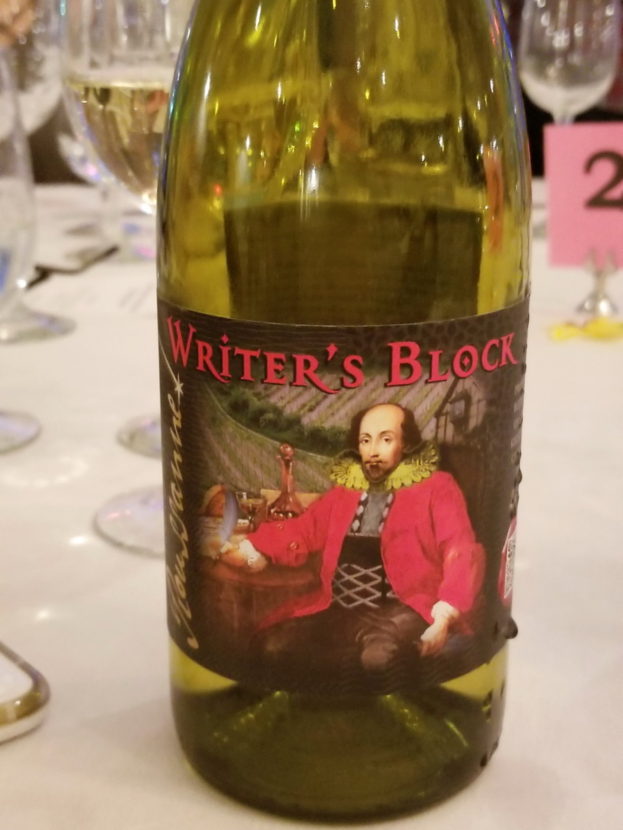 The dinner started off with Steele Wines' Writer's Block Roussane – a full-bodied white wine that became an instant favorite at our table.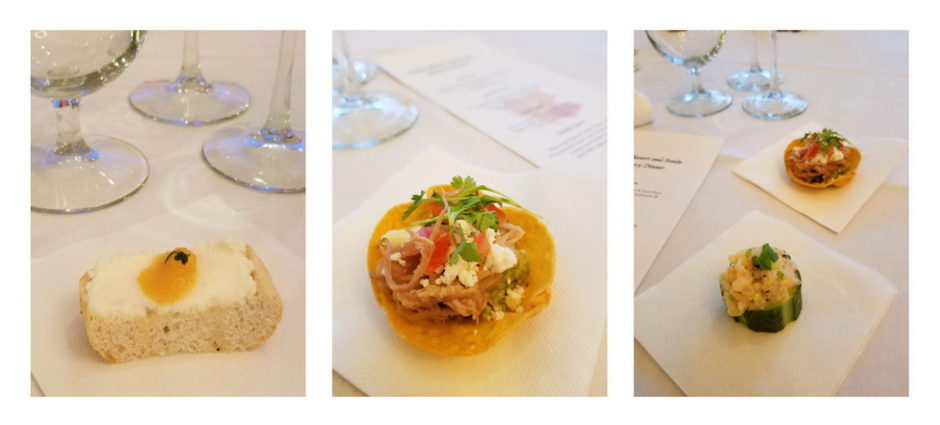 Canapes 
Toasts with Goat Cheese and Persimmon Puree
Mini Tacos filled with Carnitas, fresh Guacamole, and Pico de Gallo, then topped with Cilantro micro greens
Shrimp Salad-filled Cucumbers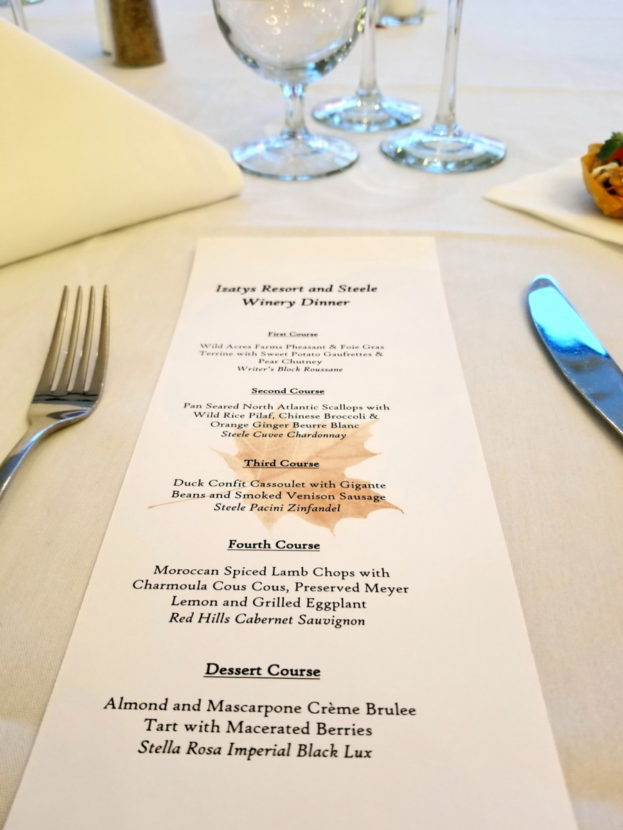 The Menu
We could have made a meal of the appetizers alone – they were all so good! But of course, we couldn't wait to taste our way through the rich and creative menu prepared by the very talented culinary team at Izatys.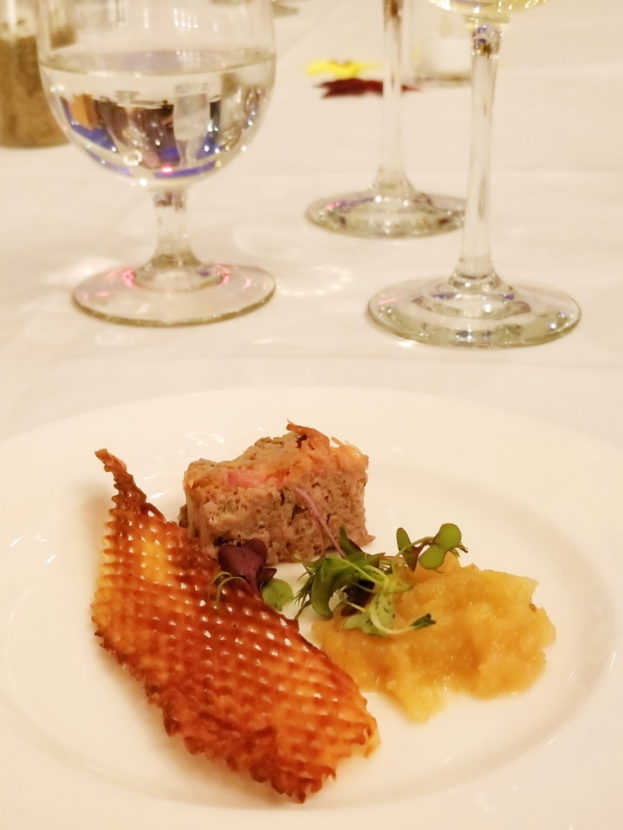 First Course
Wild Acres Farms Pheasant & Foie Gras Terrine with Sweet Potato Gaufrettes & Pear Chutney ~ paired with Steel Writer's Block Roussane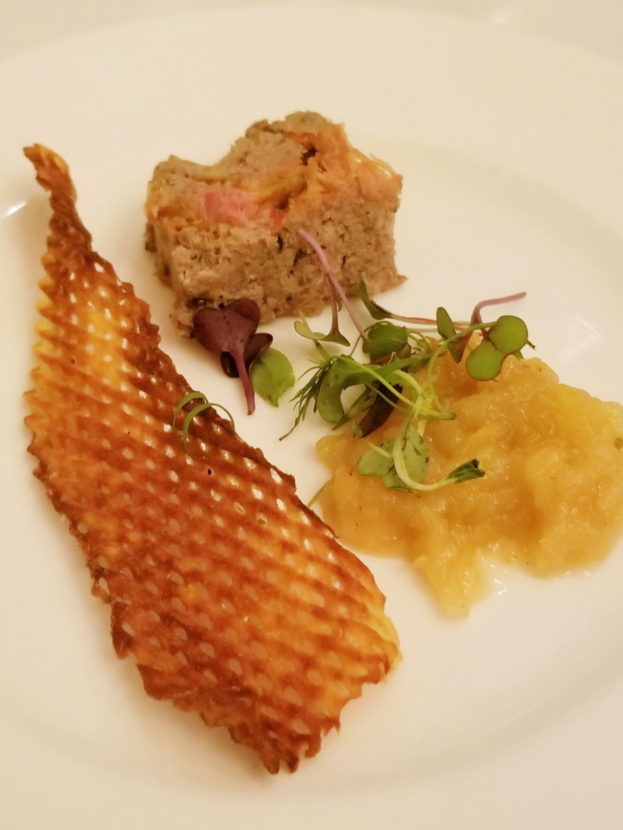 I'm always intrigued by sweet and savory pairings, and how wonderfully they go together when they're done well. The salty, savory flavors in this amazing terrine were perfectly balanced by the lightly sweet pear chutney, and the sweet potato gaufrette (worthy of a close-up to appreciate the beautiful detail) added the perfect amount of crunch to each bite. Loved it!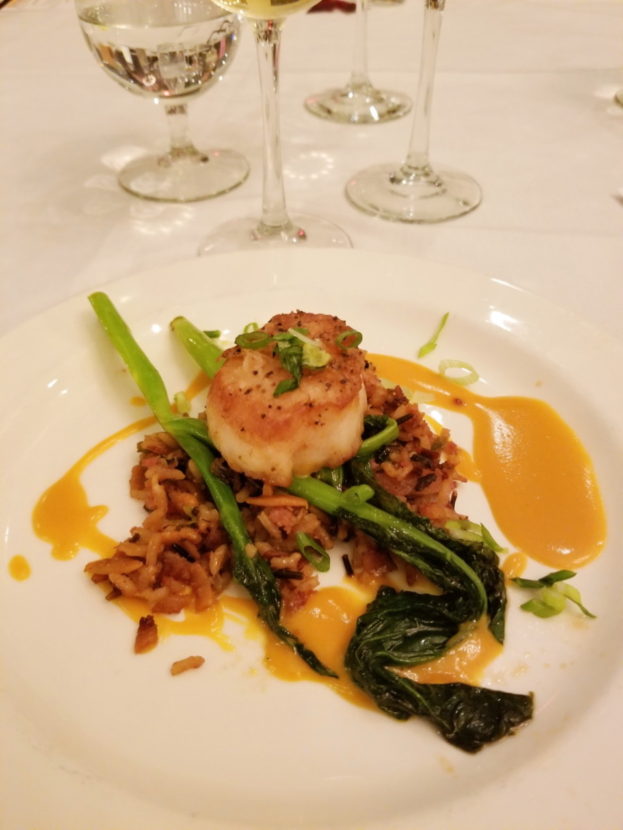 Second Course
Pan Seared North Atlantic Scallops with Wild Rice Pilaf, Chinese Broccoli & Orange Ginger Burre Blanc ~ paired with Steele Cuvee Chardonnay
Again – a really nice balance of delicate flavors and textures that created a beautifully finished dish. The scallops were perfectly seared and so delicious. It's hard to go wrong with a nice burre blanc, but I have to say that the subtle orange and ginger flavors in this one complimented both the scallops and pilaf exceptionally well. The broccoli, of course, added the perfect touch of "green" to balance the dish. So good!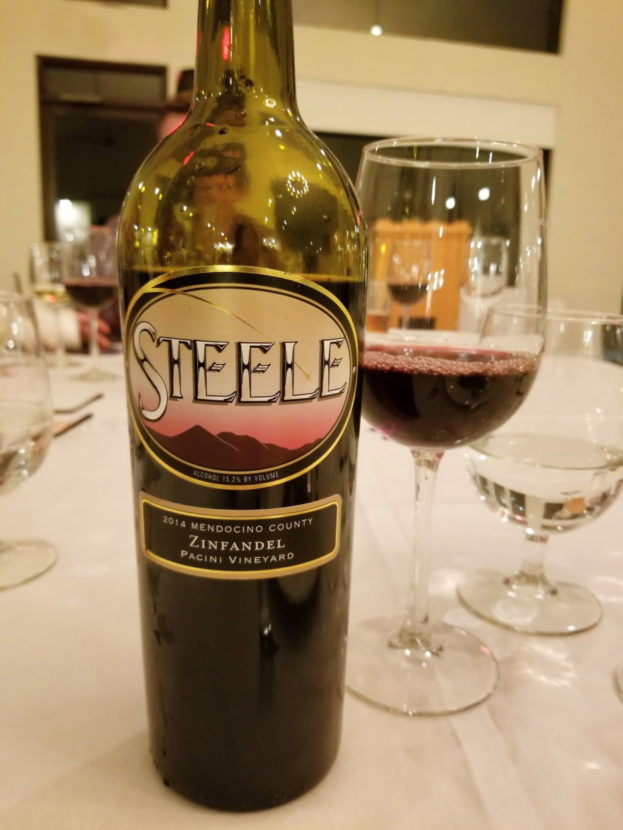 Third Course
Duck Confit Cassoulet with Gigante Beans and Smoked Venison Sausage ~ paired with Steele Pacini Zinfandel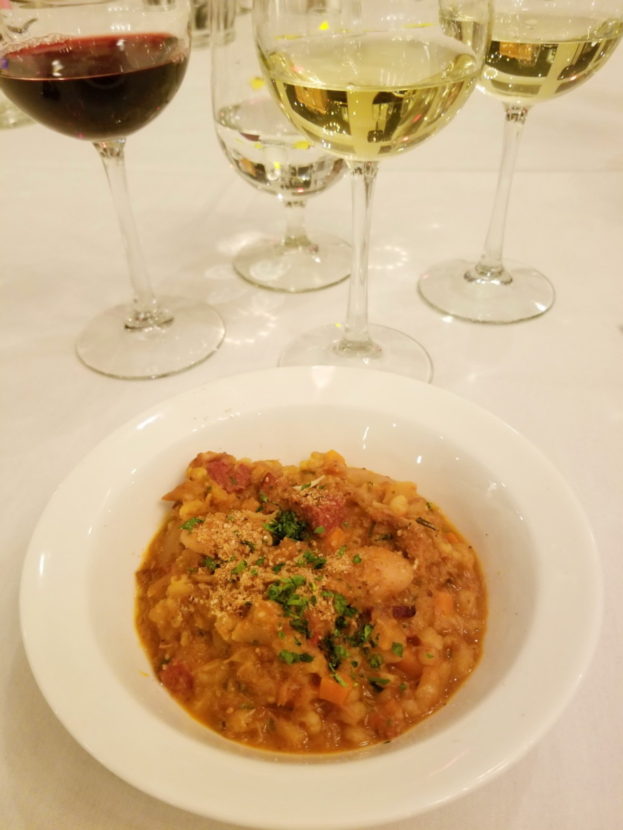 Throughout the evening, we kept asking ourselves and each other which dish was our favorite. It was hard to choose… they were all really, really wonderful. Just thinking about this seemingly unassuming cassoulet, however, still makes my mouth water.
This was the perfect example of "umami" in terms of indescribably abundant flavor. It's the kind of thing – in my humble opinion – that causes you to close your eyes when you take a bite, just to be able to wrap your palate and your mind around the layers of flavors.
Think chili, or a thick, delicious stew… Not really spicy, but with plenty of warmth. A wonderfully hearty comfort food that knocks your socks off and makes you wish you had more. That's this. I'd love to get my hands on ALL the recipes prepared during this event, but if there were only one recipe that I could have taken home with me that night, it would be this one.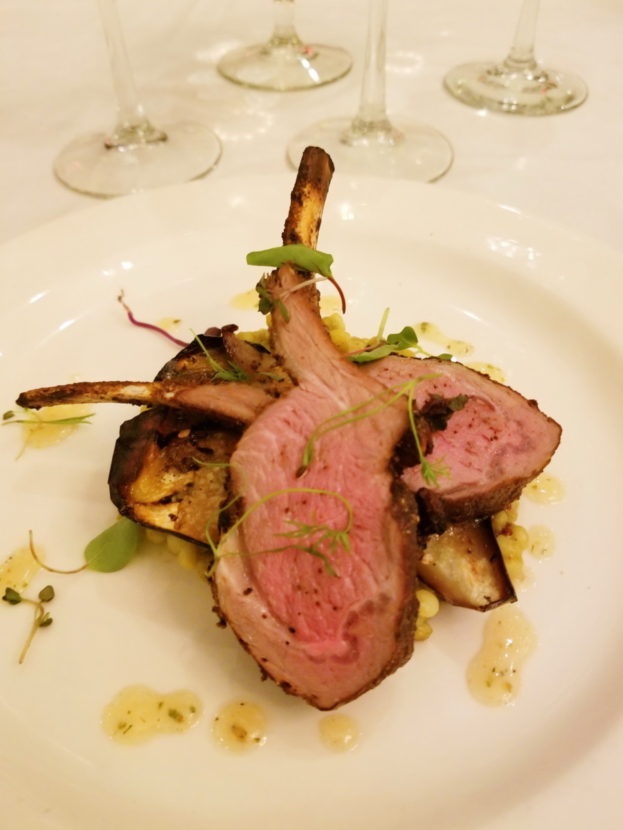 Fourth Course
Moroccan Spiced Lamb Chops with Charmoula Cous Cous, Preserved Meyer Lemon and Grilled Egg Plant ~ paired with Red Hills Cabernet Sauvignon
If we've known each other for a while, you know that "layers of flavors" is a big thing to me. It's the signature of a well-balanced recipe. All of the elements not only taste good together, but they compliment one another and keep surprising you with pleasant flavor variations. This dish accomplished all of that – and then some.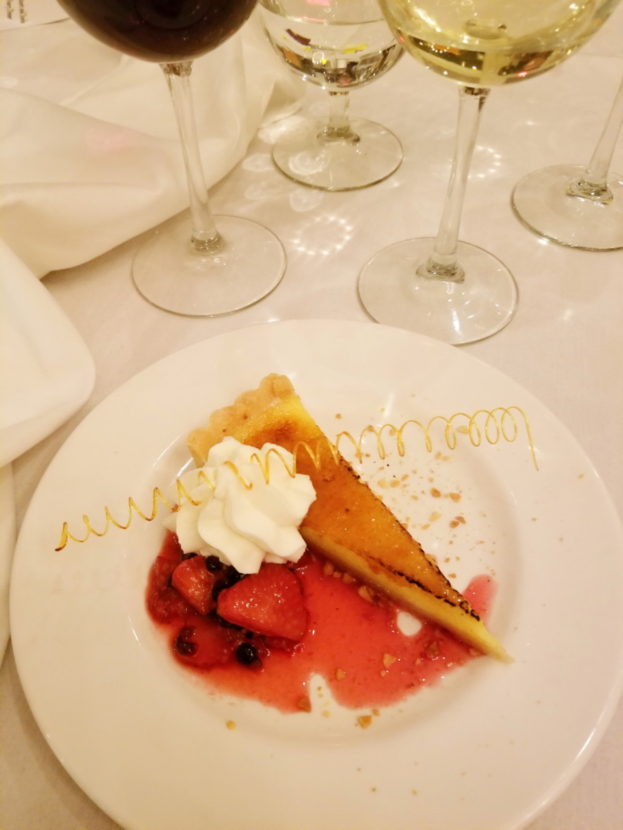 Dessert Course
Almond and Mascarpone Crème Brulee Tart with Mascerated Berries ~ paired with Stella Rosa Imperial Black Lux
You may have already seen this one on Instagram… It got a lot of attention, of course, because it's gorgeous! Crème Brulee works amazing well as a tart (I didn't know that… Did you know that?!) I've never had it served this way, but this is now my favorite way. The macerated berries complimented it so well. And that spun sugar spiral? Simply amazing!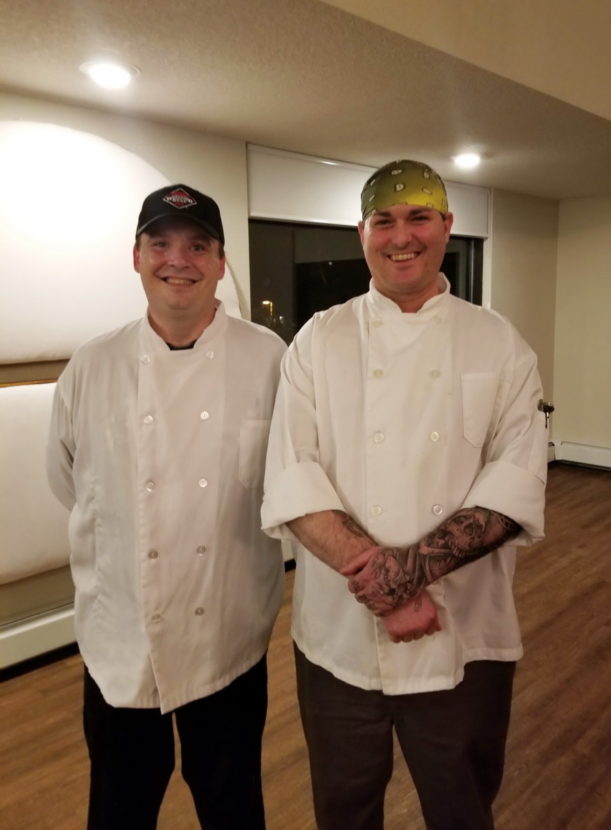 It was a pleasure to finally get to meet these fine gentlemen. Pastry Chef, Andy Cordova, and Executive Chef, Brian Nieman head up the talented culinary team at Izatys Resort. Not only are they really nice guys, but they clearly know what they're doing in the kitchen – and they seem to have a really good time doing it. And it shows. We LOVED having the opportunity to enjoy their art!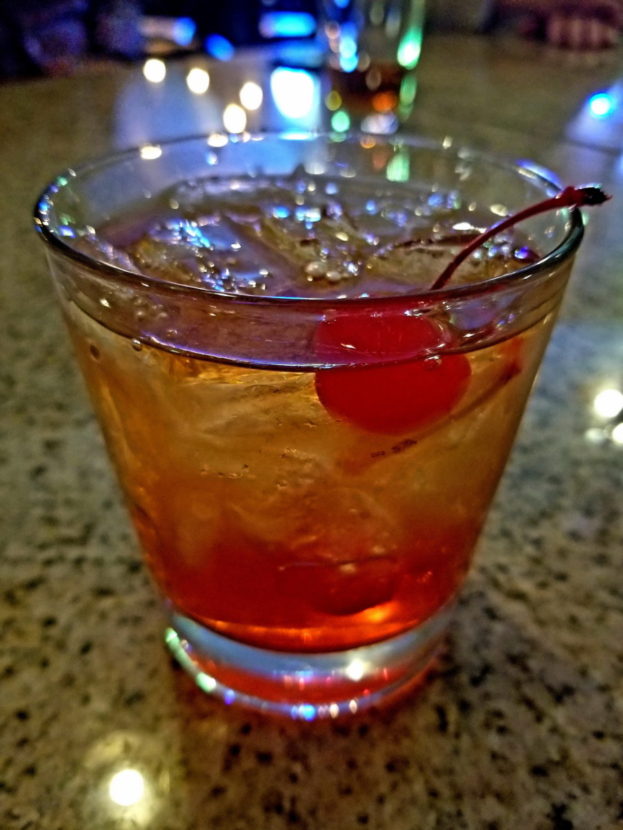 We had such a good time getting to know the good people at our dinner table that we didn't want the evening to end. Thankfully, the Clubhouse at Izatys has a warm and casual bar just across the hall from the Grand Ballroom where the dinner event was held. So, we all decided to step over there and have a nightcap (or two) after the dinner.
The next morning, we took that same quick walk from our room to the Clubhouse to meet everyone for breakfast.
Few things in life are better than gathering around a table and enjoying good food with good company. One of the best things about this weekend was meeting a bunch of people that we hadn't had the opportunity to meet before. In fact, we didn't even know they were going to be there until we all got there. That alone made the trip!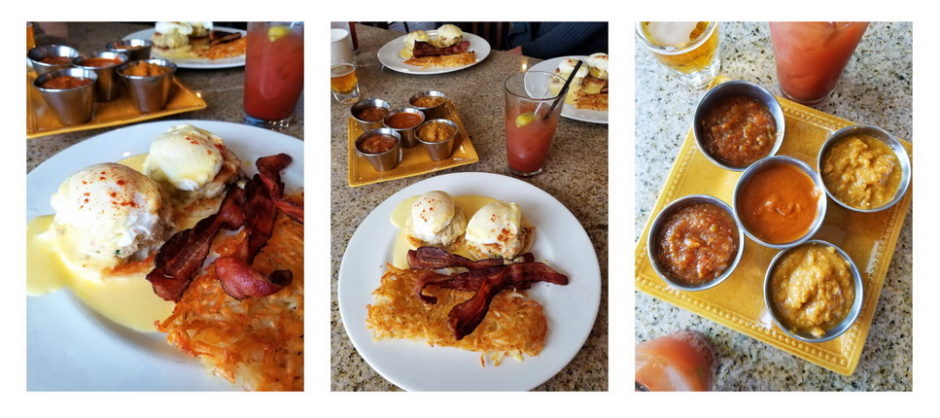 Word had gotten around about the Chef's Breakfast Special the day before, so by the time we met for breakfast, we all knew what we were having: Eggs Benedict with Walleye Cakes. The Hollandaise was light and silky, and so delicious. And the walleye cakes – as you might imagine – were excellent.
One member of our group enjoyed the restaurant's housemade salsas the day before, and the kitchen was kind enough to bring us all an assortment of the different varieties that they feature with different dishes to enjoy with our breakfast.
I know what you're thinking… "Salsa with Hollandaise?!" Yes! Absolutely! And I'd do it again in a heartbeat – but only with these salsas and this Hollandaise. The salsas had plenty of attitude, and yet they were refined enough to pair deliciously with the delicate Hollandaise.
There was a 'Tamale' salsa, as well as 'Devil's Tongue' and 'Burning Bush'. Let me tell you that these salsas were not mild-mannered – and we LOVED them! We all agreed that we would have purchased each one by the gallon if we could have.
Side Note: I honestly mean it when I say that I'm looking forward to dining at Izatys again… The dishes that these folks create are out of this world, and many of them are accompanied by housemade salsas and sauces!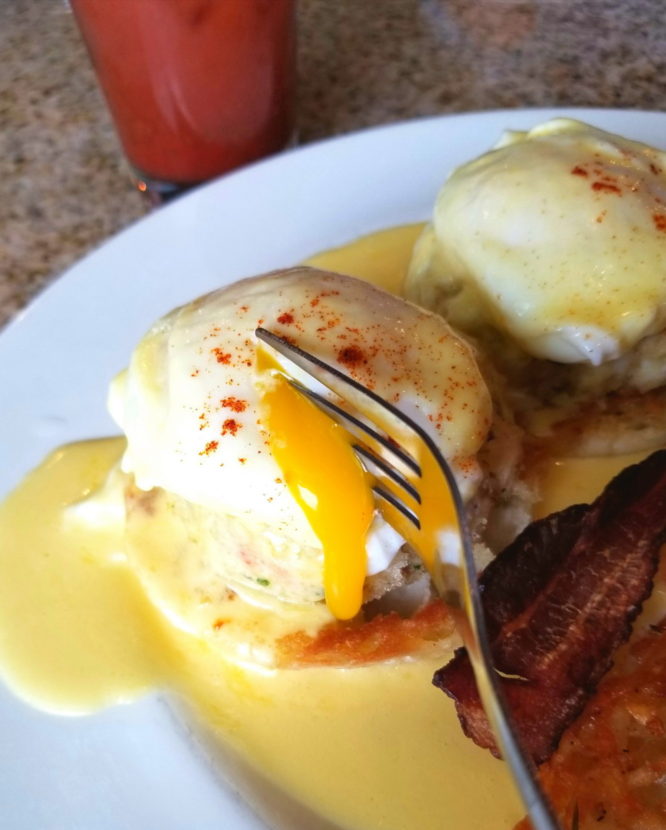 Just look at that perfect yolk! (This photo got a lot of attention on Instagram, too… Apparently there are a lot of people who appreciate a good yolk!) 😉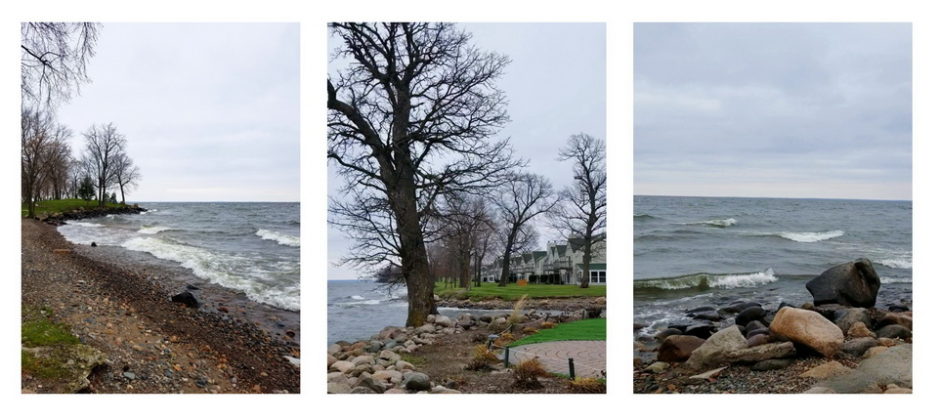 When it was time to head home, my husband and I couldn't resist taking in the lake views before leaving the resort.
We're avid boaters and lake lovers. This was our first time visiting Lake Mille Lacs together, but it definitely won't be our last. Izatys Resort is now on our list of favorite get-aways, and we're excited to visit the resort again soon.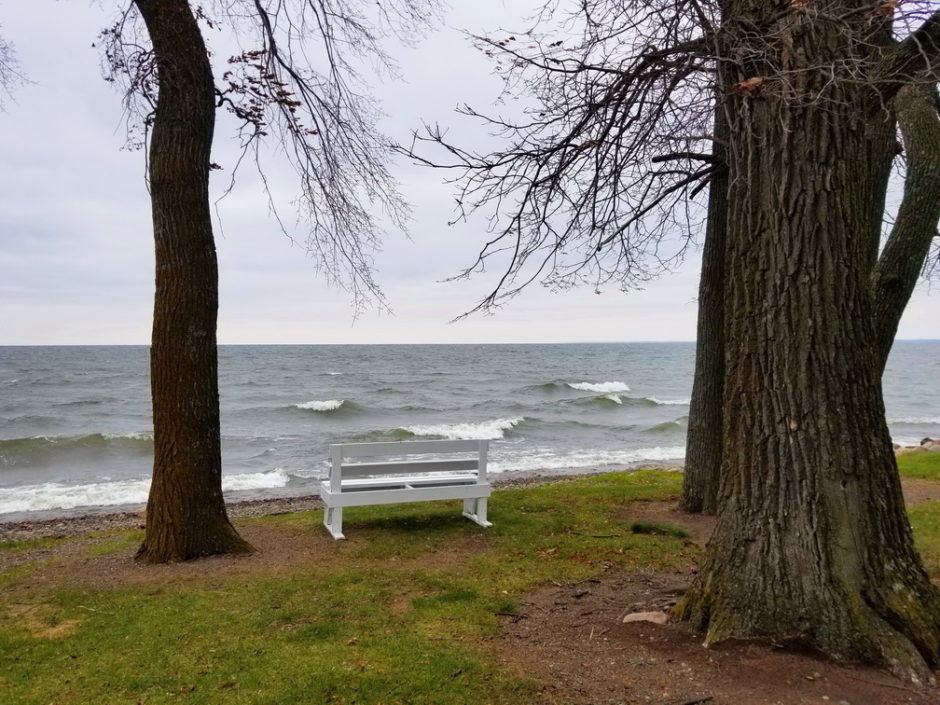 Whether you're looking for an exceptional event space, a location for a corporate retreat or family reunion, or just somewhere to escape for a while… Izatys Resort has all the bases covered year-round.
We thoroughly enjoyed our stay and our experiences at Izatys, and very much appreciate the invitation to experience the venue and all it has to offer.
Disclosure: We were invited to attend this event, and in doing so, received free lodging from Izatys Resort. As always, all opinions are my own, and I would wholeheartedly recommend Izatys Resort and its fine ammenities to anyone looking to enjoy a little Minnesota travel!
#IzatysResort #Izatys_Resort #Izatys #MN #Minnesota #DoTheLake #MilleLacsLake #OnlyInMN #SteeleWines