Knife skills are are important in the kitchen, to be sure. I know that… We all do. But unless we're trained chefs or some kind of self-taught guru, we kind of make them up as we go along.
If you'd have told me at the beginning of this week that I'd totally "geek out" over knife skills at an unexpected class, I'd probably have risen an eyebrow offered a polite chuckle in response.
But that's exactly what happened. The geeking out over knife skills part… Not the eyebrow thing or the chuckle.
One of the wonderfully colorful food fanatics that I follow on Instagram, Kat Peterson ( @kmlpeterson ), was giving away some tickets to a knife sharpening class. Not just any knife sharpening class… A Chef Camp knife sharpening class.

I happen to have a "thing" for Chef Camp. I "met" Chef Camp on Instagram and pretty much instantly fell in love with the cool, rustic, chef-y things that they do. Similar to the way some use the term "Google it," to look things up online, I often use the term "Chef Camp-y" when discussing [my obsession with] outside-the-box cooking… Preparing gorgeous meals over open fires… Using chef-tastic ingredients and techniques that most of us home cooks only dream about…
And how much more fabulously outside-the-box can you get than travelling to a remote camp sight, bunking down with dozens of people you've never met before, and experiencing the way other people cook in completely foreign-to-you surroundings? I'm getting light headed just thinking about it!
But, I digress…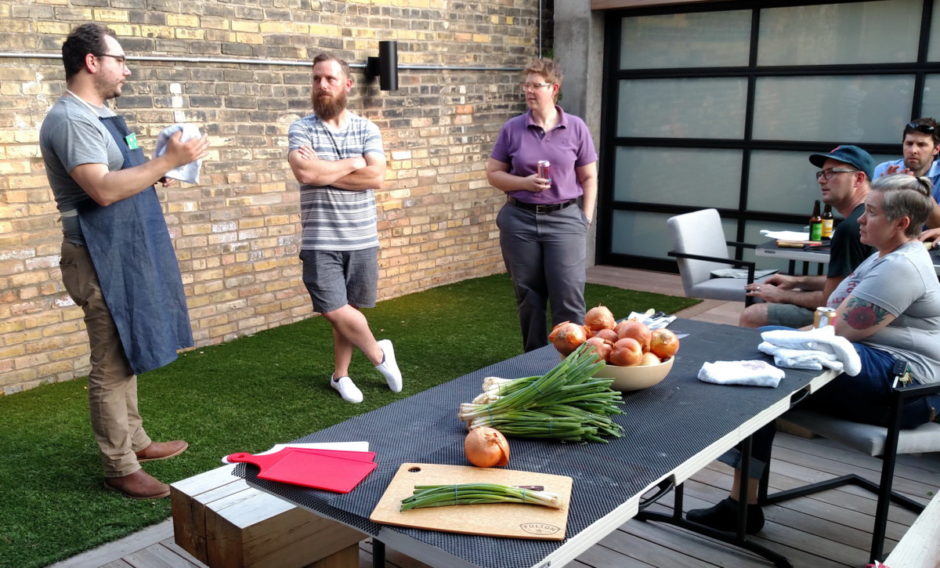 With no intentions other than offering a virtual thumbs-up to the opportunity, I left a comment on Kat's post about the tickets. And, much to my surprise, I won them. I've been hearing about other classes that the folks at Chef Camp have been offering locally, but I haven't yet attended any of them. (I know… I know!)
Here, finally, was my chance. I cleared my schedule and wrapped up my knife (attendees were to bring a knife of their own to sharpen in the class) – after what could only be described as an OMG Happy Dance of sorts. I just love it when life throws you little surprises!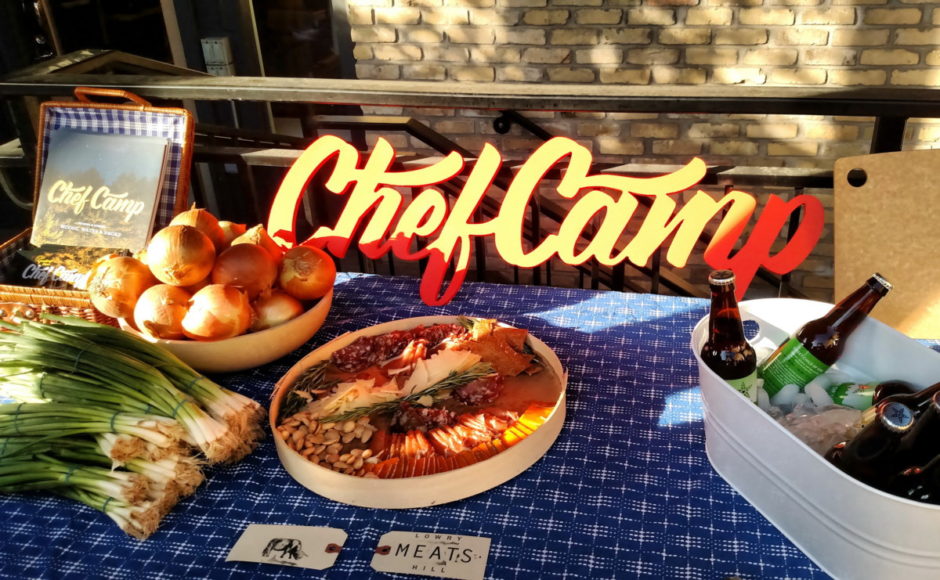 The class was held at Wilson & Willy's – more about that in a bit. Attendees gathered in a beautiful patio area – the kind of space that could make my suburban heart go urban in a snap. It was totally casual. Totally unassuming. And totally loaded with tidbits of information that you can only get from listening to talented, creative people talk about their life-long obsessions.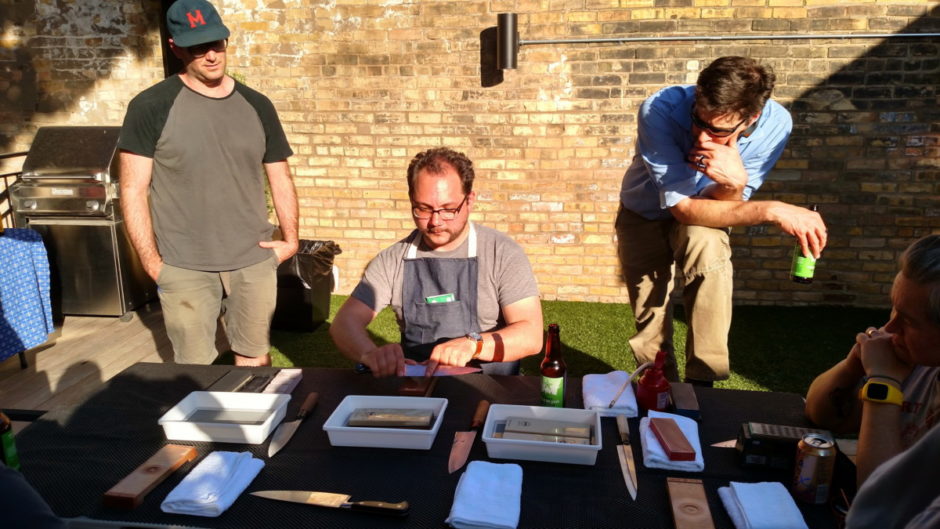 Did you know you can "sharpen" a knife with newspaper? In addition to using a variety of sharpening stones, Chef Camp Instructor Nick Zdon explained lesser-known sharpening processes in detail. He talked about listening to the tone a knife blade makes when you're sharpening it properly. And, we also learned that knife sharpening has its own "finger print," if you will… Everyone does it differently. When sharpened correctly – and consistently – knives sort of take on the personality of their owners.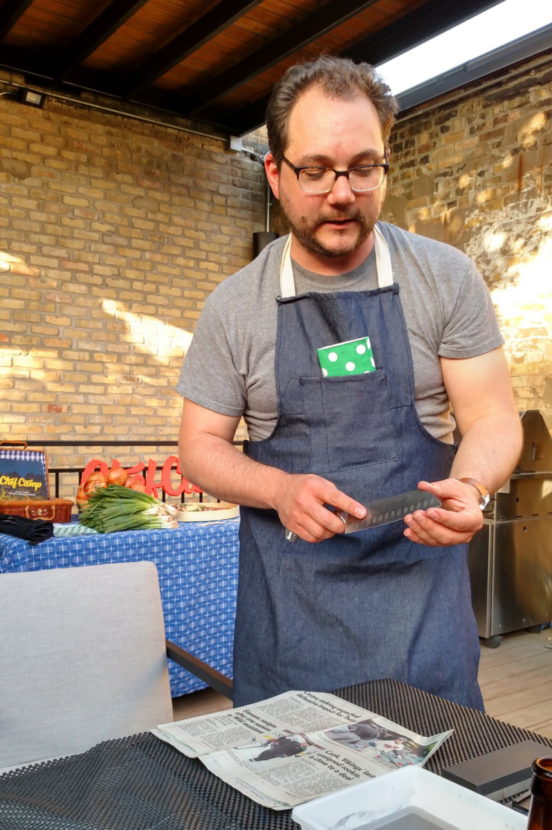 Nick explained it much better, but the take-away there is that we're really missing out if we don't learn how to properly – and consistently – sharpen our own knives. The proof in the pudding: Nick's own Wusthof – a knife he purchased right out of college. Clearly, he's taken excellent care of it… It looks brand new.
I'm guilty of letting my knives go far too long in between sharpenings. Or, at least, I was. That changed after this class. My knives will be much happier from now on, and so will I.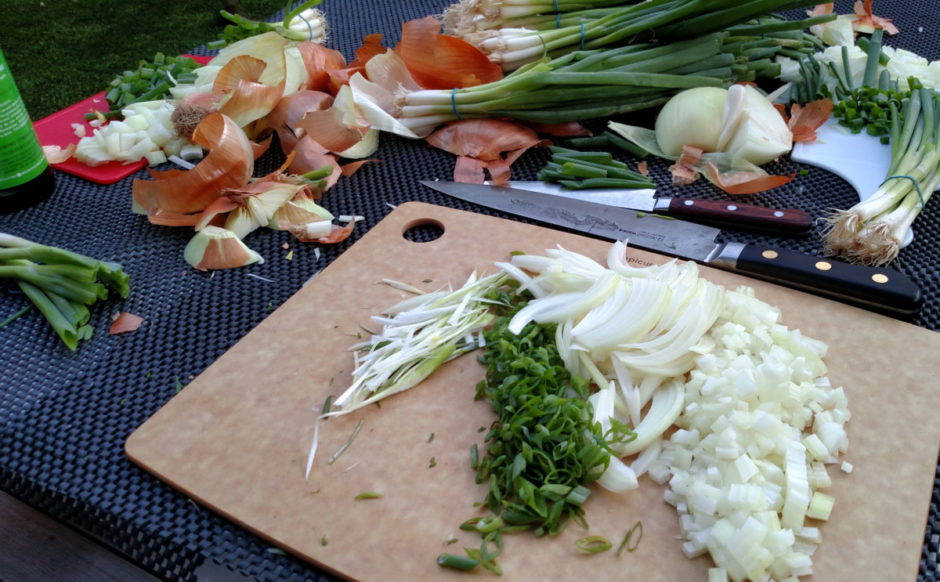 As if to drive home the importance of properly sharpened knives, Erik Sather from Lowry Hill Meats swooped in to take our breath away with his totally chef-y knife skills. He brought his favorite knives for the occasion, and covered the importance of form in addition to several How-To's that will make my life a little easier from now on.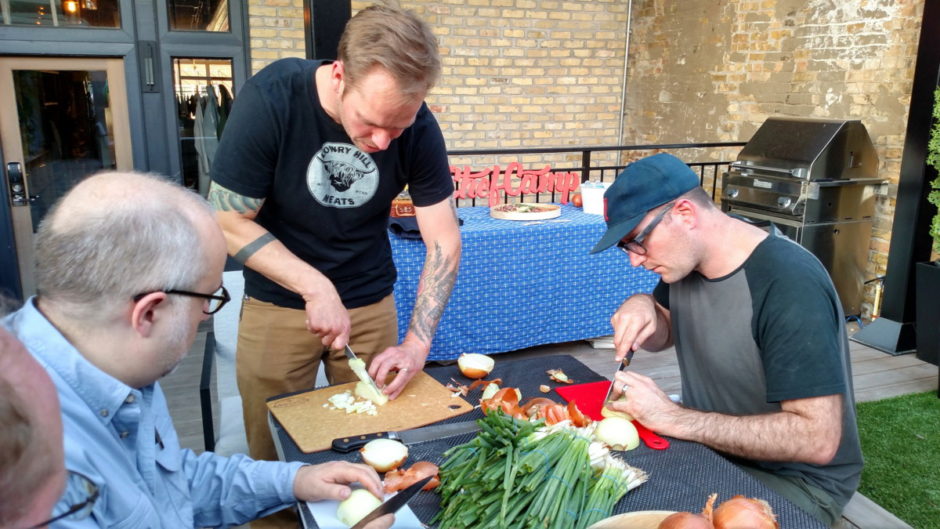 Did you know that knife sharpness – and the way you cut up onions and scallions – impacts the way they smell (I don't mind it a bit, but I know people who avoid using onions because they "stink") and the extent to which they make your eyes water? All true, my friend!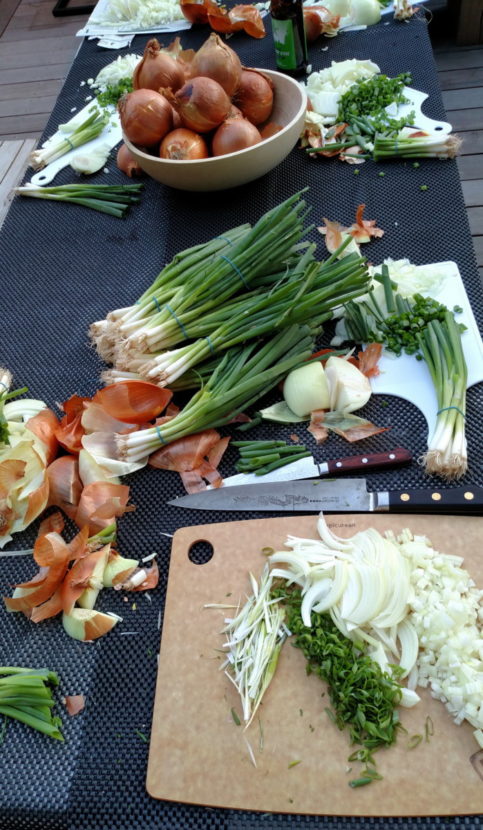 The icing on the cake: Using my own freshly-sharpened knife to cut up onions and scallions was a major Ah-Ha! moment. What a difference! Oh, and the gorgeous little garnish trick that Erik showed us… I'll be using that one a lot, too!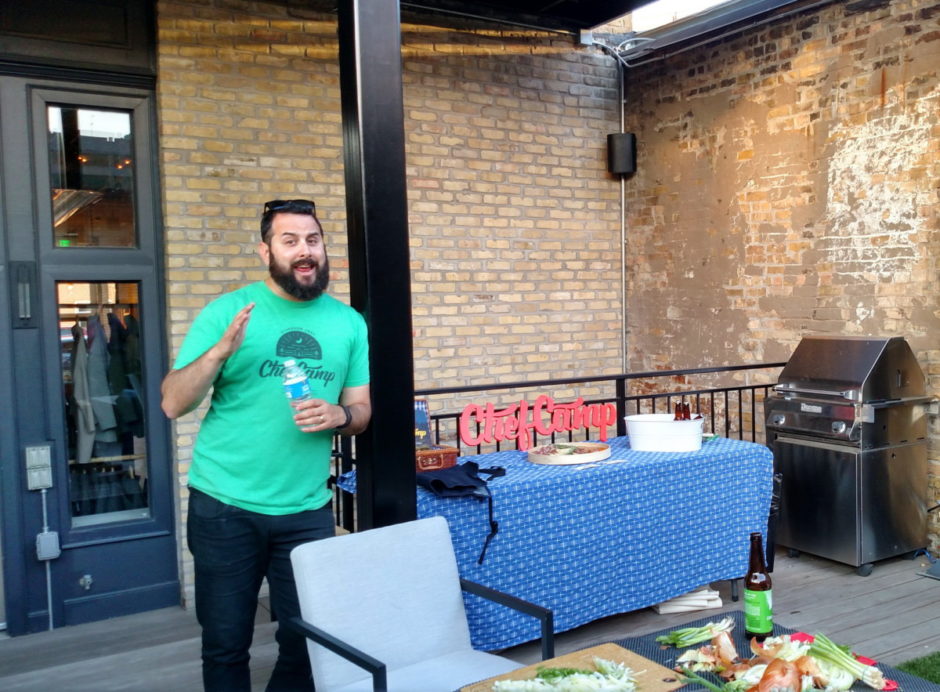 Dave Friedman heads up the Chef Camp team. He clearly knows a few people "in the business" and has a way of bringing them together to share amazing cooking experiences with the rest of us. That's the definition of a Dream Job in my book!
Judging by the Chef Camp Cookbook alone (oh, yes… there's a cookbook, and I'm lucky enough to now have one in my hot little hands!), there are more than a few reasons that Chef Camp is gaining in popularity. The first Chef Camp session over Labor Day Weeked sold out, so they've added a second one in September. Wanna go?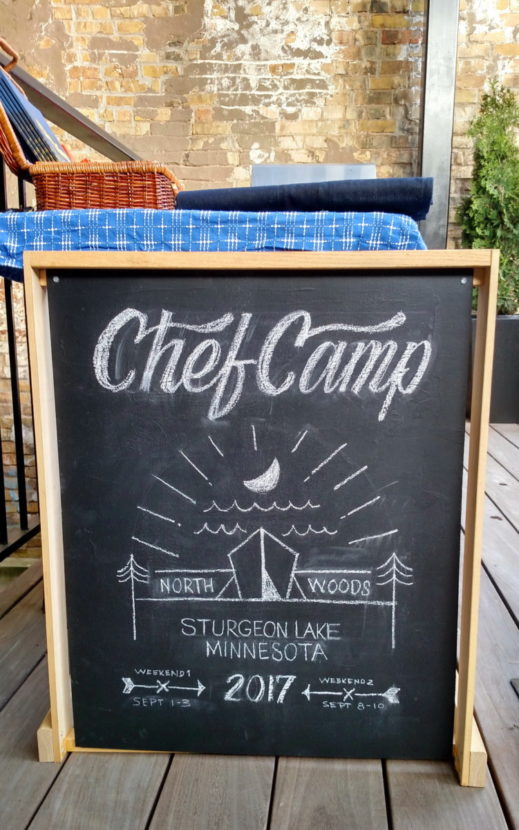 There was another bonus to the evening. All of this cool, casual, learn-from-the-best stuff happened at a place called Wilson & Willy's Neighbor Goods. It's down on Washington in the North Loop, tucked into a beautifully understated space.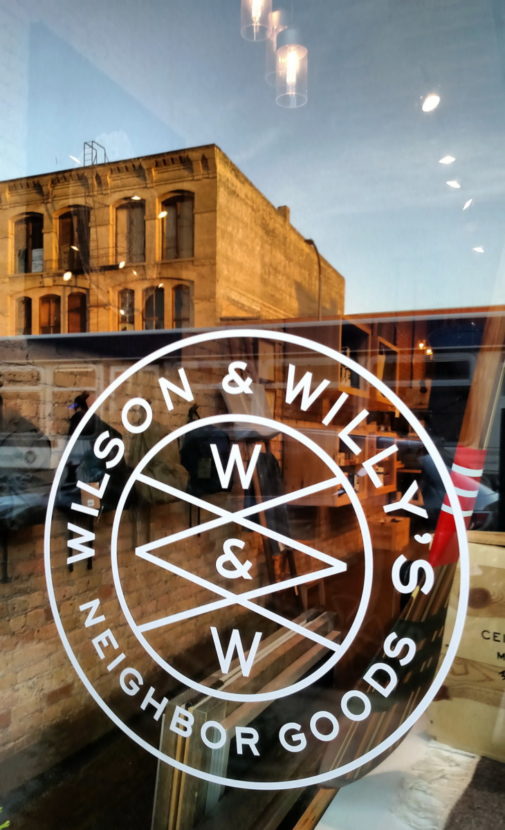 I hate to admit it, but I hadn't been there before. If I understand correctly, it's been around since 2015. They specialize in "thoughtfully made products for men, women, and the home" (check this article for more deets). Thoughtfully made, indeed…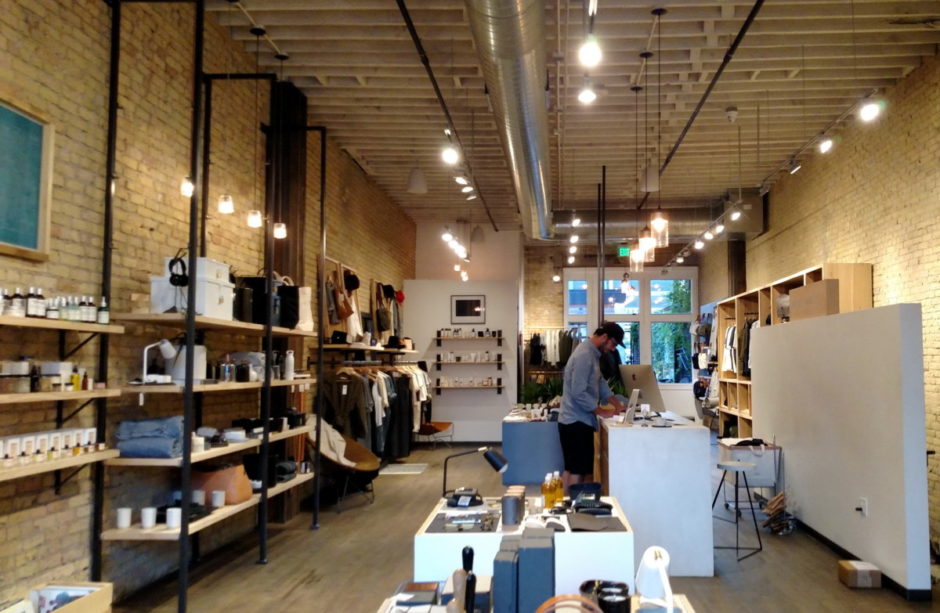 We only had a minute to check things out (parking meters aren't forgiving), but quality and uniqueness surrounded every single item in the store. Nothing flashy… Everything in good taste. There are stories of the makers and sources. There are unique details… Things you didn't know you needed, but now can't live without.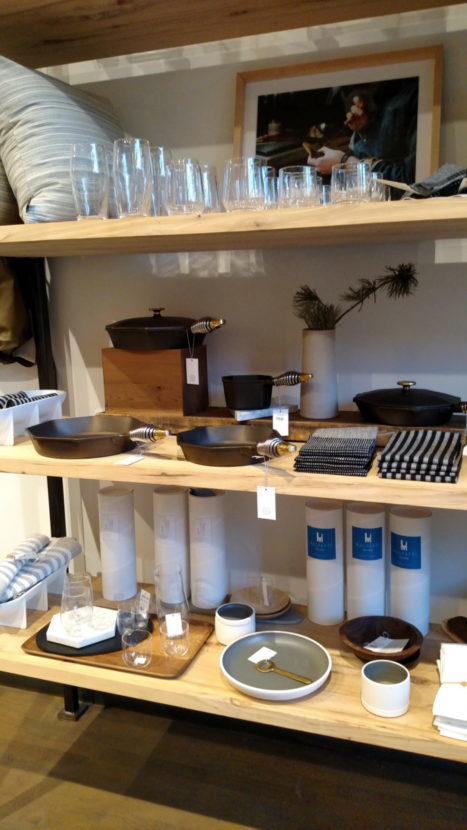 Of course, I gravitate to certain kinds of items when I shop. If it was made to prepare or present food or beverage, I'm on it!
I've spent some time as a brick-and-mortar retail business owner, so I can only image the challenge these folks have in finding a merchandise mix so varied, yet so well-connected. It's a beautiful mix – not the same thing you see everywhere else. Rather, things you can't wait to see again.
And see them again, I will! Next week! I've already signed up for next week's Chef Camp knife class at the same location… They're focusing on Japanese knives next week, and I have beautiful Japanese knife that would never forgive me if I didn't give it the same love my everyday knives just received. Can't wait – to sharpen my knife skills a little more, and to SHOP!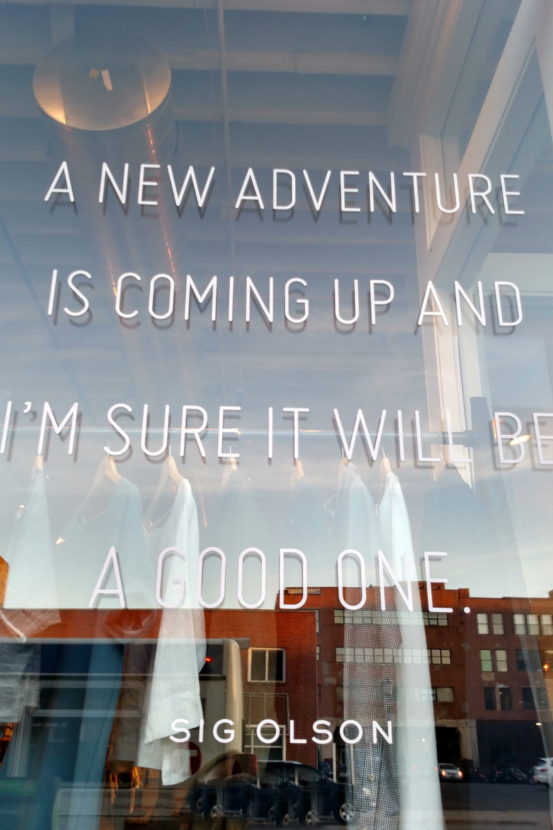 Many Thanks to all the super fabulous folks mentioned above for a great evening! I absolutely love learning new things from people who know what they're doing. This was a really enjoyable workshop – so worth it! And, no, I have not been compensated in any way for this post. I appreciate good experiences, people, and businesses, and I'm happy to share those experiences, people and businesses any way I can in my little corner of the www.
Cheers!