Lemon anything is my dad's Achilles heel. No matter how hard he pretends to try, he just can't resist lemony sweets. So, for his birthday last year, I looked for a lemon cake that would knock his lemon-loving socks off. And I'm happy to report that this lemon cake did the trick.
In fact, our entire family loved it enough to request it for future family gatherings, so we now refer to this cake as just "The Lemon Cake".
This is *the* perfect summertime treat, but its bright, citrus-y flavors are also wonderful for chasing away the wintertime blues.
UPDATE – December 2016: Check out the pretty variations below that make it perfect for any season!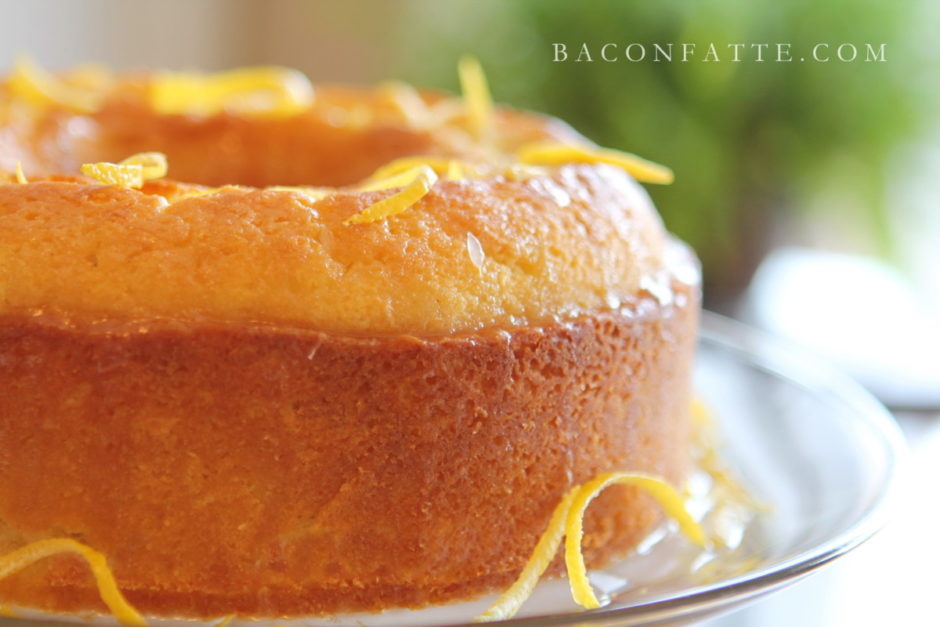 I usually use my mom's vintage tube cake pan when I make this lemon cake, but a bundt pan works well, too. Whatever pan you use, make sure it holds 10 – 12 cups.
This recipe uses a little less sugar than the original recipe, so the tart lemon flavor seems to "pop" even more – it's utterly and deliciously addictive!
This moist, dense lemon cake travels really well so it's perfect for parties. And the flavors brighten even more overnight, so you can make it the day ahead.
If there are any leftovers (which only happened once for us because there were three other desserts at that dinner party and, it seems, one can only eat so much dessert. Who knew?), just pop the leftover cake in the refrigerator for a couple days or freezer for a couple weeks to enjoy with your morning coffee or as an afternoon snack. This lemon cake is equally as divine chilled as it is at room temp.
Enjoy!
Lemon Bliss Cake
This incredible lemon cake is for serious lemon lovers! It makes perfect summertime treat, but its bright, citrus-y flavors are also perfect for chasing away the wintertime blues.
Recipe from:
Michele Phillips, BaconFatte.com
Ingredients
For the cake:
1 cup (2 sticks) unsalted butter (such as Kerrygold*)
½ cups granulated sugar
1 teaspoon sea salt (use just ½ teaspoon if using salted butter)
½ teaspoon lemon extract
4 large eggs, at room temperature
2 teaspoons baking powder
3 cups unbleached all-purpose flour
1 cup whole milk, at room temperature
4 tablespoons lemon zest (from about 2 lemons), divided
For the glaze:
⅓ cup freshly squeezed lemon juice
½ cup granulated sugar
Garnish with more fresh lemon zest*
Preparation
Preheat oven to 350 degrees.
Coat the inside of a 10-inch tube pan or Bundt pan with butter and flour or baking spray.
In a large mixing bowl, add the butter, sugar, sea salt, and lemon extract, and beat until the mixture is light and fluffy. Add the eggs to the mixture one at a time, and beat each egg completely into the mixture before adding the next.
Add the baking powder and a little flour to the wet mixture, and beat just until combined. Then, alternate additions of milk and flour, mixing well in between additions until it's all incorporated and batter is smooth. Finally, stir* in half of the grated lemon zest.
Pour batter into prepared pan. Bake 45 to 55 minutes, or until a toothpick or bamboo skewer inserted into the thickest part of the cake comes out clean. Check doneness at about 40 minutes. Do not over-bake.*
While cake is baking, prepare the glaze: Pour lemon juice and granulated sugar into a small bowl and stir well until sugar crystals dissolve.
When cake has finished baking, remove from oven and allow to cool in the pan for about five minutes.
If needed, gently shake the pan or use a butter knife to loosen the cake from the sides of the pan. Remove cake from the pan by placing a serving plate over the top of the pan and gently inverting the pan so they cake rests on the serving plate.
While cake is still warm, slowly spoon or brush a layer of the glaze all over the cake. Allow the first layer of glaze to sink in, then repeat with the rest of the glaze.
Garnish the warm, freshly-glazed cake with more lemon zest* and allow the cake to cool completely before cutting.
Cook's Notes:
*You can certainly use any kind of butter you'd like for this recipe, but I've noted
Kerrygold
butter above because it just seems to make the cake richer tasting and more golden in color.
*When adding lemon zest to the batter, use a large spatula to stir it in. Zest tends to get wrapped up in beaters rather than incorporating throughout the batter so it's best to stir it in by hand.
*Baking times: I repeat this often, but it's worth repeating… Use prescribed baking times as a guideline only. Every oven bakes differently, altitude play a roll, etc. Check this cake at around 40 minutes to see where it's at – just pop the door open and eyeball it. That will indicate more accurately how much more baking time is needed. This cake is absolutely divine UNLESS you over-bake it.
*We've garnished this gorgeous cake several ways just to prove that lemon cake is perfect for any season. Use orange zest and cranberries, pomegranate arils and fresh mint, serve it with fresh blueberries, or even fresh (unsweetened) whipped cream.
Recipe adapted from
King Arthur Flour
.
Lemon Cake for all seasons!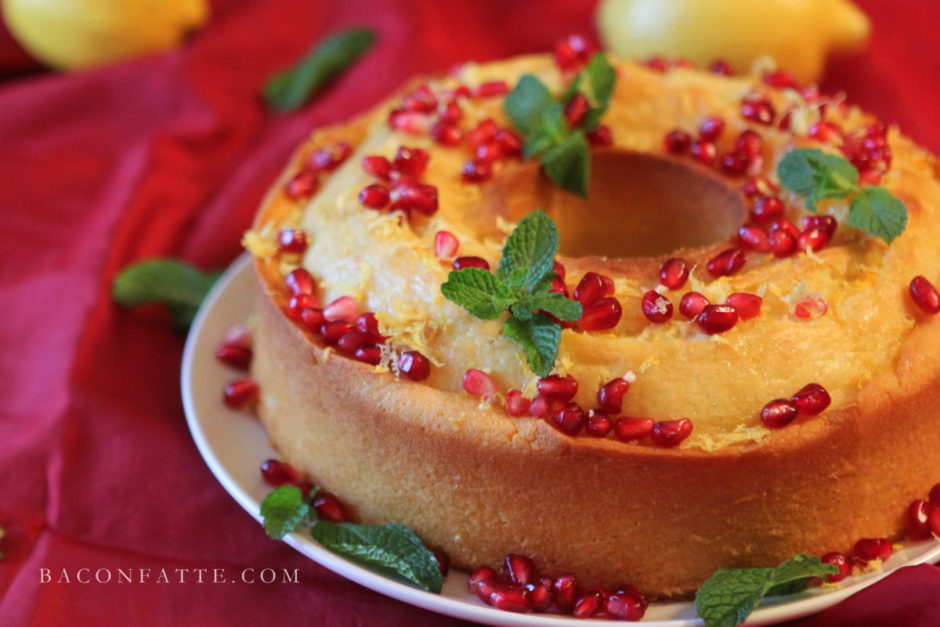 *Simply adding some gorgeous pomegranate seeds, or arils, and fresh mint take this cake to a whole new level. Not only are the tiny little bites of pomegranate are absolutely delicious with this lemon cake, but they make it fabulously festive as well!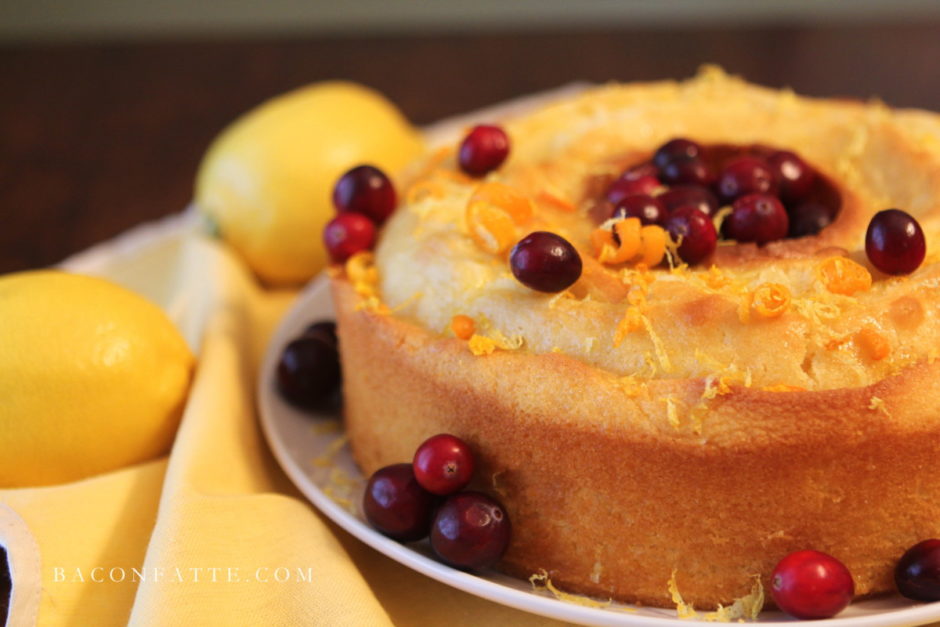 *Orange zest on a lemon cake? You bet! And gloriously tart fresh cranberries, too. The added colors and textures are perfect for late summer and autumn seasons.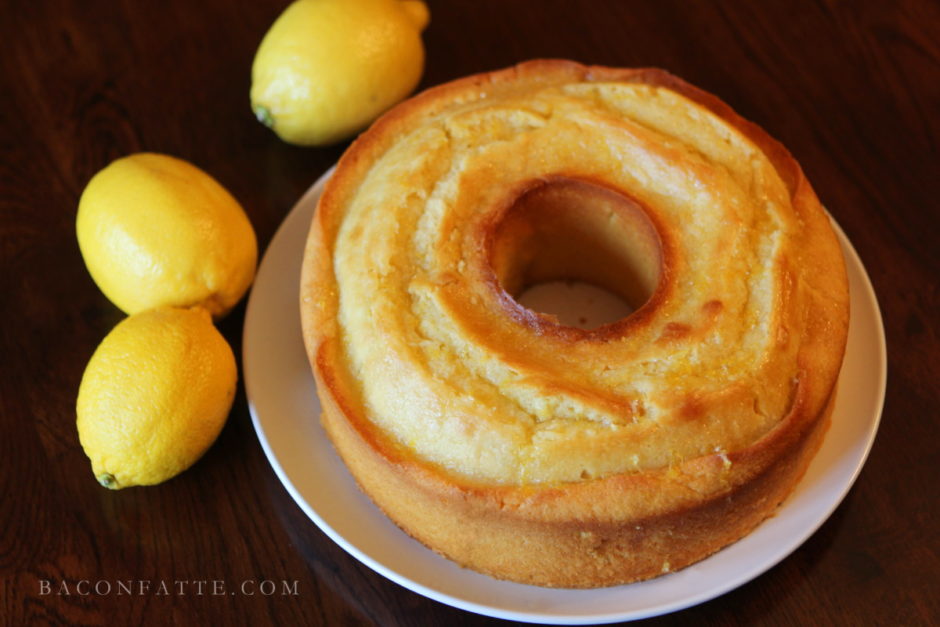 *If you're a "plain cake" person, just keep it simple – this lemon cake is perfect just the way it is! Or, if you're so inclined, a dollop of unsweetened whipped cream or creme fraiche are gloriously good compliments for the citrus notes in this cake.
Love this Lemon Cake?
I would LOVE to know what you think of this recipe when you try it!
Feel free to leave a note here on the blog in the comments below, or share your creations on Facebook, Pinterest, Instagram, Twitter, and/or Google+ .
Make sure to hashtag #baconfatte or tag @baconfatte in your social media posts!