When I think of fettuccine, it's usually the classic, butter and Parmesan drenched dish that (to be frank) is either stunningly delicious or totally blah and not even remotely worth the calories.
I'll happily take the former, but have suffered through the latter enough times to look for other options.
Like this one!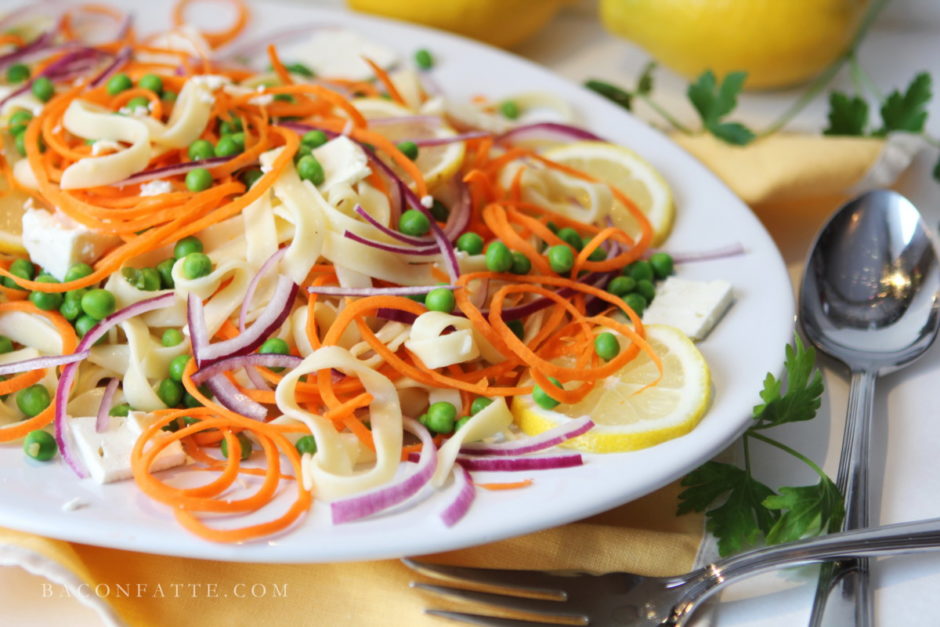 If it's true that we eat with our eyes first, this fettuccine dish might just win the popular vote with it's bright colors and garden-fresh textures. You could almost call it a pasta salad!
And to add yet another thing to the bright side of this dish, it's not heavily loaded with fat and calories. (No offense intended to my dear friends, Butter and Parmesan!) You could certainly toss it with a lemon butter sauce, and you could add different cheeses, but the "vision" behind this recipe is a simple one: Just a few fresh ingredients paired with light, bright colors and textures.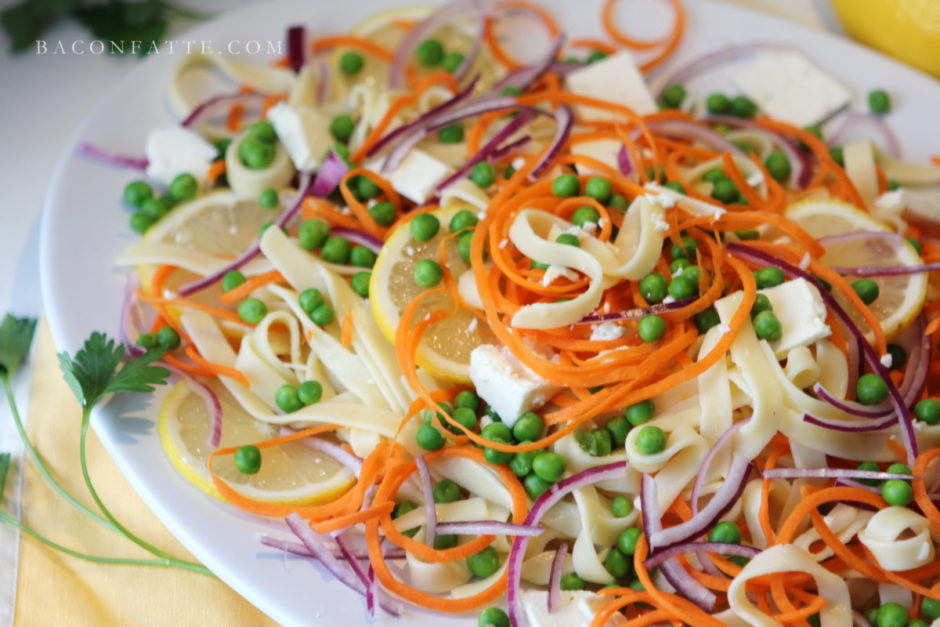 It's a simple dish, but there is one small step that makes it work, and that's tossing the prepared vegetables with the pasta while the fettuccine is hot. Doing so cooks the veg ever-so-slightly and makes their flavors come alive.
While adding the veg to the warm pasta is an important step when you're making this recipe, it's fabulously flavorful when served at room temp or even chilled. So, it's a great dish to serve family style as shown here because you don't have to make it at the last minute.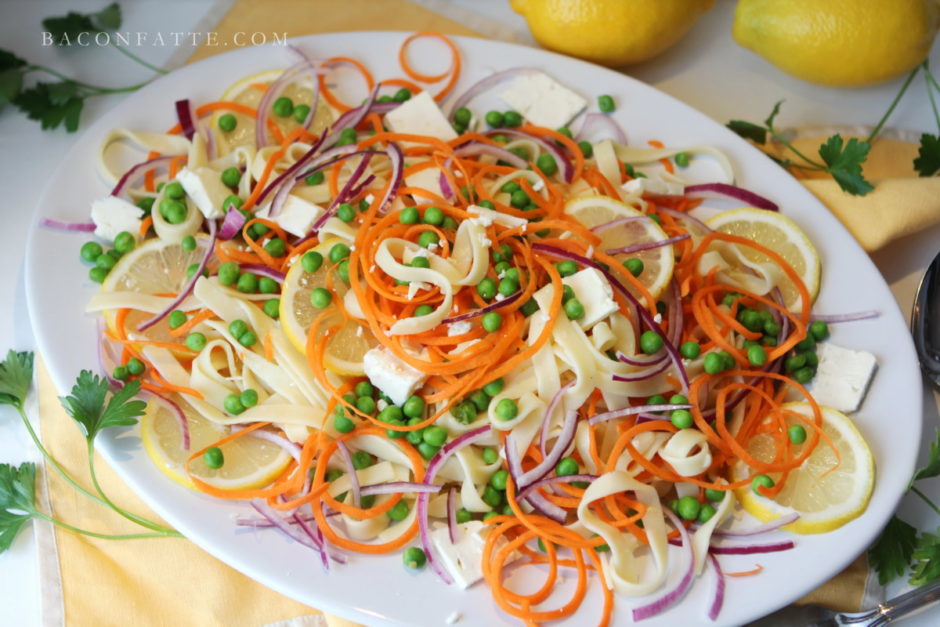 To serve, garnish away with more fresh lemon slices and fresh parsley. And go ahead and add all the feta you want – it's so good with all the other ingredients!
Enjoy!
Lemon Fettuccine with Carrot 'Noodles,' Spring Peas and Feta
Recipe from:
Michele Phillips, BaconFatte.com
Cuisine:
Pastas and Salads
Ingredients
1 pound fettuccine, cooked
5 – 7 medium carrots, peeled and spiralized (about 3 cups)
2 cups English spring peas, shelled* or thawed if frozen
½ red onion, halved and thinly sliced (about 1 cup)
⅓ cup fresh lemon juice from 1 large lemon
½ cup Italian flat leaf parsley, loosely packed & coarsely chopped
⅓ – ½ cup fresh feta cheese (6 – 8 ounces), crumbled
2 Tablespoons extra light olive oil
1 teaspoon salt, plus more salt and pepper to taste
Preparation
Bring a pot of salted water to boil and cook fettucine according to directions on package.
Peel and spiralize carrots.
Shell or thaw peas (if frozen).
Thinly slice the red onion.
Juice 1 large lemon to get approx. ⅓ cup (or more) of juice.
Chop up about ½ cup parsley.
Crumble feta cheese.
When pasta is cooked, drain completely, place in a large serving bowl and toss with olive oil. Then add carrot 'noodles', peas, red onion, lemon juice, and parsley, and toss together.
Crumble feta cheese on top, add fresh cracked pepper and more parsley to garish if you wish, and serve.
Cook's Notes:
*Definitely peel the carrots before spiralizing them or the carrot 'noodles' will look dirty.
*1 pound of fresh English peas = approx. 1 – 1¼ cups shelled peas
 Lemon Fettuccine with Carrot 'Noodles' Spring Peas and Feta
I'd love to know what you think of this delicious recipe when you make it!
Feel free to leave a note here on the blog in the comments below, or share your creations on Facebook, Pinterest, Instagram, Twitter, and/or Google+ .
Make sure to hashtag #baconfatte or tag @baconfatte in your social media posts!