If you've ever wished for a "party dish" that you could make well in advance and transport easily, these cocktail cubes are it! (Yes, I realize that the word "dish" is a bit of a stretch here, but bear with me… )
My summer-long love affair with 5 Vodka – and the Lemon Ginger Cocktail kick that followed – lead to the creation of these Lemon Ginger Berry Cocktail Cubes. They're super tasty, they're pretty, and they're perfectly portable. For those reasons, they've quickly become one of my favorite summertime/anytime entertaining treats.
Because fresh blueberries taste so good with 5 Vodka's Lemon Ginger Liqueur, I add as many blueberries as possible to my cocktails cubes (which we affectionately call, "blueberry bombs"). Fresh strawberries, small lemon wedges (i.e., a round slice, quartered), and fresh mint leaves also work beautifully.
You can use any kind of ice tray or form, but King Cube ice trays work really well. The larger cube size allows more space for fruit. Keep in mind, the more fruit you put into your cocktail cubes, the more delicate they can become when you remove them from the trays, but that's a small price to pay.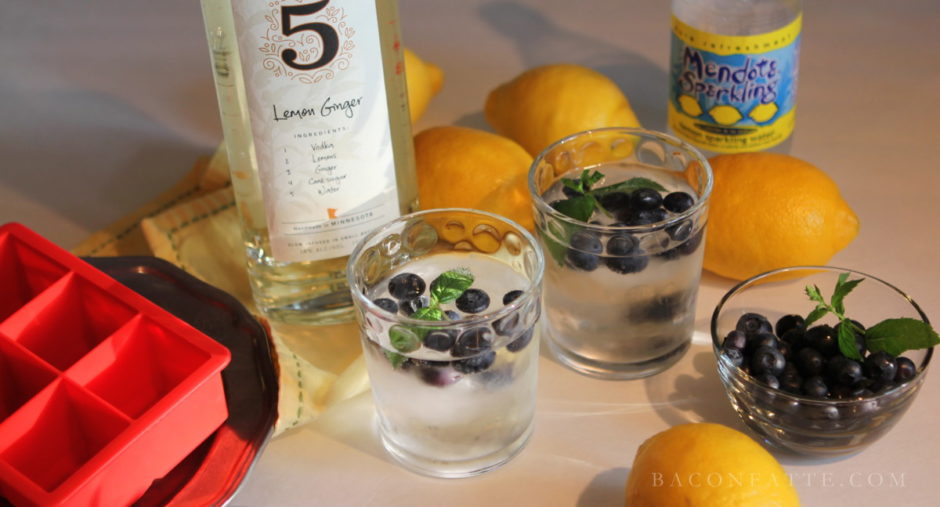 Unlike plain water ice cubes, these cocktail cubes aren't rock-solid because of the alcohol in the liqueur. Of course you could reduce the amount of liqueur in the recipe to make the cubes more solid, but, hey, they're called cocktail cubes for a reason!
Each cube is a cocktail in itself – just pop one into a low-ball glass, add lemon fizzy water – such as Mendota Sparkling Lemon Water – and enjoy. Garnish the cocktails however you like… more fruit is always a good option! You can also use two cocktail cubes or toss in an extra shot of straight vodka – it's up to you.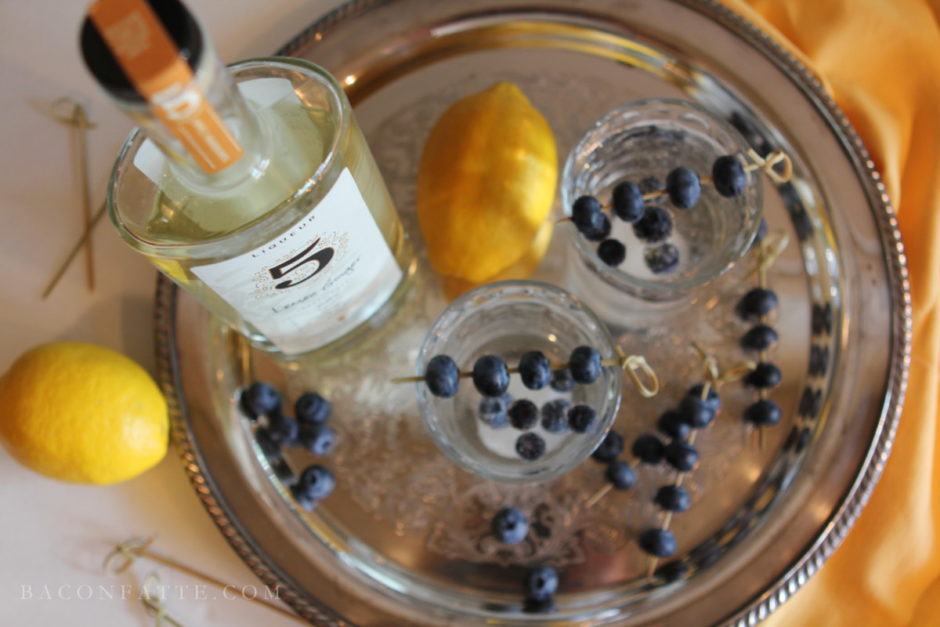 To make these in quantity, of course, you'll need to make them in rounds because the King Cube trays only produce six cubes at a time. If you have the freezer space, get a few trays and make several batches at once. Store cocktail cubes in a rigid freezer-safe food storage container with parchment paper in between.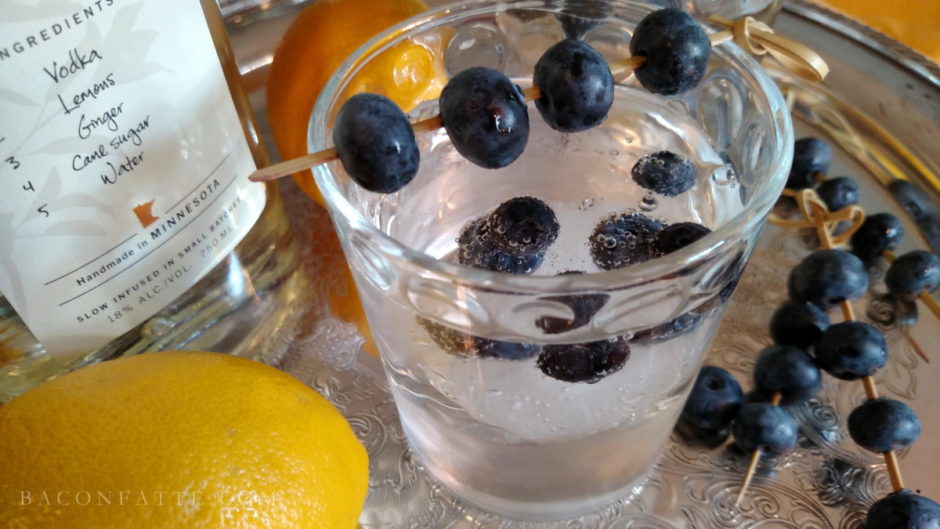 If you love lemon and ginger, I think you'll quickly see why we're hooked. 5 Vodka is made with just five quality ingredients that are super sip-able, but totally capable of being more than just poured!
In fact, I've come up with several easy-breezy recipes using 5 Vodka Lemon Ginger Liqueur that will take you from Happy Hour to Dessert any night of the week!
#AD Note: The fine folks at 5 Vodka provided some of their wonderful product so I could keep coming up with recipes to use it in. But for the record, all opinions and genuine fondness for the product are my own. I would say great things about 5 Vodka even if they hadn't given me free booze because it's really, really good.
Enjoy!
Lemon Ginger Berry Cocktail Cubes
If you ever wished for a "party dish" that can be made in advance and transported easily, these Lemon Ginger Berry Cocktail Cubes are it! They're delicious and perfectly portable, and they'll soon be one of your favorite entertaining treats.
Recipe from:
Michele Phillips, BaconFatte.com
Recipe type:
Boozy Drinks & Cocktails
Ingredients
9 ounces 5 Vodka Lemon Ginger Liqueur
3 ounces lemon fizzy water (such as Mendota Sparkling Lemon Water)
36 – 48 fresh blueberries (6 – 8 per cube), rinsed
Preparation
Combine the lemon ginger liqueur and water. Pour equal amounts of the mixture into each cube compartment (there will be room at the top of each compartment), and then add blueberries or other fruit.
Place the flexible cube tray on a small plate and set in the freezer for 8 – 10 hours, or until firmly frozen.
Keep the finished cocktail cubes in a rigid, freezer-safe food storage container with parchment paper in between. Frozen cubes keep well in an air-tight container for up to two weeks.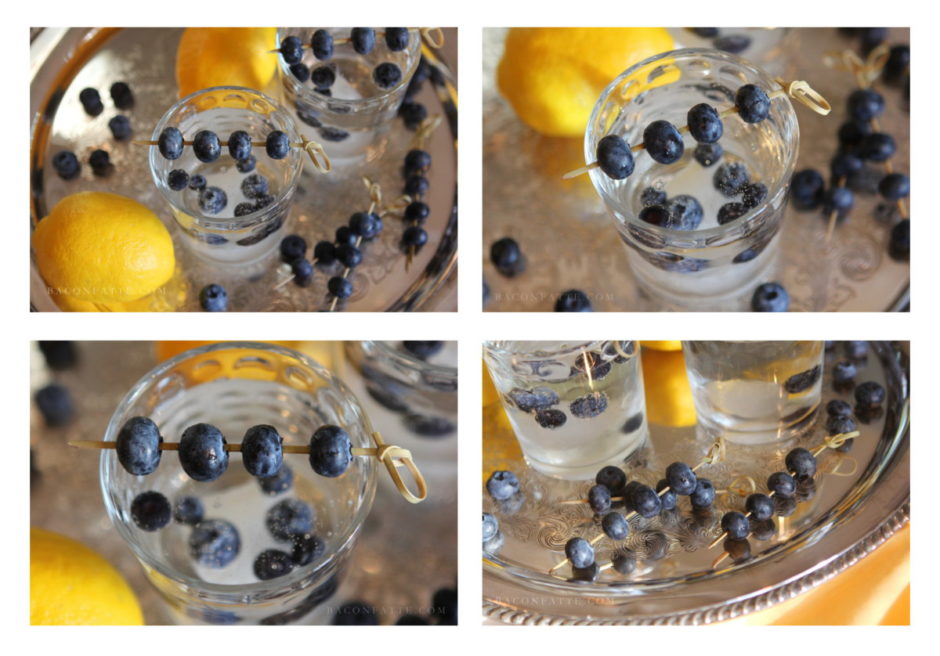 I would LOVE to know what you think of this recipe when you try it!
Feel free to leave a note here on the blog in the comments below, or share your creations on Facebook, Pinterest, Instagram, Twitter, and/or Google+ .
Make sure to hashtag #baconfatte or tag @baconfatte in your social media posts!