I may have been one of the few kids in the world who liked going to restaurants with salad bars. Actually, I loved it. While a light, tangy, delicately boozy Lemon Ginger Vodka Vinaigrette probably wouldn't have been my first choice of dressings when I was a kid, I loved building a "pretty plate" to suit my mood then as much then as I do now.
Generous drizzles of both Ranch and French dressings were what I considered the salad equivalent of frosting on the cake. It kept the croutons and bacon bits from falling off the lettuce. Such was the rationale of my salad-loving youth.
My tastes have changed a bit since then… I actually prefer a lot more veg in my salads these days. And while a good, gloppy dressing definitely has its place in my world (heaven help me when a chunky, scratch-made blue cheese happens to cross my path), I try to dress my salads with lighter, brighter notes now.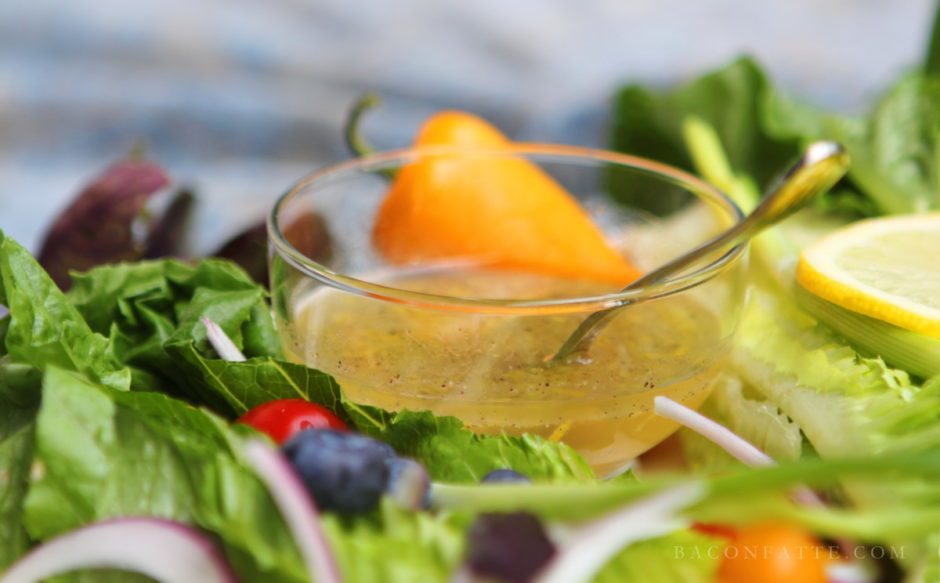 Enter, this Lemon Ginger Vodka Vinaigrette recipe. It was inspired by my summer beverage crush on 5 Infused Vodka and remains one of my quick and simple faves.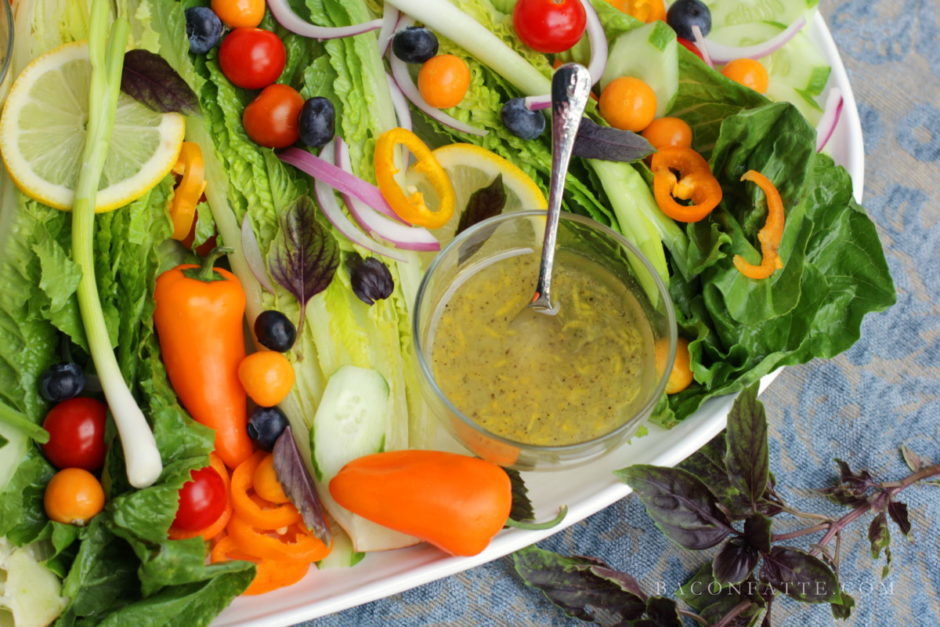 #AD Note: The fine folks at 5 Vodka provided some of their wonderful product so I could keep coming up with recipes to use it in. But for the record, all opinions and genuine fondness for the product are my own. I would say great things about 5 Vodka even if they hadn't given me free booze because it's really, really good.
It was love at first sip… Lemony deliciousness with an unmistakable gingery warmth. It was perfect just poured over the rocks, but I couldn't help but think about all the other beautiful ways it could be used in the kitchen. So, I came up with several easy-breezy recipes that feature 5 Vodka's Lemon Ginger Liqueur that'll take a dinner party from Happy Hour to Dessert!
Click here for several other sweet and savory ways to enjoy 5 Infused Vodka!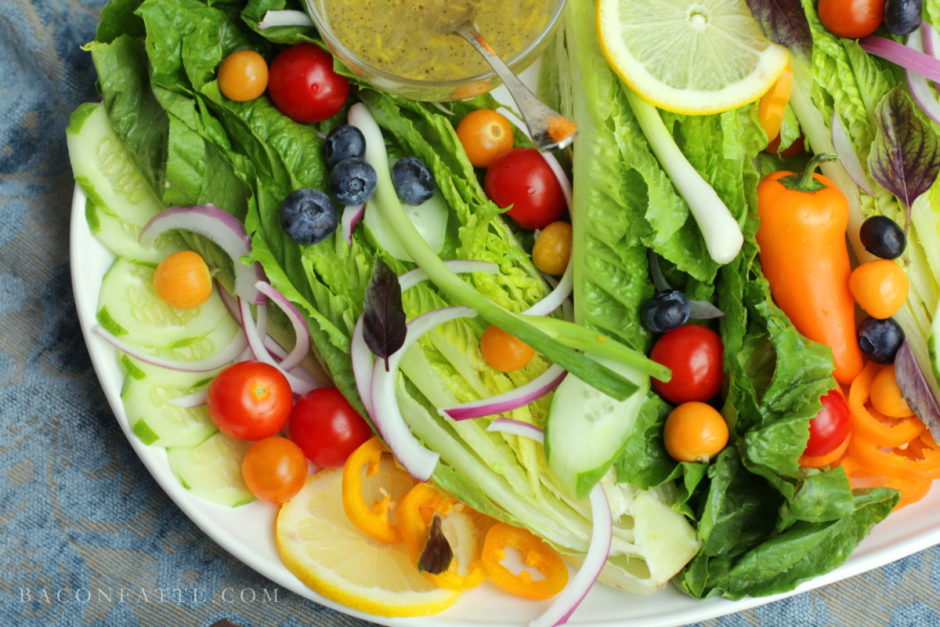 5 Infused Vodka is currently available in 300+ retail locations throughout Minnesota. If you're not in Minnesota, don't worry! There are many locations that will ship!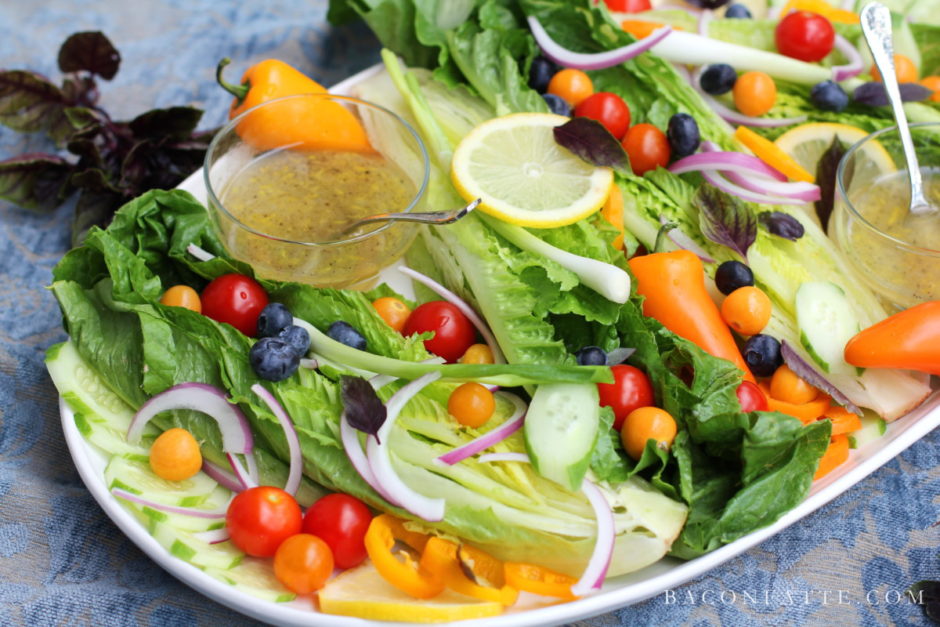 If you'd rather, you can certainly make a mixture of vodka and simple syrup to use in place of 5 Vodka's Lemon Ginger Liqueur. Of course, I don't have the brilliant recipe that the 5 Vodka people use to make their liqueur, and I can't promise that a homemade version will provide identical results. But, here's a great homemade simple syrup recipe and tutorial that'll show you exactly how to make your own.
If you prefer an alcohol-free option, I've provided options for that in the recipe below.
By the way, if you want to make this lemon ginger vinaigrette in advance, or find you have extra on hand, just cover it and pop it in the refrigerator for up to a day or two. It's wonderful the next day, and it makes a great marinade for chicken, fish and vegetables.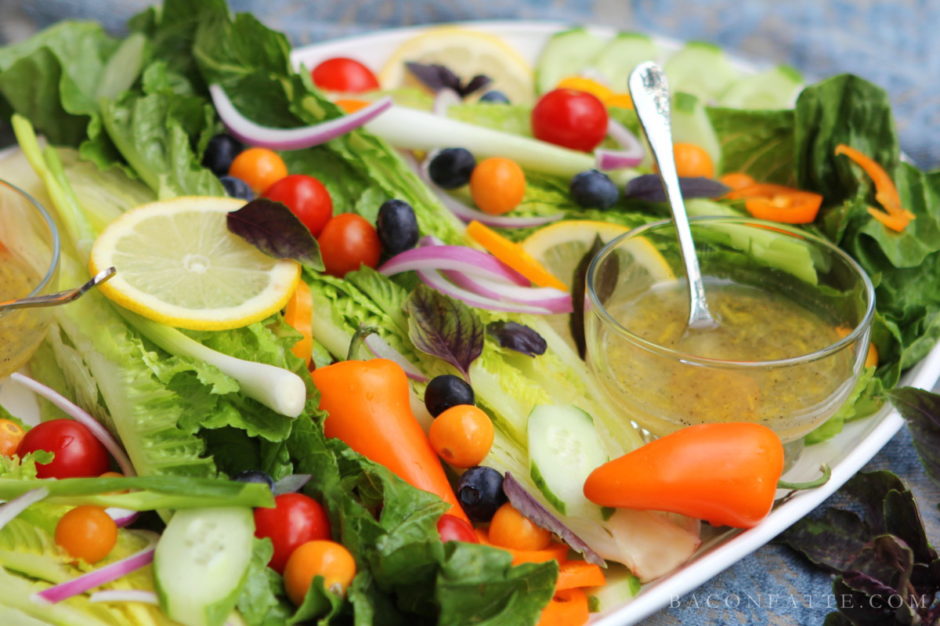 Some very vinaigrette-y salad suggestions:
Romaine lettuce, Spring Mix, and/or Spinach
Golden Berries (shown here… Totally amazing!)
Red and orange cherry tomatoes
Sweet Peppers
Red onion or shallot
Blueberries
Cucumbers
Purple and/or green basil leaves
Enjoy!

Lemon Ginger Vodka Vinaigrette
If you want a deliciously light, simple salad dressing recipe that will truly impress, this Lemon Ginger Vodka Vinaigrette is definitely it!
Recipe from:
Michele Phillips, BaconFatte.com
Recipe type:
Salad Dressing
Ingredients
2 ounces 5 Lemon Ginger Vodka or sweetened lemonade
¼ cup Canola or Extra Light Oliver Oil
2 – 3 tablespoons white vinegar (use more for a thinner, tangier dressing)
2 tablespoons fresh lemon juice
1 teaspoon lemon zest (from about ¼ - ½ a fresh lemon)
⅛ teaspoon ground ginger
⅛ teaspoon fresh ground pepper, or more or less to taste
Add a pinch of salt if you like, but allow flavors to marry first, and then season to taste.
Preparation
Combine all ingredients in a glass, non-reactive bowl and allow flavors to marry at room temperature for about 30 minutes before dressing salad or using as a marinade.
Cook's Notes:
For an alcohol-free option, just use 2 ounces of sweetened lemonade in place of the liqueur.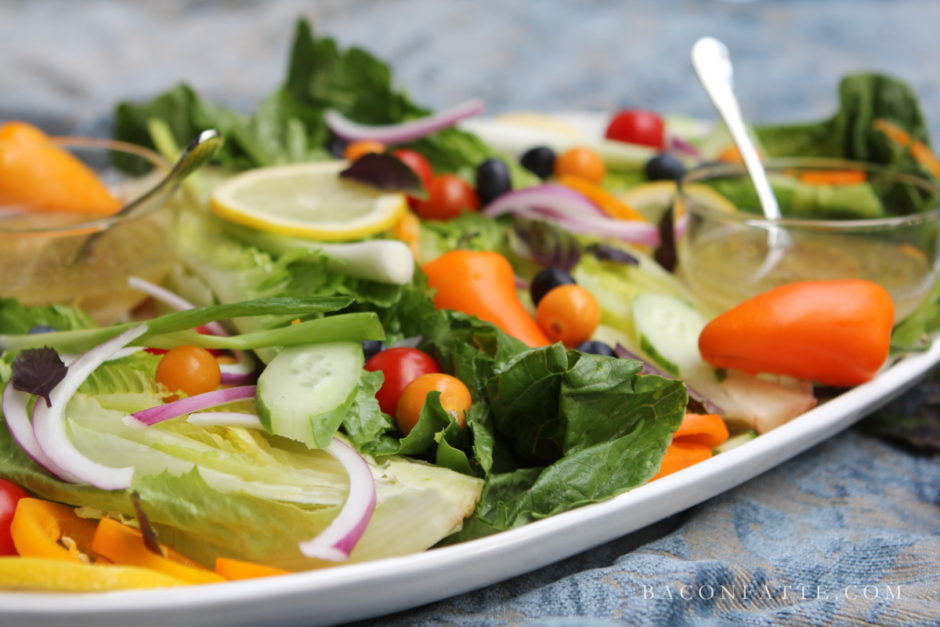 As always, I'd love to hear your thoughts – especially when you try our recipes! Please leave a comment below, and don't forget to be social!
Feel free to leave a note here on the blog in the comments below, or share your creations on Facebook, Pinterest, Instagram, Twitter, and/or Google+ .
Make sure to hashtag #baconfatte or tag @baconfatte in your social media posts!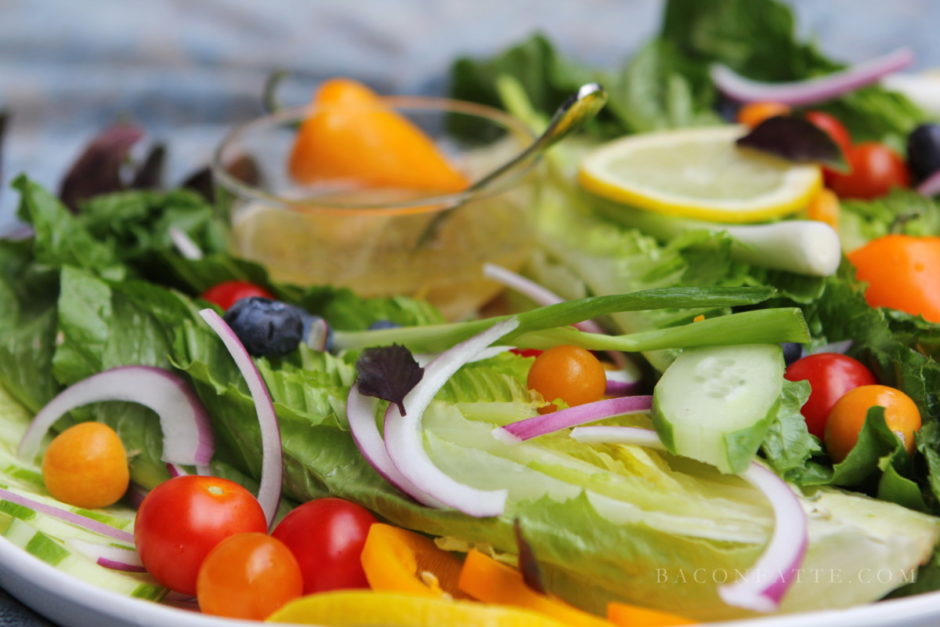 © BaconFatte.com