Linguine con le Vongole – or simply, Linguine with Clams – is a classic seafood dish that's easy enough to make on a weeknight, and can be dressed up to serve for a special occasion. We've taken a Go Big or Go Home approach here with the ingredients by using both clams and mussels. We've not only bumped up the typically delicate flavors of the clams and mussels, but we've paired them with all the right things to make them shine.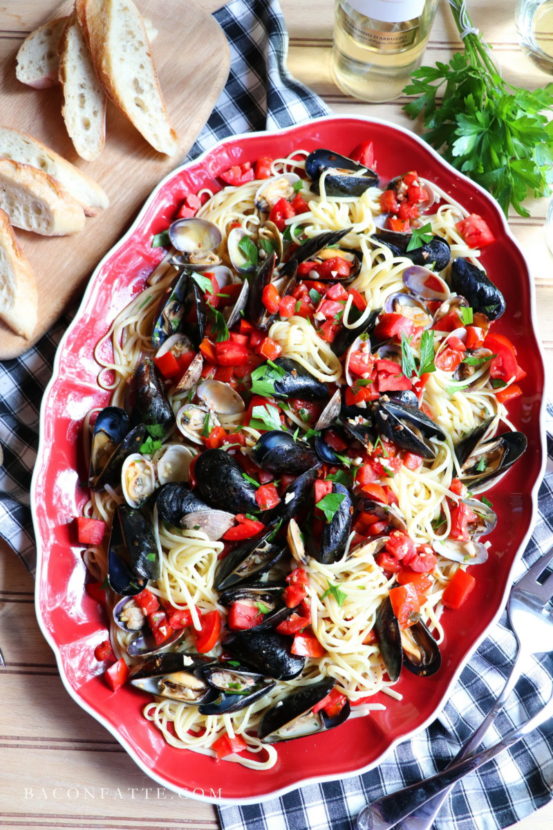 What's to Love:
Although it's not difficult to make, Linguine with Clams looks like a special dish. It's made with wine, so of course it's wonderful to eat with wine. The best thing here is that you can dress it up or down anyway you like. You can also adjust the levels of heat and salt to your liking. Use whatever clams and/or mussels are freshest and most easily available, and make sure to check out the "garnishing" tips in the recipe below. As with most seafood dishes, just get everything ready before you begin cooking ("mise en place"). If you do that, the hardest part will be waiting until you get to eat as your kitchen fills with the wonderful aromas of the sea!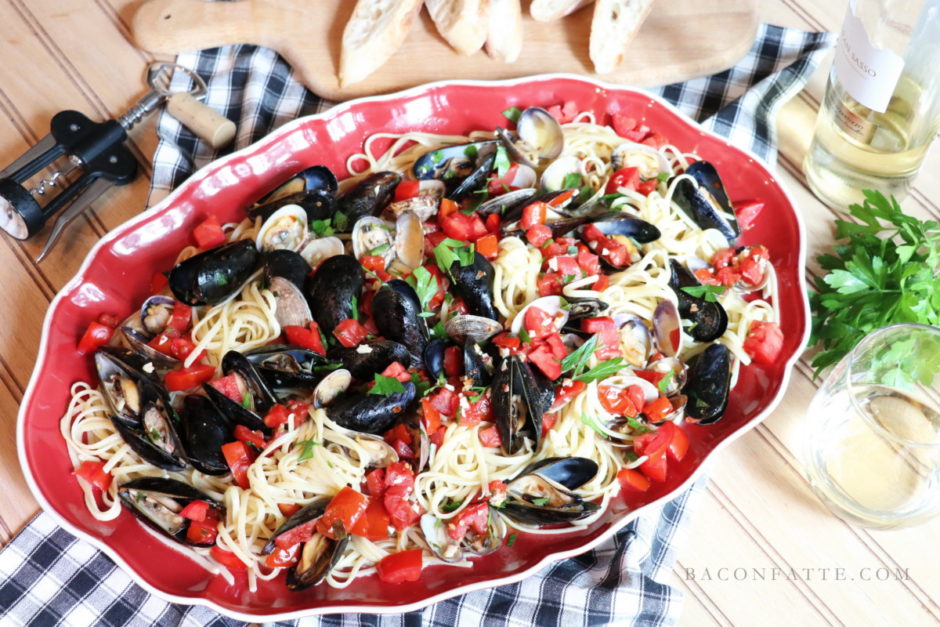 What you'll need:
1 pound of linguine
2 – 3 pounds of clams and/or mussels
Fresh, super ripe Roma tomatoes
Fresh Italian ("flat leaf") parsley
Fresh garlic
Olive oil
Fine sea salt
Red pepper flakes
A good dry white wine – preferably with citrus and mineral notes
Clam juice
1 large pot in which to boil the pasta
1 large covered pan or skillet in which to cook the clams/mussels, etc.
1 large serving platter (optional)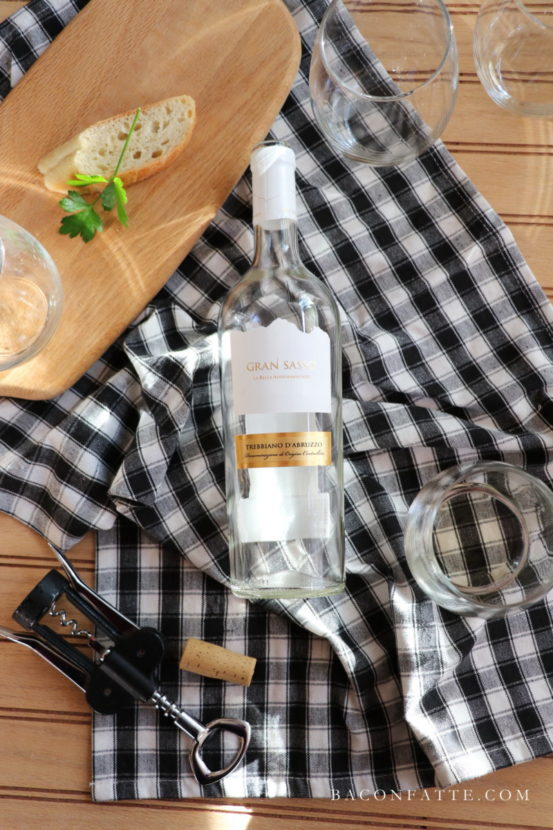 Here's The Story:
My husband and I traveled to Topsail Island, NC to vacation with some of his paternal relatives the summer after our wedding. They all gather at this beautiful beach house every couple of years just to spend quality time together. They all know what to bring, and they take turns making dinner each night.
Our turn to make dinner for the group was the second day we were there. I wanted to make something really special, so naturally I didn't do the smart thing and go with a dish I was familiar with. No… I wanted to go fresh and local.
We noticed a gloriously rustic seafood shack on our way to the beach house the day before, so that was our destination. They were selling 100 big, beautiful clams the size of the palm of my hand for $30. I can't even tell you how many pounds there were… They just counted them all out into a big box and we drove off grinning from ear-to-ear.
Once back at the beach house, we popped the box into the refrigerator while we got things ready. I had never prepared clams before, so I hoped that my early morning online research would be adequate.
Thankfully, Uncle Tom – who has lived and fished on the East Coast his entire life – was there to dispel all the crazy notions I had about preparing clams. His no-nonsense approach is what lead me to do a little more research when we returned home.
In effort to encourage others to enjoy clams more often as well, I wrote an informational post about storing and preparing fresh clams. Happily, it's one of the most popular posts here on Bacon Fatte!
The Linguine and Clams I made for the large and wonderful family I had the good fortune of marrying into was a success. And, as you might have guessed, Linguine and Clams quickly became one of our favorite dishes. We've made it dozens of times since and adjusted the ingredients in different ways each time. We finally discovered the one thing that – in our opinion – knocks this dish out of the park. And that's why this Linguine and Clams recipe is finally here.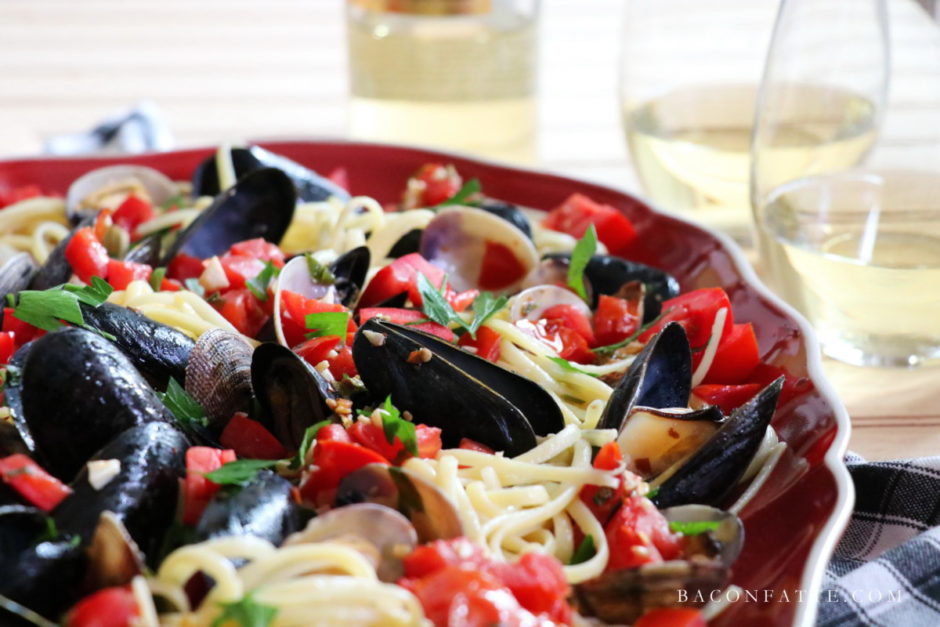 Make sure to check out the tips in the Instructions and Cook's Notes (and additional recipes) below, and as always…
Enjoy!
Linguine con le Vongole – Linguine with Clams
This Linguine con le Vongole – or simply, Linguine with Clams – is a Classic seafood dish with a few twists. It's easy enough for a weeknight, and beautiful enough for a special occasion. Serve with lots of crusty bread to soak up all the wonderful sauces!
Recipe from:
Michele Phillips, BaconFatte.com
Cuisine:
Southern Italian
Ingredients
2 tablespoons fine sea salt
1 pound linguine pasta
10 - 12 tablespoons olive oil (divided)
4 – 5 large cloves garlic, finely chopped (about 2½ tablespoons)
2 cups fresh Roma tomatoes, chopped (reserve ½ cup for garnish)
½ cup fresh Italian ("flat-leaf") parsley, rough chopped + ¼ cup for garnish
3 pounds clams and/or mussels
½ - 1 tablespoon red pepper flakes (to taste), plus more for garnish
1 cup dry white wine – citrus and mineral notes work well
½ - 1 cup clam juice, more if needed
Preparation
In a large pot, add the 2 tablespoons of salt and plenty of water for the pasta. *Cook 1 – 2 minutes short of al dente, and plan to drain the pasta while the clams/mussels are cooking. Pasta will finish cooking in the sauce when combined with clams and/or mussels.
Prepare all other ingredients while pasta water is heating up:
Chop garlic, then place in a small bowl and set aside.
Chop the tomatoes and place them in a small bowl as well – making sure to reserve about ½ cup for garnish – and set aside.
Chop the fresh parsley, setting aside ½ cup for sauce and (up to) ¼ cup for garnish.
Scrub clams and de-beard mussels as needed.
Measure out white wine, clam juice, and red pepper flakes.
Place a large skillet over medium heat. Add 6 tablespoons of oil and chopped garlic and stir, allowing it to cook lightly for about a minute.
Add clams and/or mussels, stirring for another minute. Then add the wine, clam juice, red pepper flakes, and 1½ cups of chopped tomatoes (reserving ½ cup of tomatoes for garnish), and ½ cup of parsley. Simmer (uncovered) for 5 – 7 minutes and stir until clams and mussels are opened.
While clams and/or mussels are cooking, drain pasta and reserve ½ cup of pasta water. Add 4 - 6 tablespoons of olive oil (to taste) to the pasta, and toss well.
For informal serving: Add the linguine to the clams and/or mussels, and toss well. Pour everything into a big serving bowl (optional) or serve right from the skillet. Add reserved pasta water if needed. Garnish and serve right away.
For formal serving: Place linguine onto a serving platter with high edges, carefully spoon clams and/or mussels and all the sauces over the top of the linguine and arrange shells nicely among the noodles. Add reserved pasta water if needed. Garnish and serve right away.
To serve: Garnish with the last ½ cup of chopped tomatoes, ¼ cup of chopped parsley, and more red pepper flakes to taste. Garnishing with the fresh tomatoes and parsley adds another layer of bright color and flavor that finishes the dish beautifully. Serve with plenty of crusty baguette to soak up every last bit of sauce
Cook's Notes:
*Look for Manilla, Cherrystone, Little Neck, or other similar clams for this dish. The black-shelled PEI Mussels work beautifully as well.
*No fresh Romas? Use a can (about 15 ounces) of good quality diced tomatoes and the juice.
Adapted from
Mario Batali's recipe via Epicurious
Looking for more recipes featuring clams and mussels?
Here's an absolute Classic inspired by a wonderful seafood restaurant that used to be here in the Twin Cities:
Steamed Clams with White Wine, Garlic and Butter
And here's a colorful dish with plenty of bold flavor inspired by one of our favorite restaurants in Bayfield, WI:
Mussels Holiday (a festive mussels mariniere)
Making this Linguine con le Vongole – Linguine with Clams recipe?
I'd love to know how you enjoyed it!
Leave a note here on the blog in the comments below, or share your creations and ideas on Facebook, Pinterest, Instagram, Twitter, and/or Google+ .
Make sure to hashtag #baconfatte or tag @baconfatte in your social media posts!