Every now and then, a recipe just "speaks" to me and I can't wait to make it. This Linguine with Cauliflower and Prosciutto is one of those recipes.
Maybe it was the beautiful, yet-unopened jar of anchovies in my cupboard. Maybe it was an underlying craving for fresh cauliflower. Or, maybe it was just an excuse to make a pretty pasta dish. Whatever it was, this recipe had me at Hello!
Not everyone is an anchovy fan, and if you're not, please don't let them keep you from trying this. The anchovies – even if you choose to add more of them like I do – melt completely away into the broth and add to the rich, savory flavors of the dish. There aren't any fishy flavors whatsoever… Just aromatic, buttery deliciousness punctuated by prosciutto, Parmigiano-Reggiano, and parsley.
This is what I would call a "sauceless" pasta dish because it doesn't have a heavy, wet sauce of any kind. Rather, the noodles absorb the broth and become wonderfully flavorful. That said, I add just a small amount of the Parmigiano-Reggiano to the broth and opt to sprinkle more over the top of the noodles just before serving. This way, it doesn't get as "dry" as the cheese and noodles cool during the meal.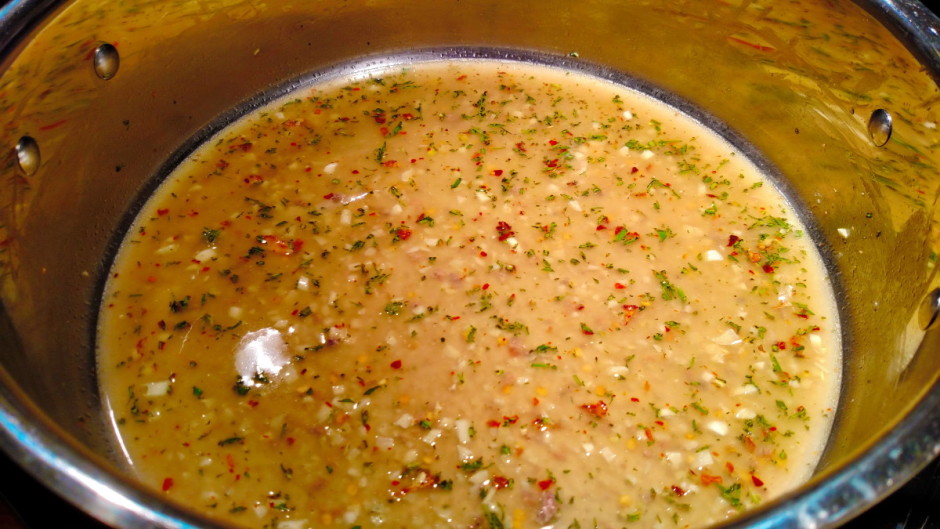 I've tried this recipe with bacon instead of prosciutto, but found it to be a little too overpowering. The original recipe suggests that speck can also be used instead of the prosciutto. I haven't tried that yet, but if you do, please let me know what you think!
I've also used white wine in place of the chicken broth. It was good, but I think the chicken broth rounds the other flavors out more nicely.
And, let's not to forget about the linguine pasta itself… I typically opt for whole wheat/grain or brown rice pasta when I cook, but this is one instance where I prefer traditional white linguine pasta because it absolutely shines in this dish!
Finishing the dish with fresh parsley is also a must in my opinion… It adds the perfect amount of brightness and, of course, it looks pretty so I make sure to toss plenty of it on top just before serving.
This dish "feels" fancy and it's easily divided or multiplied for either two or ten servings. It comes together quickly so it's great for entertaining, but it's certainly not something you should save for a special occasion.
As with most pasta dishes, this one is best immediately after cooking, but it's also delicious the next day if you end up with leftovers.
Serve some warm garlicy baguette on the side if you like, and definitely enjoy it with a crisp, lightly chilled Sauvignon Blanc… Preferably on deck at sunset, overlooking gently-rolling waters as warm breezes shush away every care in the world…
Linguine with Cauliflower and Prosciutto
If you're an anchovy fan, add more to the dish and get ready for a real treat! If you're not a fan, don't worry… They melt completely away and add rich, savory flavor to the aromatic broth which creates the perfect background for the prosciutto, Parmigiano-Reggiano, and parsley.
Ingredients
Kosher salt
4 tablespoons unsalted butter, divided
2 tablespoons extra virgin olive oil, divided
1½ pounds fresh cauliflower, cut into bite-sized pieces (about ½ head or 5 cups chopped)
12 oz. traditional linguine (or other pasta* of choice)
6 - 12 anchovy fillets, minced (about 1 – 2 tablespoons)
1 tablespoon fresh rosemary, finely chopped (or ½ teaspoon dried)
2 - 3 cloves of garlic, peeled and minced (about 2 tablespoons)
¼ teaspoon crushed red pepper flakes, or more to taste
⅔ cup low-sodium chicken broth
6 slices prosciutto, cut in half and then into ¼ inch strips
½ cup Parmigiano-Reggiano, finely grated (about ½ oz.)
2 tablespoons fresh flat-leaf parsley, roughly chopped
Preparation
In a large pot, add water and a good amount of salt, and bring to a boil.
Wash and chop the cauliflower, mince the anchovies, chop the rosemary and garlic, slice the prosciutto into thin strips, and set aside.
In a large, deep skillet, add 1 tablespoon each butter and olive oil. Using a flexible spatula, combine over medium heat until the butter is melted and just starting to brown.
Add half of the chopped cauliflower to the skillet, arranging the pieces in a single layer as much as possible. Season lightly with salt, and cook for about two minutes or until pieces begin to brown. Then, stir the cauliflower and continue cooking until it starts to get tender, but still has some crunch*. Transfer the cooked cauliflower to a bowl and set aside. Add 1 more tablespoon each butter and olive oil to the skillet, then add the rest of the cauliflower and cook the same way. When the second half of the cauliflower is cooked, add it to the bowl with the previously cooked pieces and set aside.
When the pasta water reaches a rolling boil, add the pasta and cook according to the directions on the package until it's al dente.
While the pasta is cooking, melt 1 tablespoon of butter in the skillet over medium heat. Add the chopped anchovies, rosemary, garlic, and pepper flakes, and stir all the ingredients together. Cook for about 2 minutes until the garlic becomes soft and aromatic.
Add the chicken broth to the skillet and cook for another 3 minutes, stirring often. When the broth begins to reduce and thicken slightly, turn heat down to low, add the last tablespoon of butter to the broth and stir well.
Add the sliced prosciutto to the broth mixture and stir to separate pieces. Add 2 tablespoons of grated Parmigiano-Reggiano and the cooked cauliflower, and stir until cauliflower is well coated. Taste and season with additional salt if needed.
Drain the pasta, making sure to reserve 1 cup of pasta water, and then add the drained pasta to the skillet. Toss to combine the pasta with the broth and other ingredients. If needed, add reserved pasta water – a little at a time – to loosen the sauce and pasta.
To serve, sprinkle plenty of grated Parmigiano-Reggiano and fresh parsley over the top*, and enjoy!
Cook's Notes:
-Adjust the number of anchovies to suit your preference – they really "make" this dish!
-Although cooking the cauliflower as advised above yields the best textures and flavors, you can roast the cauliflower in the oven if you prefer. Just toss the chopped pieces with a tablespoon or two of olive oil in a large bowl, spread them out on a foil-lined baking sheet, season lightly with salt, and bake at 350 degrees F for 10 – 15 minutes or until tender.
*Make sure to cook the cauliflower just until it begins to become tender. Overcooked cauliflower will become mushy and fall apart when you toss it with the other ingredients. Remember that it will continue to cook a bit after it's removed from the skillet, and it will cook a little further when it's added back to the skillet with the pasta.
-Whole wheat pastas also work well for this dish, but the "traditional" white pasta is best.
-Toasted pine nuts - just a tablespoon or two per serving - also make a delicious garnish.
Recipe slightly adapted form
Fine Cooking
.
We'd love to hear  how you've enjoyed this recipe and what other variations you come up with! Let us know by commenting here on the blog and make sure to hashtag #baconfatte or tag @baconfatte on Facebook, Pinterest, Instagram, Twitter, and Google+ when you try this recipe!