Rick and I met in early 2006 on Match.com. He was recently divorced, and I had a brick-and-mortar business that basically consumed every waking hour of my life. One of my staff members suggested (actually… insisted) that I join Match to "get a life." So I did. And after six months of rolling my eyes at the concept, I received a lovely message from this very thoughtful man who wrote well and spoke of his love for the water. It was "best friendship" at first sight… We talked non-stop for hours – weeks – and then one day that little *spark* happened.
The rest, as they say, is history.
While our relationship began where we live in Minnesota, it was built on the water. Rick has been sailing the Apostle Islands for (now) over 20 years. When we met, he showed me photos of his sailboat and the islands. I was obviously intrigued, but having grown up and establishing my love of the water on Lake Minnetonka (and several stints on the Pacific Ocean), I figured Lake Superior was just another body of water to love.
That's an understatement.
When I first arrived at the marina with Rick late in the evening on May 19, 2006, it took my breath away. I had never seen so many stars… The sound of the breezes across the water and the clinking of the lines against the masts… I was instantly hooked. We sat in the cockpit of the sailboat with glassed of wine and watched the stars until the wee hours of the morning (something we still do to this day). The entire weekend was "charmed." There were so many times when I wondered who this guy had made deals with in order to orchestrate so many wonderful moments.
Now I know.
Rick is an absolutely wonderful man to begin with, and he was very excited to show me his Happy Place… "His" Lake Superior. But, as you know, Lake Superior "speaks" to you. She had called to him years before, and she "greeted me by name" the moment I arrived (I'm pretty sure her first words were, "What took you so long?!").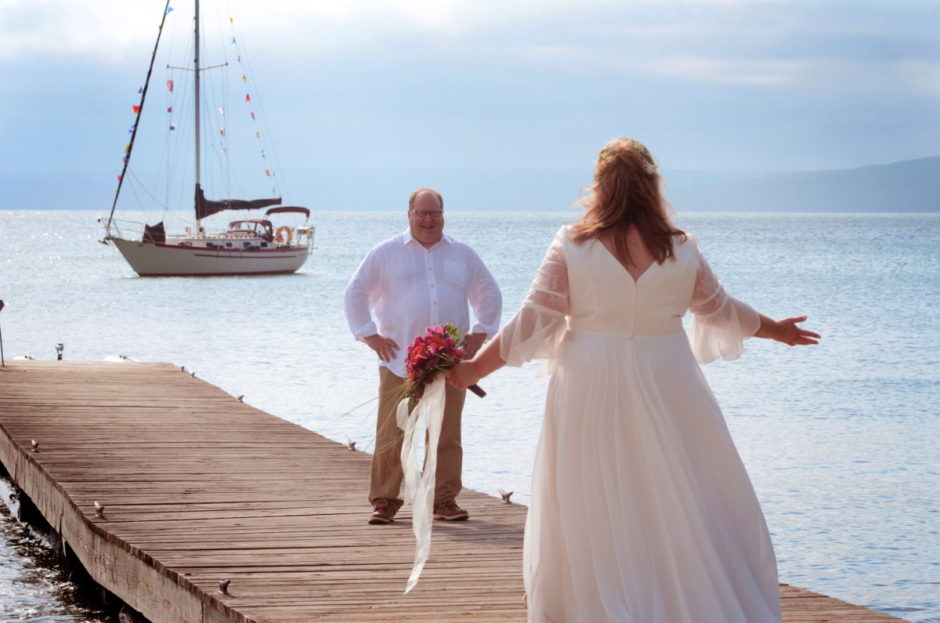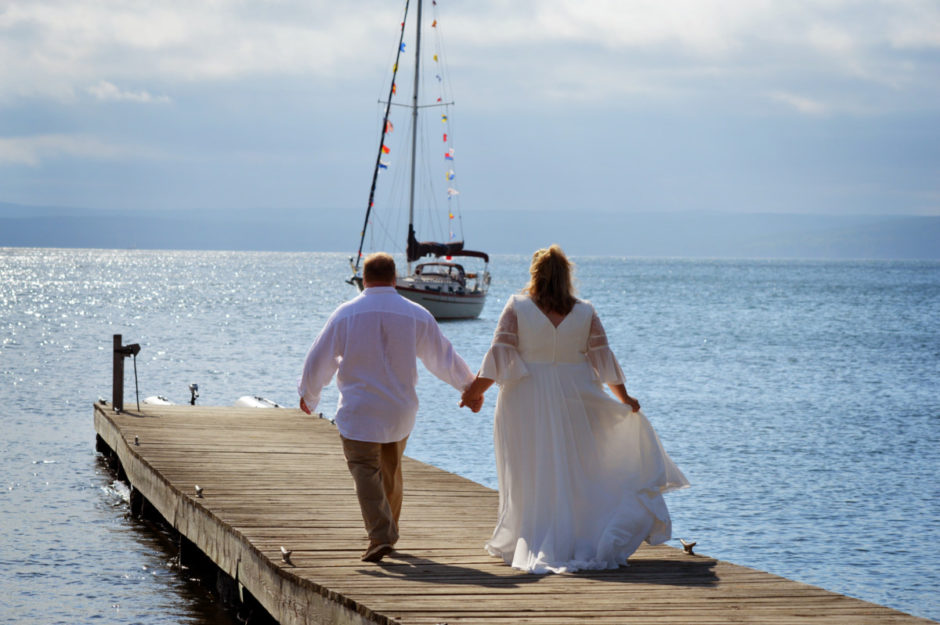 We've been answering her call together ever since. Almost every weekend during the summer months on our boat, and several times throughout the winter when we "need" to visit her to re-charge our winter-weary batteries. We adore "Mother Superior" and everything that surrounds her.
Oh, but I digress… Why a Madeline Island wedding? On more than one occasion, we saw weddings happening on the island as we cruised by on our boat. Each time, they took our breath away. Weddings have a way of doing that, but to us – the water lovers that we are – there just seemed to be something extra magical about a Madeline Island wedding.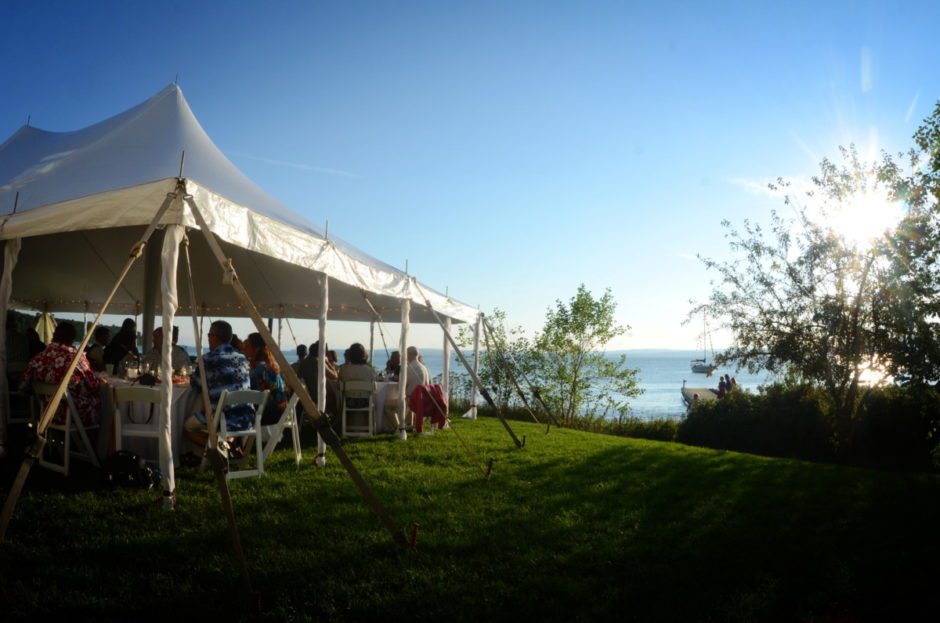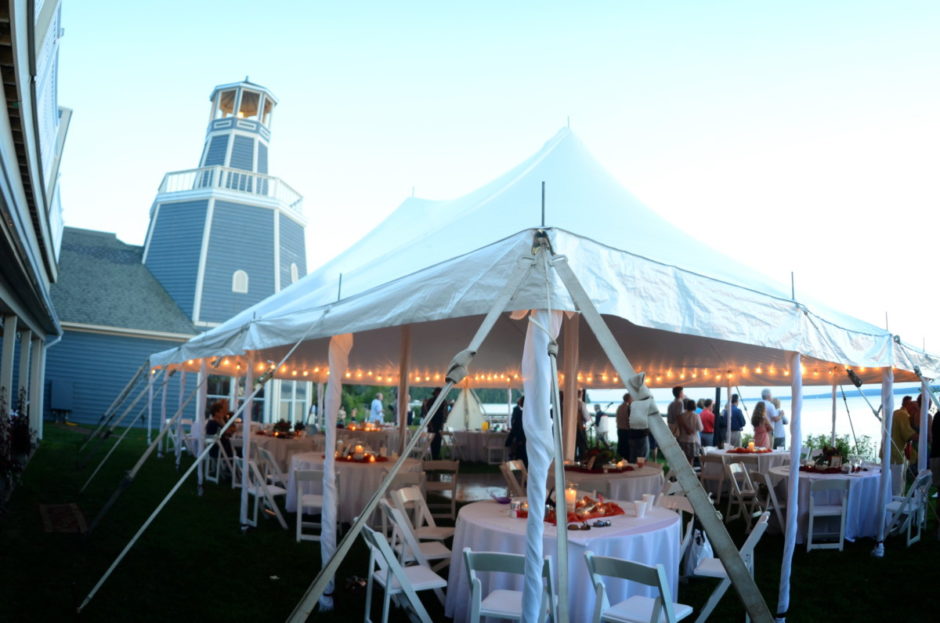 The business I mentioned earlier was a wedding and event design company. We designed, decorated, flowered, and foofed over 1,500 fabulous weddings and events of all sizes. As much as I loved the many venues we worked at in the Twin Cities, there just didn't seem to be one that was right for us. Neither of us wanted a "big" wedding… We just wanted it to be "us."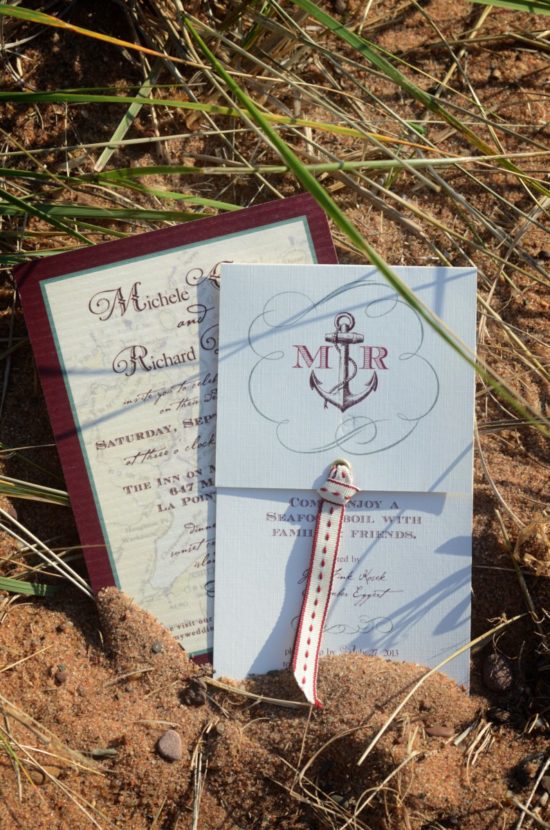 We started tossing around the idea of having our wedding in Bayfield, and fell in love with the idea. We contacted on of our favorite Bayfield chefs to see if he was available, and as luck would have it, his daughter was getting married on the same date that we had chosen. We then toyed with the idea of getting married on Madeline. Called a few places, looked around a bit, and ended up falling in love with The Inn on Madeline Island after a brief chat with Susan. We could immediately envision our wedding there, and everything just fell into place.
Knowing we'd have to ask 75 of our closest friends and family members to come all the way up there, we put together a wedding website that listed all the details of our wedding, and every imaginable resource in Bayfield and on the Island: hotels, B&Bs and inns, restaurants, shopping, transportation, all of our favorite spots – you name it. We wanted to make sure people had plenty and options for planning their trip, and that everyone felt like they "knew the area" when they arrived so they'd enjoy themselves more while they were there.
We told everyone it was a Casual Island theme: Sun dresses and sandals, Hawaiian shirts and khakis. We arranged for a pizza party at The Inn, and enjoyed greeting our guests at that gathering spot as they arrived on the island.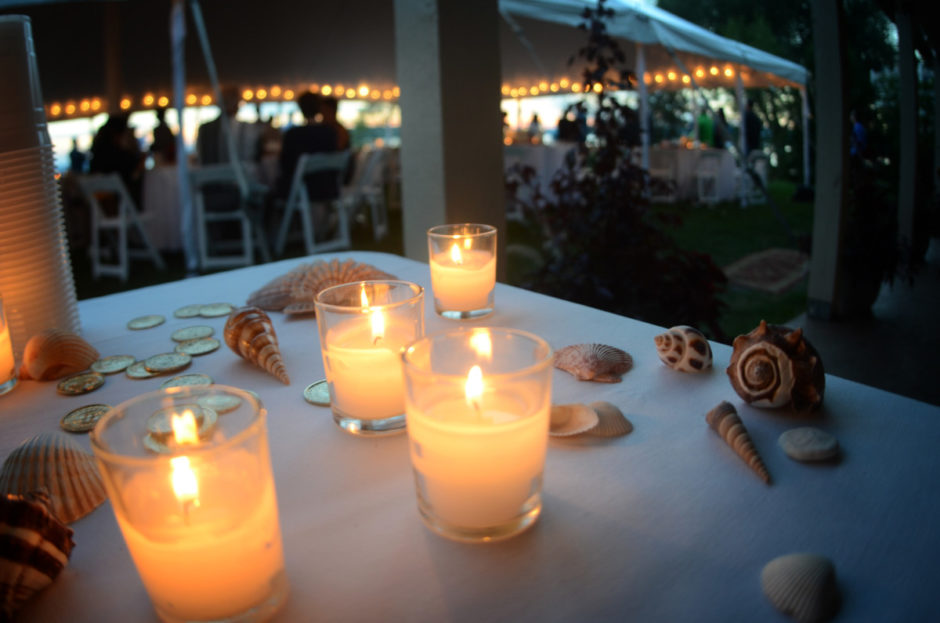 We also planned a special little surprise for our guests. On a recent trip to Black River Harbor, we met a woman who came down to the water "wish the Lake Goodnight" each night. We loved the way she appreciated the Lake, and decided to incorporate that appreciation into our wedding. We were also lucky enough to have four members of the Pipes and Drums of Thunder Bay agree to come and play for our wedding when we reached out to them on a long shot. It was the best-kept secret ever! We were so excited!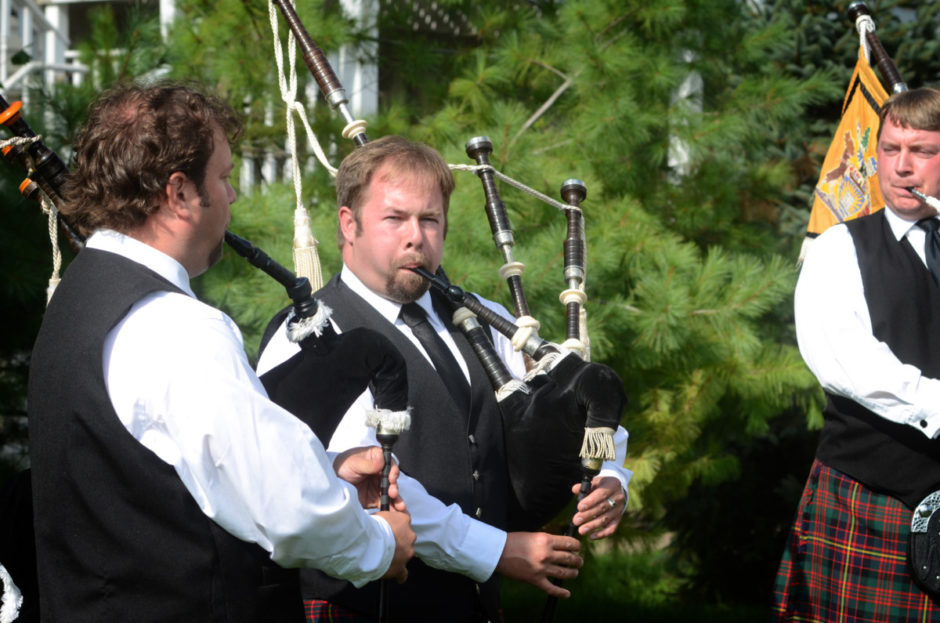 We orchestrated the ceremony around the bagpipers. Starting with our beautiful flower girls precious and ring bearer (our nieces and nephew), Rick's three sons, and selection of songs that we had chosen beforehand, we walked down the winding aisle, through all of our friends and family, and "met" down at the end of the dock to have our first look and a brief moment together.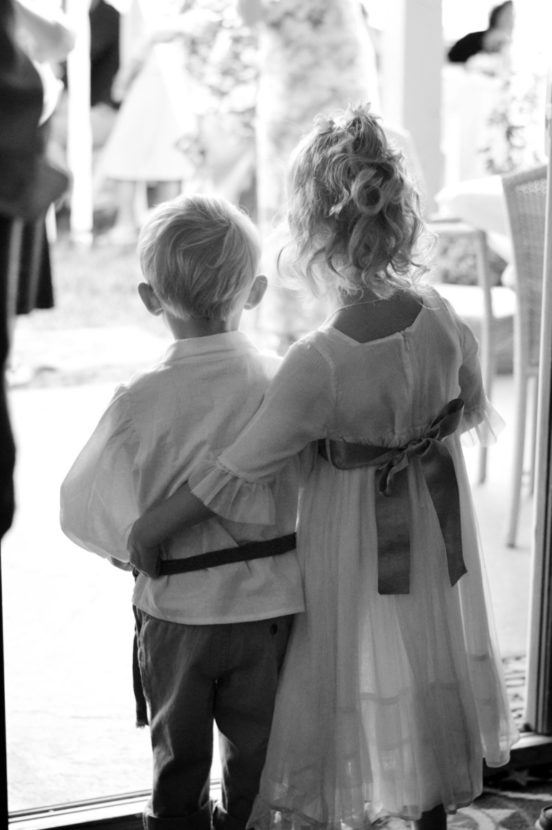 As planned… We turned around on the dock to face our guests as the bagpipers began to play. One of the highlights of our wedding (for us) was watching our guests' faces as they started hearing the bagpipes and wondering what was going on. As they bagpipers marched around the building, everyone smiled and stood up… There were cheers and clapping, and lots of pictures being taken. It was such a treat!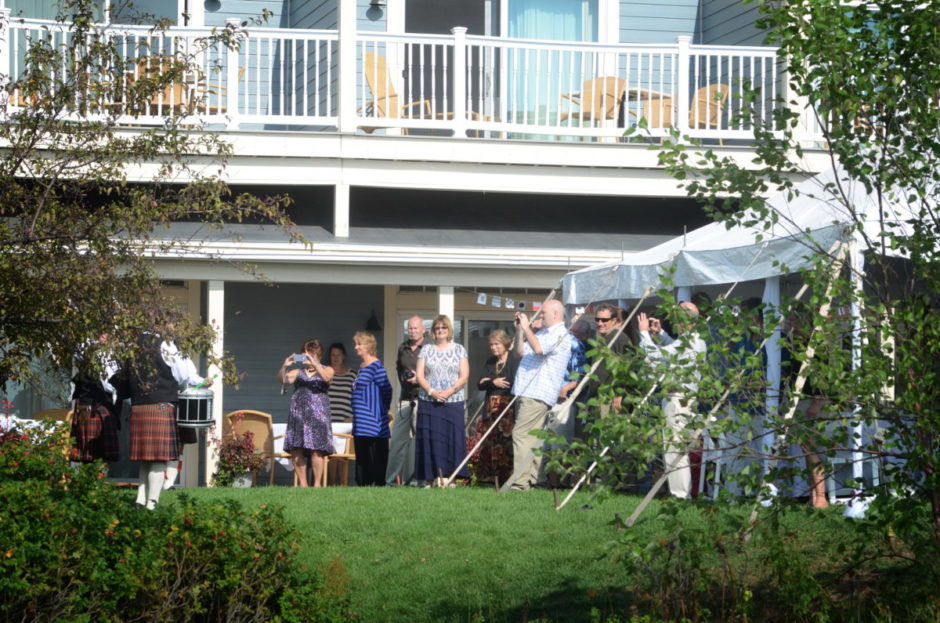 After they played several pieces, they piped as we walked up the aisle (dock) together and stood before our longtime friend, Captain Dave, who married us.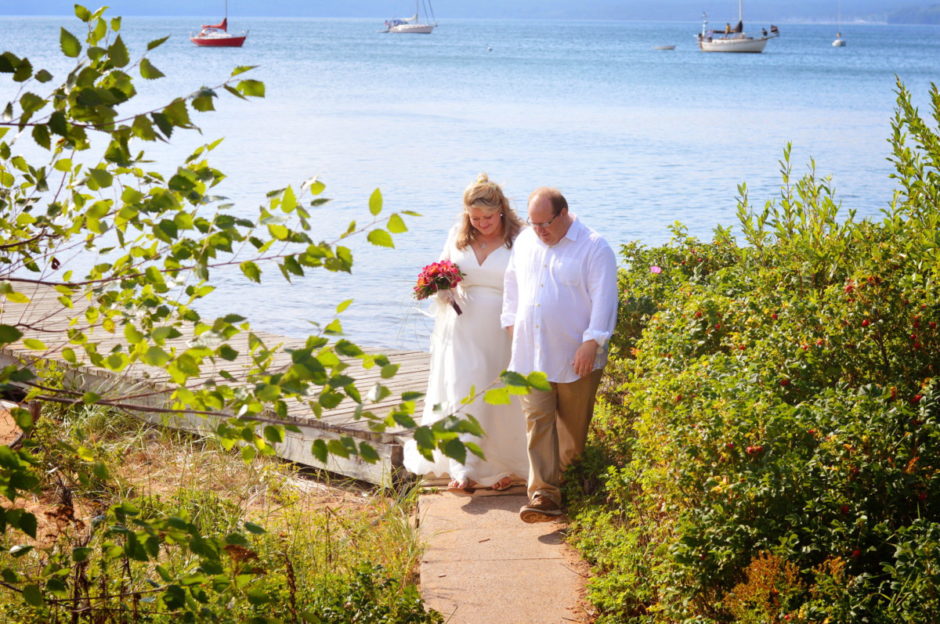 We then enjoyed an amazing dinner (Prime Rib and Lake Superior Lake Trout with Lemon Burre Blanc) prepared by The Inn, and then promptly celebrated our "sweet luck" with a gorgeous Sweet Table and 'Tuxedo' wedding cake – all prepared by April and company at Country Cake Cupboard – one of my absolute favorite Twin Cities bakeries. We had worked together on countless weddings over the years, and I just love her work. There were a few things I had my heart set on for our wedding, and April's Tuxedo cake with Italian Mocha Cream filling was one of them.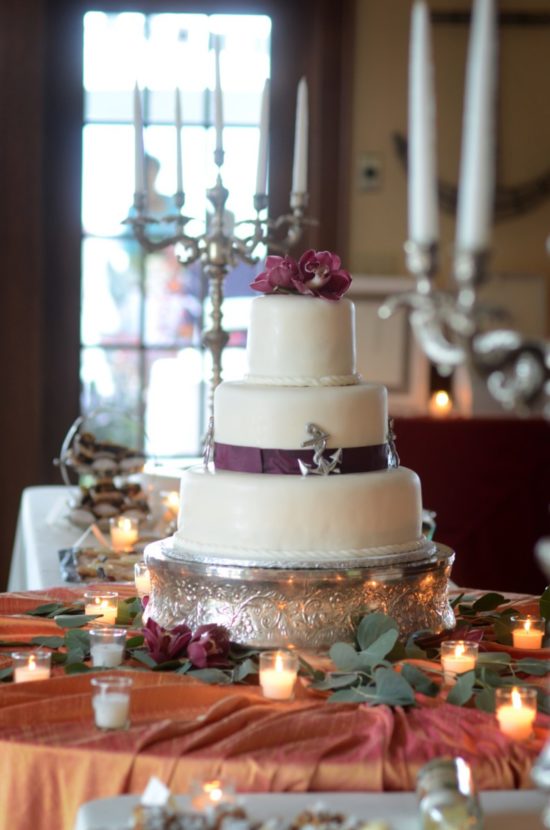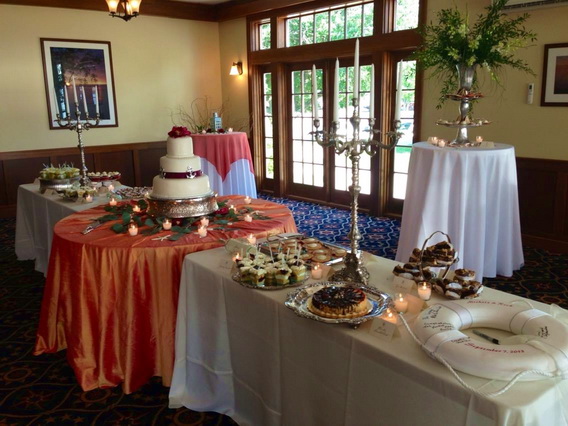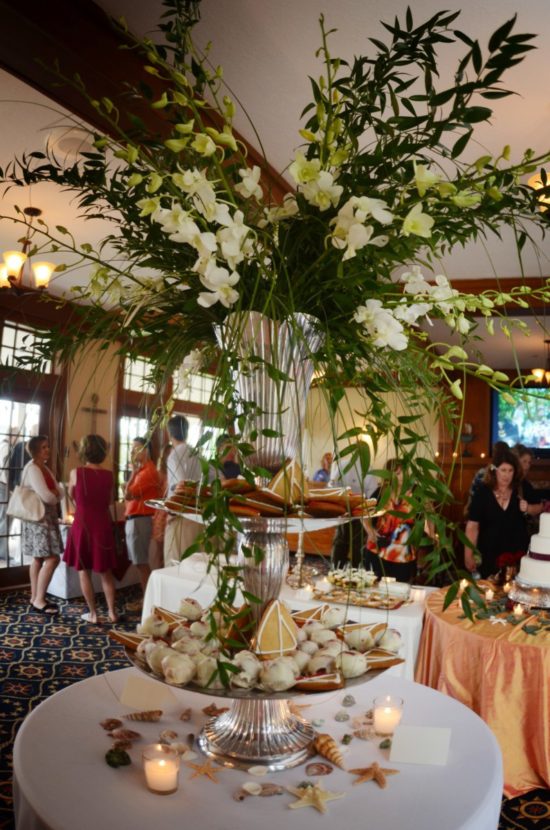 We were very fortunate to have a lot of help with preparations and set up… Everything from the absolutely incredible invitations that my talented friend, Gina, designed and created, to the collection of silver trays that held all the sweets on our dessert buffet, to the photos and music we shared during the wedding, and even the Tiki torches that were set out just before sunset. It was all relaxed, casual, "island-y" and fun.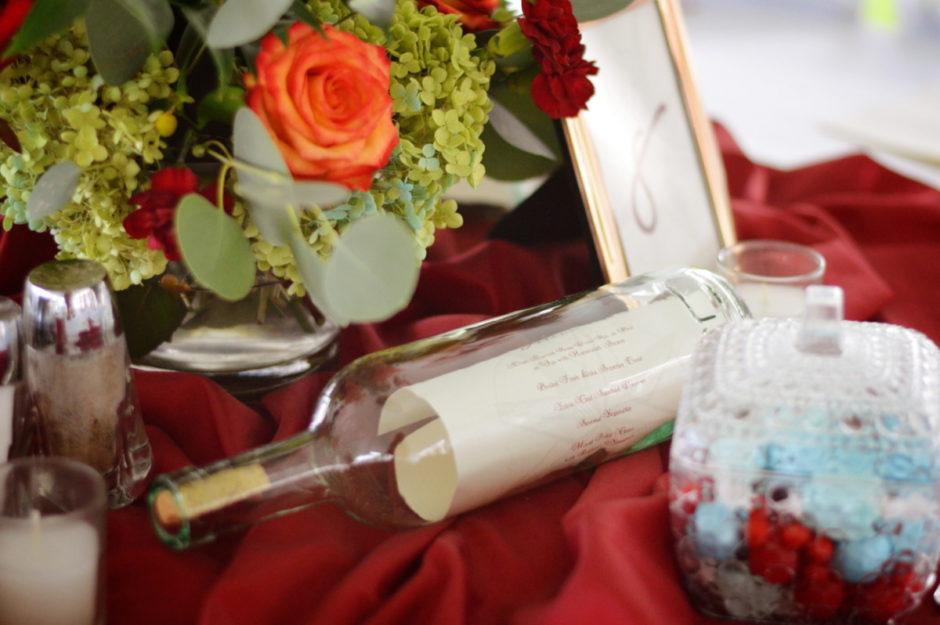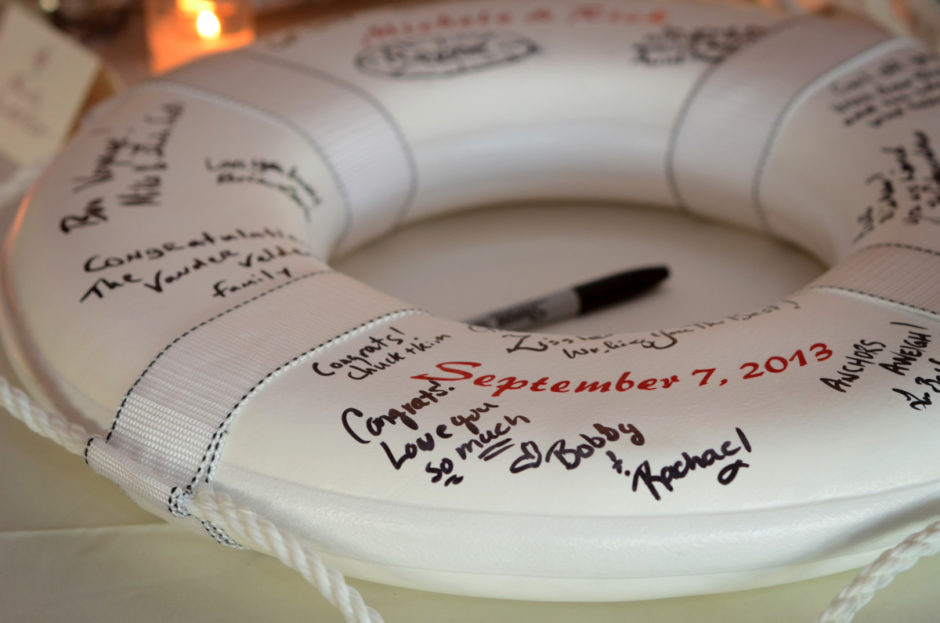 At 7:03 p.m., the bagpipers again began playing "unexpectedly" as the sun started to set. We all gathered at the beach and "wished The Lake goodnight" as they played. It was magical.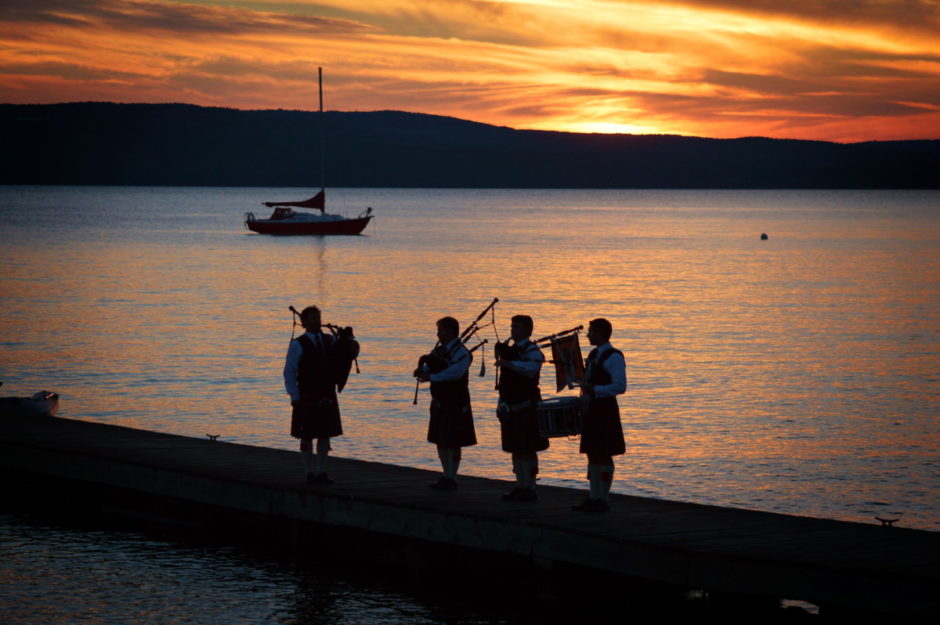 As the evening progressed, we chatted, hugged, mingled, and even danced a little. We felt so lucky to be able to celebrate our special day in such a special place. And we still celebrate our Madeline Island wedding each time we come to the Island and see "our" beach.