Have you ever noticed how the simplest things are often the best?
I had some perfectly ripe mangoes slated for a gorgeous mango cake recipe, but when I saw the recipe for this fresh, simple salsa, I decided the cake could wait.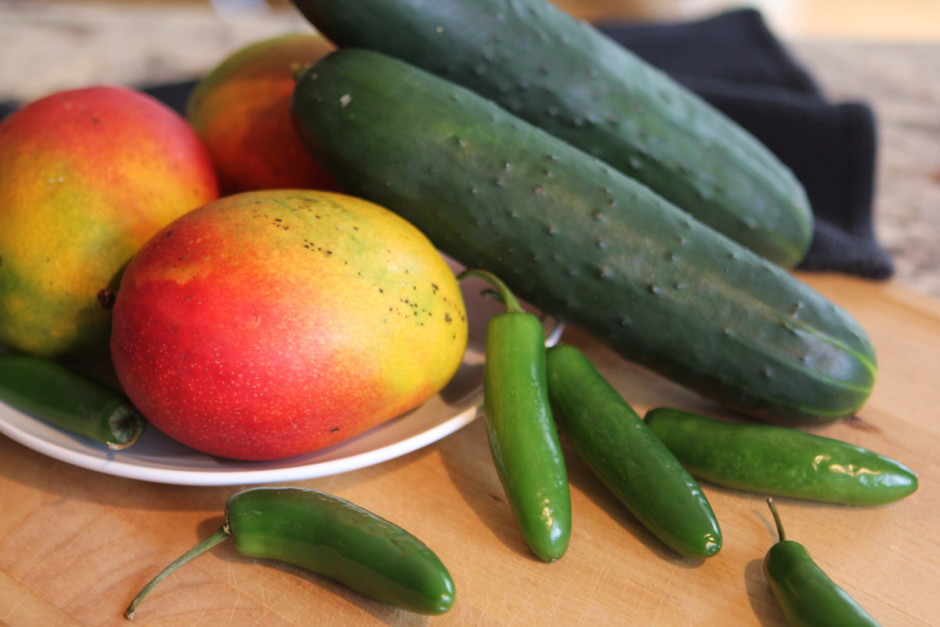 It might have been the warm temps and the sunny day… It might have been the fact that I was in the mood for bright, beautiful colors…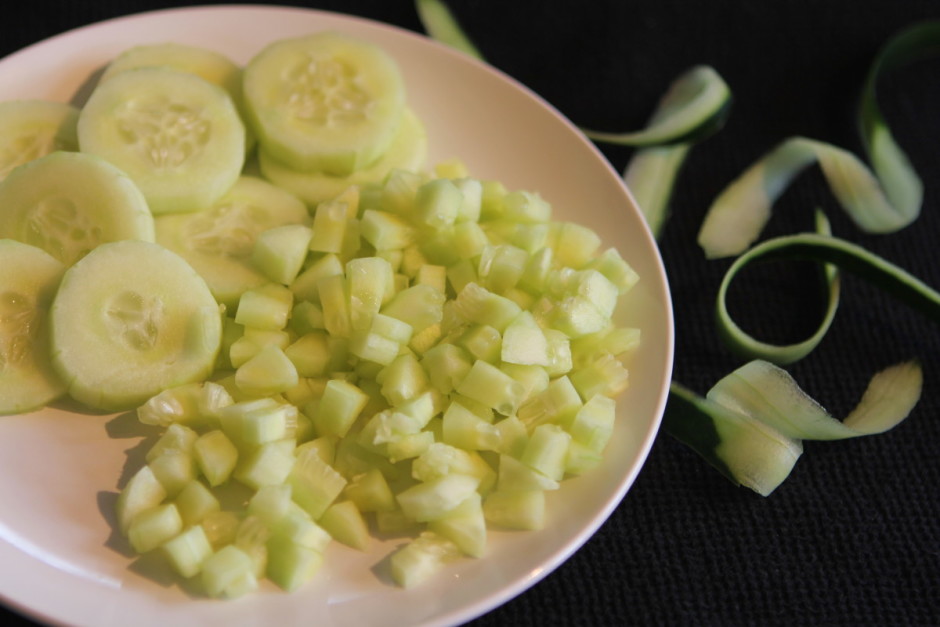 Maybe it was just the perfect excuse to chop things into tiny pieces and assemble them in a bowl like some kind of vegetal floral arrangement (old habits die hard… I was a floral designer in a previous life, and I will be "arranging" things for the rest of my days. Thus, #eatpretty!).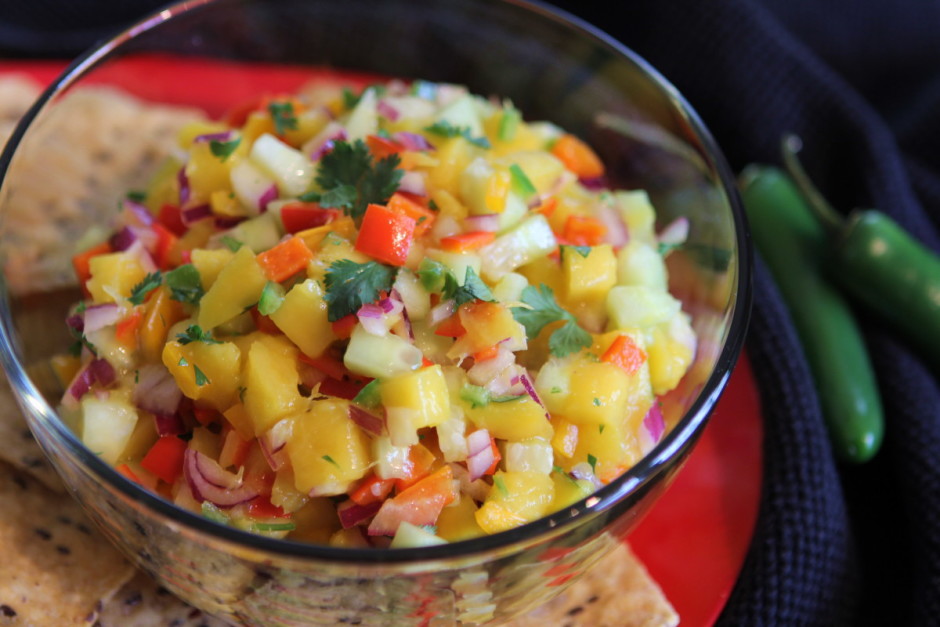 Whatever the case, making this salsa was definitely the right choice. In fact, it was the right choice three times in one week. So, yeah, it's a winner.
It's fresh and versatile, and it tastes like summer in a bowl.
This gorgeous Mango, Cucumber & 3-Pepper Salsa is more than just another pretty face… It's light, bright flavors are absolutely delicious for lunch or a snack with tortilla chips. We absolutely loved it with the multigrain tortilla chips that you see in the photos!
This fancy little salsa also accompanies crackers and light cheeses (like Swiss and Laughing Cow) beautifully, and serves as an incredibly colorful "centerpiece" for an appetizer plate.
We've even enjoyed it with grilled Mahi Mahi and brown rice, and grilled chicken tacos loaded with fresh shredded lettuce, too. However you serve it, the ingredients are as fresh and clean as the flavors so you don't even have to feel guilty when you eat the whole bowl.
Mango Cucumber and 3-Pepper Salsa
This gorgeous Cucumber Mango Salsa is light and fruity. Its refreshing flavors are absolutely delicious with tortilla chips, crackers and cheeses. Enjoy it with grilled fish and with fish or chicken tacos, too. The ingredients are as fresh and clean as the flavors, so you don't even have to feel guilty when you eat the whole bowl.
Recipe from:
Michele Phillips, BaconFatte.com
Ingredients
1 mango, peeled and diced
½ cup cucumber, peeled and diced
⅓ cup shallot, finely chopped
1 tablespoon serrano pepper, finely chopped
2 tablespoons red sweet bell pepper*, chopped
2 tablespoons orange sweet bell pepper*, chopped
1 tablespoon lemon juice
A pinch of red cracked pepper (optional)
1 teaspoon extra light olive oil
1 – 2 tablespoons cilantro or parsley, finely chopped - divided
Preparation
In a medium-sized glass bowl, combine the diced mango and cucumber, chopped shallots, serrano pepper and sweet bell peppers.
Add the lemon juice, olive oil, red cracked pepper (if using) and half of the cilantro or parsley, and lightly toss to combine.
Garnish with remaining cilantro or parsley and serve. If making ahead, cover and refrigerate for up to 6 hours until serving.
Cook's Notes:
*I used mini bell peppers - two red and two orange. You can certainly use all one color, or other varieties.
Recipe adapted from Making Life Sweet
P.S… That gorgeous mango cake recipe is still on my list and I'll be sharing every delicious detail about it with you as soon as it comes out of the oven!
We'd love to know how you like this salsa. Let us know in the comments below! Make sure to hashtag #baconfatte or tag @baconfatte on Facebook, Pinterest, Instagram, Twitter, and Google+ when you try our recipes, too! Thanks for cooking with BaconFatte!