Rum Balls are the perfect bite-sized treat with little attitude. They were really popular in the '60s, and have been finding their way onto more and more of today's holiday dessert trays and cookie collections just because they're so darn good.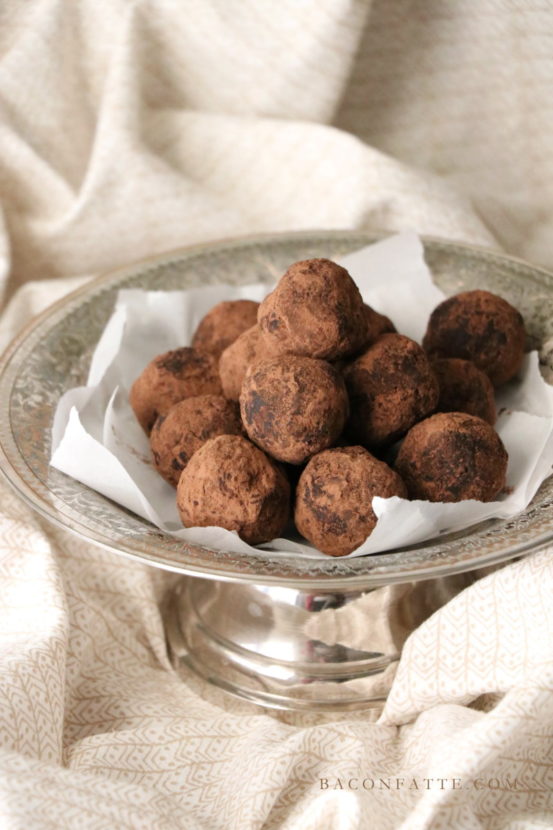 I started making this recipe several years ago when some friends invited us to a big holiday gathering that they were having. Like all my favorite recipes (and yours, too, I'm sure), this one changed quite a bit over time.
For simplicity's sake, I've added a heaping teaspoon of finely ground coffee beans to the list of ingredients. But for those of you who love "that little something extra" as much as I do, my personal secret ingredient is ¼ cup of dark chocolate covered coffee beans. I throw them in the food processor and grind them up with the cookies. They add another layer of flavor that makes these rum balls irresistible.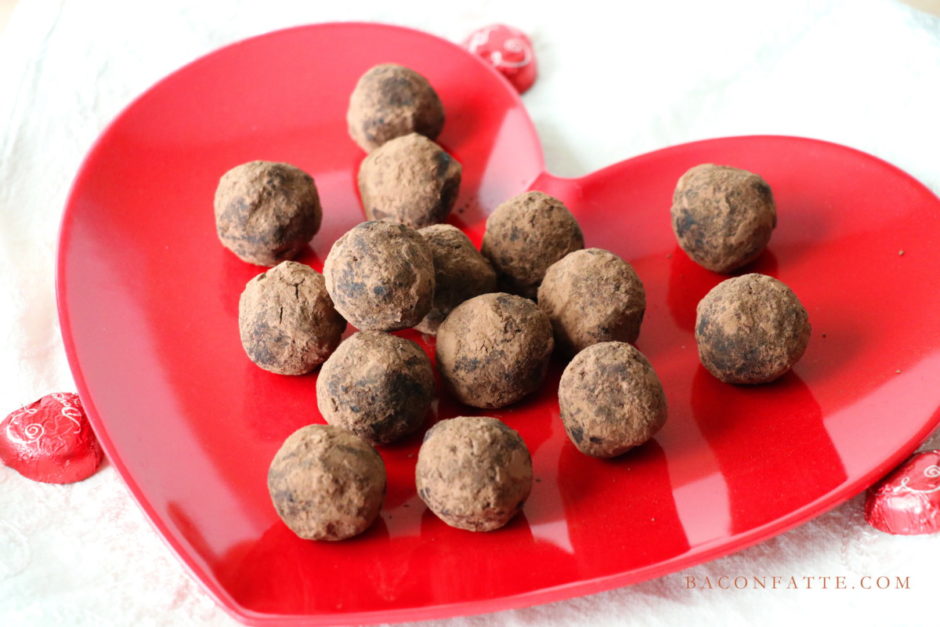 The ground coffee beans work well too! They're also more economical and always readily available. The dark chocolate covered coffee beans can be a bit pricey and occasionally hard to find. And, they're usually sold in quantities in excess of ¼ cup. That's not a problem for us… We'll always use them up. But if you can't find them or don't want to buy a lot just to use a little, go the route of the recipe below and you'll be set.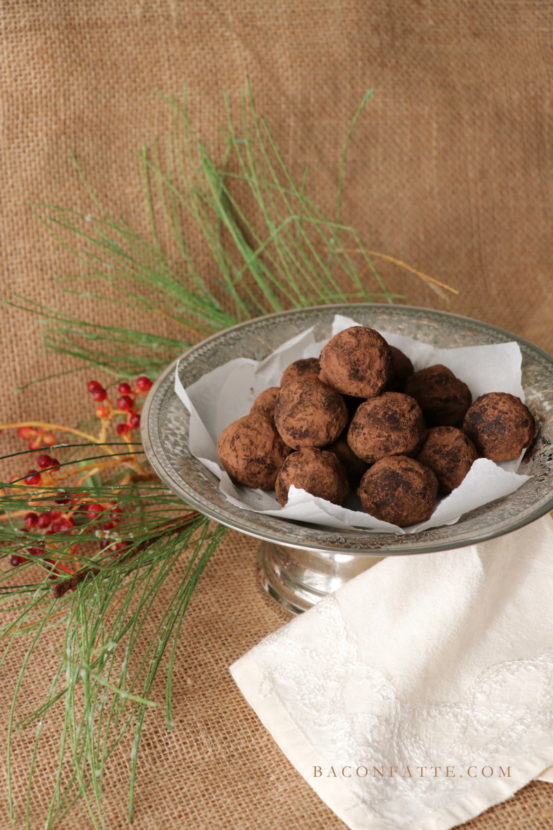 But don't feel like you have to wait until Christmas to indulge in these rustic little bites. They're the perfect petite treat any time of the year, and they're a wonderful option when you want to give edible gifts.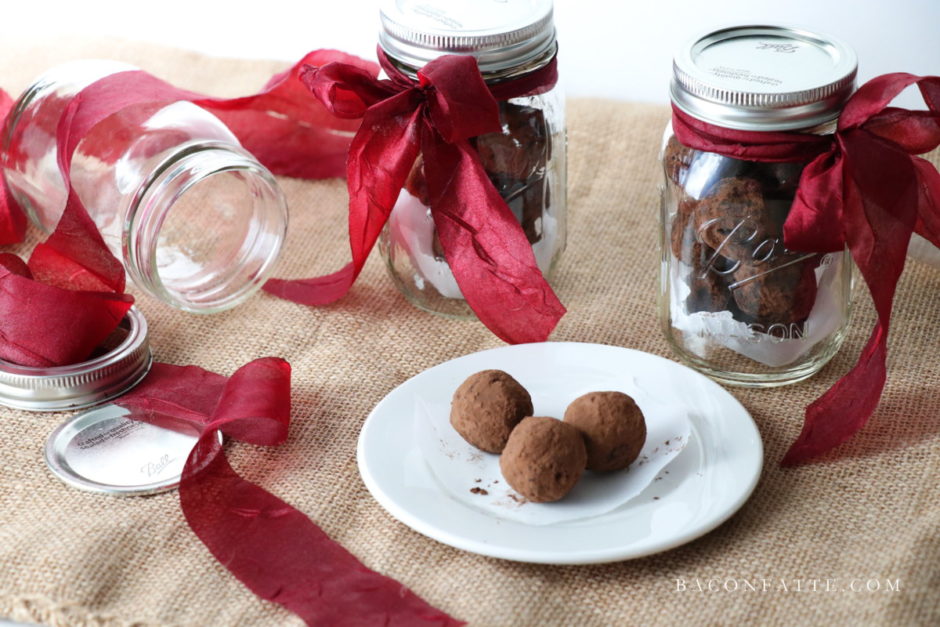 This recipe for Mocha Rum Balls can be made two weeks ahead of time, so you can totally whip up a few batches well in advance of any parties or gatherings.
They look just as lovely tucked in among other cookies and bars as they do all on their own on a pretty platter. And as much as they like to be dressed up, they can also do "casual" in a snap. For more formal occasions, tuck each rum ball into a pretty mini cupcake paper. Or, just stack them in a cute bowl. Either way, people will snap them up in no time. Trust me on that one!
Trust me also on the fact that these Mocha Rum Balls are really easy to make. I've provided lots of tips below to help you decide what works best for you. Once you make your first batch, you'll have it all down to a science, and you'll be whipping them up over and over again in no time.
Enjoy!
Mocha Rum Balls
These no-bake Mocha Rum Balls have a deliciously irresistible combination of flavors and textures!
Recipe from:
Michele Phillips, BaconFatte.com
Cuisine:
Sweets & Desserts
Ingredients
1½ cups (150 grams or 8 ounces) almonds, toasted & finely ground
1¼ cups (150 grams) vanilla cookies, finely ground
1 heaping teaspoon coffee beans, finely ground (see Cook's Notes below)
2 tablespoons dark, unsweetened cocoa powder
½ cup powdered sugar
2 tablespoons honey or light corn syrup
¼ cup dark rum – or more if needed
For the coatings:
I roll the rum balls in cocoa powder most often because I like the "bitter sweet" finish it gives them. Rolling them in more of the finely ground cookies is good too. You can also roll them in powdered sugar, or if you really want to get fancy, dip them in melted chocolate.
Preparation
Heat a skillet over medium-high heat. Add the almonds, stirring occasionally, and toast for about 10 minutes just until the nuts smell warm and fragrant. Allow toasted almonds to cool completely, and them grind them in a food processor until they're the texture of fine sand. Do not over-process or they'll become pasty.
Grind the cookies until the texture resembles fine sand.
In a large glass bowl, add dry ingredients: ground almonds, ground cookies, ground coffee beans, cocoa powder, and powdered sugar. Stir with a large rubber spatula to combine ingredients. Then, add the wet ingredients: honey or corn syrup, and rum. Stir well to incorporate. Press ingredients against the side of the bowl with the spatula to thoroughly saturate them. Work the ingredients into a dough. If dough appears too grainy or won't stick together easily, add more rum – a teaspoon at a time.
Form the balls: Using a small cookie scoop or a Tablespoon-sized measuring spoon, scoop portions of dough into your hand and squeeze it together. Gently roll the dough into 1" sized balls, then roll each ball in your choice of coatings (cocoa, cookie crumbs, etc.) right away. If you wait too long after rolling them, the coatings won't stick as well to the rum balls.
Store in the refrigerator in a covered container. Rum balls will keep well in the refrigerator for two weeks or more. The flavor improves over time, so best to make these rum balls at least 24 hours before serving. Serve at room temperature.
Cook's Notes:
*NUTS: I measure the nuts whole first. The delicate flavor of almonds works really well in this recipe, but you can use any kind of nuts that you prefer.
*COOKIES: I usually use Nilla Wafers for this recipe. If it's easier, just measure out about 2½ cups of whole cookies. The amount doesn't have to be exact.
*VARIATIONS: If you really want to bump up the chocolate and coffee components in these rum balls, do what I do! Omit the heaping teaspoon of finely ground coffee beans, and grind up ¼ cup of dark chocolate covered coffee beans. So good!
*SERVING: Because of the oils in the almonds, these rum balls will "soak through" the coatings – especially the cocoa. If you want, you can re-roll refrigerated rum balls just before serving.
Mocha Rum Balls
I'd love to know how you liked this recipe!
Leave a note here on the blog in the comments below, or share your creations and ideas on Facebook, Pinterest, Instagram, Twitter, and/or Google+ .
Make sure to hashtag #baconfatte or tag @baconfatte in your social media posts!