These petite bay scallops weren't on my grocery list, but they ended coming home with me anyway. Some would say that's what happens when you go shopping when you're hungry… I'd like to think of it as "practicing what I preach".
As much as I love a good, solid, adventurous recipe that requires a serious attention span (the latter can truly be a challenge for me at times), I know that delicious food doesn't always require a long recipe. Cooking doesn't need to be difficult or time consuming. And creating delicious food isn't something you have to be good at… Getting good at it through practice is half the fun!
But you do have to want to cook. You have to have the "what the hell attitude" that Julie Child so eloquently recommended. You have to be willing to take some chances and try new things.
And, as in this case, you have to be willing to bring something home that wasn't on your grocery list and just run with it.
To the lovely lady at the seafood market who looked at these petite bay scallops, shook her head and said, "What the heck do you do with those? I wouldn't know where to start!" …I say, "This. This is what you do with those.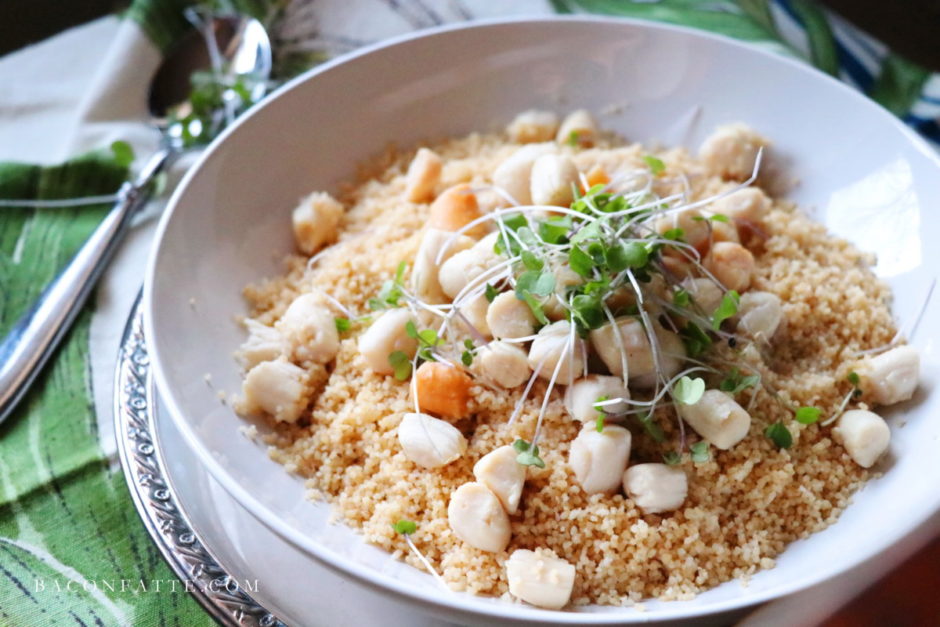 And when you cook petite bay scallops like this, they're unbelievably sweet, tender and delicious. They become a beautiful restaurant quality meal in about 15 minutes from start to finish. Just bring some home and give them a try. I promise you'll be glad you did!"
Enjoy!
Petite Bay Scallops with Simple White Wine Sauce
Petite Bay Scallops are heavenly with this classic white wine and butter sauce. It only takes a few minutes to prepare this fabulously easy, delicious dish!
Recipe from:
Michele Phillips, BaconFatte.com
Ingredients
½ pound tiny bay scallops
2 tablespoons salted butter
¼ cup white wine (such as Sauvignon Blanc or Pinot Grigio)
⅛ teaspoon onion powder
A small pinch of white pepper
1 cup golden couscous, cooked according to the directions on the package
Micro greens (I used rocket radish here) or fresh chopped parsley to garnish
Preparation
Prepare the couscous according to directions.
Allow scallops to sit at room temperature while you're preparing the sauce.
In a small sauce pan, add butter and heat over medium-low heat; allow butter to brown slightly for a minute.
Add white wine, onion powder and white pepper. Stir well and simmer over medium-low heat, allowing the wine or stock to reduce slightly for 5 – 7 minutes.
Add the scallops to the pan and sauté for just a minute or two until scallops begin to turn opaque and become firmer in texture. (*Overcooking will cause the scallops to become tough, and that would be a travesty!)
To serve, spoon scallops and sauce over couscous and garnish with microgreens or fresh chopped parsley. Enjoy with a lightly chilled glass Pinot Grigio, or your favorite white wine.
Petite Bay Scallops with Simple White Wine Sauce
I'd love to hear how you enjoyed this simple recipe! Let me know in the comments below or in your social media feeds. Make sure to hashtag #baconfatte or tag @baconfatte on Facebook, Pinterest, Instagram, Twitter, and Google+ when you this or other Bacon Fatte recipes so I can see your creations!