There are a many different opinions about bread pudding… People generally like it or not. There is very little in between. I never liked it. At least I didn't think I did, because I had only tried the bland, mushy varieties – usually apple raisin or similar – that you find at some restaurants. While that kind of bread pudding is probably just fine for some, it just wasn't my thing.
Then, I stumbled upon this casserole recipe a while ago, and being a pineapple fan, I loved the idea of a pineapple bread pudding. It was a great recipe, but as usual, I couldn't just leave well enough alone once ideas started popping into my head.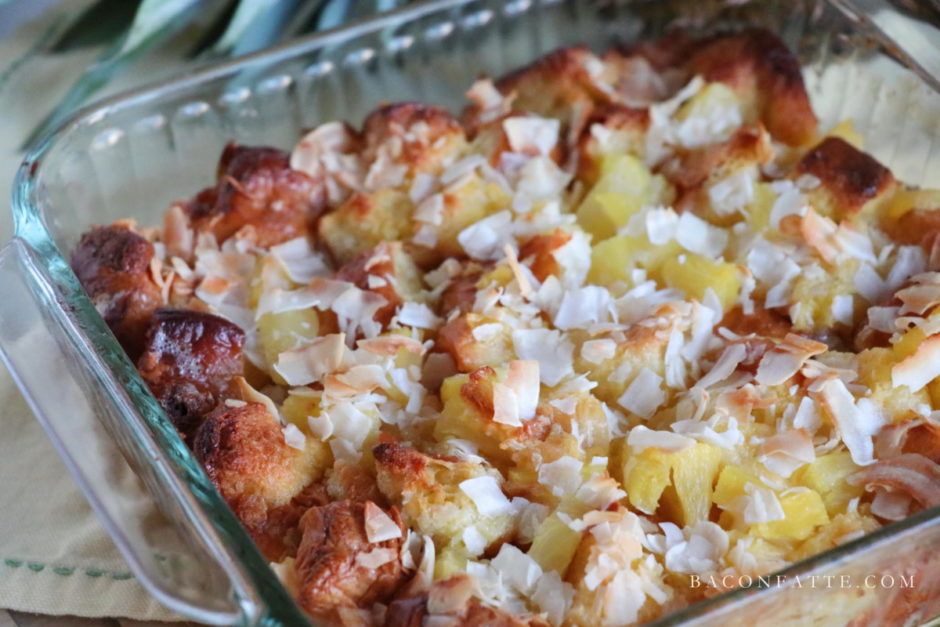 Ideas such as the ones that start out as thought processes during a family dinner…
"Wow! I should have gotten more of the Hawaiian Rolls… I can't believe how quickly they disappeared again… Note to self: Find more things to do with those tasty little gems… Gee, I bet they'd be really good in the pineapple dish I made today… Oh my gosh! I totally need to make this pineapple dish with the Hawaiian Rolls! Yes! Oooh, and what if I added toasted coconut to the mix…"
Back to the conversation at the table: Oh… What? We need more gravy? Sure! Coming up!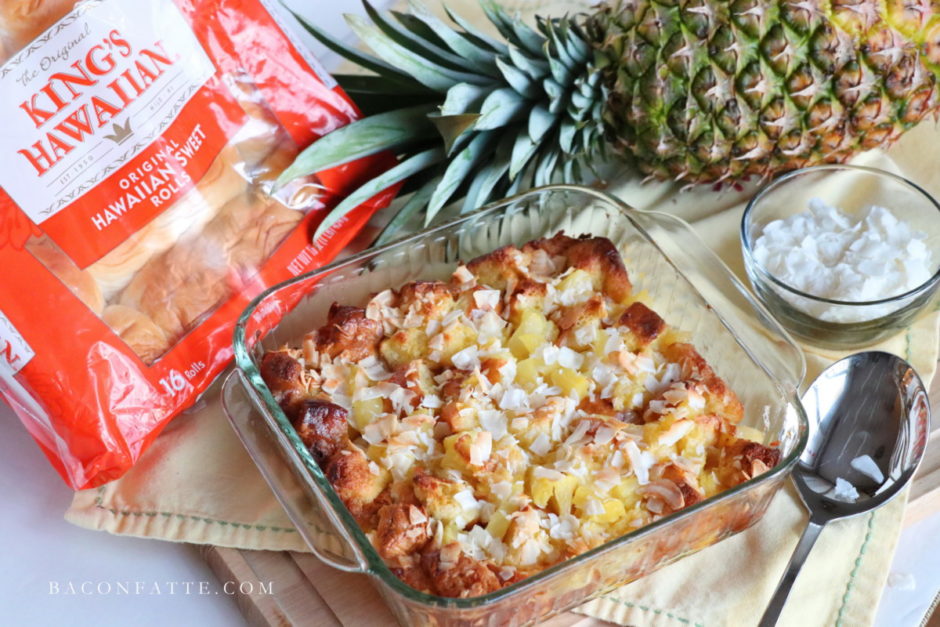 Indeed, as you can imagine if you're as big of a fan as we are, the King's Hawaiian Sweet Rolls are really, really good in this dish.
The original recipe also called for crushed pineapple, but I added pieces instead at one point because I had pineapple rings on hand. You do what'cha gotta do, so I just chopped them up and proceeded.
It turned out that bigger pieces of pineapple (or the canned pineapple "tidbits") were also a win. It was like a sweet little treasure hunt… the juicy pieces of fruit were so good with the toasty, custard-y chunks of bread.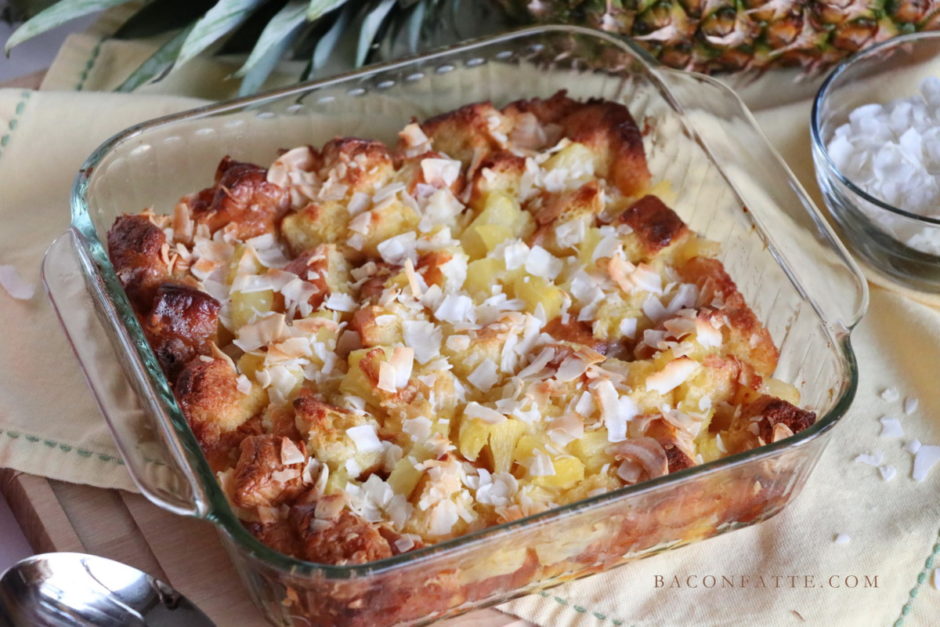 This is not just another dessert… It's not too sweet, and it's "something different" that goes really well with just about any menu. Whether you're serving brunch, a big holiday dinner, or just want something wonderfully divine to go with that bowl of ice cream on a warm summer night, I think you'll like this particular bread pudding a lot. It's really easy to make, and I usually make two pans for family dinners because the first one always disappears quickly.
This Pineapple Toasted Coconut Bread Pudding is absolutely heavenly just out of the oven. It also re-heats well, and can be served at room temp.
If you're making it ahead, you'll have to let it cool before refrigerating it (see notes below). The only challenge there is NOT sneaking too many chunks of the warm, buttery, sweet toasted bread while it cools… Oh yea, it's that good! ?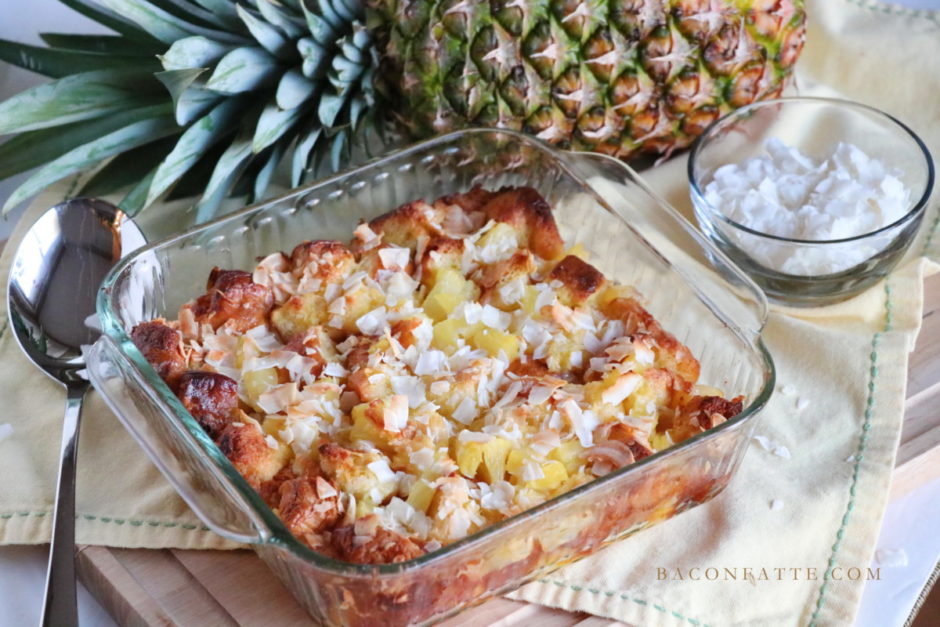 Enjoy!
Pineapple Coconut Sweet Bread Pudding
This Pineapple Coconut Sweet Bread Pudding is "something different" that goes really well with just about any menu. It's a great dish or brunch or a holiday dinner, or as an everyday dessert.
Recipe from:
Michele Phillips, BaconFatte.com
Cuisine:
Brunch, Desserts
Preparation
Preheat oven to 350 degrees F.
Prepare an 8" x 8" casserole pan with baking spray, and set aside.
Cube the rolls by cutting in half, then in quarters (totaling 8 pieces per roll), and set aside.
In a large mixing bowl, beat butter and sugar until creamed.
Beat eggs until frothy, then add to butter and sugar mixture and beat until combined.
Drain pineapple and reserve juice* for another use. Fold pineapple tidbits (or chopped rings) into the egg, butter and sugar mixture, then repeat with the cubed rolls making sure all the pieces are coated with the mixture.
Pour mixture into prepared casserole pan, and sprinkle coconut chips over the top.
Bake, uncovered, for 35 – 45 minutes until bread pudding is bubbling and exposed bread edges are toasted. The center will be softer than the edges, but should not be "soupy". If additional cooking time is needed for the center, cover pan with foil and bake a few minutes more until done.
Enjoy hot out of the oven, at room temperature, or chilled.
*If preparing ahead, bake according to directions then remove from oven and allow to cool at room temp. Cover tightly and refrigerate overnight. Serve chilled or at room temperature. To heat, cover with foil and place in 350 degree oven for 10 minutes.
Cook's Notes:
*If using canned pineapple, use the "100% Pineapple Juice" variety rather than anything in heavy syrup.
*Store pineapple juice in a glass, non-reactive container. Cover and refrigerate up to 24 hours. Enjoy straight, or use as a cocktail mix!
Recipe adapted from
Real Housemoms
.
Pineapple Toasted Coconut Sweet Bread Pudding
Have you tried this recipe? I'd love to see it!
Feel free to leave a note here on the blog in the comments below, or share your creations on Facebook, Pinterest, Instagram, Twitter, and/or Google+ .
Make sure to hashtag #baconfatte or tag @baconfatte in your social media posts!