Potato Corn and Kraut Gratin probably isn't one of the first things you think of when planning your family dinners, but that could change very quickly once you try it! It's something I grew up with, and something my family always has on the menu for our holiday dinners.
Well, kind of.
This Potato, Corn and Kraut Gratin is a brand-new version of old family dishes. It has all the basic ingredients: Mashed Potatoes, Sweet Corn, and Sauerkraut – or as I call it, "The Trifecta." But this year, I've decided to roll it all into one wonderfully savory dish and dress it up for the holidays!
This post is sponsored by Frank's Kraut. I received compensation and product related to this post, but opinions, memories, and life-long love of good kraut, are my own.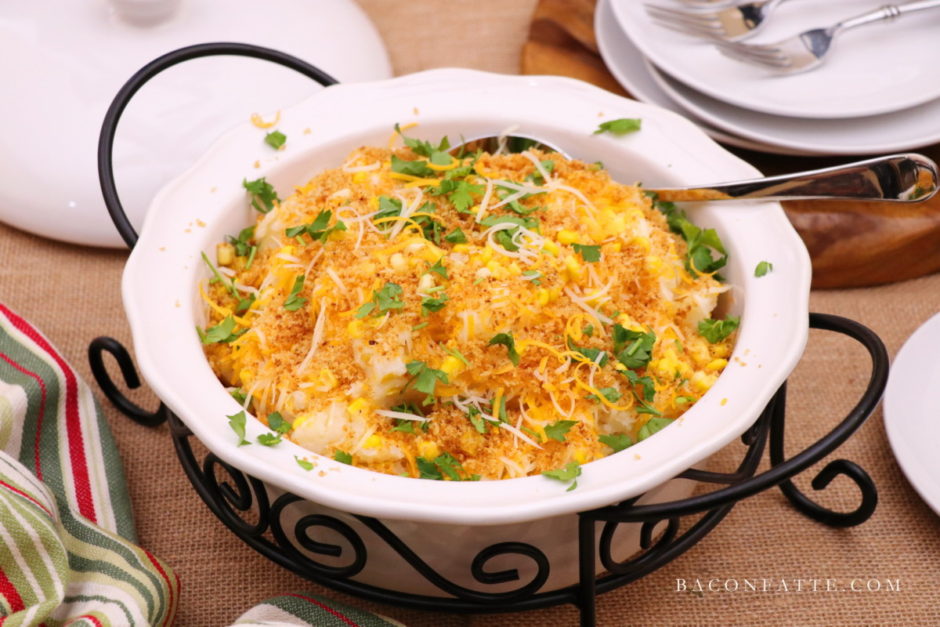 What You'll Love
It's the epitome of comfort food: Creamy butter-mashed potatoes studded with sweet corn and highlighted with the unmistakable umami of kraut. I've just put them all together on my plate all these years, but it was time for an update.
So, I combined everything in the pot that I boiled and mashed the potatoes in, then spooned it all into an oven-safe casserole dish. I like to "garnish" my dishes with some of the main ingredients to create more texture and color in the finished dish, so I sprinkled some corn and kraut on top. Then I added the gratin layers: freshly shredded cheeses and brown-butter toasted panko bread crumbs. After a few minutes in the oven, the cheese melts and the bread crumbs get even crunchier, and from the first bite you're in love with this Kraut Gratin.
This easy to make – and make ahead – Mashed Potato, Corn and Kraut Gratin makes enough to feed a big holiday crowd, but the recipe can also easily be cut in half for smaller gatherings!
What You'll Need
A big pot to boil potatoes in
12-cup casserole dish, preferably covered
Russet potatoes
Butter
Frank's Kraut
Sweet corn kernels
Gruyere and Cheddar cheeses
Panko bread crumbs
Garlic powder
Salt + pepper (optional)
Here's The Story
I grew up in a family of German farmers. Gathering around the table to enjoy meals together was always a priority – especially around the holidays. They always served a wide variety of food… Something for everyone!
Although the matriarchs in my family have always been incredible cooks who to out-did themselves each year, they built their traditional tables around basic dishes that provided the perfect foundation for our big family dinners.
No matter what other mains or sides showed up, three dishes were always present: butter-mashed potatoes, sweet corn, and sour kraut (that's how my family referred to it… Today, it's more commonly known as sauerkraut).
I hold my grandmother's homemade kraut responsible for shaping my palate. When she was no longer there to make it, there was a noticeable void in our dinners. When I started hosting big family dinners of my own, I wanted to bring that traditional flavor back.
When I began looking for a good brand of kraut to serve, I immediately recognized Frank's green label in the grocery store. I never gave it a second thought at grandma's house, but apparently she had been trusting Franks for quite some time. For that reason alone, Frank's Kraut feels like part of our family.
I hope this recipe becomes a family favorite of yours. There are only a few ingredients, so make sure you use the best you can find.
Enjoy!
Potato, Corn and Kraut Gratin
This Potato, Corn and Kraut Gratin is a new version of old family dishes. It has three basic dishes - Mashed Potatoes, Sweet Corn, and Sauerkraut - combined into one wonderfully savory dish and all dressed up for dinner!
Recipe from:
Michele Phillips, BaconFatte.com
Ingredients
5 pounds Russet potatoes – peeled, cubed, and rinsed
6 tablespoons butter + 2 Tablespoons – at room temp, divided
32 ounces Frank's Kraut – drained, ⅓ cup reserved
14 ounces fresh or frozen sweet corn kernels – thawed, ⅓ cup reserved
½ cup Gruyere cheese – freshly shredded
½ cup Cheddar cheese – freshly shredded
½ cup Panko breadcrumbs
½ teaspoon garlic powder
1 tablespoon salt + more to taste
Freshly ground black pepper (optional)
Preparation
For the Potatoes
Prepare mashed potatoes your favorite way. Otherwise, this is how I make them.
Fill a large pot approximately half way with cold water. Scrub and peel potatoes, cut into 1" cubes, and put cubes into the pot of cold water. When all the potatoes are cubed and in the water, swish them around and pour out the cloudy water. Replace with fresh water, and repeat 4 – 5 times until water is mostly clear. Then add enough fresh water to cover the potatoes and add a tablespoon of salt. Place pot over medium-high flame, and boil until potato cubes are tender. Drain, add 6 tablespoons of butter to the hot potatoes, and mash until mostly smooth. Cover and keep warm.
Preheat oven to 250 degrees.
For the Panko breadcrumbs
In a small sauce pan, add 2 tablespoons butter over medium-low heat. Allow butter to brown slightly. Add garlic powder, a pinch of salt pepper (optional), and stir well. Add breadcrumbs and stir, making sure the butter is completely incorporated into the crumbs. Continue to toast the crumbs over low heat for about 5 minutes, stirring often. Remove from flame and set aside.
For the Kraut Gratin
To the pot with the mashed potatoes, add (thawed) corn and (drained) kraut. Stir well to combine. Spoon mixture into an oven-safe, covered casserole dish. Layer the shredded cheeses and reserved corn and kraut over the top. Top liberally with the toasted bread crumbs, and place into heated oven for 5 – 7 minutes, or until cheese is nicely melted. Cover casserole dish to keep kraut gratin warm until serving.
'Celebrate Flavor, Celebrate with Frank's'
Frank's Kraut is a 4th generation family-owned business, and it's the #1 brand here in the Midwest. They clearly have a lot of pride in their business and showing people some of the best ways to use their product.
Interested in more kraut recipes? Frank's has lots of them on their website, and they're always showing fun and delicious ideas from cooks, restaurants and bloggers on their social media channels. You can find Frank's on Facebook, Instagram, Twitter, Pinterest, and YouTube.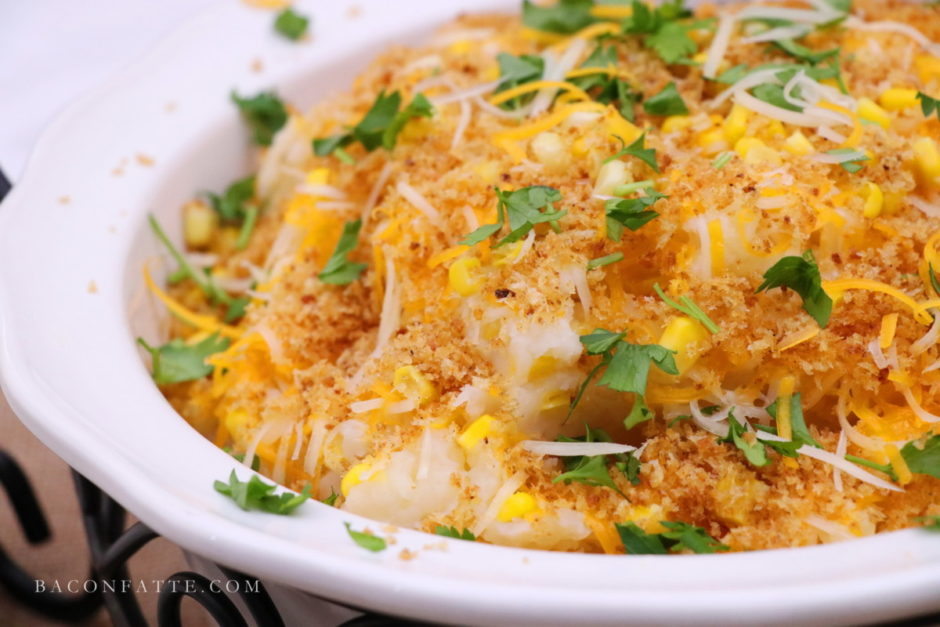 Want more kraut-tastic recipes? Here are some of my favorites!
Reubenesque Reuben Sauce – it'll take your next Reuben to the next level!
Slow Cooker Cranberry Meatballs
Homemade Chicken Noodle Soup with Sauerkraut
Making this Potato, Corn and Kraut Gratin?
I'd love to hear about it!
Leave a note here on the blog in the comments below, or share your creations and ideas on Facebook, Pinterest, Instagram, Twitter, and/or Google+ .
Make sure to hashtag #baconfatte or tag @baconfatte in your social media posts!