I've heard it said that "good things come in threes". I also have an exceptionally saucy friend who insists that good things happen in "twos or tens". (In the spirit of full disclosure, the latter is generally in reference to cocktails, but we can talk about that after 5:00…)
In my kitchen, if it's good, it's always tens. I like to find multiple uses for things and ways to enjoy "leftovers" that don't look or taste left or over.
Such is the case with chimichurri – a versatile, rustic sauce that complements grilled meats and vegetables beautifully.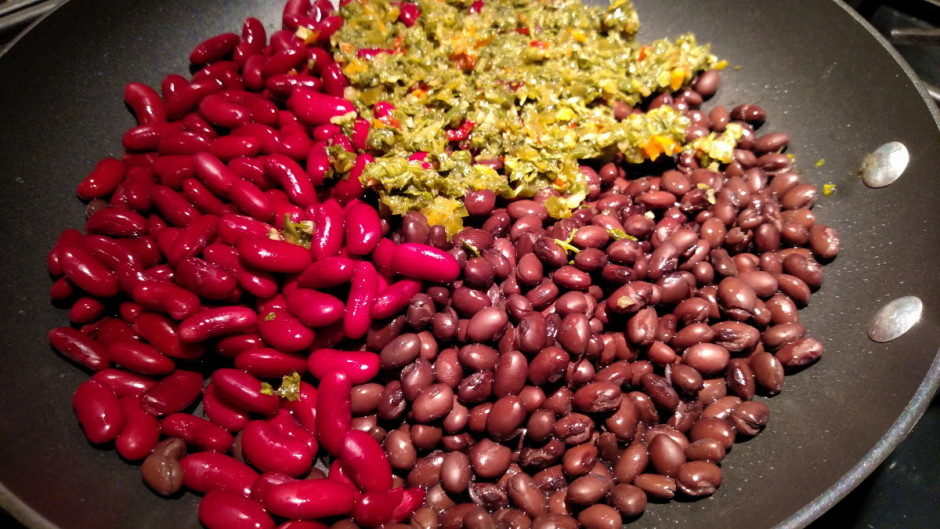 I first discovered it a couple of years ago, and every time I make it I fall in love with it all over again. I'm always trying to add new twists to the ingredient list and find different ways of enjoying the bright, rich flavors that it brings to just about anything it touches.
At the risk of offending true, traditional chimichurri purists (which, by many accounts, is done any time cilantro is included in the ingredient list), chimichurri is a "work horse" of a sauce, in my book, that can be made and enjoyed in a variety of ways.
You can drizzle it over warm grilled Romaine lettuce along with some sliced onions and tomatoes, or add it to beans and corn for a fabulously easy lunch or side dish. We've even tossed it with cherry tomatoes and grilled scallions and served it over iceberg lettuce as a mixed dinner salad. It was great!
The other night, we grilled chicken thighs seasoned with a little S & P and smoked paprika, and we wanted a quick, warm side dish to go with it.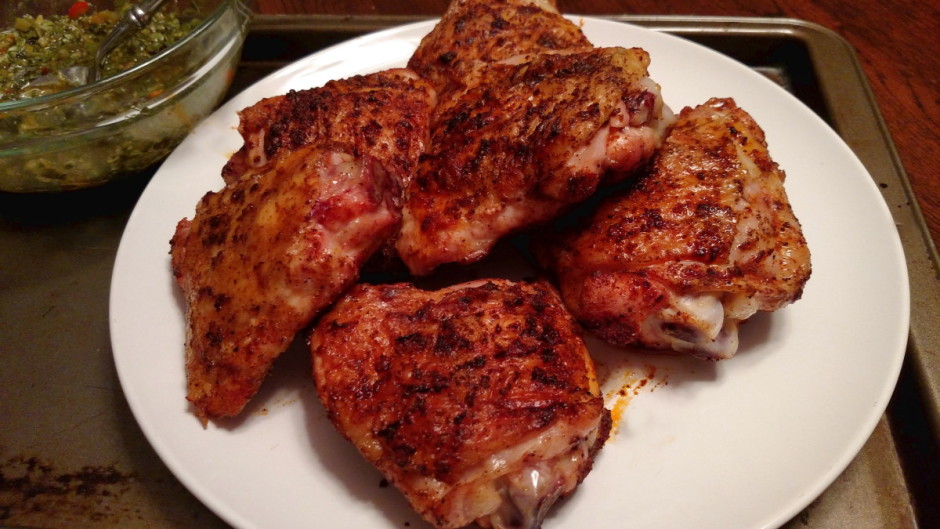 I grabbed a couple of cans of beans and some leftover brown rice to make a simple rice-and-beans dish. As I pulled the rice and the remainder of a recent batch of chimichurri out of the refrigerator, I realized we also had two leftover ears of grilled corn that were begging to join the party. (Who can say no to corn?)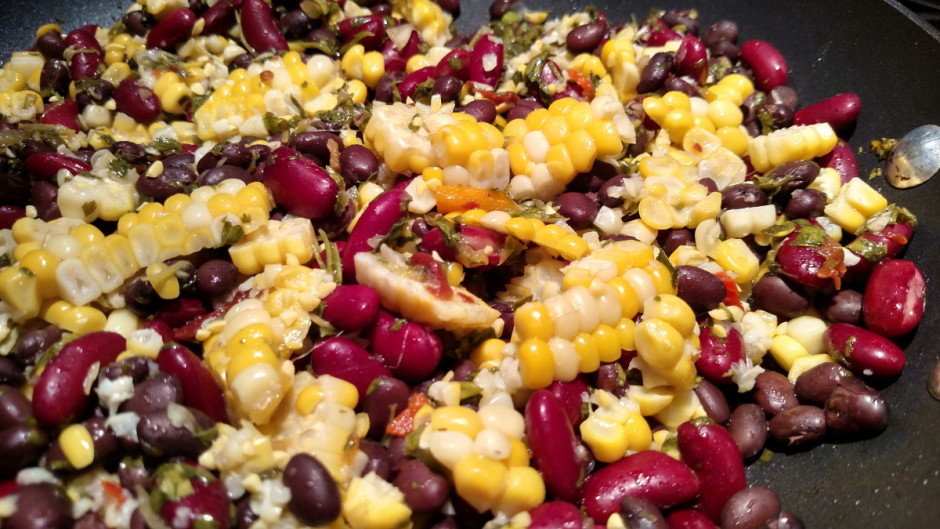 It all went into a big pan on the stovetop: Beans and chimichurri first to cook a little, then the corn, and then the rice. The dish came together quickly and the flavors reminded us of Chipotle's burritos with brown rice, beans and corn salsa. We thoroughly enjoyed it that night, and again for a light lunch the next day. (Bonus!)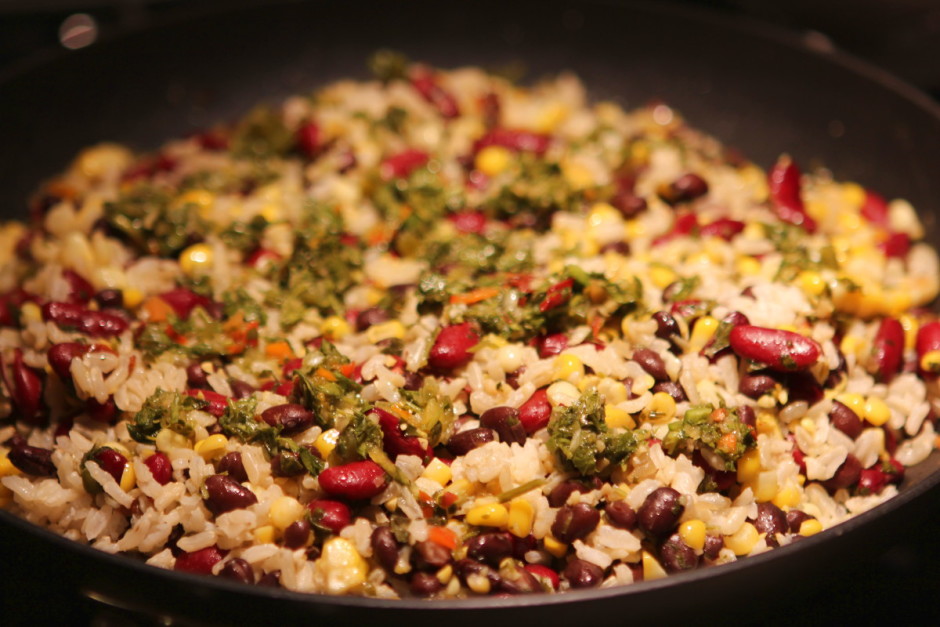 This and the other bean salads mentioned above would be great dishes to share at pot lucks and outdoor barbeque parties because they don't include any dairy ingredients that might "go south" before the party's over. And, of course, beans and tomatoes also hold up really well so salads like this can be made a day or two in advance.
The chimichurri can be made in advance as well. Just keep it in a tightly covered container in the refrigerator, and it'll be delicious for a week or more.
This Rice and Beans with Corn and Chimichurri recipe is great with both the spicier Chimichurri and the slightly sweeter Giardinera Chimichurri –  or a combination of both.
Have fun with it! Spice it up by adding more canned or fresh jalapenos, adobo sauce or red cracked pepper flakes. Add chopped red or white onion, green peppers, or sweet red, orange and yellow peppers for even more color and texture. If you really want to sweeten it up, add more sweet corn – and don't forget to "juice" it if you're cutting fresh off the cob!
Whether you make this dish your own by adding other ingredients to the mix, or you make it just like this, you're going to love it!

Rice and Beans with Corn and Chimichurri recipe
This flavorful chimichurri rice and beans side dish is really good with grilled or roasted meats, and it's perfect for barbeques and pot lucks or anytime! Recipe from BaconFatte.com.
Ingredients
1, 15 oz. can Black Beans, drained & rinsed
1, 15 oz. can Red Kidney Beans, drained* & rinsed
½ – ¾ cup Chimichurri Sauce, plus more to taste (recipe links above)
2 cups of fresh or frozen Sweet Corn kernels (about two cobs)
2 cups cooked Brown Rice (I used brown jasmine rice)
Preparation
Place beans and chimichurri in a large pan or Dutch oven (with at least a 10 cup capacity). Stir everything together and cook over low to medium heat, stirring often, for about 10 minutes.
Add sweet corn (and onions or any other items that need to cook only slightly) and stir to combine with beans and chimichurri. Cook for 3 - 5 minutes until corn is heated through, but still a little crunchy.
Add the cooked rice. Stir everything together and cook for another 3 - 5 minutes until everything is uniformly heated and ready to serve.
Garnish with additional chimichurri. Sprinkle fresh chopped parsley, cilantro, oregano, or shredded cheese of your choice over the top just before serving (optional).
Cook's Notes:
*This is not intended to be a heavily sauced dish (think "dirty rice"), but if you'd like to make it more "saucy," reserve some of the clearer red kidney bean juice off the top of the can and add that after you've combined all the other ingredients. You can also add a little more olive oil, red wine vinegar, or pickled jalapeno juice if you'd like.
-Spice it up by adding more canned or fresh jalapenos, adobo sauce or red cracked pepper flakes.
-Add chopped red or white onion, green peppers, or sweet red, orange and yellow peppers for even more color and texture. Add more sweet corn if you want to sweeten it up.
-If using frozen corn, you may want to thaw it before adding it to the other ingredients.
-This dish is great when served immediately after cooking, but it cooks – and holds – well in a crock pot, too.

Check out this recipe - and many others - at BaconFatte.com!
We'd love to hear what other variations you come up with! Let us know by commenting here on the blog and make sure to hashtag #baconfatte or tag @baconfatte on Facebook, Pinterest, Instagram, Twitter, and Google+ when you try this recipe. Thanks for visiting BaconFatte.com!