Things don't have to be fancy to be fabulous in my book, but when they turn out to be fancy and fabulous – as was case with this Roasted Balsamic Grape Crostini with Ricotta and Arugula – they usually become a favorite.
For me, this no-recipe recipe for was love at first bite. I was looking for ideas for something easy and beautiful to make for a friend's dinner party last summer, and I decided on a this crostini recipe because I knew it would be perfect for this wine lover's party.
Not only were the crostini a hit, but the roasted grapes inspired a gorgeous little salad that became another instant fave and has since reappeared many times on our table.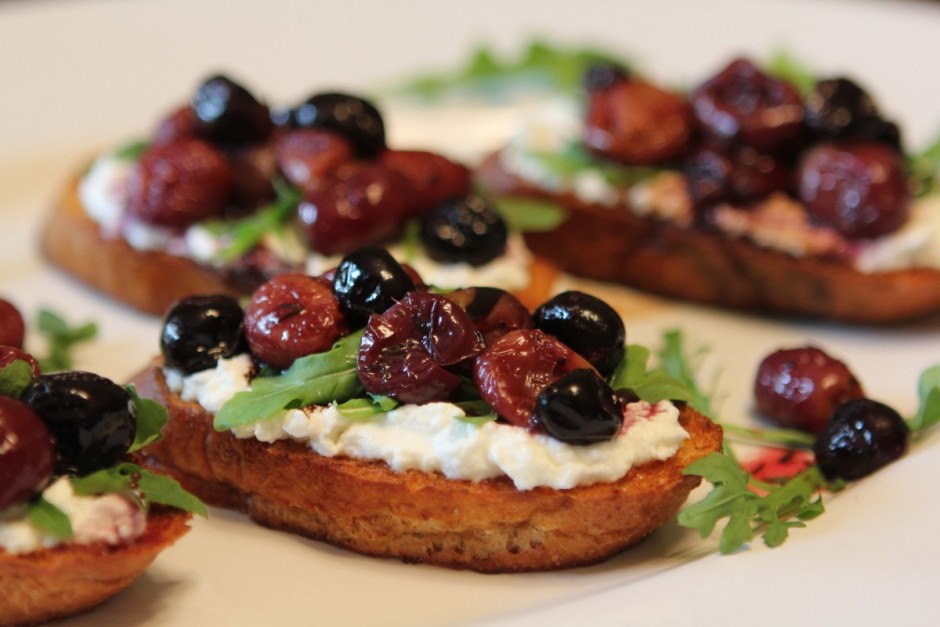 This is truly a no-recipe recipe and you can make as much or as little as you like. Whatever you do, make sure roast more grapes than you think you'll need for the crostini (I used about 6 cups of grapes in this case) and pop them – and all of their gloriously roasted grape juice – in the refrigerator so you can make the salad tomorrow.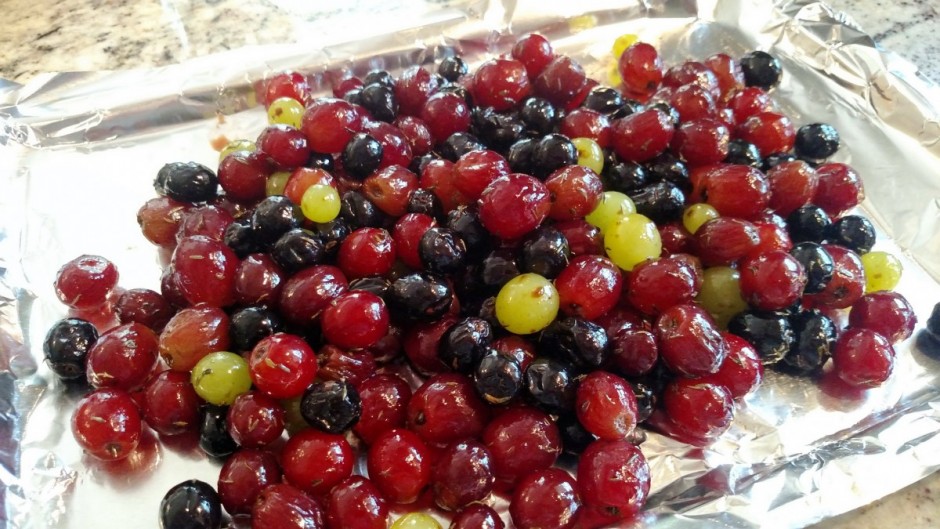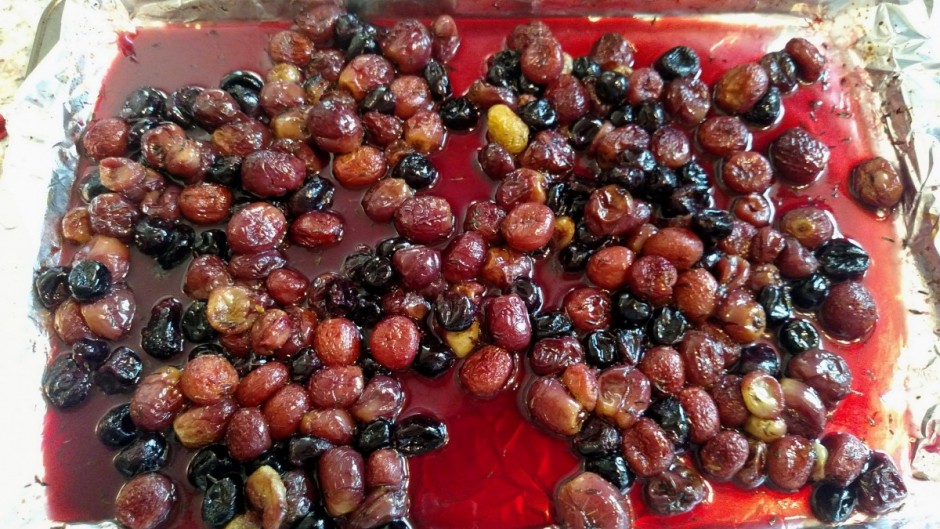 Roasted Balsamic Grape Crostini with Ricotta and Arugula
Whether you're looking for a light lunch to enjoy with herb tea, or the perfect wine-friendly party fare, this no recipe-recipe is something you can make ahead and assemble as needed. Make as little or as much as you like, and enjoy!
Recipe from:
Michele Phillips, BaconFatte.com
Ingredients
Fresh grapes – any variety, washed and stemmed
Extra light olive oil
Good quality balsamic vinegar
Dried thyme (about ½ teaspoon per cup of grapes)
Baguette or other rustic bread, sliced into ½-inch thick pieces
Ricotta
Baby Arugula or other fresh, young greens
Kosher salt, optional
Preparation
Preheat oven to 400 degrees F.
Line a sheet pan with foil (if you want, for easier clean-up) and set aside.
Wash and stem the grapes and blot dry. Place clean grapes in a bowl, drizzle in a little olive oil and balsamic vinegar, and sprinkle in the thyme leaves. Toss well to coat.
Pour grapes onto the prepared sheet pan and spread them out evenly, then pop them into the oven for 6 – 10 minutes. Grapes will shrink as they cook, and begin to release their juice.
Ideally, there will be a variety of "doneness" – some will remain whole and others will cook down more completely. Remove the grapes from the oven when they're as "done" as you like them, and allow to cool.
While grapes are cooling, heat a grill pan or cast iron pan over medium heat. Pour some olive oil and a pinch of salt into a small bowl and stir to combine. Lightly brush the bread slices on one side and grill until lightly toasted, then remove from pan and set aside to cool.
Spread ricotta on the grilled side of your bread pieces and spoon on the roasted grapes. Sprinkle lightly with salt and/or a little more balsamic vinegar (both optional) and enjoy.
Cook's Notes:
*Use any grape variety you like. I like to use multiple varieties which creates more color in the finished dish.
*Save all of the roasted grape juice and any roasted grapes in a small bowl, cover, and enjoy again tomorrow in other dishes.
Recipe adapted from
Alexandra Cooks
and
Real Simple
.
I'd love to hear how you liked this recipe! Let me know by commenting here on the blog, and sharing it on Facebook, Pinterest, Instagram, Twitter, and/or Google+… Make sure to hashtag #baconfatte or tag @baconfatte!