Because I do what I do, I thoroughly enjoy being in the kitchen. Or, maybe it's the other way around. Either way, while I love a good quick dish just as much as the next person, I also appreciate things that take some time.
These pretty roasted beet tartlettes are somewhere in between. The word "tartlette" alone may sound like some fussy little thing that takes forever to make, but that's really not the case.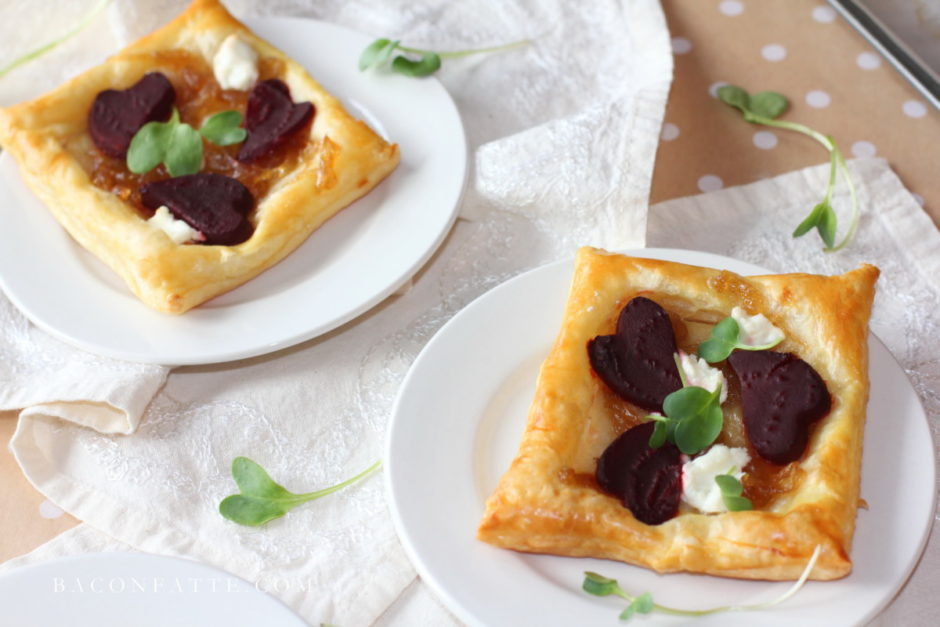 There are times and places for tasteful shortcuts, and this is one of them.
There are also times and places for adding a heartfelt – or, heart shaped – detail to something to make it special, and this is one of those, too. These tartelettes just had to have heart shaped beets as far as I was concerned because I wanted to make something special for Valentine's Day.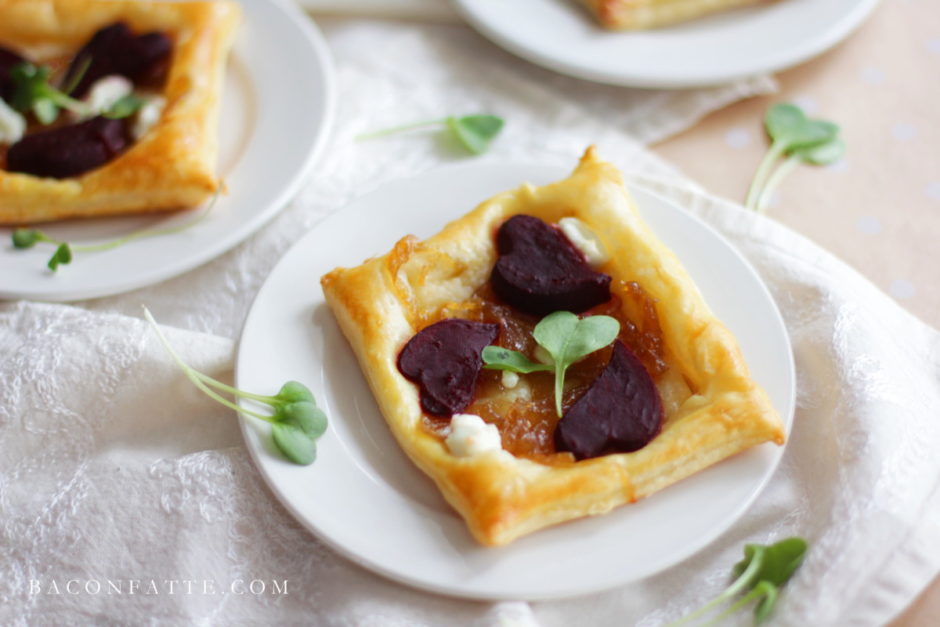 Ready-made puff pastry, pre-cooked beets cut into little a-symmetrical hearts, and velvety brandy-caramelized onions from another delicious recipe that we recently enjoyed make this recipe as easy as can be. And just because I took a few shortcuts doesn't mean these babies are anything but divine!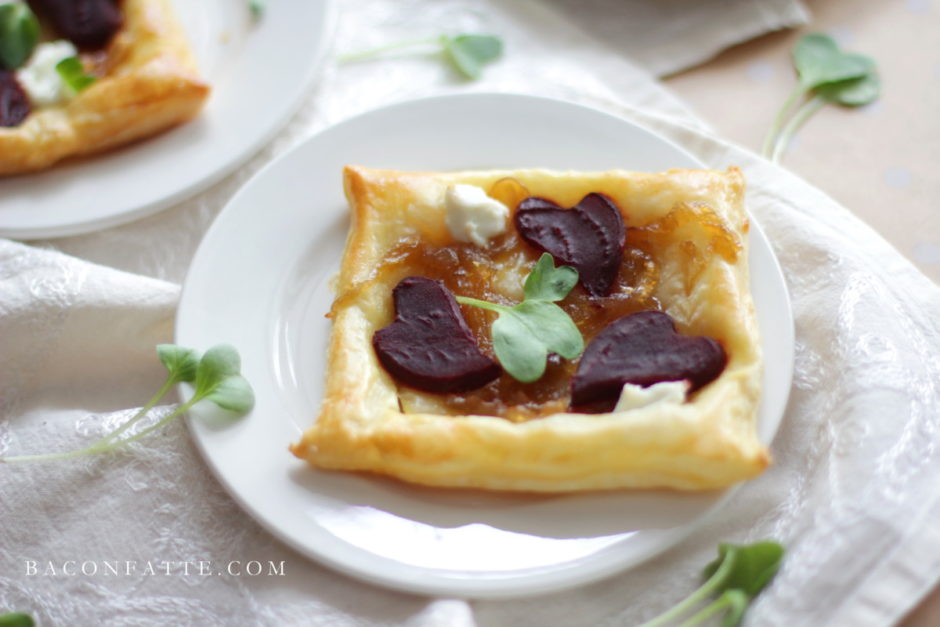 You first taste the ever-so lightly crisped puff pastry. And then the layers of flavors come in… the naturally sweet and earthy roasted beets. The sweet, savory, velvety brandy-caramelized onions. And the tangy little bites of goat cheese. And all of these lovely textures and flavors are topped with delicate microgreens. Daikon migrogreens in this case, because the leaves have a 'heart' of their own.
The tartlettes are a perfect first course… Something to nibble on while your mains finish cooking. They're also really pretty served alongside a salad. You could even consider them a not-so-sweet dessert course – something to go with that last glass of wine.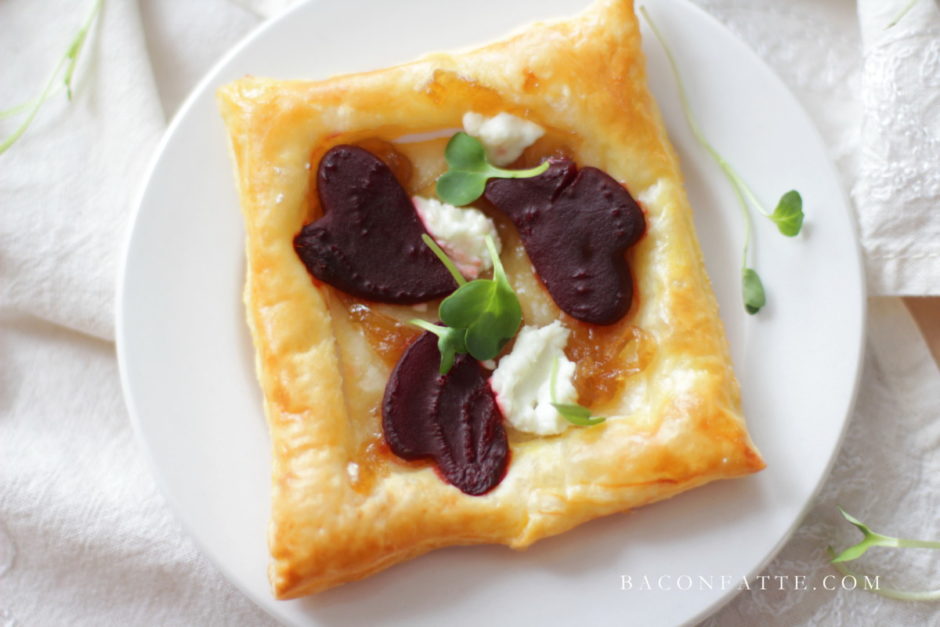 However you serve them, I hope you love them.
Enjoy!
Roasted Beet Tartlettes with Brandy Caramelized Onions and Goat Cheese
Roasted Beet Tartlettes with Brandy Caramelized Onions and Goat Cheese combine all the best textures and flavors for the perfect appetizer, salad accompaniment, or even a not-so-sweet dessert course.
Recipe from:
Michele Phillips, BaconFatte.com
Cuisine:
Appetizers, Small Plates, Side Dishes
Ingredients
1 sheet puff pastry - thawed
1 egg, slightly beaten
⅓ cup brandy-caramelized onsions (recipe here)
2 – 3 medium beets - cooked (about 8 - 10 ounces)
2 – 3 ounces goat cheese (about ¼ cup)
Fresh microgreens, such as Diakon Radish, for garnish (optional)
Preparation
Preheat oven to 400°F.
Line two cookie sheets with parchment paper and set aside.
Wash and trim beets, add ½" of water to a small lidded pan, and cook beets over medium heat for 15 – 20 minutes or until fork tender. When cooked, remove beets from pan and allow to cool. Or, use pre-cooked beets.
Slice cooked beets into ⅛ - ¼" slices and, using a small heart-shaped cookie cutter, cut as many hearts as you can from the beets. Or, just dice the beets.
Place a large sheet of parchment paper on your counter (weight the corners to hold them in place if needed), and sprinkle with flour. Unwrap puff pastry sheet, and roll out slightly to approximately 12x14". Cut sheet into three strips, and then cut the strips into squares. Using a paring knife, lightly outline a ¾" border around each of the squares. Then, using a fork, gently score the centers of each square. See photos below.
Move squares to parchment lined cookie sheets, leaving just a little space between each square. Brush the edges of each square with egg using a pastry brush (optional, but helps pastry brown nicely). Lightly layer the centers of each square with caramelized onions, then goat cheese, then beets.
Bake for 6 – 10 minutes, or until pastry is puffy and lightly golden brown. Then remove from oven and garnish with microgreens (if using) just before serving. Serve warm - right from the oven, at room temp, or even chilled.
Cook's Notes:
Makes 9 tartlettes
*Just a quick visual (below) explaining the border, scoring, and layering steps 5 and 6 in the recipe (above).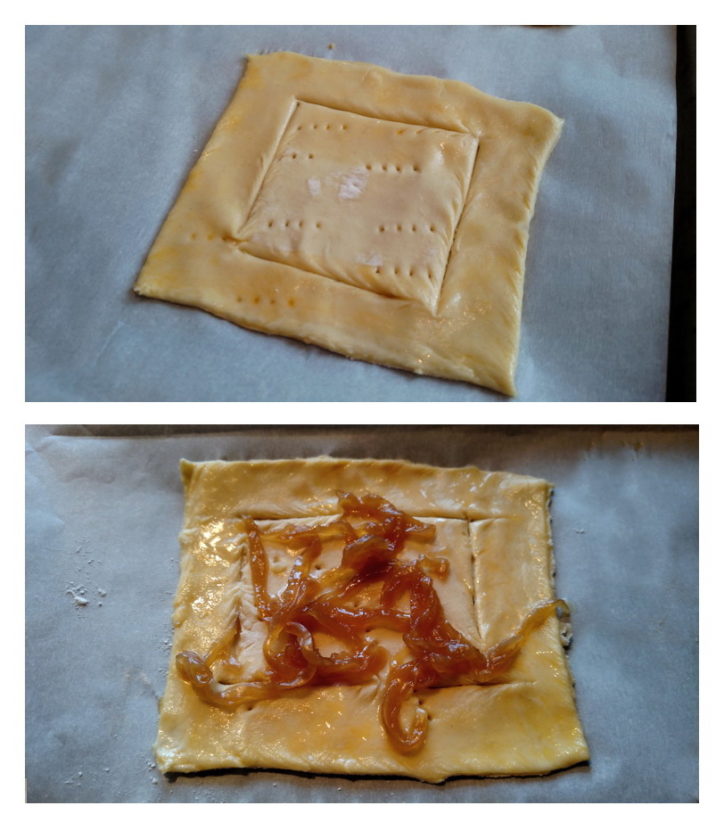 Roasted Beet Tartlettes with Brandy Caramelized Onions and Goat Cheese
I would LOVE to know what you think of this recipe when you try it!
Feel free to leave a note here on the blog in the comments below, or share your creations on Facebook, Pinterest, Instagram, Twitter, and/or Google+ .
Make sure to hashtag #baconfatte or tag @baconfatte in your social media posts so I get to see them!