This Roasted Cherry Tomatoes and Goat Cheese Spread entered our lives a little over three years ago (as of this writing). We've enjoyed it countless times since then, and it's time to (finally) share the recipe – and the story of the friend who inspired it – with you!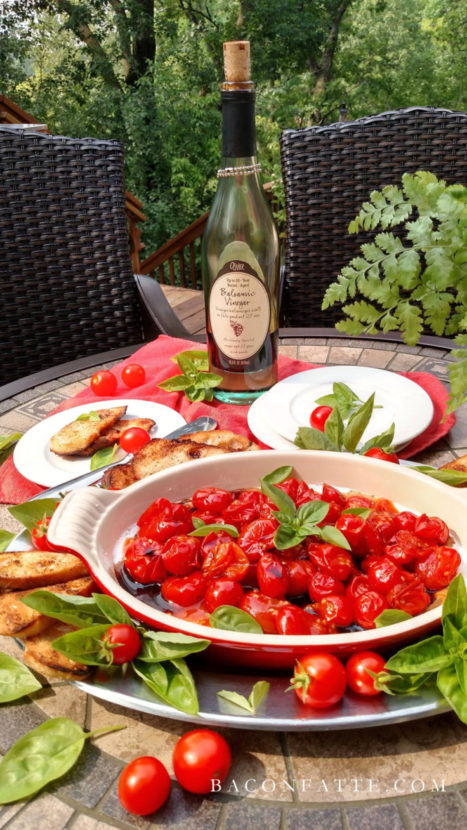 On August 31, 2014, we were just waking up in our new home – a 45' Trawler (an ocean boat) in a beautiful marina in San Diego. My husband accepted a position with a start-up, and after months of planning and preparation, we were finally there.
We arrived in San Diego late the night before with our pets and a car full of belongings that we couldn't live without until the rest of our things arrived with the movers. My friend, Kathy, had also recently moved to San Diego. Suffice it to say, she was an amazing resource throughout the process of our move and, kindly provided the most gracious welcome to our new home.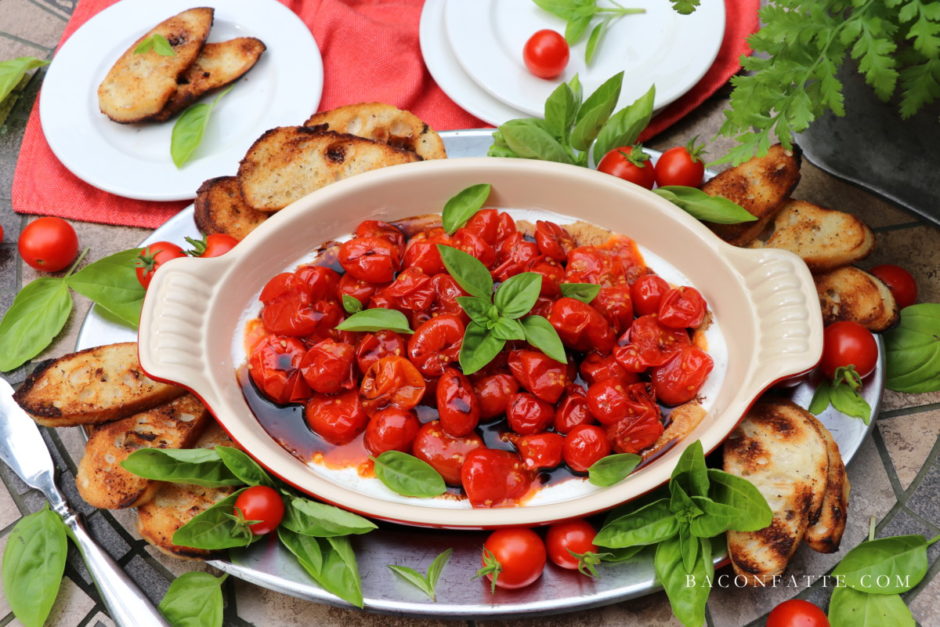 Every time she visited, she brought food, wine and friendship. She made our big crazy move more pleasant just by being there, and she made many of our sunset cruises together in beautiful San Diego Bay an absolute joy.
Kathy is an amaaazing cook. One of her many culinary talents is whipping up the simplest dishes in an unbelievably delicious way. This Roasted Cherry Tomatoes and Goat Cheese Spread is one of those dishes.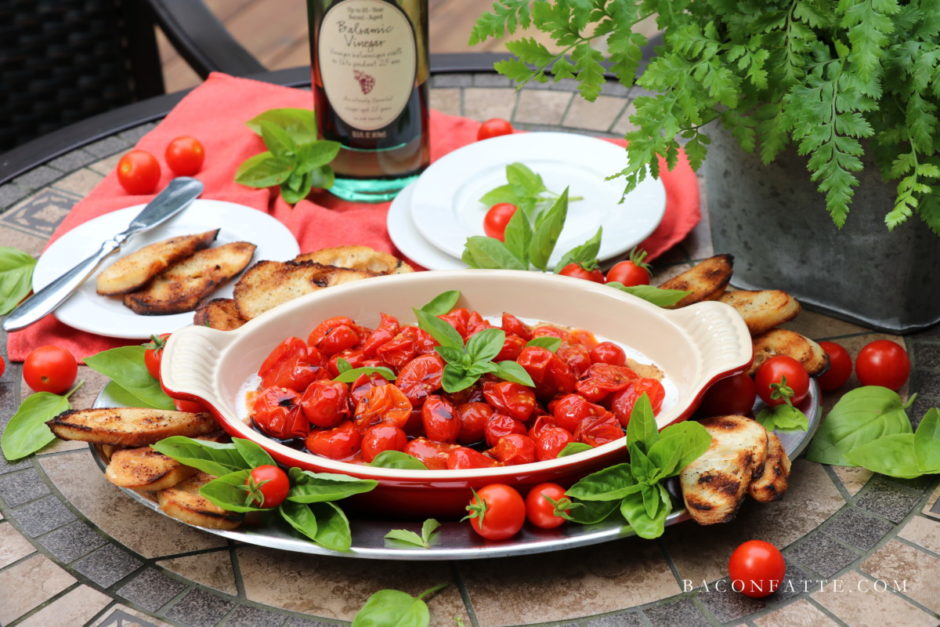 The first time she brought this goat cheese spread to our boat/home, I think I ate most of it myself… It was everything my palate was craving all in one absolutely beautiful little dish.
While our move to San Diego was brief, this is one of the many wonderful things that came from the experience. Despite the months of craziness, packing and moving that lead up to it all – as well as the whirlwind return to Minnesota – we'd do it all over again in a heartbeat. Life is too short not to take chances, and we don't regret having taken this chance one bit!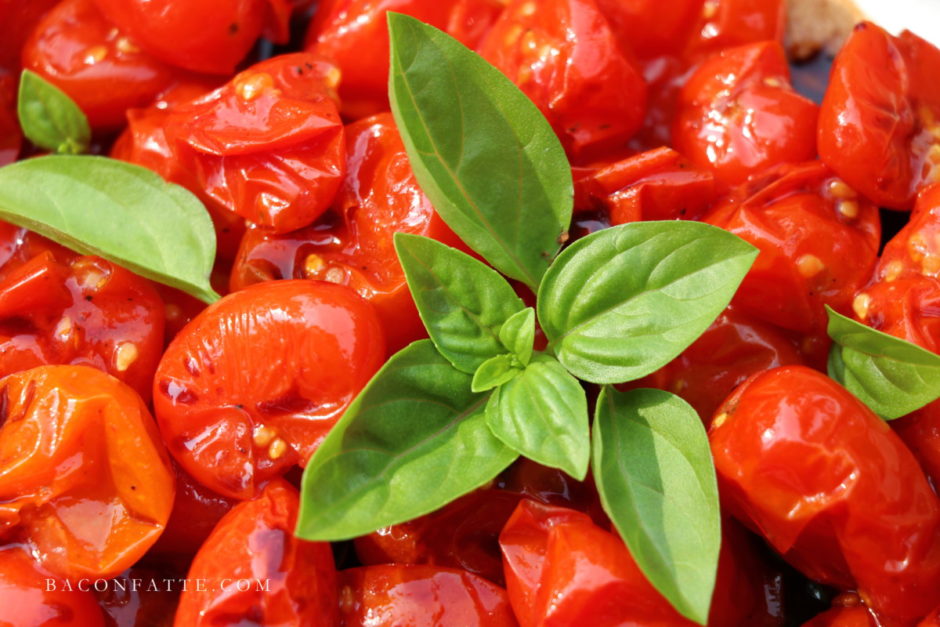 Speaking of chances, there isn't a chance in the world that you won't love this recipe as much as I do if you love fresh tomatoes and tangy goat cheese.
There are only a few ingredients in this Roasted Cherry Tomatoes and Goat Cheese Spread recipe, and it takes very little effort to make, but it looks and tastes like a million bucks. Use garden fresh cherry tomatoes and your favorite goat cheese, then finish it all off with the best sweet balsamic you can find. I just know you and your guests are gonna love this!
Enjoy!
Roasted Cherry Tomatoes and Goat Cheese Spread with Fresh Basil and Balsamic Drizzle
Fresh cherry tomatoes and tangy goat cheese pair brilliantly with sweet balsamic vinegar to make this simple and beautiful spread. It's perfect for any time of the year!
Recipe from:
Michele Phillips, BaconFatte.com
Ingredients
2½ - 3 cups cherry tomatoes (about 1 pound)
3 tablespoons good quality olive oil
10 ounces goat cheese, slightly softened
¼ cup good quality balsamic vinegar – or more/less to taste
10 - 15 fresh basil leaves
You'll need:
1 rimmed sheet pan
aluminum foil (optional)
a 6.5 x 9" casserole/serving dish – or similar
Preparation
Preheat oven to 250 degrees Fahrenheit.
Toss whole cherry tomatoes with 3 tablespoons of olive oil, a pinch of salt, and fresh ground pepper. Line a rimmed sheet pan with foil (optional). Spread the seasoned tomatoes on the sheet pan, and roast for 45 minutes. Carefully remove the hot pan from the oven after 45 minutes to check doneness – tomatoes should just about be at the bursting point. Place them back in the oven for another 15 minutes. Remove pan again, toss, and this time carefully press down on the tomatoes with a spatula to smash them. Toss again to combine tomato juices with oil and seasoning, and place the pan back in the oven. Repeat roasting and tossing until (1) all of the tomatoes burst easily, and (2) the tomato juices reduce and reach a thick, syrup-like consistency. Allow to cool before spreading tomatoes on top of goat cheese.
Spread goat cheese on the bottom of the casserole dish, and spoon the tomatoes evenly over the top. Drizzle with balsamic, and garnish with basil. Serve with grilled or toasted baguette or your favorite crackers.
Best served at room temperature. See notes below for more serving information.
Cook's Notes:
*Making this ahead? Roast the tomatoes and allow them to cool completely; place in small covered bowl and refrigerate until needed. Spread the goat cheese in your serving dish and refrigerate until needed. Just before serving: Allow roasted tomatoes and goat cheese to come to room temperature. Spread the tomatoes on top of the goat cheese, drizzle with balsamic, and garnish with plenty of fresh basil.
*Basil is a must with this dish, so make sure to serve with plenty of it! The delicate leaves bruise quickly, so it's best to use whole leaves or tear/chop/chiffonade just before serving.
Looking for more bright, beautiful appetizer options?
Grilled Summer Garden Toasts – perfect with chilled white wine on a warm summer day!
Easy Garlic Herb Tomato Jam – wonderful with cheeses and crackers, or as a sandwich and burger spread.
Clean Green Goddess Dressing – amazing drizzled over grilled asparagus and other veggies, and also makes a wonderfully guilt-free dip for fresh veggies.
Corn Saute with Fresh Ginger, Garlic and Cilantro – totally crave-worthy on it's own as a side, and equally as good with chips and salsa, or as a taco topping.
Cilantro Lime Yogurt Sauce – so good with grilled meats and veggies, and drizzled on burgers, sandwiches and tacos!
Mango Cucumber and 3-Pepper Salsa – the freshest, brightest salsa you could possibly want… So good with chips, and absolutely wonderful with grilled chicken and fish!
Mashed Green Pea Spread with Lemon, Chives and Garlic – delicious on toasts or crackers, and it makes a fabulous sandwich spread, too!
Roasted Cherry Tomatoes and Goat Cheese Spread 
I'd love to know how you liked this recipe!
Leave a note here on the blog in the comments below, or share your creations and ideas on Facebook, Pinterest, Instagram, Twitter, and/or Google+ .
Make sure to hashtag #baconfatte or tag @baconfatte in your social media posts!