There's something about making sure each layer of a dish has your flavor signature on it. Knowing every ingredient that went into making the magic you're serving makes all the difference.
This ingredient is just such magic. My mother told me about this olive oil recipe several years ago. She saw it on a cooking show, and it's been a staple in her kitchen ever since. Recently, a friend of mine who regularly performs magic in her kitchen mentioned it again, and my interest was piqued even further.
The "Liquid Gold" they were talking about is a recipe from Chef Rick Bayless. He calls it Slow Roasted Garlic Mojo, or Mojo de Ajo. With just four simple ingredients, he created something brilliant that can be used as a base oil for sautéing or a finishing oil that adds just the right amount of richness, and everything in between.
If you're a garlic fanatic like I am, you're going to love this. I made a couple small adaptations because I happened to have an obscene amount of garlic on hand. I also felt that a few extra "pops" of fabulousness would take it over the top for what I wanted to use it for. And they did.
What started out as a bunch of crushed garlic and some oil ended up as the perfect meal maker. It takes a little time, but you can easily make it while you're already in the kitchen making dinner, and it's so worth the effort.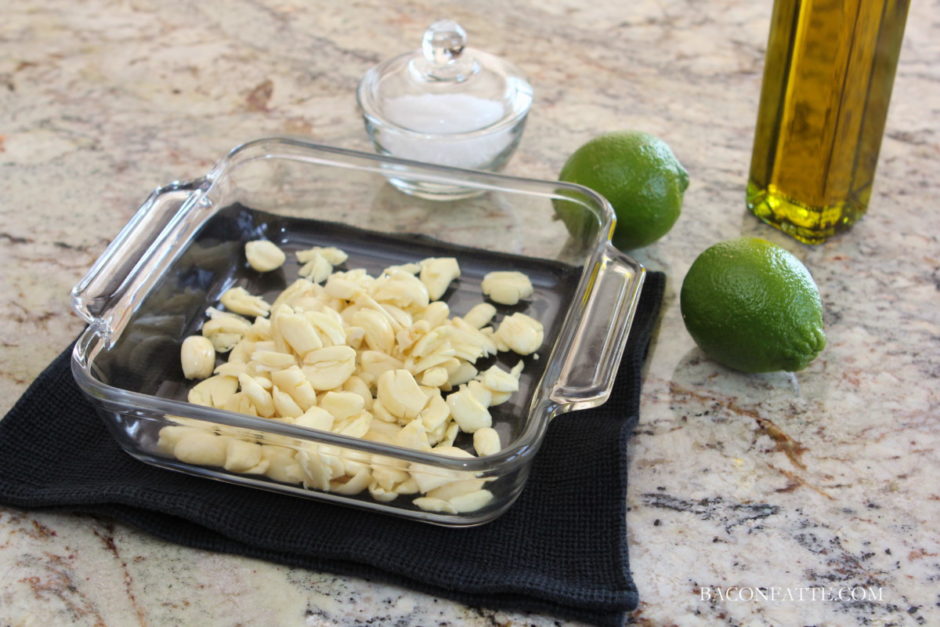 It all takes place in an oven-proof 8×8 pan – or something similar.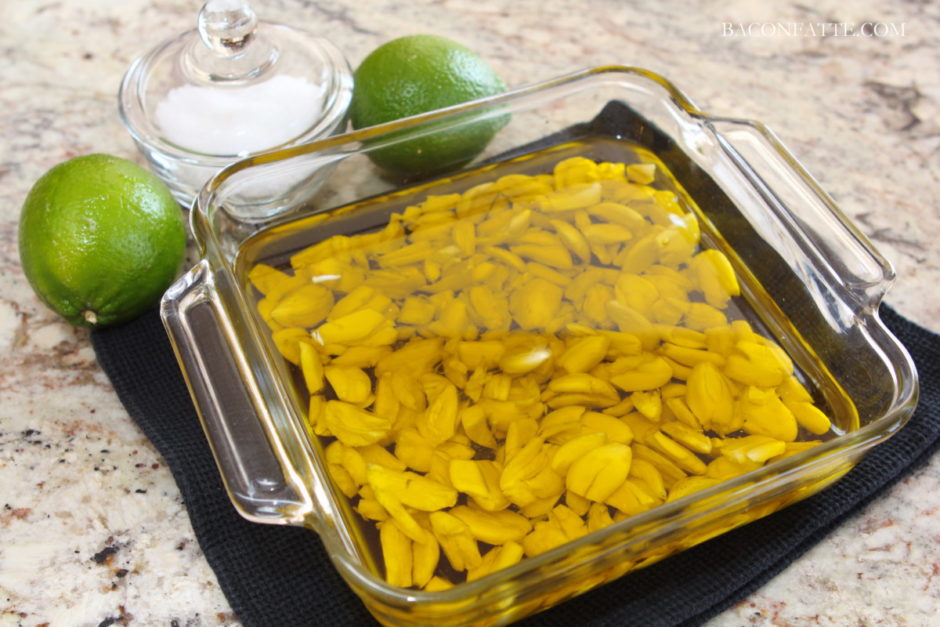 Chef Bayless' recipe just calls for lime juice but the limes I found at our local market were so fresh and beautiful, I just had to use their beautiful bright green zest, too.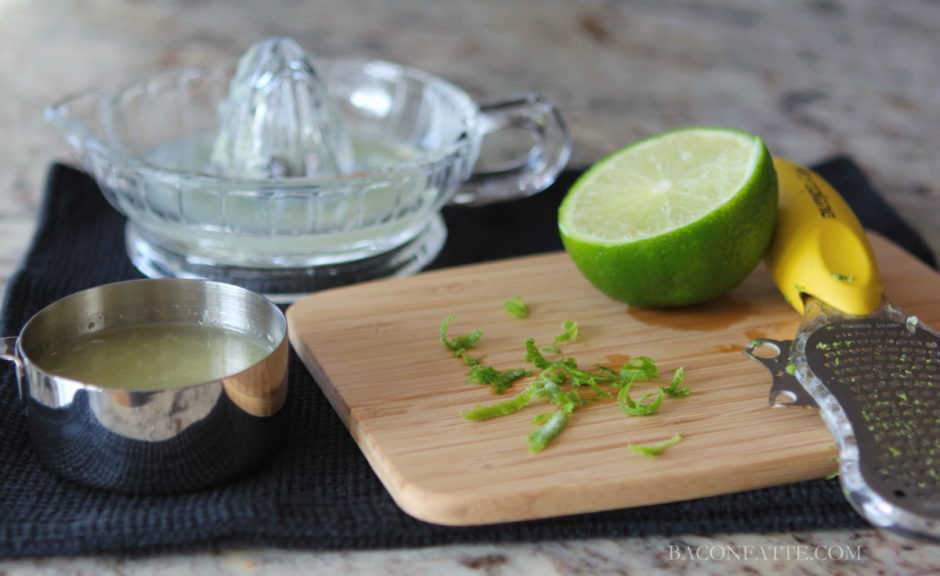 Pepper is its own food group in our household. I love its warmth and felt some fresh ground pepper and a few peppercorns would punctuate this oil nicely. While juicing and zesting the limes, I added the pepper to the lime juice as well as a little extra sea salt to round out the flavors. The extra sea salt was an afterthought, and knowing I added it here, I won't add as much to the dishes I'm using the oil in so sodium levels don't get out of hand.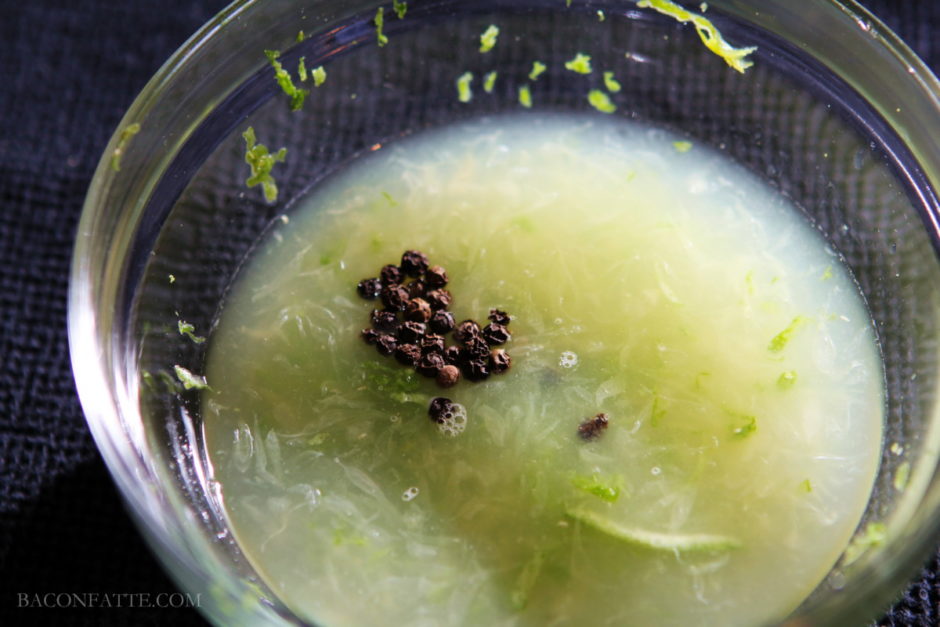 In the second step of the process, when you bring the pan of roasted garlic and oil out of the oven, you'll see – and smell – the magic. For garlic lovers, the warm, rich aroma of roasted garlic is heavenly all on its own, but the lime and lime zest adds bright citrus notes to the occasion. It's a beautiful thing.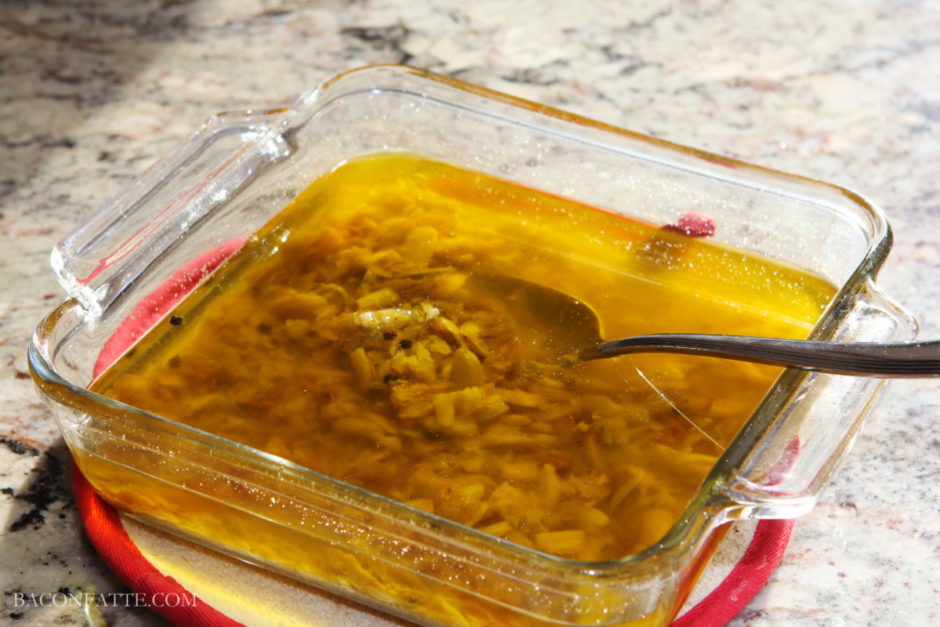 When it's finished in the oven, let it cool on the counter before putting it into a glass container for safe keeping.
By the way, if you've ever seen those bulk bags of peeled garlic at warehouse club stores and wondered what in the world anyone would ever do with that much garlic, this would be first on my list!
Once the Roasted Garlic & Lime Olive Oil is done, the options are endless.
Toss the oil and garlic into some pasta. Add fresh grated cheeses and some herbs and you've got a quick, wonderfully flavorful lunch or dinner.
Use as a salad dressing. Add more fresh lime juice, lemon juice, white wine vinegar, or other ingredients to the oil to make a luxurious vinaigrette.
This olive oil is wonderful for sautéing vegetables, shrimp, scallops, calamari, chicken, pork and beef for soups, casseroles, and stir fries!
Enjoy the marinated garlic chunks with grilled or broiled pepper-crusted steak, add them to mashed potatoes for a uniquely flavorful garlic mash, or use them in a chimichurri sauce to add another layer of rich flavor.
Rub some fresh kale with this garlic and lime-flavored olive oil and roast the kale for a few minutes for an amazing garnish or side dish.
Use this olive oil to roast potatoes, carrots, parsnips, beets, squash, and zucchini. Finish by tossing the roasted vegetables with fresh parsley or other herbs for a beautiful side.
This would also make a wonderful handmade gift. "Bottle" it in pretty glass jars or ceramic canisters, label and embellish as you wish, and, voilé! The perfect prezzie for foodie friends.
Enjoy!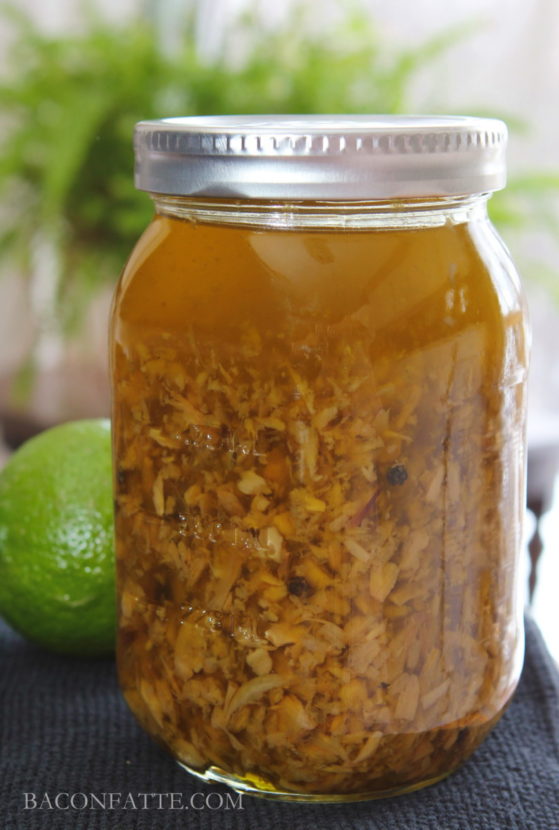 Roasted Garlic and Lime Olive Oil
Garlic lovers, this one's for you! This olive oil is perfect for sautéing, grilling, roasting, and stir frying vegetables and meats. It's perfect for pastas and dressings, too. The options are truly endless!
Recipe from:
Michele Phillips, BaconFatte.com
Ingredients
2 cups fresh garlic, peeled and trimmed
3 cups extra virgin olive oil
1 - 2 teaspoons sea salt, to taste
1 teaspoon freshly ground black pepper
1 teaspoon black peppercorns
½ cup+ fresh lime juice (approximately 2 fresh limes)
Zest from 1 or 2 limes, to taste
Preparation
Heat oven to 325 degrees F.
If you're using fresh garlic, pound each clove beneath a wide knife blade to remove the skin and lightly crush the cloves. If you're using bulk/peeled garlic, just lightly crush the cloves and proceed. In either case, make sure to trim the cloves. The root end of the clove is tough and won't generally "melt away" in your dishes like the rest of the clove will.
In an 8x8" baking pan, combine the garlic, olive oil and salt, making sure all of the garlic cloves are covered with oil. Roast for 45 minutes or so until the garlic is soft and lightly browned.
Remove the pan from the oven and add the lime juice, lime zest, freshly ground black pepper, peppercorns and the (optional) second teaspoon of sea salt. Carefully blend all the ingredients with a heat resistant spatula and return the pan to the oven. Roast for another 20 minutes. In the end, the mixture will be a rich, golden brown.
When it's done roasting, lightly mash the garlic in the pan with a slotted spoon or fork. The garlic cloves will break down considerably in the roasting process, but they'll still have a fair amount of texture. Chef Bayless uses the term "course puree" to describe the final consistency, so feel free to smash as much or as little as you wish.
Allow the mixture to cool before transferring it to a glass or ceramic container. Store your fabulously fragrant gourmet oil in the refrigerator to keep it fresh. The crushed garlic cloves will settle with time – just spoon or ladle desired amounts of oil and/or garlic into dishes when needed. As long as the garlic is covered in oil, the "mojo" will last for up to 3 months. Enjoy!
Cook's Notes:
I usually use this olive oil up within a month or so. You can also freeze it in ice cube trays (then transfer the olive oil cubes to a freezer bag) to keep it on hand longer!
Recipe slightly adapted from Chef Rick Bayless'
Slow Roasted Garlic Mojo
.
I really hope you try this easy recipe, and I'd love to hear what you did with it! 
Let me know by commenting here on the blog or sharing it on Facebook, Pinterest, Instagram, Twitter,and/or Google+… Make sure to hashtag #baconfatte or tag @baconfatte!