It's true that food and memories are deeply connected, and this salmon taco recipe is a compilation of several memories.
Starting with a dish that I thoroughly enjoyed in Sonoma, California several years ago (before my food blog, and before I learned to take better note of flavors that I enjoyed). I remember ordering it because the menu description was so elegant, and because "grape sauce" just sounded so perfectly wine country-ish.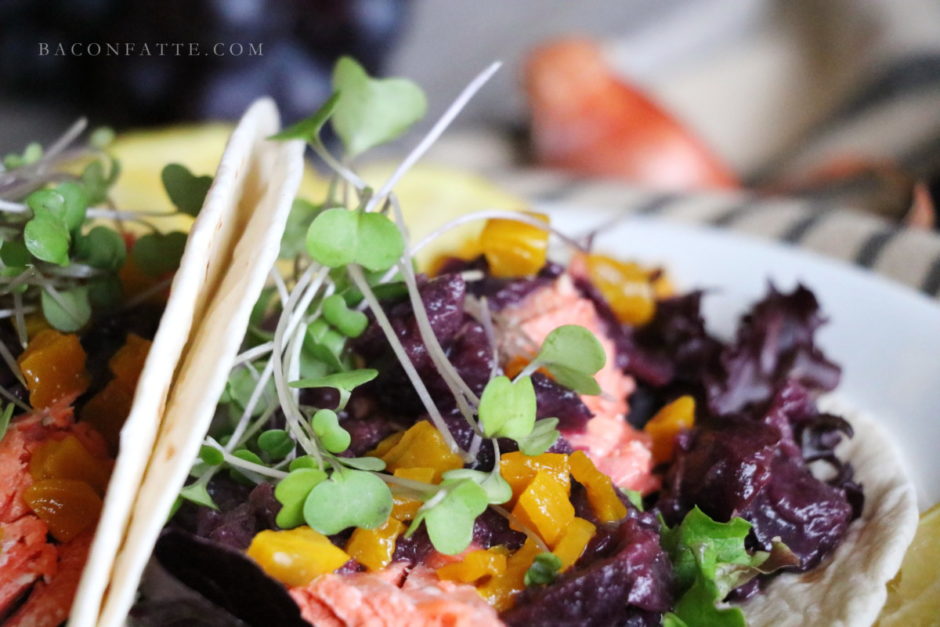 When the dish arrived at our table, and I recall thinking that my elegantly-described wine country dish looked more like a heavily dressed salad than what was outlined in the menu. Still, it was delicious.
Years later, sometime in 2013, I was reminded of that wine country dish when I attended a wedding tasting for my friends Chuck and Kim. One of their selections was salmon with a grape sauce. It, too, was delicious (as expected, because Chuck and Kim are excellent cooks and they have fabulous taste).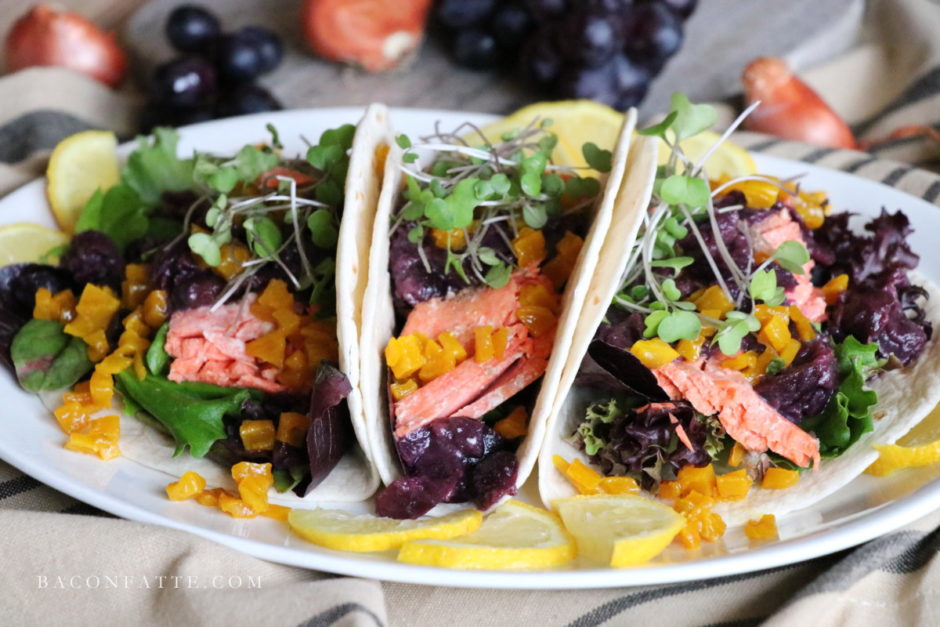 Sometime after that, I made my own grape sauce. The notes from the first round were rough, but the memories and flavors that inspired them still clear. I used white wine at first, and added and subtracted herbs and other ingredients based on recipes online trying to achieve complex flavors. Several rounds followed until I landed on what I felt was the perfect combination of savory and sweet.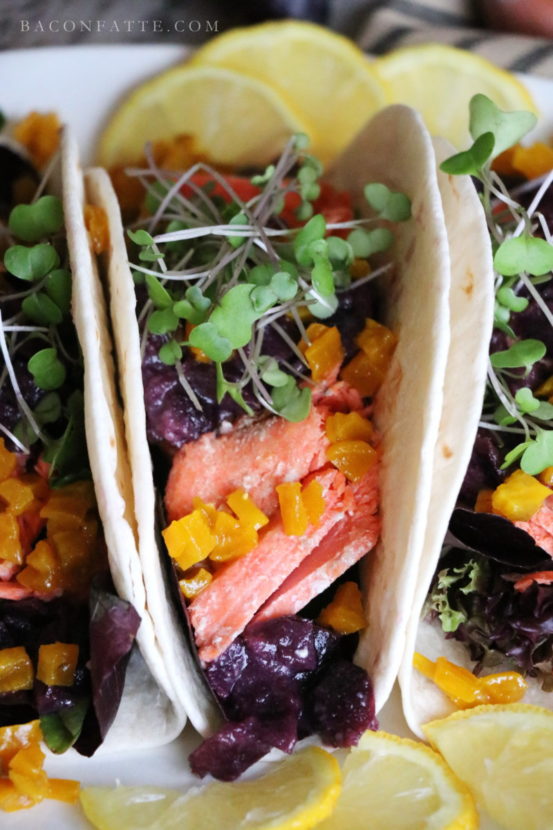 As it turned out, the complexities I was looking for came about simply. Fewer ingredients. Less fuss. Perfect.
Given the dark, rich color of the sauce, I wanted to pair it with colorful ingredients that reminded me of Sonoma. And, of that comfortable, happy feeling you have when you're in the company of good friends.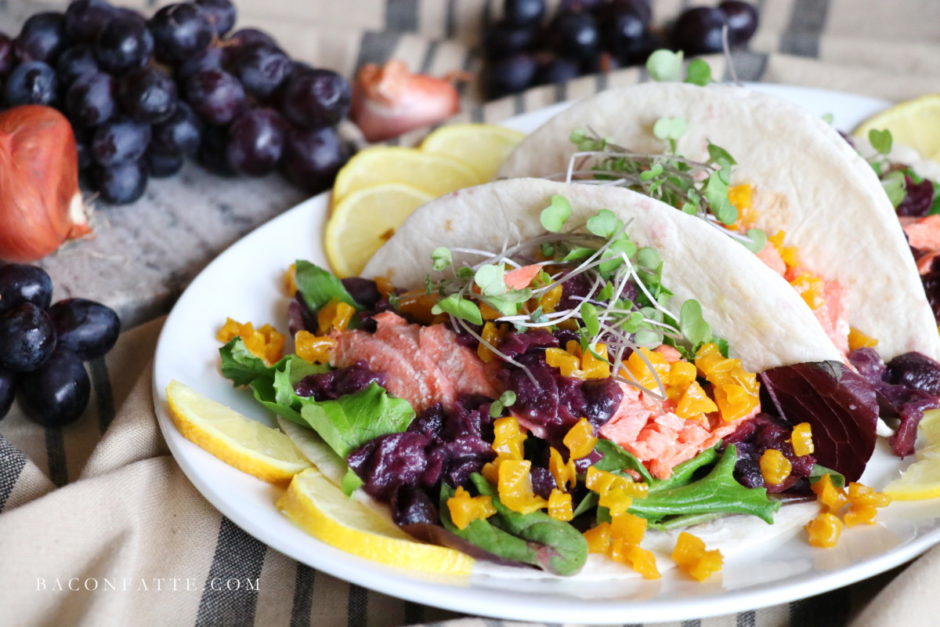 Fresh salmon brought both flavor and color to the table. And the sautéed golden beets are like bright little bites of warm sunshine. Each element plays well with the others… Each brings color and flavor and texture that, together, are divine.
When preparing the ingredients (which are a bit over-worded given the simplicity of this recipe, but nonetheless intended to be helpful), keep in mind that everything can be made ahead. While salmon is technically the main ingredient, and is therefore listed first in the ingredients and instructions, consider making this recipe backwards.
Start with the sauce, then the beets, and then do the salmon…
Although this is an easy recipe, it's easy to get distracted. If everything else is done, you can make sure the salmon is cooked perfectly and allowed to rest before serving.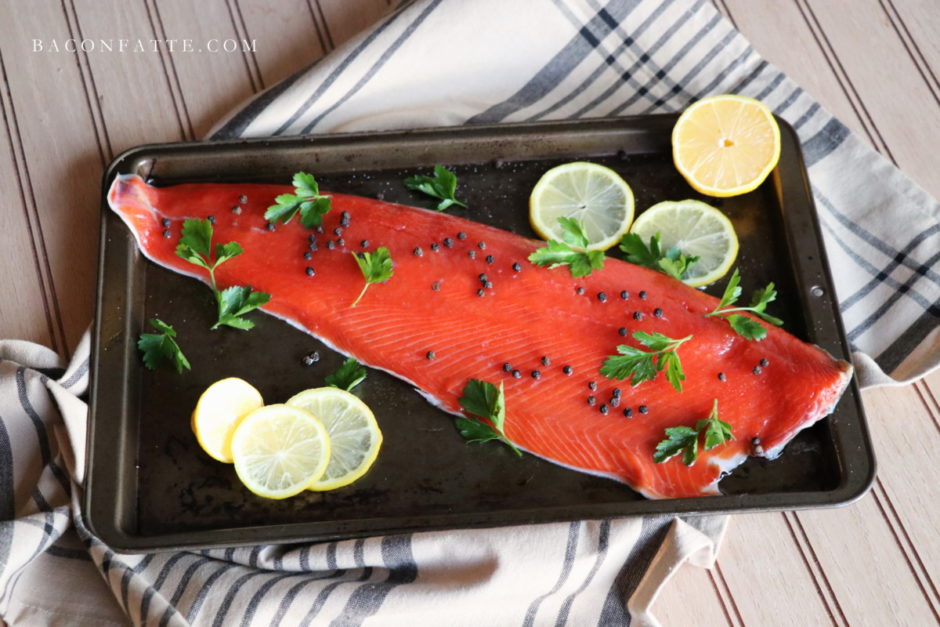 Start with the sauce. While that's simmering, dice up your beets and sauté them. Then prepare your salmon. Although these tacos are completely delish with all the ingredients at, or just slightly above, room temperature – which makes them perfect for entertaining. Ideally, the salmon should be warm (but not hot) when you put the tacos together. The same goes for the cooked beets and sauce. The ingredients shouldn't be cold (i.e., right out of the refrigerator), or so warm that they completely wilt the lettuce upon contact… just slightly warmed so the flavors come alive and melt in your mouth with each wonderful bite.
Enjoy!
Roasted Salmon Tacos with Golden Beets and Black Grape Sauce
Roasted Salmon Tacos with Black Grape Sauce are colorful and flavorful, and they're easy to make (and make ahead) for guests or a nice weeknight dinner!
Recipe from:
Michele Phillips, BaconFatte.com
Ingredients
For the Salmon
1 pound fresh salmon
Olive oil
Fine sea salt & freshly ground black pepper to taste
1 lemon, divided
4 cups organic spring mix (mesclun) greens, loosely packed
8, 4-5" soft white corn or flour tortillas
Kale or other fresh microgreens
For the Beets
1 medium-sized golden beet, peeled and diced
1 tablespoon butter
Fine sea salt & freshly ground black pepper to taste
For the Black Grape Sauce
3 tablespoons butter
1 pound fresh black or dark red grapes (about 2 heaping cups), washed and halved
1 shallot, halved & thinly sliced or finely chopped (about ¼ cup)
¼ cup white wine vinegar
Fine sea salt & freshly ground black pepper to taste
Preparation
For the Salmon
Preheat oven to 400 degrees F.
Line a baking sheet with foil, and rub salmon completely with olive oil. Drizzle with juice from one half of the lemon, season with salt and pepper to taste, and roast in a preheated oven for 15 minutes, or until salmon flakes apart easily with a fork.
For the Beets
In a small sauce pan, melt 3 tablespoons of butter over medium heat. Place diced beets in the pan and sauté for about 15 minutes or until tender with just a bit of crunch. Season lightly with salt and pepper if desired.
For the Black Grape Sauce
In a small, lidded pan, melt the butter over medium heat. And add the halved grapes, shallots, and white wine vinegar. Stir well using a heat-resistant spatula, and cover. Cook for about 20 minutes, stirring every five minutes and gently smashing the grapes with the spatula as they cook down. Sauce will be thick (not runny) with just a small amount of liquid when done. Season to taste.
Cook's Notes:
*The salmon, beets and sauce can be cooked in advance and stored overnight in air-tight containers in the refrigerator. Warm slightly before serving.
*Sauce recipe makes about ¾ cup.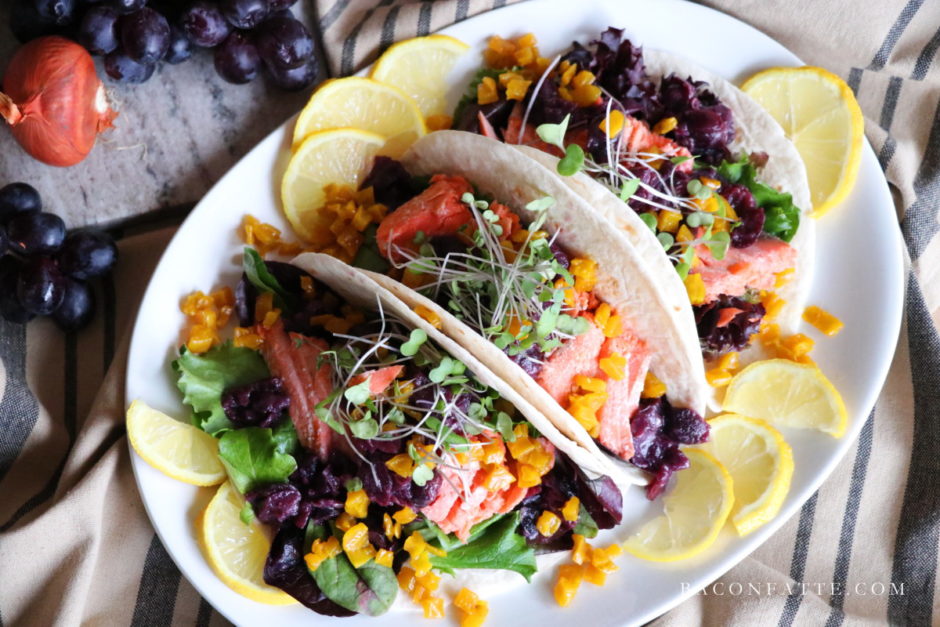 If you're making these salmon tacos, let me know!
Feel free to leave a note here on the blog in the comments below, or share your creations on Facebook, Pinterest, Instagram, Twitter, and/or Google+ .
Make sure to hashtag #baconfatte or tag @baconfatte in your social media posts!