This 'Signature' Butternut Chowder with Corn, Sage and Bacon is quite literally one of my favorite recipes of all-time. It's so flavorful and delicious! Serve it as a main course or a side dish anytime of year – it's just as wonderful warm as it is at room temp.
I'm not sure how important things have to be before they can be rightfully designated a "signature" item in one's life, but in my book, this divine little butternut chowder warrants the title for many reasons.
To start with, it's good. Really, really good. You can't beat the fairly "clean" ingredient list and bright, appealing colors and textures. It's also an easy recipe to make – totally forgiving, and completely customizable. And, it's fabulous in any season just the way it is or with whatever variations* you can dream up.
This butternut chowder is a great make-ahead dinner party dish because, like most soups and chowders, it tastes even better after it's had time to season through. As a take-along item for lunch or pot lucks, it travels well and tastes great at room temp.
It's also an incredible accompaniment for a wide variety of mains. We recently had it with grilled chicken simply seasoned with sea salt, freshly cracked black pepper, a little onion powder, and smoked paprika. The sweet and savory flavors in this chowder played wonderfully well with the hint of heat in the chicken seasoning. It's also delicious served with sage-crusted pork loin for a dinner party!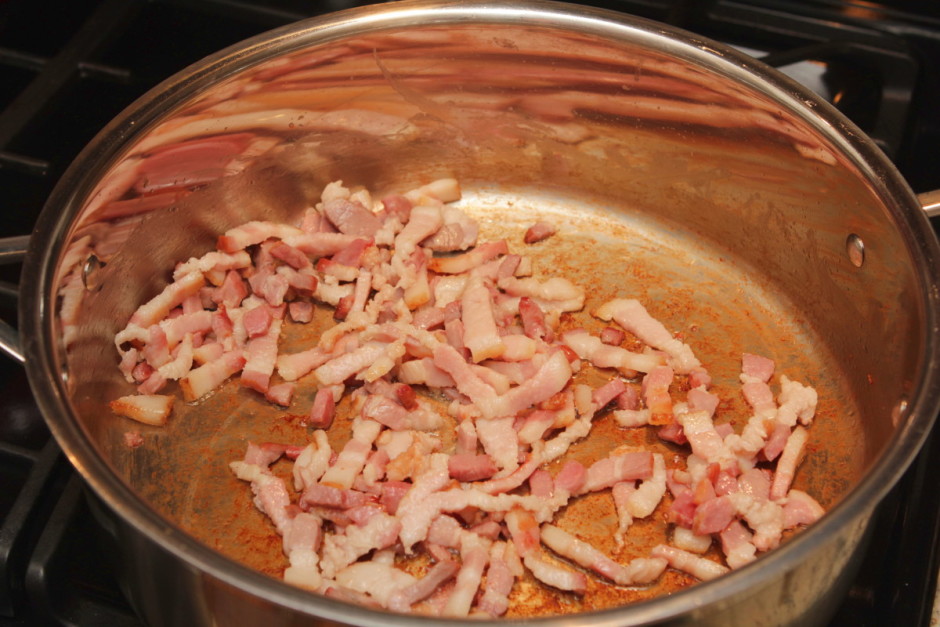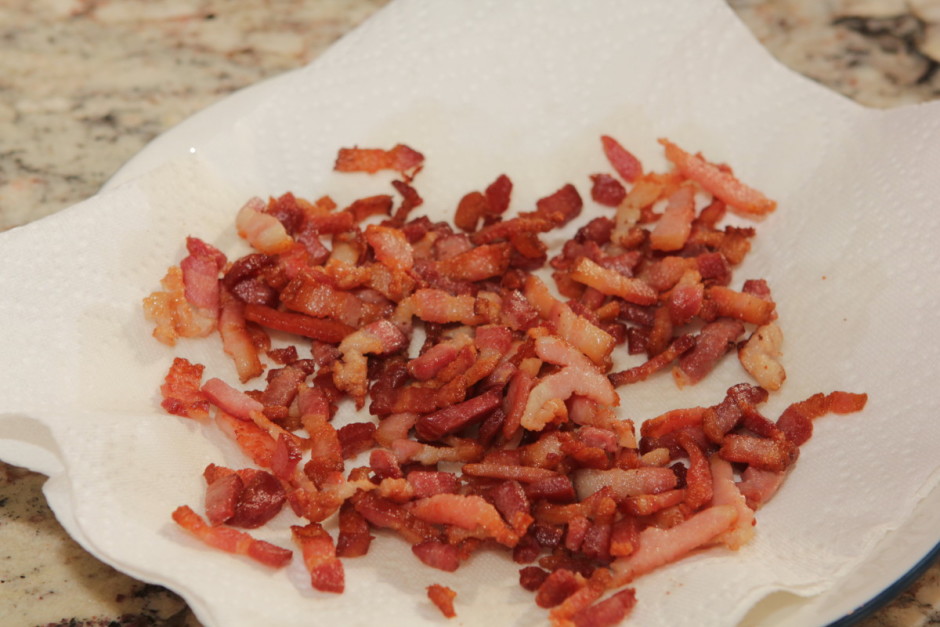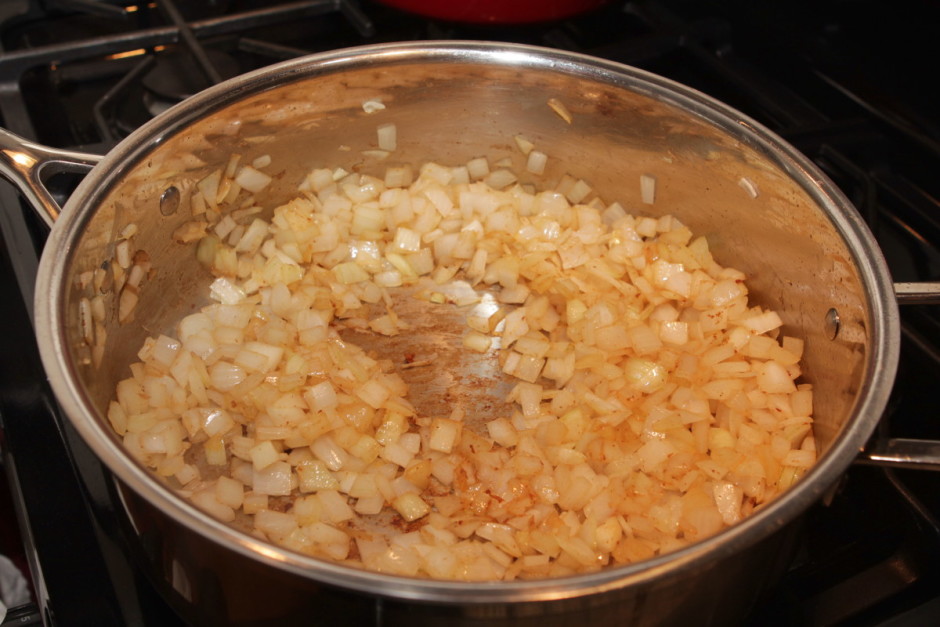 The biggest reason this butternut chowder is so special (to me) is because it brought us here! The recipe is from a long-time friend who shared it as a wedding shower favour. My head and heart fill with all kinds of happiness just thinking about how this one, simple dish has impacted my life. It will always be among my favorite things for a variety of reasons, but now being able to share it with you is my favorite thing of all!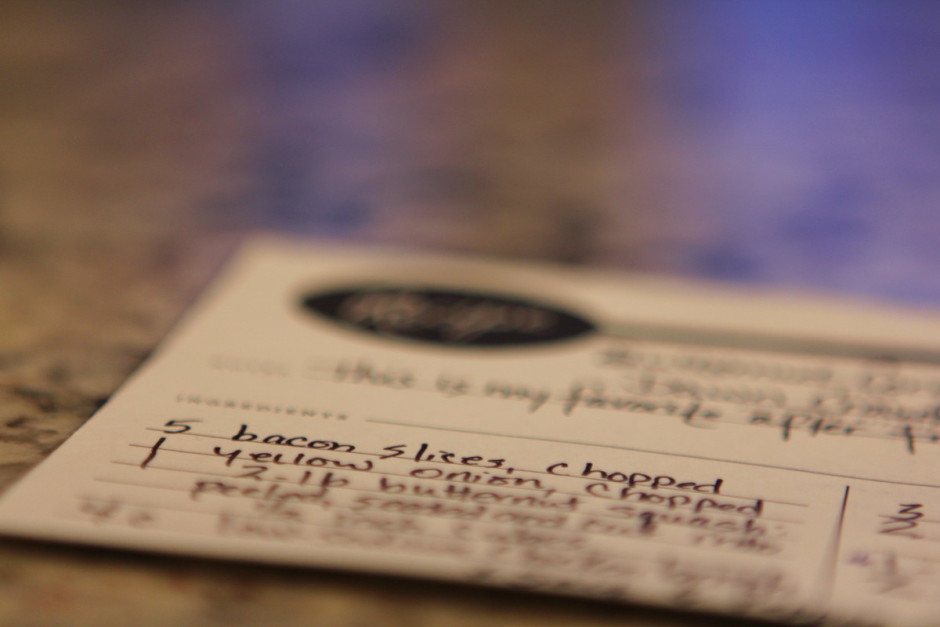 Mise en Place: If you're the kind of person that likes to whiz right through a process, definitely do all of your chopping and prepping in advance and this lovely butternut chowder will come together quickly.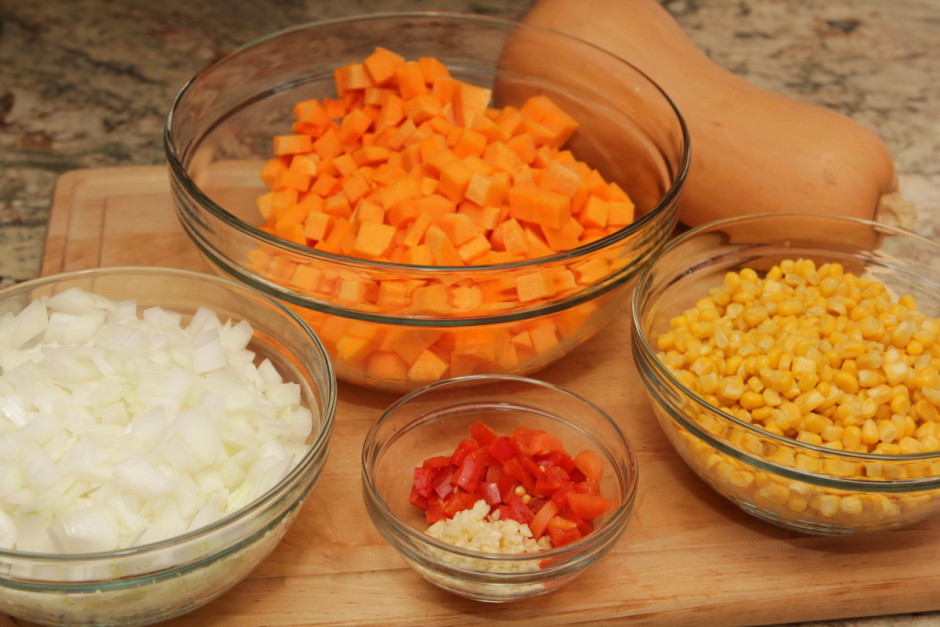 As always… Enjoy! 
Signature Butternut Corn Chowder with Sage and Bacon
With fresh, rich flavors and colors, this easy-to-make chowder is sure to be a favorite anytime main or side dish. | Recipe from
BaconFatte.com
|
Recipe type:
Soups and Chowders
Serves:
Approximately 8 cups of chowder (4 - 6 servings)
Ingredients
7 slices of bacon, chopped (if serving formally, allow at least one slice of bacon per serving)
1 large yellow onion (1½ - 2 cups chopped)
1, 2-pound butternut squash peeled, seeded, and cut into ½-inch cubes (about 7 cups cubed)
4 cups low-sodium chicken broth
3 cloves of garlic, finely chopped
2 teaspoons canned red chipotle peppers (plain or in adobo sauce), finely chopped
2½ - 3 cups fresh or frozen, white or yellow corn kernels
2 teaspoons fresh sage, finely chopped
Salt and fresh-cracked pepper to taste
Additional fresh sage sprigs or small leaves for garnish
Preparation
In a large sauce pan, cook the bacon until it's as crispy as you like it. Note: The bacon is used as a garnish. You can either cut it into small pieces prior to cooking (per the prep photos), or you can slice or crumble it up after it's cooked to sprinkle on top of the chowder.
Place cooked bacon on a paper towel-lined plate to absorb any excess grease and allow it to cool. Leave about 1 tablespoon of rendered fat in the pan.
Add the chopped onion to the pan and sauté just until the pieces start to get tender and translucent. Then add the chopped squash, chicken broth, and chopped garlic and chipotle peppers to the pan and simmer over medium heat for about 20 minutes until the squash is tender.
Add the corn and finely chopped sage to the sauce pan and stir well. Simmer for an additional 8 minutes until corn is cooked.
Spoon about 3 cups of the soup into a heat-proof bowl. Then, using a food processor immersion blender, purée until smooth. (This gives the chowder a wonderfully creamy texture without adding heavy cream or other fats.)
Finally, pour the puree back into the sauce pan with the rest of the soup. Stir well and season to taste with salt and fresh-cracked pepper.
When ready to serve, spoon servings into bowls and garnish with bacon and fresh sage sprigs or leaves. Note: If leaves are larger, chop or chiffonade them so they're easier to eat.
Cook's Notes:
-Add more chopped bacon into the chowder as well for even richer flavor.
-Use a variety of different kinds of squash.
-Adjust onions and garlic to suit your preferences.
-Experiment with different kinds of fresh or canned peppers, and feel free to turn up the heat if you'd like.
-Grilled corn brings a nice smoky flavor to the mix.
-Recipe adapted from a version originally published in
Delta Sky Magazine
.
Want to find out how to
chiffonade
sage leaves? Here's a quick tutorial!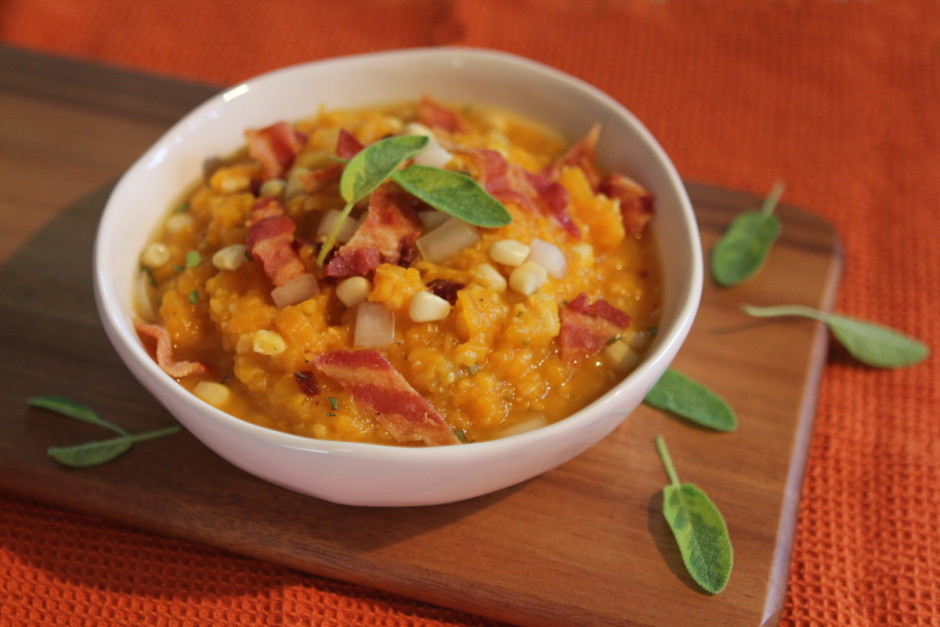 Making this Signature Butternut Chowder with Corn, Sage and Bacon?
I'd love to know how you enjoyed it!
Leave a note here on the blog in the comments below, or share your creations and ideas on Facebook, Pinterest, Instagram, Twitter, and/or Google+ .
Make sure to hashtag #baconfatte or tag @baconfatte in your social media posts!