Our favorite seafood purveyors have a knack (as would be expected) for finding recipes that make you want to just run right over and grab whatever they're featuring. They shared this salmon butter recipe recently and we absolutely love salmon, so naturally the wheels started turning and we whipped up a batch very soon after.
It's butter. And salmon. Any questions?
In addition to the inspiration we found in this recipe, we took a que from our own favorite way of preparing fresh salmon: Lightly seasoned with salt and pepper, and grilled with fresh scallions and lemon wedges. That's it. It's so simple, and the scallions and lemon provide the perfect accent flavors for a gorgeous piece of salmon.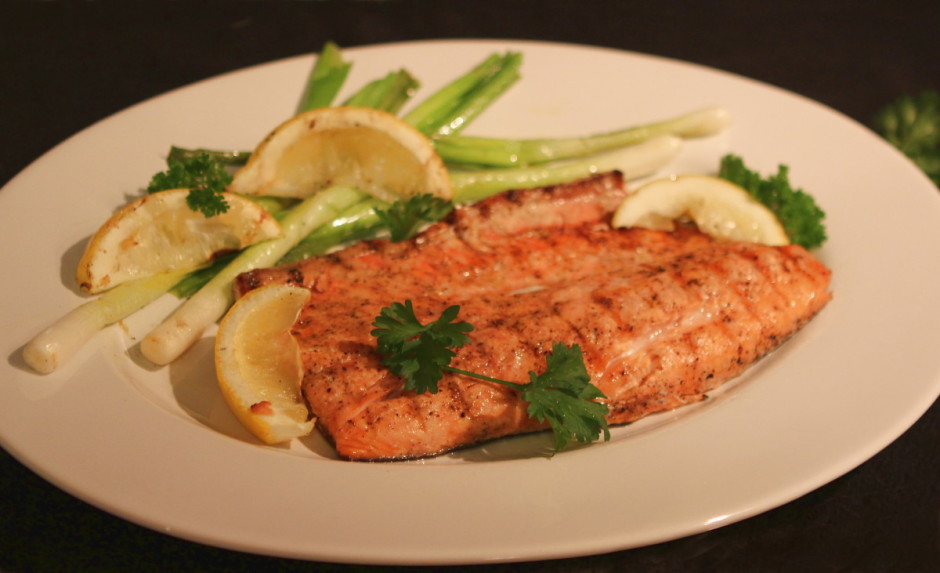 We decided to add those flavors to this delicious compound butter, and it was so, SO good!
It's "fancy" enough to serve for a dinner party, and simple enough to enjoy as a tasty treat any day of the week.
Spread it on crackers, soft bread or toast. Enjoy the spread alone or create open-faced finger sandwiches by adding slices of smoked salmon, sliced tomatoes, onions, and/or mild white cheeses such as Comte, Havarti or Cheddar. Heavenly!
Here are some other ways to enjoy this simple butter as well:
Melt over freshly cooked salmon fillets or salmon burgers for uber salmon-y flavor
Melt over cooked steak to impart deliciously unique "surf and turf" flavors
Toss with warm, cooked asparagus or other vegetables
Toss with freshly-cooked pasta; add chunks of salmon and fresh peas, onion and spinach for a quick, delicious meal
Make Salmon Butter Toasts or big, fabulous pan-fried croutons for your favorite salad (like a beautiful Salmon Nicoise, perhaps?)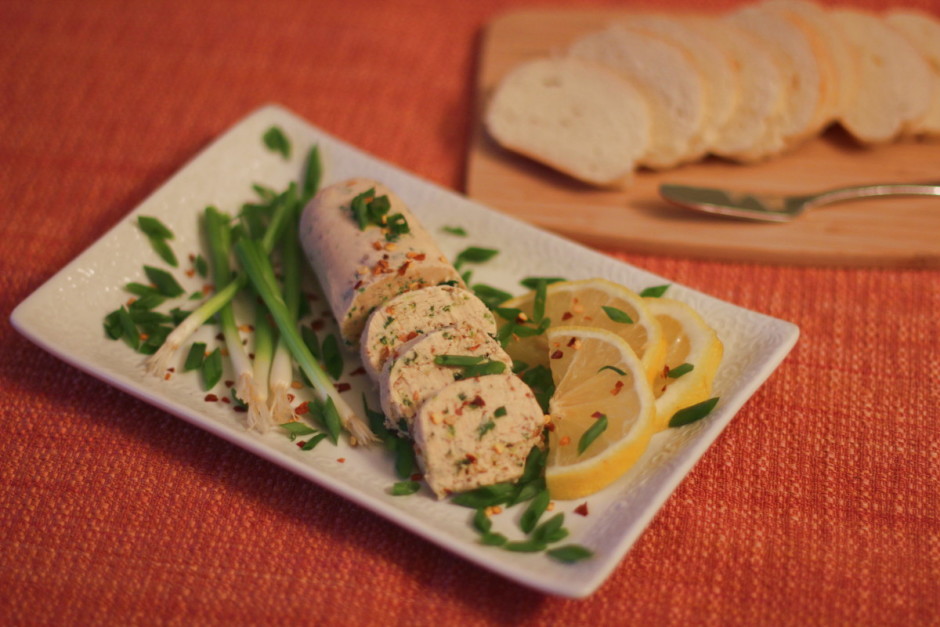 About the "smoked" part of this recipe:
We grill every chance we get because grilling is one of my husband's favorite hobbies. He's also mastered the art of smoking meats and cheeses on our Big Green Egg grill. (To give props where props are due, he's brilliant when it comes to creating flavors and fabulousness on the grill. Absolutely brilliant, I say!) So when I mentioned this recipe, he jumped at the chance to do his magic with the lovely little piece of salmon that we picked up for it. He added a delicate cherry smoke to the mix and soft smoked it to perfection. We each tried a bite of the salmon before adding it to the butter recipe and wished we had more… It was tender and moist and divinely delicious – one of the best bites of salmon we've ever experienced.
Oh, but I digress… We're clearly a little fanatical about these things, but you can certainly just pick up some good quality smoked salmon from your local fish monger and go about your merry, salmon butter-making way. If you're not into smoked flavors, use grilled, steamed, or roasted salmon instead. It'll be just as wonderful!
A few notes about preparation:
You can definitely use a food processor or mixer to combine the ingredients – especially if you're making multiple batches for multiple functions or to give as gifts. Otherwise, just finely chopping the ingredients and using a rubber spatula to combine them with the butter works perfectly well – and you'll have less clean-up in the end.
Enjoy!
Smoked Salmon Butter with Scallions and Lemon
This delicious compound butter adds wonderful flavor to breads and toasts, meats, vegetables and pasta. It's easy to make and freezes well so you can keep it on hand for meals and entertaining.
Recipe from:
Michele Phillips, BaconFatte.com
Ingredients
½ cup (about 2 ounces) smoked salmon, finely chopped
2 tablespoons scallions - white and green parts, finely chopped
½ cup (1 stick) unsalted butter, room temperature
1 tablespoon fresh lemon juice
½ teaspoon fresh lemon zest
⅛ teaspoon kosher salt, + more to taste
⅛ teaspoon fresh-cracked black pepper, + more to taste
Garnish
4+ tablespoons scallions, thinly sliced at an angle
A pinch or two of crushed red pepper flakes, to taste
Preparation
In a medium glass bowl, add the finely chopped salmon and scallions, butter, lemon juice, zest, and salt and pepper. Combine all ingredients well with a rubber spatula.
Allow the mixture to flavor through at room temperature for about an hour, and taste. Add more seasonings if needed.
To serve:
Put the butter in a small glass bowl or a decorative mold and refrigerate; serve at room temperature with a small spreading knife.
Roll it (as shown) within a sheet of plastic wrap. Place the roll in the refrigerator or freezer for a few minutes to firm the butter, and shape by hand.
Garnish with a few pinches of crushed red pepper flakes and plenty of fresh scallions.
Cook's Notes:
*Lightly grill the scallions (on a charcoal grill or a stovetop grill pan) for a slightly "sweeter" flavor.
*Mix grilled and fresh scallions within the butter itself to add another layer of flavor.
*If you don't like "smoked" flavors, just use salmon cooked in whatever way you prefer.
*To keep, wrap butter well with plastic wrap as well as a second layer of freezer-safe wrap, and store in the freezer for up to a month.
Adapted from
Culture Cheese Magazine
.
We'd love to hear how you liked this recipe! Let us know in the comments below. We'd also enjoy getting social with you, so please hashtag #baconfatte or tag @baconfatte on Facebook, Pinterest, Instagram, Twitter, and Google+ when you try our recipes, too! Thanks for stopping by for a little BaconFatte love!