Some of our favorite recipes – like this Smoked Salmon Pasta Salad with Asparagus, Peas and Dill – come about in the humblest of ways.
There's nothing fancy or romantic about how the recipe came to be… I simply needed to use up some ingredients. The combination, in my humble opinion, was so good… Good enough to want to make it again just a couple days later.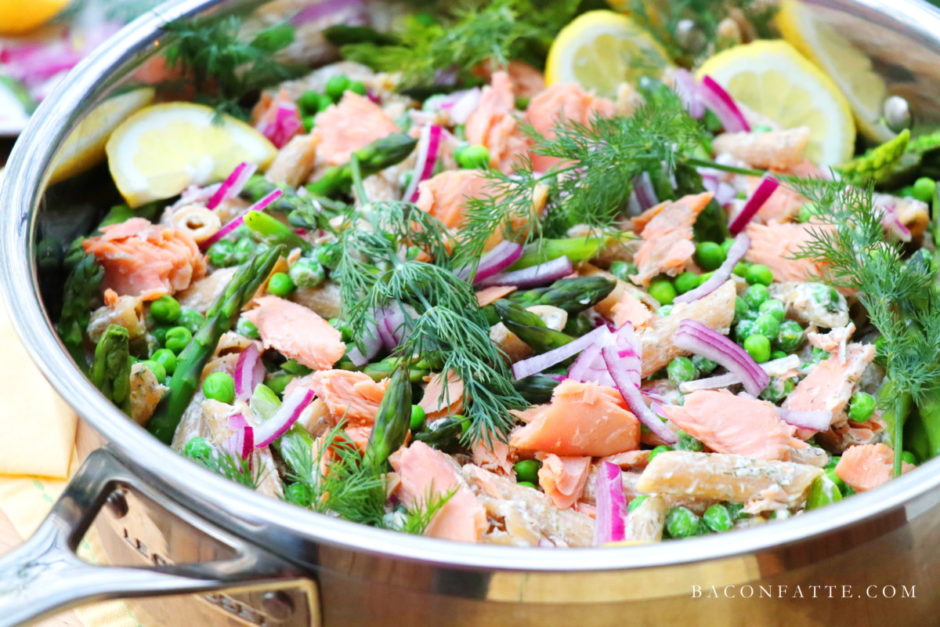 This pretty little Smoked Salmon Pasta Salad hits all the right flavor notes. It's just as at home on your springtime table as it is all summer long, and its sunny attitude is just the thing to brighten your spirits on a cold winter's day.
There's an "order" to preparing this Smoked Salmon Pasta Salad, as you'll see in the notes below. But it's also a great make-ahead dish for entertaining.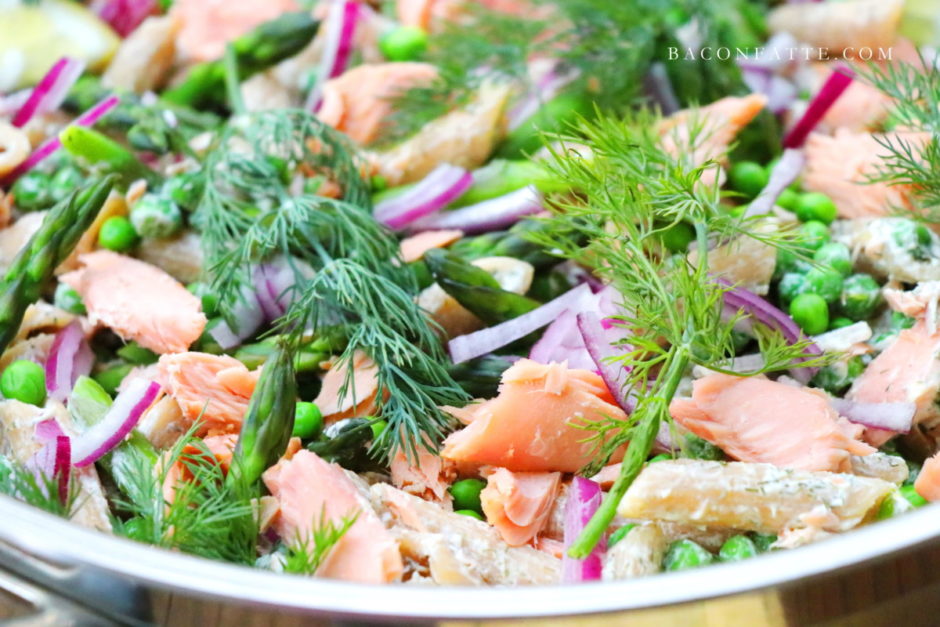 It's light and hearty at the same time. A veggie lover's dream with lots of fresh asparagus and peas. When you taste those big, rich bites of smoked salmon kissed with fresh lemon and dill, you'll see why this Smoked Salmon Pasta Salad instantly became one of our favorites.
Enjoy!
Smoked Salmon Pasta Salad with Asparagus, Peas and Dill
This crowd-pleasing Smoked Salmon Pasta Salad with Asparagus, Peas and Dill is filled with bright veggies and all kinds of fresh, delicious flavors that you're going to crave time and time again!
Recipe from:
Michele Phillips, BaconFatte.com
Ingredients
1 pound penne (or other) pasta - cooked
1 pound fresh asparagus - trimmed, lightly cooked, and cut into 2" pieces
1 pound smoked salmon (get the best quality you can find) - flaked
2 cups frozen peas - thawed
½ cup red onion - thinly sliced
¼ cup fresh lemon juice + zest from ½ large lemon
1 tablespoon dried dill
2 tablespoons olive oil
8 ounces cream cheese at room temperature
½ teaspoon sea salt (to taste) + more for pasta water
¼ teaspoon freshly ground black pepper, or more/less to taste
1½ large fresh lemons cut into wedges for serving*
Several fresh dill sprigs for serving/garnish
Preparation
*Set a large pot of salted water to boil for the pasta, then prepare the following.
*Lightly cook the asparagus. In a large sauce pan, add a cup of water, a pinch of salt, and a lemon wedge or two, and bring to a simmer. Working in batches as needed, place trimmed asparagus spears in a single layer in the hot water. Turn spears occasionally until cooked to your liking. Place cooked spears into an ice water bath to stop cooking and preserve crunch and color. When cooled, cut them into 2" pieces and set aside - along with all other ingredients below - until you're ready to add them to the cooked pasta.
*Flake the salmon - removing any skin and checking for bones.
*Thaw the peas, making sure to drain any liquid.
*Slice the onion.
*In a small bowl, add the ¼ cup of fresh lemon juice, lemon zest, dried dill, and olive oil, and whisk to combine.
*Cut cream cheese into small chunks.
*Cook and drain the pasta. Cover the pasta pot in between steps, if needed, to keep pasta hot. Add lemon juice, zest, dill and olive oil mixture to hot pasta and stir well to coat the pasta. Then add the chunks of cream cheese, and stir well to melt the cream cheese.
*Add the asparagus, salmon, peas and onions to the pot – reserving a little of each ingredient to top pasta for serving if you wish. Toss to combine. To serve: Place the warm past mixture in a large serving bowl. Top with reserved ingredients. Garnish with freshly chopped dill and a few extra pretty sprigs. Enjoy immediately with lots of fresh lemon wedges.
Cook's Notes:
*The somewhat-overly-detailed instructions are laid out the way I do it in the interest of having everything ready to go (mise en place) so the ingredients can be added in order to the pasta while it's fresh and hot. That way, everything combines more evenly for better flavor distribution.
*If you're making this hours - or even a day - ahead, do all of your chopping and preparing, and then cover and refrigerate everything until an hour or so before serving. Prepare the pasta fresh, combine the ingredients as stated, and serve.
*Asparagus alternative: I prefer the texture and flavor of the asparagus when lightly cooked as noted in the instructions. But, you can also just cut the raw spears up and toss them into the hot, drained pasta with the lemon mixture. It'll cook slightly and maintain plenty of crunch, and it'll save you a few cooking steps!
*On lemons: This recipe uses two, full large lemons. Use more if you like… The fresh lemon is absolutely wonderful in this dish!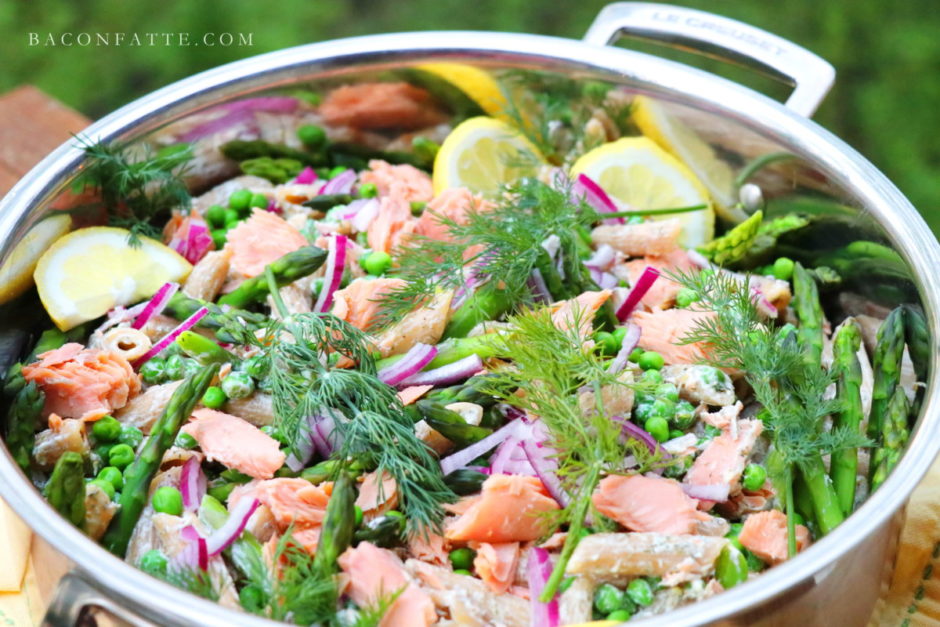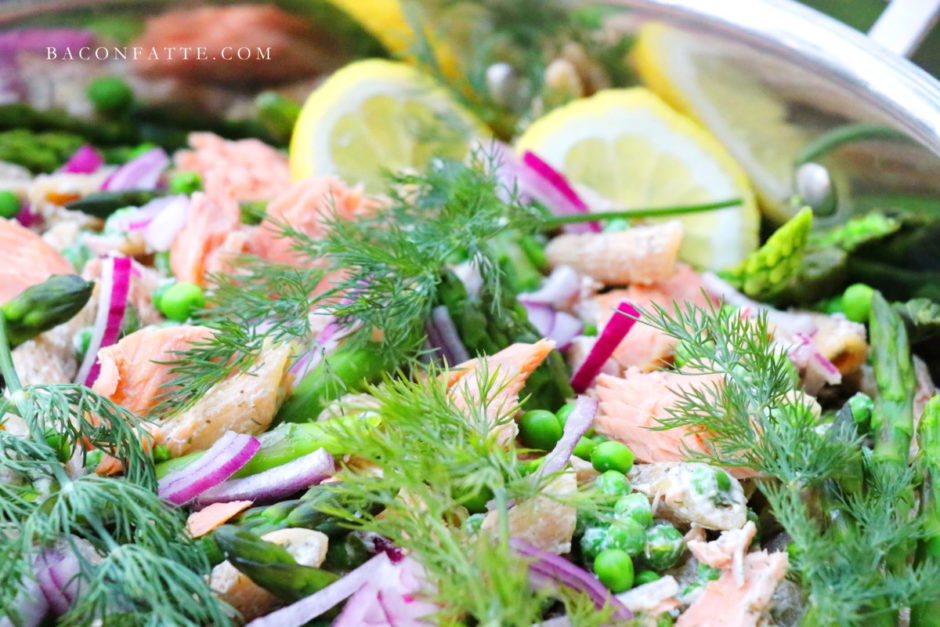 Smoked Salmon Pasta Salad with Asparagus, Peas and Dill
I'd love to know how you liked this recipe!
Leave a note here on the blog in the comments below, or share your creations and ideas on Facebook, Pinterest, Instagram, Twitter, and/or Google+ .
Make sure to hashtag #baconfatte or tag @baconfatte in your social media posts!