This Spaghetti Squash and Sauerkraut Casserole has plenty of tangy kraut flavor combined with freshly roasted spaghetti squash, celery, red onions and cherry tomatoes. We even melted a little Gruyere on top for good measure. It's colorful and light, and makes a hearty, delicious side dish or meatless main.
This post is sponsored by Frank's Kraut. I received compensation and product related to this post, but all opinions – and life-long love of good kraut – are my own.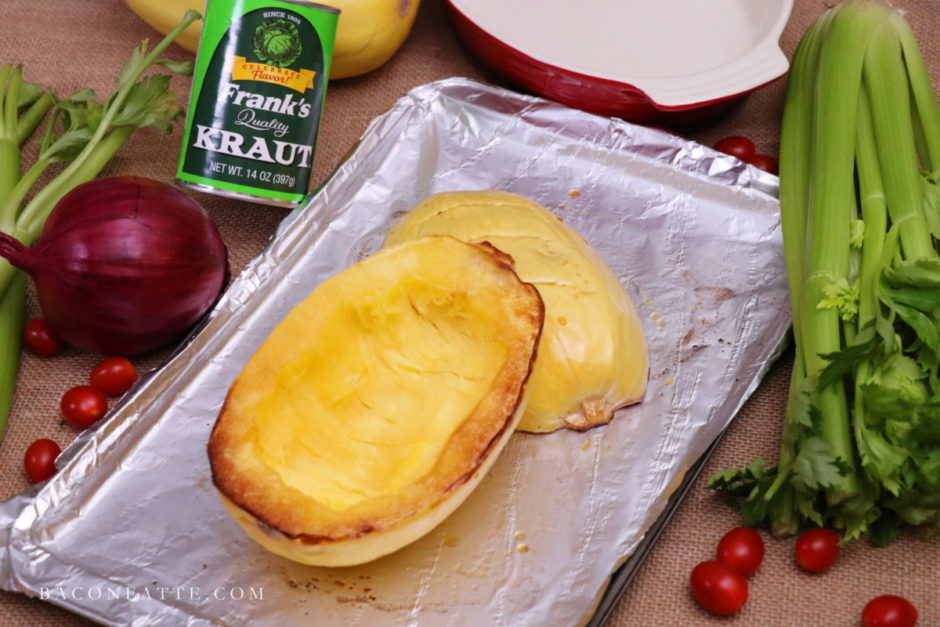 What You'll Need
a rimmed baking sheet
foil wrap
a large mixing bowl
casserole dish
Frank's Sauerkraut
spaghetti squash
fresh celery
red onion
Gruyere cheese
Olive oil
Here's The Story
I crave bright, fresh flavors all year-round, and fresh veggies in any form are on my list of must-haves on a regular basis. That might be the reason that I took one look at the bright, sunny display of spaghetti squash at my local grocery market, and just had to do something with it.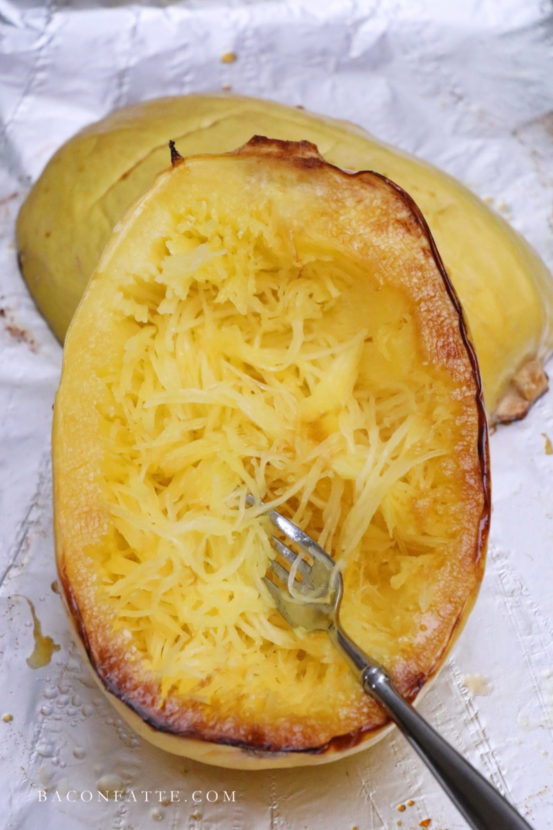 Having recently made one of my favorite family recipes featuring Frank's Kraut over the holidays, sauerkraut has been on my mind a lot lately. And, the beautiful spaghetti squash I picked up at the grocery store was begging to become part of something fun and different.
A warm, fresh dish combining spaghetti squash and sauerkraut accented along with other colorful veggies seemed like the perfect way to highlight two of my favorite ingredients.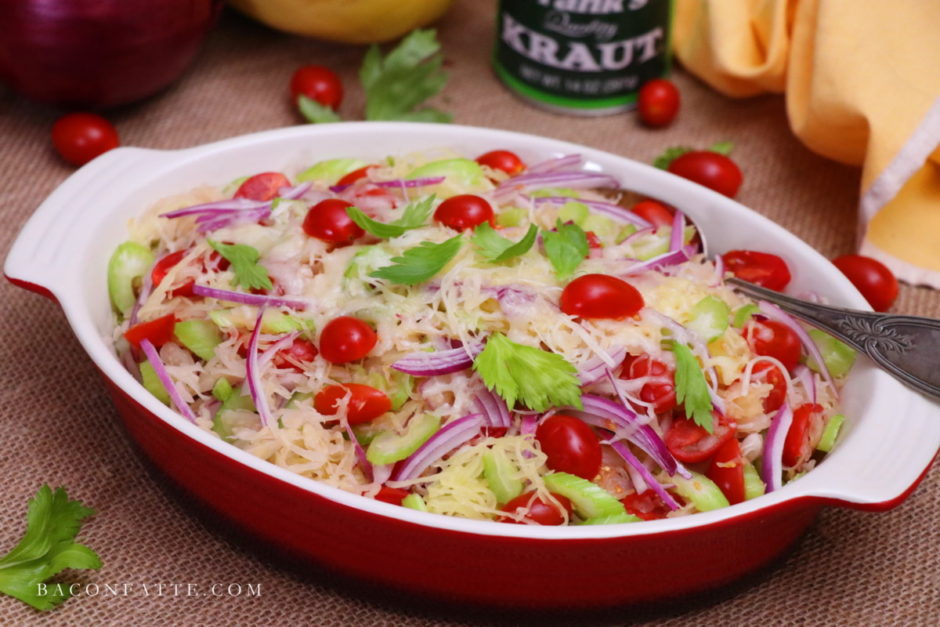 What's To Love
This sauerkraut casserole offers plenty of tart, delicious sauerkraut flavor that marries really well with the subtle flavors and textures of spaghetti squash and the other vegetables. Because it's not swimming in sauces or mixed with meat like many other warm sauerkraut casseroles, the bright flavors really shine. It's a quick and easy side dish that can be made a day ahead, and then baked just before serving.
To make it ahead, roast your squash and assemble the casserole, then cover and refrigerate. When you're ready to bake it, let the dish warm a bit to room temperature, and then pop it in a pre-heated oven to let everything bake together. Then sprinkle on some freshly grated cheese and pop it back in the oven for a few more minutes to let the cheese melt, and you're set.
Cooking for a smaller or larger crowd? This Spaghetti Squash and Sauerkraut Casserole recipe can very easily be halved or doubled if needed. Serve it in individual terrines, or go family-style and use your favorite casserole dish like I did here. This dish is wonderful when served right out of the oven, and it's just as good at room temp, so it's the perfect thing to serve at gatherings. Just be prepared for people to take second (or even third) helpings!
Enjoy!
Spaghetti Squash and Sauerkraut Casserole
This sauerkraut casserole offers plenty of tart, delicious sauerkraut flavor. This is a sauce-less casserole that allows the bright flavors to really shine. It's a quick and easy side dish that can be made a day ahead, and then baked just before serving.
Recipe from:
Michele Phillips, BaconFatte.com
Ingredients
4 cups spaghetti squash, roasted and shredded (approx. 2 pounds)
1, 14 oz. can Frank's Sauerkraut, well-drained
1½ cups celery, thinly sliced on the diagonal (about 3 stalks)
1½ cup red onion, halved and thinly sliced (about ½ a large onion)
1 cup cherry tomatoes, cut in half (about 16 – 18)
1 cup Gruyere cheese, freshly shredded
1 tablespoon olive oil
Salt & pepper (optional)
Preparation
Pre-heat oven to 375 degrees F.
Line a baking sheet with foil (optional) and brush surface lightly with oil. Cut spaghetti squash in half, scoop out the seeds, and place cut-sides down on prepared baking sheet. Roast for 30 – 40 minutes or until tender with a bit of texture remaining. Remove from oven and allow to cool (cut-side up) for about 10 minutes, then shred.
In a large mixing bowl, add the shredded spaghetti squash, and Frank's Sauerkraut (make sure it's well-drained), and toss to combine. Reserve a few pieces of the celery, red onion, and cherry tomatoes for garnish. Add the rest to the bowl, and toss to combine with the squash and kraut.
Prepare the inside of a 10-cup casserole dish by lightly brushing it with olive oil. Spoon in the combined ingredients, season lightly with salt and pepper (optional). Cover and bake for 15 minutes. Remove from oven, sprinkle shredded cheese over the top and add reserved garnishes. Bake (uncovered) for 10 more minutes.
Here's another recipe with Frank's Kraut that I'm looking forward to trying:

Sauerkraut Salad from An Affair From The Heart 

This colorful chilled sauerkraut salad sounds like a delicious side dish, and it also makes a great topping for brats and burgers!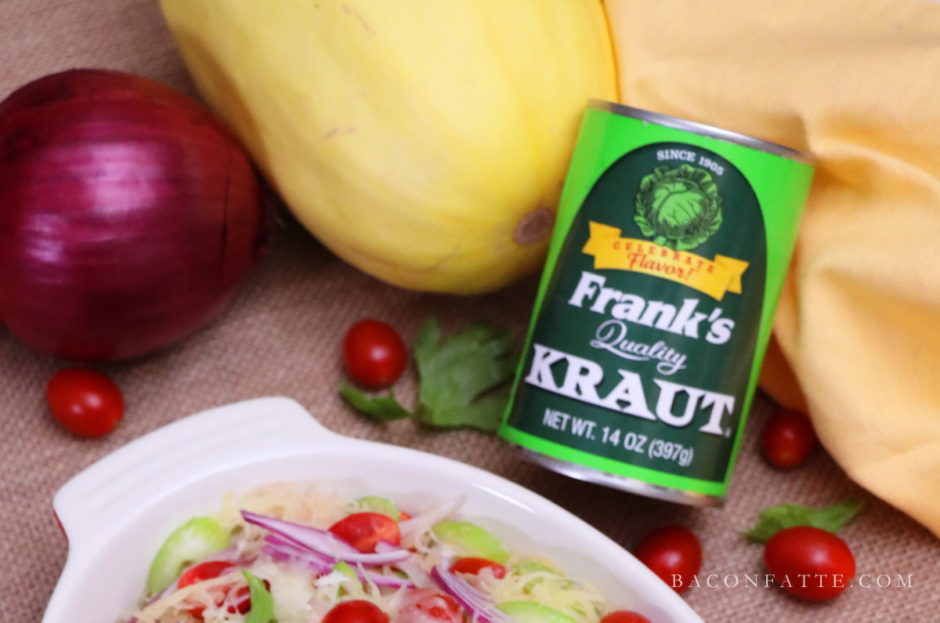 'Celebrate Flavor, Celebrate with Frank's'
Frank's Kraut is a 4th generation family-owned business, and it's the #1 brand here in the Midwest. They clearly have a lot of pride in their business and showing people some of the best ways to use their product.
Interested in more kraut recipes? Frank's has lots of them on their website, and they're always showing fun and delicious ideas from cooks, restaurants and bloggers on their social media channels. You can find Frank's on Facebook, Instagram, Twitter, Pinterest, and YouTube.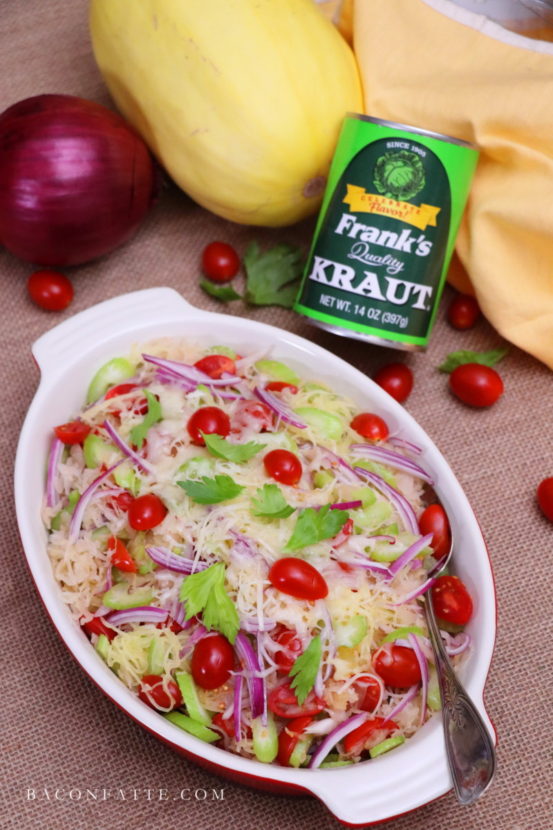 Making this Spaghetti Squash and Sauerkraut Casserole recipe?
I'd love to hear about it!
Leave a note here on the blog in the comments below, or share your creations and ideas on Facebook, Pinterest, Instagram, Twitter, and/or Google+ .
Make sure to hashtag #baconfatte or tag @baconfatte in your social media posts!