Spring Pea and Pineapple Pizza Fresca: Create "spring" in your own kitchen any time of year!
Spring brings out the best in us… New inspiration seems to be everywhere. We have a renewed sense of enthusiasm and a fresh outlook on life. We often feel lighter, brighter, and in the mood to have more fun.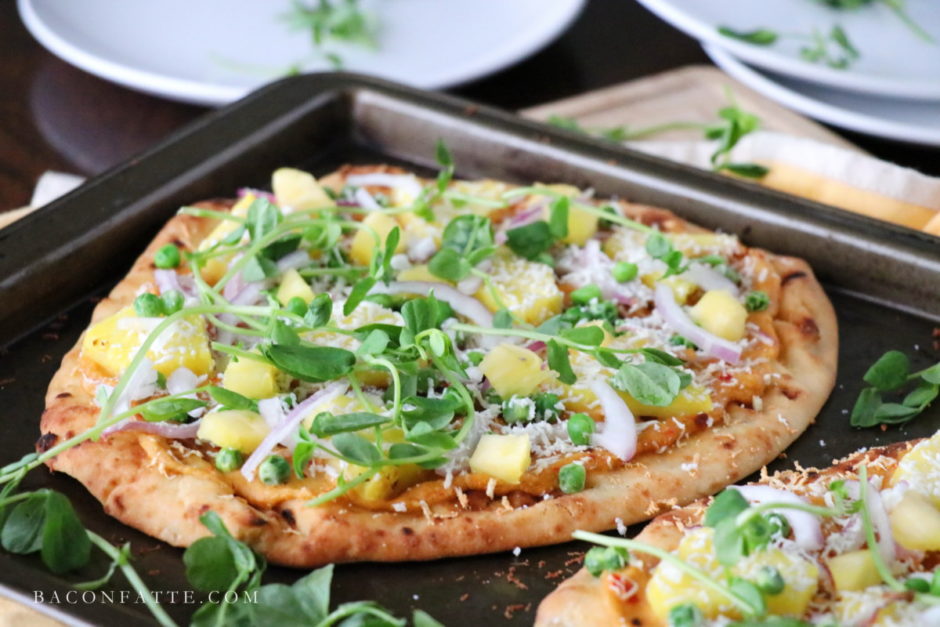 Just thinking about taking a springtime walk or planting our garden after the threat of frost has passed is enough to bring a smile to our hearts.
The change of seasons is definitely a gift – especially here in Minnesota. The seasons are nature's way of reminding us to appreciate what we have and prepare for what's on the way because change is always happening.
While bundling up in our favorite sweaters and enjoying hearty soups and stews next to a warm fire is absolutely wonderful, spring's siren song is never far away. In fact, for some of us, it never leaves.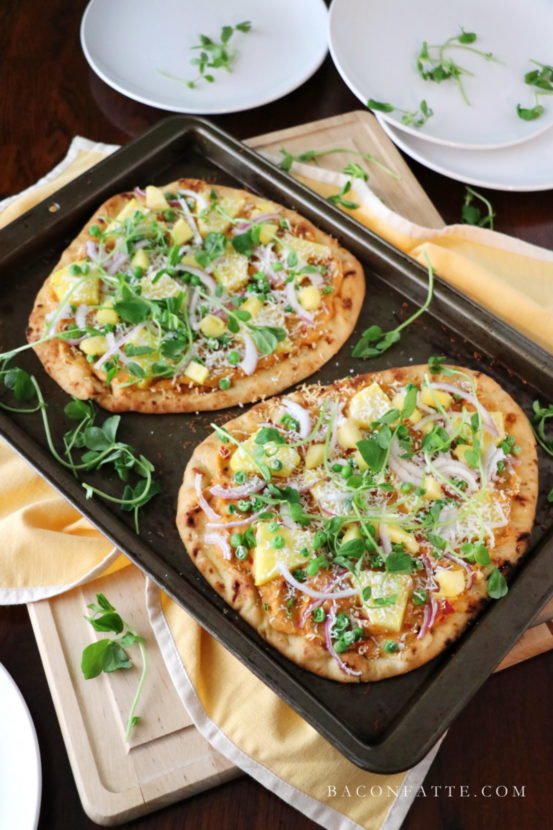 I tend to push seasonal envelopes quite a bit… I'm often singing Christmas songs in June. I'll drag my herb plants in and out of the house – religiously – until the snow sticks… for the third time. And because our lives revolve heavily around boating, "spring fever" generally starts knocking at our door by mid-January.
As a food writer, I'm externally driven by foods that are in season and "on trend" (as long as the trends aren't too funky). But internally, I'm a Farmer's Market kind of girl all year long. If I can grow it myself – or if I can buy it straight from the people who did – all the better. Just thinking about fresh, beautiful colors and flavors makes my heart skip a beat… Greens and herbs, vegetables and berries, roots and tubers… I love'em all!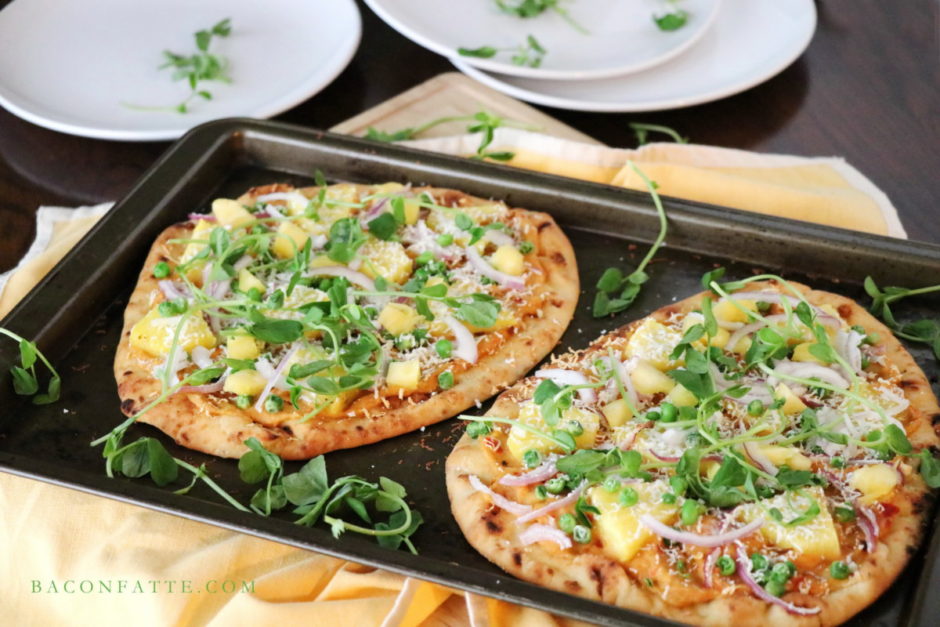 So, I generally start thinking about bringing "spring" into my kitchen far before weather-induced cravings begin. Any why not? Just a handful of sprouts or microgreens, for example, adds instant fresh. And given how good fresh is for us, we really should be including it in more of what we prepare at home.
I'm no health coach, but I'm all for adding vitamins and anti-Inflammatory properties to anything I can. When spring pea shoots start showing up at our local markets, I couldn't be happier. Pea shoots are filled with antioxidants and phytonutrients, and it takes practically no effort to add them to anything we make. Open the package, grab a handful, toss. Done.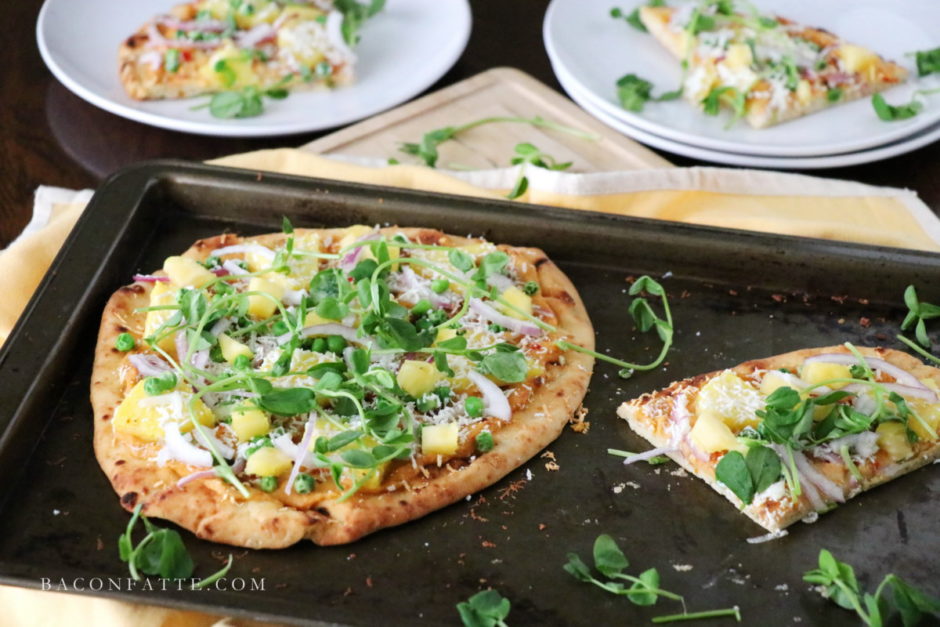 As a nod to spring, I topped this fabulously simple Pizza Fresca with fresh pea shoots just before serving. They add their own special kind of magic… A tender crunch and unmistakably fresh, green flavor with just a hint of sweet pepper. They're the perfect addition to pizzas, flatbreads and toasts as well as salads of any kind, of course.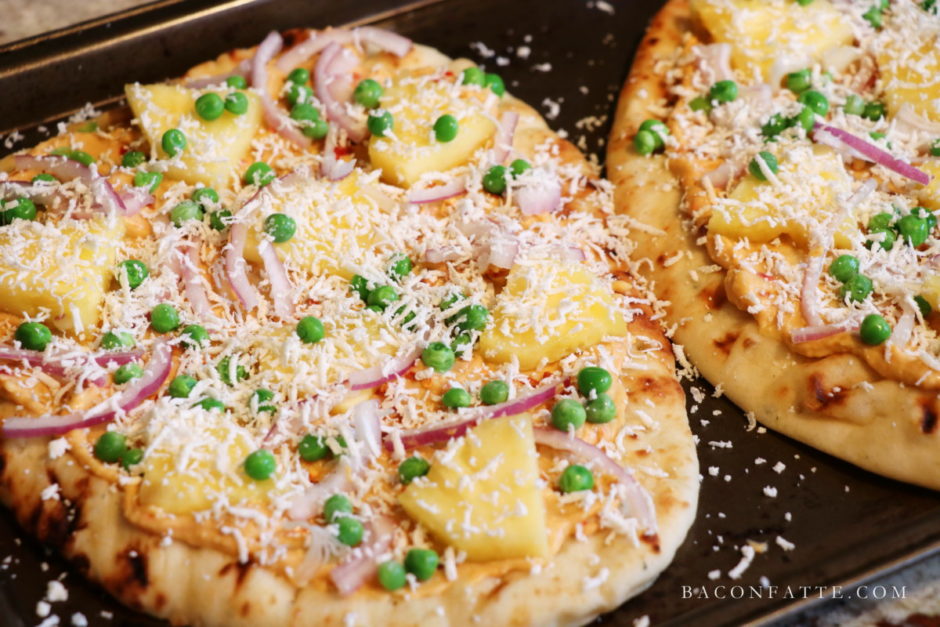 *Ready to pop in the oven!
To make this recipe as easy as possible, I started with a delicious ready-made garlic naan crust. And the "sauce"? More ready-made deliciousness in the form of roasted red pepper hummus. (Yes, really!)
What we ended up with is a rich, playful combination of flavors: A warm, garlicky base topped with bright, sweet pops of pineapple and spring peas… a little heat (if you want) from crushed red pepper flakes… a slightly salty sprinkling of grated cotija cheese, and of course, fresh pea shoots for the Win!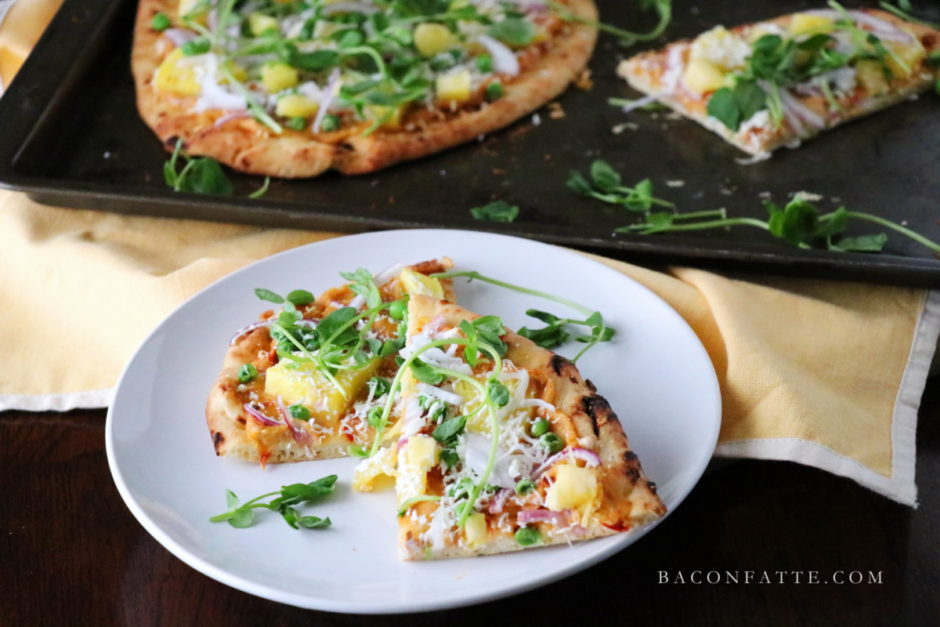 Enjoy!
Spring Pea and Pineapple Pizza Fresca
This Spring Pea and Pineapple Pizza Fresca is quick and easy to make, and you can layer it any way you like – just make sure to top it with plenty of fresh, flavorful pea shoots or micro greens to get the full effect!
Recipe from:
Michele Phillips, BaconFatte.com
Ingredients
2 large pieces of naan (I used Garlic Naan)
⅓ – ½ cup hummus (I used Roasted Red Pepper Humus)
A pinch or two of cracked red pepper flakes (optional)
¾ cup fresh pineapple, chopped (or canned Pineapple Tidbits)
⅓ cup red onion, thinly sliced
¼ cup fresh or frozen peas
2 – 3 Tablespoons cotija cheese, grated
½ cup fresh pea shoots, or more to taste
Preparation
Preheat oven to 400 degrees F.
Line a baking pan with parchment and place naan on parchment – flatter side down.
Spread hummus evenly on the naan and sprinkle with cracked red pepper flakes (optional).
Place pineapple pieces on top of humus, then sliced red onions and peas, then grate the cotija cheese over the top of everything.
Bake pizzas for 10 – 15 minutes until toppings are warmed and naan is slightly crispy.
When done to your liking, remove the pizzas from the oven, sprinkle on the fresh pea shoots, and enjoy right away.
Making this Spring Pea and Pineapple Pizza Fresca recipe?
I'd love to know how you liked it!
Feel free to leave a note here on the blog in the comments below, or share your creations on Facebook, Pinterest, Instagram, Twitter, and/or Google+ .
Make sure to hashtag #baconfatte or tag @baconfatte in your social media posts!